Did you know that you can ride Valley Metro for free with a current Virginia Western Student ID?
Bus service is provided Monday through Saturday while classes are in session. Bus service is not provided on Sundays or days the college is closed for holidays or severe weather. Students must show a student ID with a current enrollment sticker in order to ride for free.
Not sure what bus line you need to ride, and when you need to catch the bus? Use the Transit Icon on http://maps.google.com to find your route and schedule.
When boarding a Valley Metro bus, please remember to request a transfer pass from your driver. Doing this keeps the college from paying twice for the same trip.
Contact the Student Life Center with questions at 540‐857‐6326 or nlee@virginiawestern.edu.
Free service (with current Student ID sticker) is available during these dates:
Monday, August 7, 2023 – Friday, December 22, 2023 (Fall)
Tuesday, January 2, 2024 – Saturday May 18, 2024 (Spring)
Monday, May 20, 2024 – Saturday, August 3, 2024 (Summer)
Service is not provided on Sundays, snow days when the college is closed, or on the following holidays:
Labor Day: Monday, September 4, 2023
Thanksgiving Break: Wednesday, November 22, 2023 – Sunday, November 26, 2023
Holiday Break: Saturday, December 23, 2023 – Monday, January 1, 2024
Memorial Day: Monday, May 27, 2024
Independence Day: Thursday, July 4, 2024
Bus Stop Locations
The east bound bus (headed toward Towers) has a stop at the plaza between the STEM Building and Webber Hall. The west bound bus (headed toward Tanglewood) has a stop at the bottom of the stairs between Fralin and the Business Science Building. (See image below.)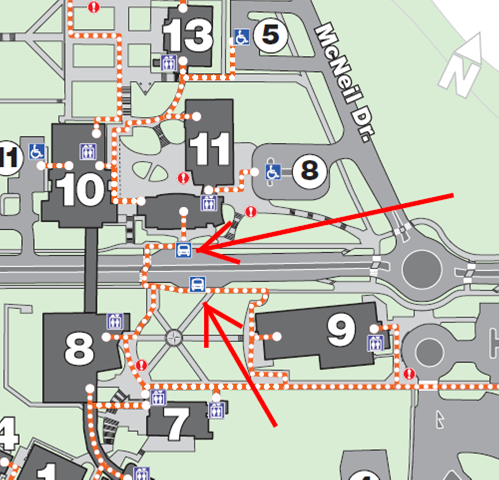 Hours of Operation
Fall 2023 Semester:
Fitness Center (1st Floor): 9 AM – 6 PM, Monday –  Friday. Closed Saturday – Sunday.
Student Activities & Food Pantry (3rd Floor): 9 AM – 5 PM, Monday – Friday.
The above hours are subject to change based on the campus events schedule.
All posted hours exclude holidays and school closings.