Help with Student Accounts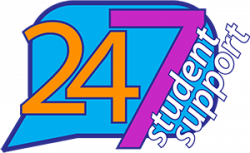 For 24/7 help with Admissions, Registration, Records, Financial Aid, and Student Accounts, you can contact 24/7 Student Support or call (855) 874-6690.
*Callers are currently experiencing extended wait times due to increased call volume. If you are being impacted by these wait times, schedule a phone appointment through Navigate (in MyVWCC). Click here for instructions for scheduling an appointment.
Technical Help

For questions or assistance with classroom or office technology, password trouble, VWCCWiFi, or other campus technology, visit the Help Desk website; or contact the Help Desk by phone at 540-857-7354, by email at helpdesk@virginiawestern.edu or by clicking the Live Chat image:
Check out the Frequently Asked Questions site which also links to our Live chat.
If you'd like to drop by the Help Desk (Business Science Room M273), their normal business hours are as follows: Mon.-Fri.: 7:45 AM – 5:00 PM
MyVWCC Help
For help with MyVWCC, you can use the tutorials at MyVWCC Help.
General College Information
If you need non-Academic-related, general college information, you may call 540-857-VWCC. You can also fill out our Information Request Form.