MyVWCC is your central source for accessing essential student and faculty information at your convenience.
Students can: search and register for classes, drop classes, review financial aid awards, make tuition payments, manage your personal information, and more!
Faculty can: access class rosters, view teaching schedules, enter grades, manage personal information, and more!
The following instructions for Registering for Classes, Academic Information, Student Financial Account, Advising, and Personal Information assume that you have already accessed the Student Information System (SIS). To access SIS, log in to MyVWCC and click the Student Information System button: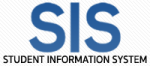 Need help? If you need help with enrollment, financial aid, or the online application please contact the Student Services Help Line at 855-874-6690 or https://mysupport.virginiawestern.edu.
If you are unable to access your MyVWCC account or are unsure who to contact please contact the Help Desk at 540-857-7354, try the Live Chat, or contact us online.
Finished? When you are finished using MyVWCC or any of the tools, you should always log out.
Faculty/Staff Topics
General
Personal Information
For Faculty
Instructor Initiated Withdrawal System (IIWS)
For Program Heads
For Advisors