The Virginia Western Fitness Center is committed to providing the campus community with a resource for health and wellness. The Fitness Center is equipped with state of the art equipment and offers a variety of programming to help promote healthy lifestyles!
Programs
Nutrition with Dietitian Holly
Tuesdays and Wednesdays, 10 AM – 1 PM (Drop-in)
Have questions about meal planning, healthy eating on a budget, or how to meet your fitness and wellness goals? See your Registered Dietitian Holly in the Fitness Center. Holly occasionally will have samples and demos.
Group Fitness
BODYPUMP with Carole
Wednesdays @ Noon (In-Person) – 45 minute class
Les Mills BODY PUMP is a calorie-burning resistance training class, set to music. Our live instructor will help lead you through the moves to make the most of the workout!
Yoga with Leilani
Tuesdays and Thursdays @ 12:30 PM
August 22 – October 19
Breathe, stretch and unwind with yoga. Beginners are welcome, and instructions for variations for different levels are provided!
LES MILLS Group Exercise – On Demand
Available during Open Hours when the studio is available. Les Mills provides exciting group exercise on YOUR schedule! The front desk staff can assist you with getting your class started.
Locker Rentals
Locker rentals are available for currently enrolled students, faculty and staff through the Virginia Western Fitness Center. If you would like to rent a locker, please fill out the Locker Rental Agreement (PDF) and return it to the Fitness Center. See below for current pricing and locker rental periods for the academic year.
| Semester | Student Rate | Faculty/Staff Rate |
| --- | --- | --- |
| Fall | $15 | $25 |
| Spring | $15 | $25 |
| Summer | $10 | $20 |
Bicycle Loans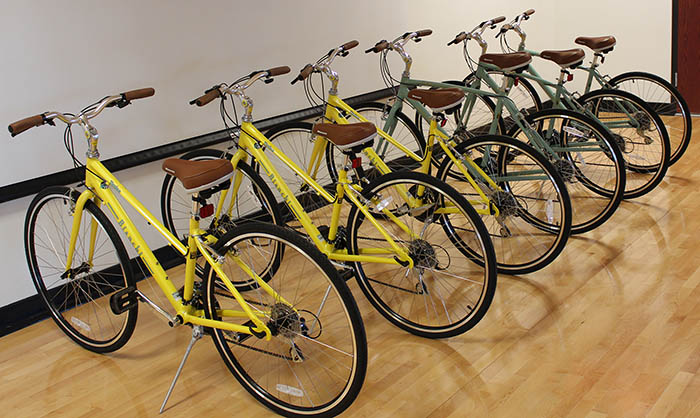 The Fitness Center offers free daily bike loans to Virginia Western students, faculty and staff. If you are interested in using a bike, please stop by the Virginia Western Fitness Center! Bikes must be returned by the close of business on the day they are due.
All bike users are required to fill out the Bike Rental Agreement and Waiver (PDF) in order to use a bike.
Hours of Operation
Fall 2023 Semester:
Fitness Center (1st Floor): 9 AM – 6 PM, Monday –  Friday. Closed Saturday – Sunday.
Student Activities & Food Pantry (3rd Floor): 9 AM – 5 PM, Monday – Friday.
The above hours are subject to change based on the campus events schedule.
All posted hours exclude holidays and school closings.