Joe Bear, CTS, DMC-E-4K, CBJ
Originally an aspiring lighting designer, Joe came to us from Longwood University where he received his BFA in Theatre Design and Technology. After deciding he would rather make a career out of watching TV, Joe quickly made the move over to audiovisuals. Joe is the Lead Media Geek on campus which only means he gets to break things first. He is an AVIXA Certified Technology Specialist, Crestron DigitalMedia Certified Engineer 4K, and certified BBQ judge for the Kansas City BBQ Society. When not crashing electronic classrooms, you can find Joe spiking his blood pressure by completing his goal of eating BBQ in all 50 states and being a proud uncle and stepfather.
---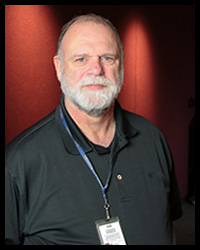 Jim Underwood
Jim is our token Irishman. He has lived in Roanoke since 1999, with his lovely wife Marguerite and their kids, Jack and Rory. He won an Edward R. Murrow Award while working as a Photojournalist for WSLS News Channel 10. He also worked as a documentary producer for Blue Ridge PBS where he worked on several Emmy Award winning shows and was nominated for a personal Emmy for his part in the documentary "Virginia in the Civil War: A Sesquicentennial Remembrance". He also won numerous Virginia and national awards for 2 series he produced, Blue Ridge Excursions and Blue Ridge Adventures. He is now a proud Media Geek.
---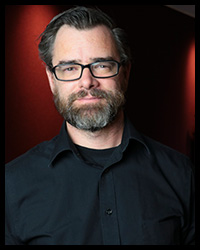 Jason Garnett, CTS
Jason is an AVIXA Certified Technology Specialist. He cut his teeth in the ill-lit projection booths of the Grandin Theatre where he served as head projectionist and later General Manager for almost 14 years. He also founded and operated Roanoke's first and only community microcinema, The Shadowbox in 2010. This beacon for independent, local cinema earned him the Arts Council's Perry F. Kendig award in 2012 and a place in the Blue Ridge Business Journal's notable 30 under 40 list. In 2015, he was selected to be one of 100 projectionists around the country to run Quentin Tarantino's 70mm Roadshow print of The Hateful Eight. Other notable trivia include: co-founding the Roanoke Skatepark Initiative and the Grandin Film Lab non-profits, having his picture in Thrasher Magazine three times, recording four full length albums and a slew of 7″ singles with his band, where he spent a portion of his 20's touring the country. He is currently finishing his Sociology degree at Averett University with a focus on the negative effects of technology on modern society as we head toward technological singularity.
---
David Givens
Dave comes to VWCC after working as a Production Technician at the Moss Art's Center at Virginia Tech and on the Audio-Visual team at the Hotel Roanoke Conference & Convention Center. If you attended any VCCS events at the hotel since 2019 it is very likely you saw Dave gaff taping cords to the floor or assisting presenters with their laptops, projectors, microphones, and of course using Zoom.  Dave got his start in AV by recording sermons at church as a young teen and then by picking up the bass guitar his freshmen year of high school at Craig County.  The rest has been a magical, musical, spirit driven journey of sound and light. He attributes most of his knowledge (and passion) to his four years at Christopher Newport University (BA in Political Science '07) where he served with Intervarsity Christian Fellowship as "sound guy" (among other things) for the weekly setup, operation, and tear down of weekly gatherings that typically included a 6-piece band.  Dave also comes to us as a former VWCC student having completed the Architecture-Civil Engineering Aide Certificate program.  He expects to continue in the Electrical Wiring program as work-life balance allows.  When Dave is not at work, he is either running sound for bands at The Spot on Kirk, hanging with teenagers of Cornerstone Church, or enjoying time at home in Craig County with his family and Pitt-Boxer mix Mason.  
Hours
Mon – Thurs: 7:30 AM – 5:00 PM
Friday: 7:30 AM – 4:30 PM
Media Geeks are available until 7 PM during the first 4 weeks of fall and spring semester.
Evening support until 10 PM is available by request with 30-day notice.
Please contact Joe Bear for approval.