The Media Geeks provide instructional technology services for the Virginia Western campus community including the following:
Providing instructional media design and delivery
Designing, deploying and supporting classroom technology
Supporting the lecture capture system, Panopto
Recording and live streaming video for special events and presentations around the college and providing sound and lighting assistance for same
Researching, promoting and supporting innovation in technology used for teaching and learning
Click here for a downloadable PDF overview of the above video. (PDF)
Available Technology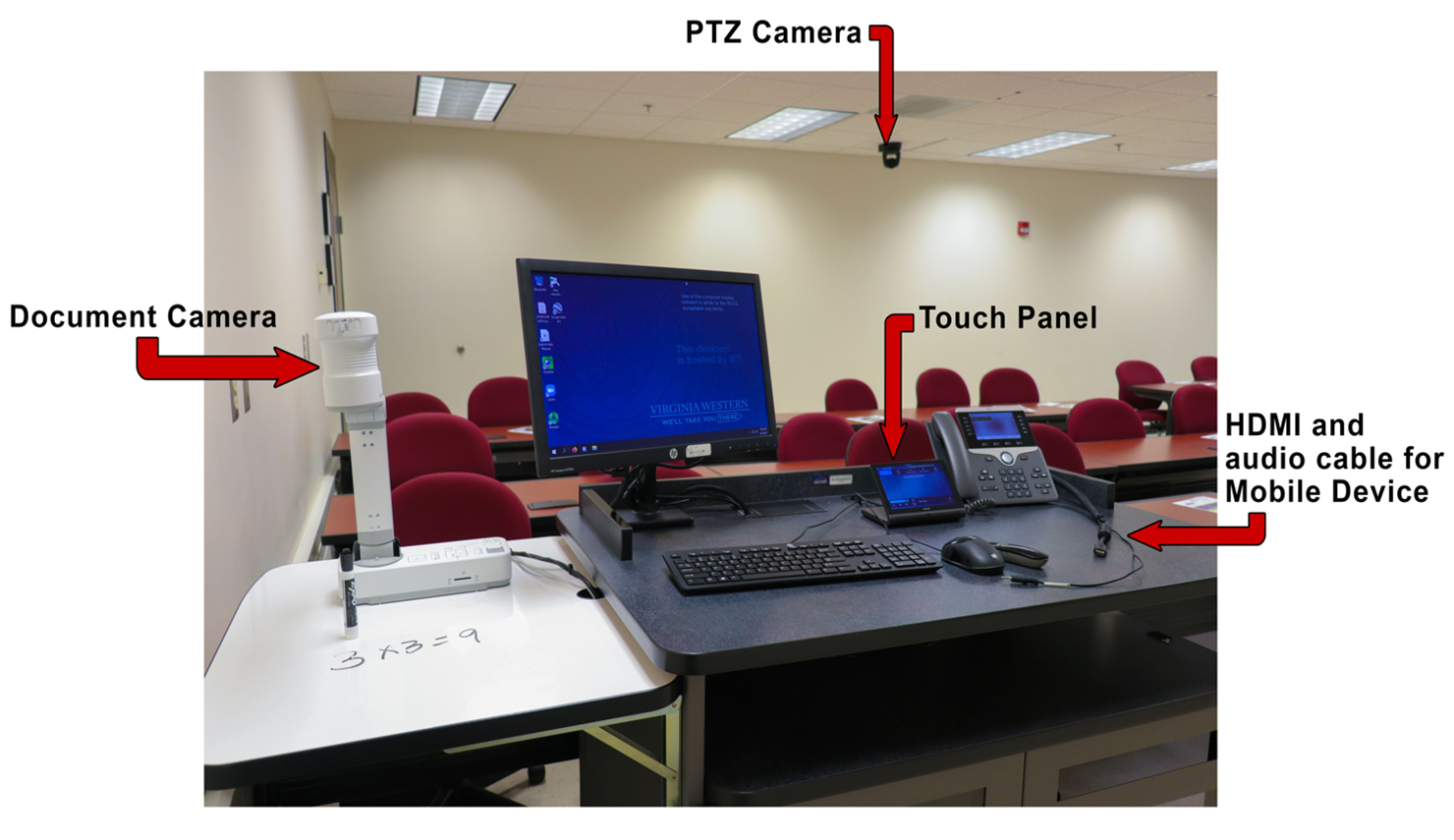 Podium or table for instructor's materials
Computer workstation that includes a keyboard and presentation remote, internet access, and is fully integrated with either ceiling-mounted projection or monitors
Ability to play DVD media via the computer
Document camera (and/or other imaging device such as digital microscope)
Control system (e.g. switch) to integrate / operate the multimedia equipment
Connection available for instructor laptop
Speakers
Ceiling microphone for video conferencing and lecture capture
PTZ (Pan, Tilt, Zoom) Camera
The Media Geeks support the educational media around campus. Most of the Electronic Classrooms (ECR) on campus have been standardized to include a computer, monitor, projector or ceiling mounted monitors, screen, and an HDMI connection for a mobile device all in/on a lectern.
Most of the lecterns on the main campus now look like the one pictured above.
We provide services in the following areas:
Classroom Technology Support and Design
Full design/build/support of classroom audio visual technology such as control systems and displays.
Experimental Classroom Technology Development, Implementation, and Support
Bring your own device
Video/Web Conference Applications
Panopto Lecture Capture
Closed Captioning for any supported video platforms
iPad Support
Hardware and applications
Product recommendations and Apple proposals
AppleCare+ and product repair
Nursing Simulation Lab
Laerdal and Gaurmand Systems
Requesting Classroom Tech Service
If you need help with technology in the classroom, call the Help Desk at 77354, or email them at helpdesk@virginiawestern.edu.