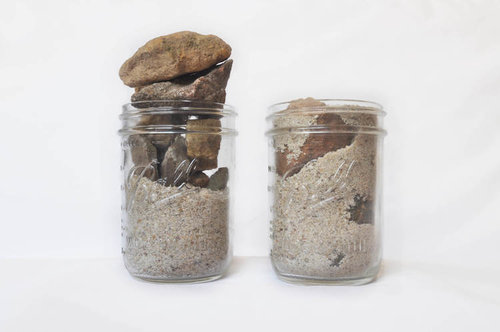 I've written before about the book "Traction," and how it has changed my life.
"Traction" is where I encountered Stephen Covey's "Rocks" analogy for the first time.
The visual is powerful, so I promise reading this entire passage is worth it:
---
Picture a glass cylinder set on a table.
Next to the cylinder are rocks, gravel, sand, and a glass of water.
Imagine the glass cylinder as all of the time you have in a day.
The rocks are your main priorities, the gravel represents your day-to-day responsibilities, the sand represents interruptions, and the water is everything else that you get hit with during your workday.
If you, as most people do, pour the water in first, the sand in second, the gravel in third, and the rocks last, what happens? Those big priorities won't fit inside the glass cylinder. That's your typical day.
What happens if you do the reverse?
Work on the big stuff first: Put the rocks in. Next come the day-to-day responsibilities: Add the gravel. Now dump in the sand, all those interruptions. Finally, pour the water in.
Everything fits in the glass cylinder perfectly; everything fits into your day perfectly.
The bottom line is that you need to work on the biggest priorities — your Rocks — first.
Everything else will fall into place.
---
I build my days, weeks, and months around my Rocks — in my job and at home. I even designed a weekly ritual to help focus on what matters most. I re-evaluate my Rocks every season.
But let's focus on our work here at Virginia Western.
What are your top three priorities this semester?
Try to get them out of your head … write them out, or talk them through with a colleague. This would be an excellent conversation to have with your whole team, because you would know what everyone else is prioritizing as well.
Here's what I came up with:
First, I've committed to an overarching theme for 2021 — relationships — and we're all learning how to navigate our new pandemic normal, with flexibility and self-care pretty high up there.
But will all that said, for the grants office, I would say my top 3 projects for Fall 2021 are the following:
Continue to navigate Higher Education Emergency Relief Funds (HEERF) compliance with our Finance team, as the funds — about $21 million in total — are managed similar to grants through the federal Department of Education. This requires wonky webinars, close reading of the evolving guidance, and constant documentation.
Support our Get REAL / Title III grant project as we start Year 2 (of 5). This means collaborating closely with our Get REAL team and amplifying our focus on adult learners through this blog and other communications.
Launch an online Innovation Grant training series that will help faculty and staff develop proposals in manageable baby steps — from Fall 2021 to the application deadline in March 2022. (Stay tuned … I'm so excited about this creative project!)
Of course, my list may change by the end of the semester. But this is where I stand today. The list helps me prioritize my time on a daily basis.
To use a sports cliche: This is how I keep my eyes on the ball. I make sure these Rocks get my attention first.
Here's a good example. I compile so many *free professional learning* opportunities every week, but with limited time, especially during in-service week, how do I choose which ones to attend?
A webinar this week combines my top two Rocks — as well as a focus on equity, the top priority for the VCCS — so it's a definite YES:
Maximizing Federal Relief for Adult Students
Thursday, Aug. 19, 2 p.m.
In response to the COVID-19 pandemic, Congress allocated three rounds of financial relief through the Higher Education Emergency Relief Fund (HEERF) to support students and institutions of higher education during the public health and economic crises. This relief has been essential for adult students, underserved students, and those experiencing basic needs insecurity, and institutions have considerable flexibility in how they use HEERF funds to support students.
Join the Hope Center for College, Community, and Justice at Temple University and the Council for Adult and Experiential Learning (CAEL) as we look at innovative, student-centered, and equitable strategies institutions can use to deploy federal relief funds in support of #RealCollege students in the months to come.
Topics included: Emergency funding, augmenting student relief funds, communication around funding availability, proactive outreach to enable student success, supporting reengagement and retention, and focusing on racial equity.
Panelists
Dr. William J. McKinney, advisor for regional campus affairs, Indiana University
Dr. Richard Oates, vice president, Gainesville campus, University of North Georgia
Dr. Rollinda Thomas, assistant vice chancellor for academic affairs, assessment, and programs
Dr. Julie White, president of Pierce College Fort Steilacoom
Register here
---
More free professional learning opportunities
Go2Knowledge: All VCCS faculty and staff have free, unlimited access to live webinars and on-demand training provided by Go2Knowledge. The live webinars are highlighted at the top of the Go2Knowledge dashboard, but you can search through an entire library of recorded, on-demand sessions on topics including teaching and learning, campus safety, institutional effectiveness, and student success.
Some upcoming live webinars:
Thursday, Aug. 19: Tutoring Center Administration: Supervising and Retention Strategies Post-COVID, 1 to 2 p.m.
Tuesday, Aug. 24: Barriers to Enrollment: Designing an Online Orientation Focused on Access, Equity, and Inclusion, 1 to 2 p.m.
Tuesday, Aug. 24: Hybrid Tutoring Centers: Advantages, Challenges & The Future of Online Services, 3 to 4 p.m.
Wednesday, Aug. 25: Training Front Office Staff: Handling Difficult & Disruptive Behavior Remotely, 1 to 2 p.m.
Thursday, Aug. 26: 10 Strategies for Dealing with Online Fatigue, 1 to 2 p.m.
You can access Go2Knowledge on your MyVWCC dashboard or here: Go2Knowledge.org/vccs
---
The Future Trends Forum: Discussions about the future of education and technology with writer/futurist Bryan Alexander.
Leading a University to Equity: Thursday, Aug. 19, 4 to 5 p.m.
How can a university best establish equity in the 21st century? What role can a campus executive leader play in this? With Dr. Franklin D. Gilliam, Jr. (on Twitter), the eleventh Chancellor of UNC Greensboro (UNCG), to explore his strategies and commitment.
More upcoming programs. Video recordings available on YouTube.
---
The #RealCollege Virtual Journey, sponsored by the Hope Center for College, Community, and Justice. A series of online workshops and engaging activities led by experts and delivered free of charge. The theme for August is Higher Ed Finance.
Wednesday, Aug. 18, 3 p.m.: "The State Must Provide," a special event with author Adam Harris.
Join the Hope Center for a special discussion with Adam Harris, staff writer at The Atlantic, to discuss his new book "The State Must Provide: Why America's Colleges Have Always Been Unequal–and How to Set Them Right." Adam will be joined by writer, poet, and scholar Clint Smith, No. 1 New York Times bestselling author of "How the Word is Passed" and fellow staff writer at The Atlantic, for an engaging and vital conversation on the legacy of racial discrimination and segregation in higher education and beyond, and how we should reckon with that legacy today. Register here.
Wednesday, Aug. 25, 3 p.m.: Two webinars: (1) Equity Avengers: Presidential Perspectives on Institutional Budgets and (2) The Free College Movement and Students' Basic Needs. Both at 3 p.m. Register here. Recordings of previous events are available by scrolling down this page.
---
Chronicle of Higher Education. Free virtual events (and plenty of previously recorded webinars):
Wednesday, Aug. 18, 2 p.m.: Preparing for an Ever-Changing Future (Webinar recordings available at link below): College leaders are grappling with the challenge of building more resilient institutions in the face of ever-changing obstacles. What strategic planning and financial modeling practices can help? A panel of experts offers ideas to help leaders rethink their approaches in the virtual forum.
Wednesday, Aug. 25, 2 p.m.: Supporting Student Learning in the Fall. Students are returning to campus, but their transition to a more-traditional learning environment is not expected to be without its challenges. In this virtual forum, a panel of experts will discuss how faculty members and administrators can best support students after 17 months at a distance.
Register for the Chronicle webinars here
---
Bookmark the VCCS professional development website
---
Thank you for reading. Why does Stephanie Ogilvie Seagle feature free learning opportunities on the Green House Grants Blog? Because we transform ourselves by learning like our students. All of us are teachers and learners, no matter our titles.