I only remember two things from my first day of college: What I was wearing, and meeting Sophia.
And I only recall my outfit — a risky combo of black skirt with tan tights — because Sophia joked about it months later.
Our "integrative studies" program at George Mason University was a pretty radical cohort model: All of us — maybe 200? — entered GMU as the first graduating class of New Century College. During our freshman year, all 200 of us gathered for the big welcome speeches and other significant lectures. But most of our time was spent in groups of 50, 25, or 5 for intense mini-mesters. We were assigned to these small learning communities within the gigantic commuter college, which is probably why I never imagined transferring. Interdisciplinary group work and experiential learning were at the heart of NCC, which is now known as the School of Integrative Studies.
Sophia was in my first group of five during the fall semester, and we quickly bonded over prom disaster stories and the realization that we both wore black-choker necklaces for our senior photos. We just … clicked.
She was a first-gen college student from a first-gen Greek family who grew up in NOVA and still lived with her parents. Her high school was so ethnically diverse, it was spotlighted by National Geographic magazine.
I lived on GMU's campus without a car — and was thrilled to be minutes away from D.C. and four hours away from Cave Spring. I'll never forget Sophia's confused reaction as she paged through my high school yearbook: "Your school is so … White?"
Beyond working together on coursework, we ventured to movie theaters to see "Seven" and "The Craft" and started a years-long tradition of sampling nacho appetizers at every restaurant we visited, which is how I know the Old Bay nachos at Red Lobster are actually … good?
If I struggled with our assignments, or tried to navigate our university's bureaucracy, or needed a pep talk, I would go to Sophia first. We became inseparable that first year.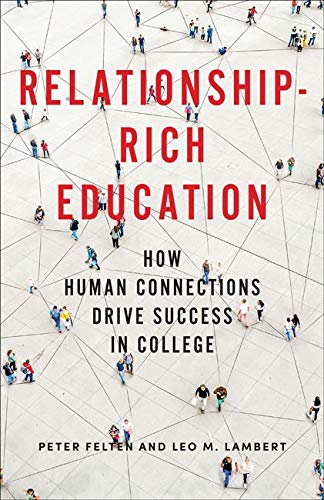 Our academic paths eventually diverged: Sophia pursued business classes, and I burrowed into the student newspaper. But our deep friendship was the most profound relationship of my college experience, carrying us through D.C. internships and trips abroad to graduation and beyond.
And it's exactly the kind of peer relationship the authors encourage in "Relationship-Rich Education: How Human Connections Drive Success in College."
I dog-eared the heck out of this book by Peter Felten and Leo Lambert, who are both professors at Elon University, the N.C. school which has focused on mentoring and experiential learning since the 1970s.
Here's their central question that rocked my winter break: How would higher education be different if we examined our policies and practices through the lens of relationships?
---
We already know personal relationships are the "secret sauce" to student success.
When we interviewed students for our G3 design-thinking project in 2019, they mentioned faculty, tutors, advisors, and TRIO coaches by name who made a difference on their journeys.
Frankly, I would love to scale our TRIO Student Support Services program to the whole college, as our dedicated team has been so effective.
That relationships are important isn't a revelation. The radical part would be designing student pathways "with the belief that what graduates will value most about college in the end are the significant relationships they formed during those years, rather than whether they earned a B+ or A- in US history (60)."
But, wait — I know what you might be thinking: I'm already exhausted. And we could never afford deep, one-on-one relationships with each and every student. Please tell us there's a grant for this?!?!
I'm glad you asked … but, nope, no grant necessary. The good news is that building a relationship-rich education goes beyond one-on-one advising or coaching.
Here's the most important thing to remember:
"We found that the key is not tasking each student with identifying a single mentor who will meet all of their needs, but rather creating a relationship-rich environment where students will have frequent opportunities to connect with many peers, faculty, staff, and others on and off campus. One-on-one mentoring is powerful, yet it is expensive to structure and impossible to scale to all students; relationship-rich environments, on the other hand, are a flexible and affordable means to connect every student to the transformative ends of higher education. (6)
So our role would be helping to foster *constellations* of important relationships. The authors credit educator Brad Johnson for the term "mentoring constellation" to describe a web of relationships that students form during the college experience — and I especially love the analogy because Roanoke is the Star City. I'm also drawn to the awe and wonder of the cosmos, because we aren't just preparing students for a job. As the authors stress, we are "helping students grapple with the big, meaningful questions of their lives."
Felten and Lambert outline four interlocking principles that emerged from their hundreds of interviews with students, faculty and staff at 29 colleges and universities across the country (including nearby Patrick Henry Community College).
Those four guiding principles to creating relationship-rich environments are:
Every student must experience genuine welcome and deep care.
Every student must be inspired to learn.
Every student must develop a web of significant relationships.
Every student must explore questions of meaning and purpose.
---
So what could this mean for Virginia Western?
The authors recommend colleges start inside the classrooms and Zoom rooms — which is especially important for many adult learners who don't have a minute to spare for extracurriculars.
They urge us to build relationships between students through active learning and peer mentoring … to help form the same kind of groups where I met Sophia on my first day of college.
I know this is already happening at Virginia Western — and it's mostly invisible to staff like me. But sometimes, we're lucky to hear directly from students.
I went back and read the student quotes Dr. Sandel shared in an email around Thanksgiving, and found this gem:
Jeff Strom incorporated a variety of group assignments and break-out sessions which allowed for a way to make new friends and socialize. I was very worried I wouldn't be able to socialize or interact with other students via Zoom, but Jeff fixed that issue!
Another example: I attended the SDV session during January in-service, where we discussed the purpose of SDV in breakout rooms. I was delighted to hear both instructors say they aimed to build community in their classes. Most of the bigger group discussion focused on the practical purpose of SDV: Making sure students are aware of all the college resources to help them be successful, which is critical! There were excellent suggestions about making SDV classes more engaging, like creating a scavenger hunt. But let's go further: How would you design SDV if *building peer relationships* was the main objective? Would it change very much?
Here's another strategy. According to "Relationship-Rich Education," faculty at Oakton Community College in Illinois spearheaded a Faculty Project for Student Persistence initiative, which they refer to as the "Persistence Project." Faculty commit to integrating these four steps into the first three weeks of the semester:
Learn your students' names.
Return an assignment to each student with formative, success-oriented feedback early in the term.
Articulate high academic standards for the class but also send a clear message that students who struggle are not doomed, because there is support available outside of class.
Meet one-on-one with each student for a 10- to 15-minute conversation.
The book reports that students in Persistence Project courses are more than 24% more likely than their peers to return to Oakton the next semester, with even better results for students who identify as African American (86).
I highlighted even more community-building ideas in a previous blog post: How do you build relationships in an online world?
---
But what if I don't teach?
Of course, there are many other ways to build a relationship-rich environment outside of our classrooms.
Our Student Life team exists for exactly this reason: Organizing student clubs, sports, fitness activities, trips, and more to help make connections. We have Student Ambassadors, who provide campus tours and peer mentoring.
Here's what one student had to say about Natasha Lee and Chad Heddleston:
Natasha Lee has done a phenomenal job investing her time into ideas and trips for students to enjoy in a safe and enjoyable way. Natural Bridge was so much fun and I'm really glad I had the opportunity to go without having to worry about the expenses associated with it. I'm also grateful for her keeping the food pantry up and running, there were times during the summer I was worried about meals and the food pantry really helped me out when I was low on finances.
Chad Heddleston has also done a great job keeping the fitness center running and providing free resources and activities in the area to do during quarantine. I would also like to thank both of these Student Life staff members as they have served as two mentors for me during my community college experience. I'm very grateful to have them in my life and for them creating so many memories for me to enjoy years from now.
Virginia Western's Military Student Center, thanks to the leadership of Michele Hilts, is an inspiring success story. When I visited the center just weeks before the pandemic, I learned about the atmosphere she helped create. It was a comfortable space where students just "hung out." The students I met that day said Michele was the reason they enrolled and persisted at Virginia Western. They joked several times about her being the military center "Mom." There was a sense of trust and belonging (and snacks). So, congratulations, Michele: Mission accomplished! I love hearing these stories.
OK, but what about someone like me, who doesn't interact with students much at all? No matter our role, we can all be thinking about how to move from transactional practices toward relational ones. Let's start with warm handoffs.
If you receive a panicked phone call or email from a student looking for help (and you aren't the one who can help), it would make all the difference if you took the time to listen and warmly hand them off to the person who could. This exact scenario happened to me while I was in the creative flow of writing this blog post — which was very inconvenient! I was tempted to play hot potato. But I took the student's phone number, connected her with a colleague who could help, and asked the student to reach back out to me if she didn't get her problem resolved quickly. It took just a few more minutes, but I know it meant a lot to the student from her profuse thank-yous.
Building strong relationships within your team, across the college, and throughout our community are critical to these constellations, too.
---
Relationships are everything. Studies show good relationships — more than money or fame — are what keep people healthy and happy throughout their lives.
We know this, but our system isn't designed to improve them. Building relationships takes time and trust. This a long-term investment with our community.
I'm not really a New Year's resolution person, but for 2021, I've committed to putting relationships first — personally and professionally. This goes straight back to the question about what an adult-focused institution looks like.
Maybe it's not what success looks like. Maybe it's what experiences with Virginia Western feel like.
How can Virginia Western continue to develop these constellations of caring relationships? How do we turbo-charge our sense of welcome — a sense of belonging? Is this all connected to teaching those "soft skills" we keep hearing about?
I'll continue to chew on these questions, and I would love to hear your ideas, too. We can also share prom disaster stories … or nacho recommendations, whatever.
— Stephanie Ogilvie Seagle, January 2021