About three years ago, I first learned about Southern New Hampshire University (SNHU). The private, nonprofit school has been celebrated as not only one of the most innovative colleges in the America … but one of the most innovative organizations in the world.
They are able to serve over 3,000 residential students on their campus in Manchester, while enrolling over 135,000 online learners worldwide. All while touting affordable tuition.
I've been impressed by how SNHU designed themselves to serve those two different student groups: (1) The more traditional student who wants an on-campus, coming-of-age experience … and (2) the adult learner who wants convenience, credentials, and speedy completion times. I blogged about SNHU in 2018.
Just recently, I have considered taking a few a la carte classes in screenwriting at SNHU, which would round out my master's degree and give me enough graduate-level credits if I ever wanted to teach English. Their online program would meet my needs as an adult learner.
So I was very much interested to hear what Dr. Paul LeBlanc, SNHU's visionary president, had to say during this Future Trends Forum (Feb. 25, 2021), available to watch on YouTube.
I must give a shout-out to writer/host/futurist Bryan Alexander. Years ago, he introduced me to the work of Dr. Tressie McMillan Cottom — author of "Lower Ed: The Troubling Rise of For-Profit Colleges in the New Economy" and recent MacArthur "genius grant" award winner. Alexander was blogging about the COVID pandemic long before last March, so he has futurist cred. You can browse the archive of his previous forums (all available on YouTube), as well as upcoming programs here.
So what can we learn from one of the most innovative presidents in higher education?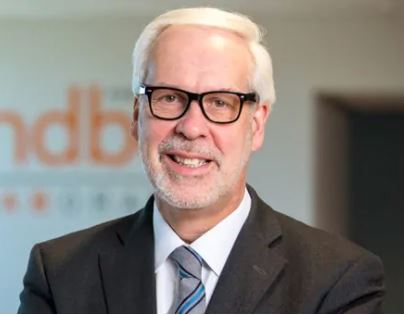 Not only did LeBlanc use the term "rocks" to describe his top 3 priorities for the next year (I explain how "rocks" changed my life here), but his most important "rock" is about reinventing leadership at SNHU. He wants to move away from a top-down, silo-ed, rigid culture and instead focus on developing leaders throughout the organization.
When I shared this blog post on Twitter, LeBlanc himself responded with this comment: "A process that begins with the person at the top recognizing the ways he or she is modeling the very practices that need changing (an exercise in humility)."
So …we know he's listening! 🙂
What else does this look like?
If, for example, a new academic advisor had only been working at SNHU for three months, would that advisor feel empowered to take care of a problem for a student without asking for permission? LeBlanc said that is leadership.
Another example: In an effort to spend SNHU's new $5 million social justice fund, the school created three communities of practice, made up of about 20 people each. They make sure each group has the faciliation knowhow and tools necessary to make these important funding decisions. Membership in those communities was determined by (1) credibility and (2) passion for the topic. Ultimately, the groups determine how the money will be spent, not institutional leadership.
Finally, LeBlanc said SNHU has been training "meeting ninjas," or faciliators, who can be called into meetings across the organization to make sure every voice is heard. He said this is a messy work-in-progress but critical to their culture change and continued innovation.
Closer to home, this reminds me of the Strengthening Your Facilitation Skills (SYFS) training offered by the Virginia Cooperative Extension. This kind of professional learning could be helpful for our governance workgroups, committee meetings, grant projects, classrooms … the more I think about it, wouldn't most of what we do be considered facilitation?
BTW, I like author Adrienne Maree Brown's definition: "Facilitation is the art of making things easy."
LeBlanc's emphasis on facilitation and culture change dovetails beautifully with my previous essay about transforming ourselves by learning like our students … and an Innovation Grant project we just completed.
Back in January, we hosted an Improv for Creative Teaching & Learning session, which was paid for with an Innovation Grant from the Virginia Western Educational Foundation. We had 29 employees participate (yay!), with representation from full-time and adjunct faculty, staff, and college leadership. Many thanks to our facilitator, Ami Trowell, and everyone who attended — we had some fun!
About a month following the workshop, I reached out to the participants for their feedback … and most importantly, their suggestions for future learning opportunities.
Many participants reported the workshop techniques have helped them keep an open mind; be more present; and be better listeners, both in their work and personal lives.
One faculty member emailed, "This was, hands down, the best session of my two weeks of in-service."
Here are their ideas for future professional development:
Soft skills: "I really enjoyed this workshop and would love for VWCC to offer more of this type of 'outside the box' type of professional development. … I think more professional development sessions that focus on soft skills would be excellent, both because emphasizing soft skills will make us better co-workers and because we know that students need to learn these skills within their college experience."
Leadership and/or management training. "Just put me in front of a classroom and I'm totally comfortable. One-on-ones with employees, not so much."
More improv, but with a different focus. More "exercises on how to respond to people in a constructive and meaningful way when you aren't sure exactly what to say. I think that this could benefit faculty and staff in their interactions with students."
Connecting to students (and co-workers) who are on the spectrum for Asperger's syndrome.
Public safety trainings, such as those offered by NOVA community college police. "Self-paced modules I could complete on my own time, answer questions to prove my comprehension, and then get a certificate of completion at the end."
Stress management
Work-life balance/integration. "How to keep yourself from being too dedicated, while still doing an excellent job, and not letting that encroach on your personal time."
Mindfulness and the adult learner. "I think we talk so much about stress and students, but I think we sometimes do not address the solution."
Invite author(s) of "Relationship-Rich Education" to speak at the college.
More trainings about "training." "I like to make training fun and interactive, but it is hard sometimes."
"Relationship identifying" workshop – basically how to create the one you wish to develop.
"I would like any training where our own teachers share their best practices with proven results. They know our audience and they can tell us what works or doesn't."
I'll leave you with this testimonial, which inspires me to continue this conversation about professional learning:
"I wasn't sure about this session at first, but I am so glad I attended. Some in-service sessions seem to be geared toward faculty, so staff members may not feel comfortable attending. Offering sessions, like this, with humor and a positive message sets a wonderful tone at the beginning of a semester and can boost employee morale. I also enjoyed the breakout rooms where I got to interact with others that I don't typically see. Sessions that provide real-world, simple tools (yes, and..) that can be implemented quickly can drive change. This session provided context first, then role playing which helped bring it to life. The two combined really demonstrated that everyone could do it. Motivational, entertaining (fun/lighthearted), and engaging/interactive sessions is what I would like to continue to see in the future."
I know we're all busy, but we *must* make time to learn together, think together, create together.
If you have more professional development ideas, please email: sseagle@virginiawestern.edu.
— Stephanie Ogilvie Seagle, March 2021
On our grant radar
Professional learning opportunities
The ALICE Series: Engaging Our Under-Resourced Students. This five-part series will examine economic class and the implications for engaging under-resourced students. Sponsored by the VCCS Student Success Center. Session 3 on March 24 got my attention: Relationships and Motivation: Building Bridges for Student Success. What does it take to build connections with students? How can relationships affect student success and improve motivation? We will explore strategies to connect with students and consider factors that can influence motivation both in and out of the classroom. All Zoom workshops are from noon to 1 p.m. March 22-26. No registration required. See the full schedule.
The #RealCollege Virtual Journey, sponsored by the Hope Center for College, Community, and Justice. Over a 9-month period beginning with a March 31 kickoff, the Journey will provide participants with online workshops and engaging activities led by experts and delivered free of charge. Register here.
Funding opportunities
Grant starter kit