Nursing (AAS)
Did you know the average registered nurse in the Roanoke Valley makes $29.16 per hour? The AAS Nursing Program at Virginia Western Community College is a pre-licensure RN program that prepares you to work in a variety of settings including hospitals, clinics, schools, homecare, and doctor's offices. Check out our local job board for current opportunities. With a career in nursing, you can make a difference! Begin your journey today and earn a living while serving your community.
If you are interested in applying to the AAS Nursing program, we encourage you to explore the information linked in the left menu to learn more about the process.  Once your application and transcripts have been reviewed, our office can provide academic guidance to help prepare students for possible entry into this program.  If you need further assistance, you may contact our office. 
Transfer Agreements
Students that graduate from Virginia Western with an associate degree and a minimum grade point average may obtain GUARANTEED admission to more than 30 of the commonwealth's colleges and universities. Click here for a list of Virginia Transfer Partners.
In addition, Virginia Western has entered into the following agreements specific to the Nursing program. This list is subject to change, and the most current agreements can be found on our Transfer Agreements page.
Explore Careers Related to This Pathway
Mission for the Concept Based Curriculum
The mission of the Virginia Western nursing program is to provide affordable, community access to quality nursing education. The Virginia Western nursing program prepares qualified students to provide safe, competent, entry-level nursing care in 21st century healthcare environments. Students are prepared to meet the ever-increasing complexity of the healthcare needs of the citizens of Virginia.
Philosophy – Concept Based Curriculum
The Virginia Western nursing faculty ascribe to the core competencies for nursing and nursing education. While firmly based in science and the arts, the essence of nursing is caring and compassionate patient centered care. Ethical standards, respect for individual dignity, and consideration of cultural context are implicit in the practice of patient centered care. The nurse advocates for patients and families in ways that promote self-determination, integrity, and ongoing growth as human beings. Nursing care is provided in collaboration with the patient, the family and members of the health care team. The nurse displays a spirit of inquiry by examining evidence to improve quality of care, promote safety and improve patient outcomes. Nursing judgment is integral to making competent decisions related to the provision of safe and effective nursing care. Information management essential to nursing care is communicated via a variety of technological and human means.
Shared Beliefs
AAS Nursing Program faculty are dedicated to improving the health of our community through development of future nurses who are distinguished as safe, competent professionals, dedicated to the highest standards of care. Faculty believe in the potential of adults to learn and master new knowledge. To that end, faculty engage students in classroom, lab, and clinical settings to help students apply and master new knowledge, necessary to prepare them for the nursing profession. Faculty believe lifelong learning is required of all nurses who have stewardship in the care of our community. Students are encouraged to acquire a firm educational foundation for practice that continues throughout their careers from novice to expert nurses.
Student Learning Outcomes for the Concept Based Curriculum
Students will be able to:
| | |
| --- | --- |
| Client-Centered Care | Provide client centered care promotion therapeutic relationships, caring behaviors, and self-determination across the lifespan for diverse populations. |
| Safety/Risk Reduction | Practice safe nursing care that minimizes risk of harm across systems and client populations. |
| Clinical Judgment | Integrate clinical judgment when collaborating with the healthcare team in the management of care for complex clients |
| Professional Behaviors | Practice professional behaviors that encompass the legal/ethical framework while incorporating self-reflection, leadership and a commitment to recognize the value of life-long learning. |
| Quality Improvement | Manage client care through quality improvement processes, information technology, and fiscal responsibility to meet client needs and support organizational outcomes. |
| Collaboration/Communication | Demonstrate principles of collaborative practice within the nursing and interdisciplinary teams fostering mutual respect and shared decision-making to achieve optimal outcomes of care. |
| Pharmacology Principles | Manage the appropriateness, accuracy, and client response to pharmacology principles for clients with complex conditions. |
End of Program Outcomes
Virginia Western is committed to the overall excellence of its AAS Nursing program through the following end-of-program outcomes:
Kaplan Testing and Clinical Evaluation methodologies will demonstrate that Virginia Western AAS Nursing students have achieved each end of program student learning outcome (EPSLO).
Virginia Western AAS Nursing program will attain a National Council Licensure Examination-Registered Nurse (NCLEX-RN) pass rate of 80% on all first-time test-takers during the same 12 month period.
Virginia Western AAS Nursing program will demonstrate a program completion rate of at least 55% following nursing program matriculation (4 semesters).
Virginia Western anticipates that 90% of graduates seeking employment will acquire nursing jobs as RNs within 12 months of graduation.
Program Approval
This program has full approval by the Virginia Board of Nursing.Virginia Board of Nursing, Perimeter Center
9960 Maryland Drive, Suite 300,
Henrico, VA 23233-1463
https://www.dhp.virginia.gov/Boards/Nursing/
Accreditation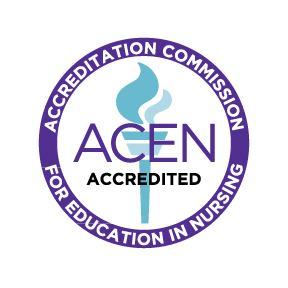 The associate nursing program at Virginia Western Community College located in Roanoke, Virginia is accredited by the:Accreditation Commission for Education in Nursing (ACEN)
3390 Peachtree Road, Suite 1400
Atlanta, GA 30326
404-975-5000
www.acenursing.orgThe most recent accreditation decision made by the ACEN Board of Commissioners for the associate nursing program is Initial Accreditation.View the public information disclosed by the ACEN regarding this program at http://www.acenursing.us/accreditedprograms/programSearch.htm
Professional Licensure Disclosure
Current and prospective students located outside the state of Virginia or who may be considering licensure in a state other than Virginia should review the disclosure information for this program here: Virginia Western Professional License Disclosures for Students Outside of Virginia.
COST OF ATTENDANCE
The cost of attendance is an estimate of the costs a student may have while at Virginia Western.
ADVISING
healthprofessions@virginiawestern.edu
 Fralin Center HP339
New Students: Chapman Hall
 540-857-7341 or 540-857-6644
Fax: 540-857-6640
Mailing address:
School of Health Professions
3091 Colonial Ave., SW
Roanoke, VA 24015
PROGRAM HEAD
Kathy Smith
Interim Nursing Program Head
Diploma in Nursing – Roanoke Memorial School of Nursing, 1978
Bachelor of Science – Roanoke College, 1979
Master of Science in Nursing – West Virginia University, 1985
Certified Nurse Educator (CNE), National League for Nursing, 2020
SCHOOL OF HEALTH PROFESSIONS