Service – Academics – Leadership – Unity – Tribute – Excellence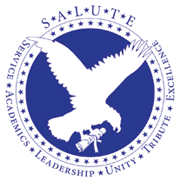 Virginia Western is proud to announce that we have established a chapter of SALUTE, the national honor society for veterans. We were the first college in Virginia to offer students membership in this organization.
In order to be considered for SALUTE membership, a student must have successfully completed a minimum of 12 credit hours, have at least a 3.0 GPA, and have either served, or be currently serving, in the Armed Forces.
Along with the Application for Membership (see below), a copy of either the student's DD-214 or current orders, and an unofficial transcript of all college work must be submitted to the Veterans Affairs Office.
Members will have the option to wear an honor cord and/or tassel in red, white, and blue for the commencement ceremony.
If you are interested, please contact Ben Hickox at Military@virginiawestern.edu.
SALUTE Applications
Mailing Address:
Virginia Western Community College
ATTN: Ben Hickox
3098 Colonial Ave., SW
Roanoke, VA 24015