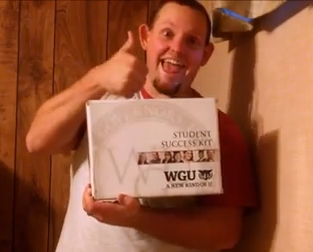 Perhaps this idea has floated around campus before … but I thought I'd share a noteworthy nugget that popped into my Twitter stream.
Apparently all new students at Western Governors University (WGU) — an online university — are mailed a Student Success Kit at the beginning of their first term. I know this because WGU retweeted one of their students, who wrote:
Finally got my Student Success Kit from @westerngovernorsu and I'm so excited! They definitely understand the need for coffee. I've already had some very early mornings and late nights, but I'm loving every minute of school so far. #liquidmotivation #wgu #teacherscollege #momoffour
So what's inside? The WGU Student Success Kit includes:
A webcam for taking online proctored exams (with instructions)
Dry-erase whiteboard and marker
WGU-branded swag (such as that plastic coffee mug referenced above and a "do not disturb" door sign)
I'm struck by how excited students are when they receive the kit … excited enough to post Instagram and YouTube videos as they unpack their boxes.
Watch one of those "unboxing" videos here:
https://www.youtube.com/watch?v=JNjvnK0TOYA
Besides serving a practical function — giving students the tools they need to succeed with a distance learning program — the kits also create an emotional experience.
Why is this important?
I'm about halfway through The Power of Moments: Why Certain Experiences Have Extraordinary Impact, the latest book by Chip Heath and Dan Heath, the brothers who wrote best-sellers "Made to Stick," "Switch" and "Decisive."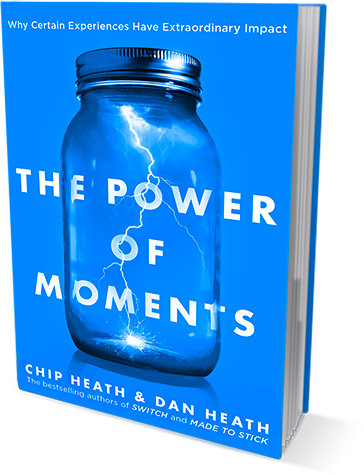 In "The Power of Moments," the authors explain how the best organizations create defining moments … including moments of pride.
The Heath brothers write:
We all work to improve the experience of the people we care about: the patients we treat, the customers we serve, the students we teach, and the kids we raise. We want to create memories that matter. Great experiences hinge on peak moments. We'll call them "defining moments": short experiences that are both meaningful and memorable … Research suggests that organizations dramatically under-invest in building peaks, choosing instead to fill potholes.
Unboxing a student success kit would count as a peak experience to commemorate the beginning of a learning adventure at Virginia Western … which might help with retention.
Now maybe the contents of the WGU kit wouldn't be right for our students … so I'll challenge you to brainstorm: What would you include in a Virginia Western Student Success Kit?
And beyond the kits, I'm curious to hear more ideas about creating peak experiences at Virginia Western (which don't have to cost money).
Email ideas and requests to the borrow this fantastic book: sseagle@virginiawestern.edu.