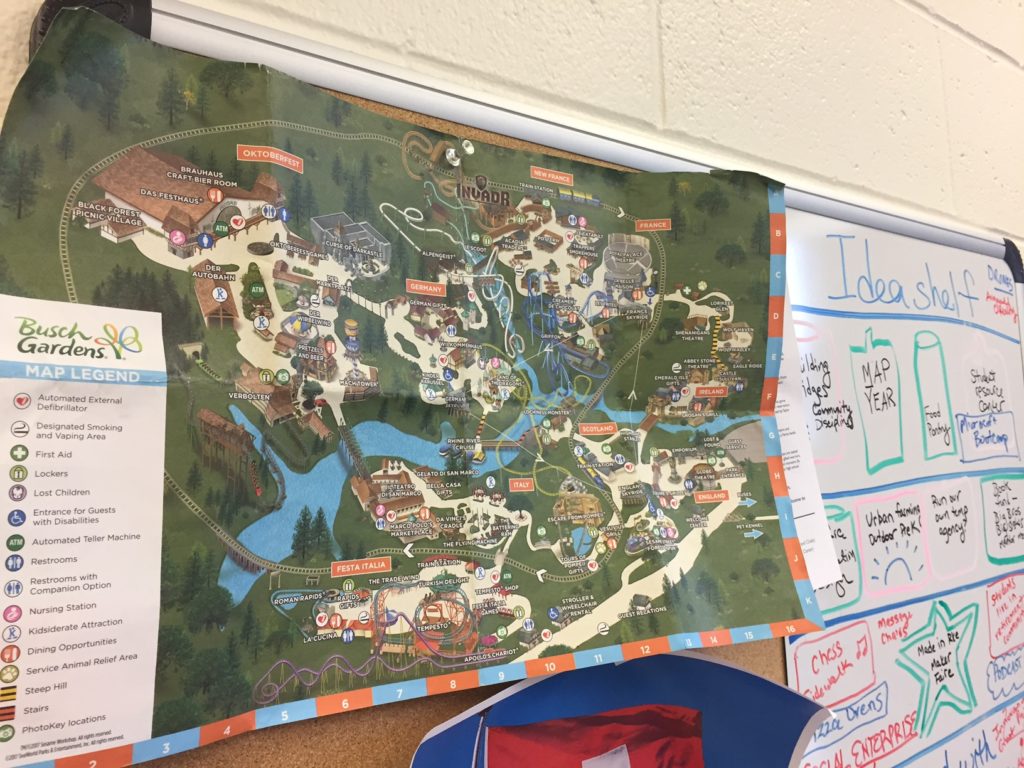 If you've ever been in my office in Fishburn, you probably noticed my bulletin board.
Half of it is designated as an "Idea Shelf" — where I jot down creative thoughts to use for later.
The other half prominently features a Busch Gardens park map.
Let me explain.
Months ago, as our office brainstormed through a big grant opportunity, we were discussing the college's strengths, weaknesses, and wicked problems.
I let my corny humor take over. As legendary ad exec David Ogilvy once said, "The best ideas come as jokes."
So I started drawing.
When I think about Virginia Western, I immediately think of bridges … especially since we have a giant bridge over Colonial Avenue.
So when I started sketching out bridges to all of our programs and connections with our community, my sketch started to look like a theme park map.
And I love a good theme park. Busch Gardens Williamsburg and Universal Islands of Adventure in Orlando are among my favorites.
Soooo … please forgive my crude doodles, but I tried to imagine Virginia Western as if we were a theme park: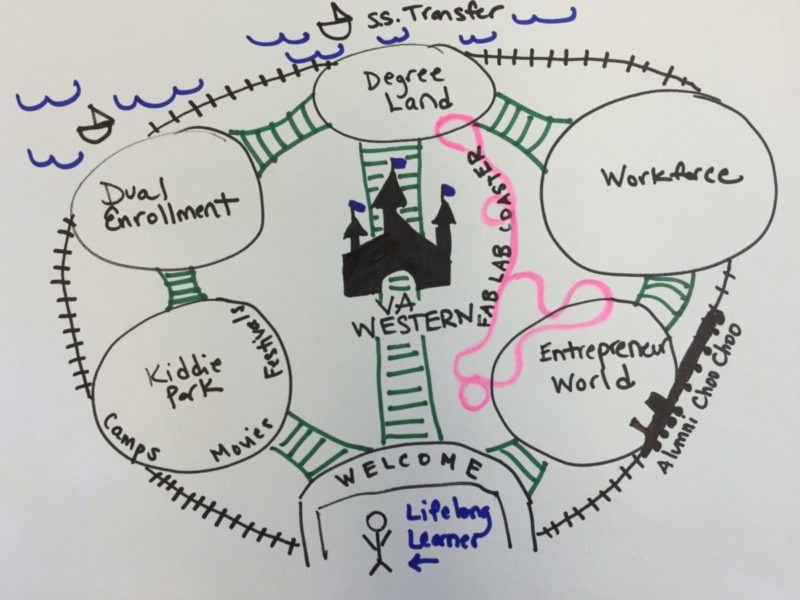 Some questions I had to consider as I drew my map:
How would we design our park for maximum enjoyment for the lifelong learner?
Should there be multiple entrances?
What "lands" would we include, and what are their proportions?
What are the signature, standout "rollercoasters" … the ones most visible to the public … the ones we are famous for? Certain degree programs? The FAB LAB?
How should we connect the different lands? Do we need more bridges and "sky rides"?
How do we help lifelong learners navigate our park — and keep them coming back again and again?
How would potential employers / business and industry fit into this park?
Now, of course, I'm NOT trying to turn Virginia Western into an amusement park … (even though some schools are actually installing lazy rivers).
I'm just looking at VWCC — and how we all connect together — in a different way.
Months after my theme park exercise, I read an article that really helped articulate why these kind of metaphors are important.
In "A New Liberal Art," the Chronicle of Higher Education explores the concept of systems thinking — which emphasizes the relationships between the parts of an organization. My a-ha! moment happened when the article explained "mise en place" (French for "everything in its place"), which chefs use to manage a kitchen.
This is my favorite part of the story:
"The culinarians have a saying: A cook sees his station, and a chef sees the whole kitchen," says Dan Charnas, a New York University journalism professor and author of Work Clean: The Life-Changing Power of Mise-En-Place to Organize Your Life, Work and Mind. "Being a chef requires a global vision — the ability to see systems, to see how everything fits together." The greatest chefs are not just thinking about when to broil the fish, but how the fish relates to the pasta cooking at another station, the food delivery that evening, the fishermen working on the ocean, the changing climate's impact on the fisheries, and so on.
"If you've ever seen some of the chefs graduate and go on to do other things — whether it's run their own businesses or run consumer-products companies — they take their mise en place with them, because it's now ingrained in them," Mr. Charnas says.
Systems thinking can help us better understand Virginia Western — how do each of us and our departments interact with one another to create experiences (good or bad) for our students?
And what would your theme park map look like?