A couple of weeks ago, I wrote about the Student Success Kits that are mailed to each new student at Western Governors University.
The kits include practical tools to help these students succeed at an online university, including a webcam.
But more importantly, the act of receiving — and unpacking those kits — have become a "peak moment" for these students, as evidenced by numerous posts on social media.
Dan Heath, co-author of "The Power of Moments," explains why building those peaks is so important in this 4-minute video … (see if you can spot my childhood doppleganger) …
… and if you liked that video, the next one talks about creating peak moments in schools.
So the Western Governors Student Success Kit got me wondering: What might we include in Virginia Western's version?
Two of our colleagues were inspired enough to share some suggestions by email. I've posted their ideas here with their permission:
Jeffrey Kamal, Academic Link Program Assistant, writes:
I had several ideas for a student success kit. Then I thought more about it and asked myself, "What could VWCC include in a student success kit that's different from WGU's and cost-effective?" Here are my ideas so far:
VWCC tumbler (for coffee & tea – maybe the coffee shop would agree to give them a discount)
Coupons (locations TBD or it could just be for the Domino's/Coffee/Subway on campus)
VWCC planner
And then I tried to think creatively: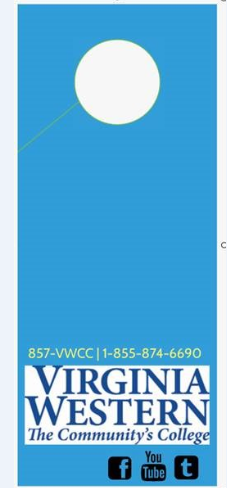 VWCC flash drive
$10 WEPA print card (or maybe $5?)
Headphones
How about if we took things a step further and mailed the health professions/nursing students a scientific or graphing calculator?
Paper items:

A small booklet that contains a comprehensive list of study tips
Help Desk "bookmarks" on how to connect
A guide on how to use WEPA (somebody could create one if it doesn't already exist.)
A doorknob hanger like WGU's. Maybe there could be a contest where students submit their designs. This was the best I could do so far …
Office supplies: These items are relatively cheap so I am thinking they wouldn't be so "special" to include in a student success kit:
Note cards w/ VWCC logo
Pens w/ VWCC logo
Mechanical pencils w/ VWCC logo
Mini hand sanitizer
Now how do we get the students to actually read the documents included?
Perhaps there could be periodic or weekly emails that say "The first ___ students to submit a study tip from the booklet included in their student success kit will receive a prize of ___/will be entered into a drawing to receive a prize of ___."
Here are some ideas for renaming the kit:
Student Savvy Kit
Student Welcome Kit (as in "welcome to VWCC! Whether this is your first semester or second (or more!), we are pleased to have you as a student. We hope you enjoy the following items included in your kit: [list of items]"
***
That is awesome, Jeffrey! I'm really impressed by how much thought you put into this challenge … and that you actually designed a doorknob hanger!
Heather Derrick, one of our new program coordinators in Workforce, emailed:
I was thinking about holding a Healthcare Workforce orientation night late January 2018 for our four core healthcare programs. A chance to bring all the students together in one room, get them pumped about the upcoming semester, communicate expectations about what it's going to take to succeed, and also connect them to initial strategies and resources. A Healthcare Workforce Success Kit would be the ultimate take-away! (Especially if I can figure out the scrub voucher thing. We could put a little note in there with their voucher asking them to share a pic in their new scrubs with the hashtag #scrubup!)
***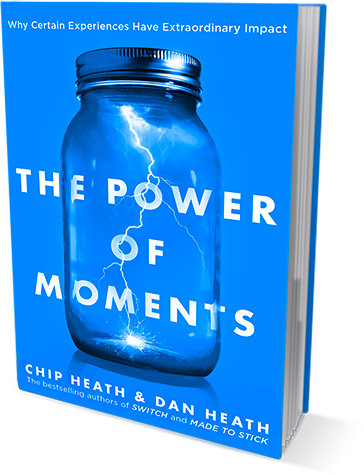 So one of the key points from the authors of "The Power of Moments" is that truly outstanding peak moments are personalized, not standardized. And that's why I really like Heather's idea. These kits would be specifically tailored for healthcare programs in Workforce … so a Virginia Western Student Success Kit might look different from focus area to focus area, program to program. By giving them out in person at orientation (and by making the event feel special), it would create an exciting social experience that I doubt these students would soon forget. On the academic side, perhaps success kits could become part of the retooled SDV experience?
If you like the idea of creating student success kits — and more peak moments for our college — then I highly recommend the *free* resources on this page, including the first chapter of "The Power of Moments."
The lessons I've learned apply to my daily interactions on this campus … not just highly choreographed moments.
I'll be discussing a couple more takeaways from "The Power of Moments" in future blog posts, including a successful college course design program that's in our backyard. The question at the heart of the program is: "What do I want my students to know 3-5 years after the course is over?"