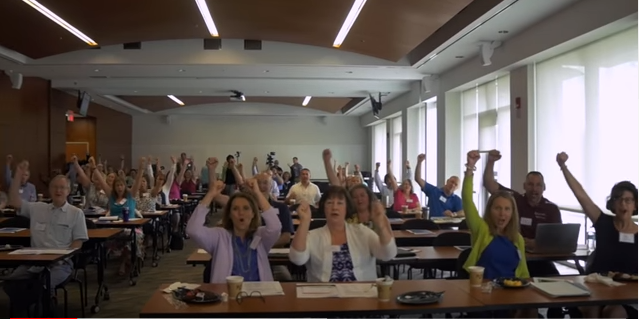 I'm hoping you're as excited about professional development as these folks are, because the VCCS offers two types of professional development grants:
The Paul Lee Professional Development Grant, with a maximum stipend of $2,500 for the summer.
The Paul Lee Workshop Mini-Grant, with a maximum award of $1,500.
Today, I'll spotlight the VCCS Paul Lee Workshop Mini-Grant.
Dr. Carrie Halpin, Virginia Western's Instructional Designer and Technologist, has been awarded this workshop mini-grant for the past few years … they have funded her successful summer Instructional Technology Mini-Conferences, which she raved about in our YouTube video, 7 Ways Grants Have Transformed Virginia Western.
The grant pays up to $1,500 to host a workshop that must involve at least two or more VCCS colleges.
The next deadline is Feb. 1 for projects proposed for the 2018 summer semester.
The VCCS suggests the following topics to get your ideas percolating:
Innovations in technology, professional activities, and shifting community college roles
Future directions for the community college
Articulation with public schools and 4-year colleges
International education
Mentoring part-time employees
Student development, assessment, or retention
Complete 2021-related topics
New relationships between and among community college employees
Time management/stress management
Promoting pleasant, positive work environments
Motivational topics
Dealing with change
Other topics that meet discipline, instruction, career, or organization needs
Some FAQs from the VCCS:
What distinguishes a workshop mini-grant from a professional development grant?
Mini-grants are awarded for day conferences, in-service activities and workshops. Funds are allocated to conduct a meeting, not attend one. Those conducting mini-grant workshops are not eligible for honorariums.
Who is eligible to submit a mini-grant application?
All VCCS employees, including adjunct faculty and classified staff, are eligible to submit a mini-grant.
What activities associated with mini-grants are eligible for funding?
Mini-grants may be used for all of the following: one or more speakers from outside the VCCS; travel costs for speakers within the VCCS; food and beverage at per diem rates for attendees; and the cost of handouts.
Which budgetary items will not be funded?
Speakers actively engaged in the sale of a product and speakers from within the VCCS are not eligible for compensation, and services not connected with an approved budget activity.
Also not allowed:
Purchasing classroom, student or software supplies
Funding student activities
Licensures
Workgroup meetings normally supported by colleges
Gifts, entertainment and alcoholic beverages.
More information
To review the online application and learn more about these grants at https://opd.vccs.edu/awards/grants/
The grants office would be happy to talk through you ideas. Please note that all proposals must be reviewed by Virginia Western's Office of Grant Development and Special Projects prior submission. Please contact Marilyn Herbert-Ashton ( mherbert-ashton@virginiawestern.edu | 857-6372) or myself ( sseagle@virginiawestern.edu | 857-76084) for assistance.