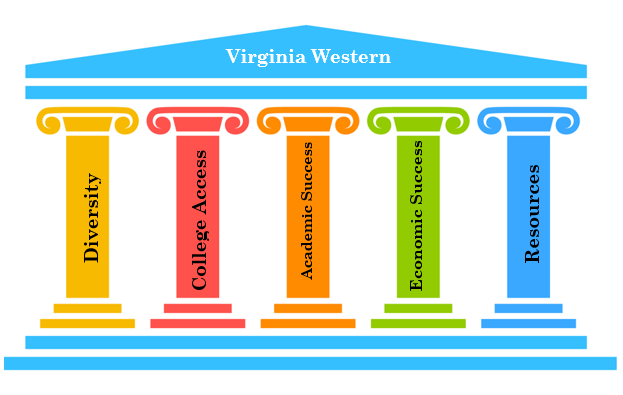 The Virginia Western Community College (VWCC) strategic plan identifies institutional priorities and provides a foundation for annual planning that guides budgetary decision-making. It is an integral part of VWCC's institutional effectiveness process.
The 2022 Strategic Plan (PDF) addresses the following priorities:
Diversity, Equity, and Inclusion
College Access
Academic Success
Economic Success
Resources to Support the College's Mission, Vision, and Values
Similar to previous strategic plans, the 2022 VWCC Strategic Plan is enterprising and progressive, responding to state and national priorities, the needs of current and future students, and community insights.  As a living document, College leadership will constantly evaluate and review performance.
Previous Strategic Plan (PDF)
The 2022 VWCC Strategic Plan follows the College's mission, vision, and core values and places a premium on the attainment of institutional effectiveness standards, institutional priorities, and desired outcomes. 
Annually, the Office of Institutional Effectiveness will prepare a progress report that will be presented to the College Council, Executive Team, and the College Local Board.