"No person in the United States shall, on the basis of sex, be excluded from participation in, be denied the benefits of, or be subjected to discrimination under any education program or activity receiving Federal financial assistance." – Title IX of the Education Amendments of 1972, and its implementing regulation at 34 C.F.R. Part 106 (Title IX)
Virginia Western Community College is committed to providing an environment that is free from harassment, sexual assault, and sex discrimination. We are committed to ensuring a safe campus climate for all of our students and the entire college community. Through a comprehensive compliance program, we promote fundamental rights, advance individual and institutional integrity, and uphold the vital aims of Title IX.
This Program Statement, updated regularly, details the colleges efforts to comply with Title IX. Additional information is also available through our Policy on Harassment.
Members of the campus community who believe they have been subjected to harassment, sexual assault, or sex discrimination should immediately report the incident to campus or local police. All emergencies or any incident where someone is in imminent danger should be reported immediately to campus police or local police by dialing 911 or 540-857-7979.
Whether or not a report is made to law enforcement, members of the campus community should report alleged violations of this policy to the Title IX Coordinator during normal business hours. The Title IX Coordinator is solely responsible for overseeing the prompt, fair, and impartial investigation and resolution of complaints filed with the College. For more information on reporting procedures, please see the Policy on Harassment
Policies and Procedures Related to Title IX
Title IX Training
Title IX training is available through our online orientation.
Training of Title IX Coordinator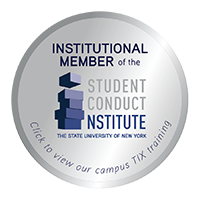 All materials used to train Title IX Coordinators, investigators, decision-makers and any person who facilitate an informal resolution process is through the Student Conduct Institute and can be found at https://system.suny.edu/sci/postedtraining.
Additional Resources
Campus:
Intervention Counselor: 540-857-6711
Community:
Sexual Assault Response & Awareness (SARA): 540-345-7273; 24 hour line: 540-981-9352
Roanoke City Police: 540-853-2212
Protective Orders:
http://www.courts.state.va.us/courtadmin/home.html
Magistrates in the City of Salem & Roanoke County: 540-387-6092; City of Roanoke: 540-853-2247
Contact
The Title IX Coordinator is Lori Baker, Dean of Student Affairs. Her office is located in Chapman Hall, Room 102; telephone at 540-857-6348; email TitleIXCoordinator@virginiawestern.edu. The deputy Title IX Coordinator is Hillary Holland. Her office is located in the Student Center, Room 207; telephone number is 540-857-6488, email TitleIXCoordinator@virginiawestern.edu.
Responsible employees are Lori Baker, Dean of Student Affairs; Craig Harris, Chief of VWCC Police; and Sheri Meixner, LCSW, Intervention Counselor; and Hillary Holland, Disability Counselor/ADA Coordinator.