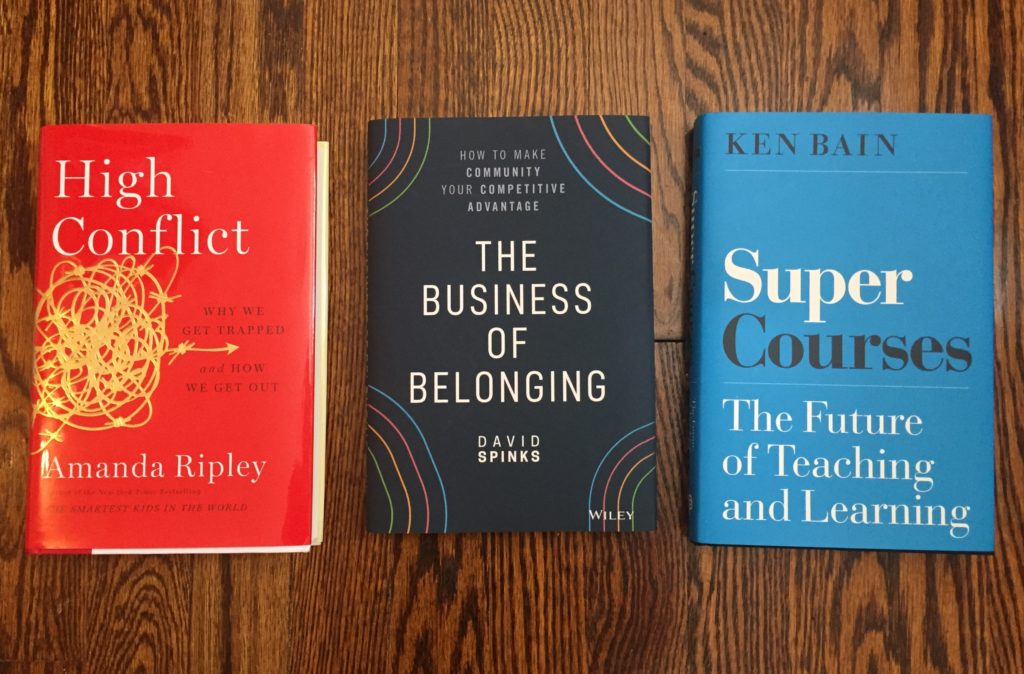 I'm just days away from a proper summer vacation, and I'm excited about my beach reads:
"High Conflict: Why We Get Trapped and How We Get Out" by Amanda Ripley: In a July interview with the American Press Institute, Ripley talked about how journalism can help hyperpolarized communities find common ground. I was intrigued by her thoughts, so I immediately ordered her book.
"The Business of Belonging: How to Make Community Your Competitive Advantage" by David Spinks: I'm hoping to apply any insights from this book to the fledgling idea of cultivating "career communities" here at Virginia Western.
"Super Courses: The Future of Teaching and Learning" by Ken Bain: John Warner, who writes the "Just Visiting" blog on Inside Higher Ed, has raved about Bain's book, "What the Best College Teachers Do," so I figured I would read his latest release.
I just finished "Range: Why Generalists Triumph in a Specialized World" by David Epstein, which emphasized the value of general education alongside vocational skills — which made me feel really good about my undergraduate degree in "integrative studies." This was just the latest book in my quest to better understand creativity.
What are you reading this summer? I would love to hear some recommendations from all genres in the comments below.
My vacay also means I'll be stepping away from the blog for a couple of weeks.
In the meantime, please enjoy a wide variety of free professional learning opportunities as we count down the days of summer:
Free professional learning opportunities
Course Hero Virtual Education Summit: What Matters Now?
July 28-30, noon to 6 p.m. Our classrooms are different. Now what? How can we get back to the heart and science of learning after a year of unprecedented challenge and change? Join thousands of higher ed leaders, faculty, researchers, policy experts, and more, to discuss and debate the latest techniques for teaching and learning in this hyflex moment. Register for free.
---
Go2Knowledge: All VCCS faculty and staff have free, unlimited access to live webinars and on-demand training provided by Go2Knowledge. The live webinars are highlighted at the top of the Go2Knowledge dashboard, but you can search through an entire library of recorded, on-demand sessions on topics including teaching and learning, campus safety, institutional effectiveness, and student success.
Some upcoming live webinars:
Thursday, July 29: Online Peer Mentoring: Meeting the Unique Needs of Non-Traditional Students (back by popular demand), 1 to 2:30 p.m.
Wednesday, Aug. 4: Adapting Frontline Customer Service: Hybrid Support in the Age of COVID, 1 to 2 p.m.
Wednesday, Aug. 11: Promoting Mental Health As We Return to Campus: Creating a Proactive Culture of Well-Being, 1 to 2 p.m.
Wednesday, Aug. 18: Using High-Impact Practices to Advance Equity and Student Success Outcomes, 1 to 2:30 p.m.
Thursday, Aug. 19: Tutoring Center Administration: Supervising and Retention Strategies Post-COVID, 1 to 2 p.m.
Tuesday, Aug. 24: Hybrid Tutoring Centers: Advantages, Challenges & The Future of Online Services, 3 to 4 p.m.
Wednesday, Aug. 25: Training Front Office Staff: Handling Difficult & Disruptive Behavior Remotely, 1 to 2 p.m.
You can access Go2Knowledge on your MyVWCC dashboard or here: Go2Knowledge.org/vccs
---
The Future Trends Forum: Discussions about the future of education and technology with writer/futurist Bryan Alexander.
Thursday, July 29, at 2 p.m.: How can we best read in the digital world? How can we teach students to read digitally most effectively? With Dr. Jenae Cohn, director of academic technology at California State University-Sacramento.
Thursday, Aug. 5, at 2 p.m.: The educated underclass. With emeritus professor, former Vice Chancellor for Academic Programs and Policies, and Dean of the Graduate School at Rutgers University at Newark Gary Roth, author of The Educated Underclass Students and the Promise of Social Mobility.
Thursday, Aug. 12, at 2 p.m.: What does a campus merger look like? How can they succeed, and when are they a good idea? With Dr. Kevin Quigley, former president of Marlboro College.
More upcoming programs. Video recordings available on YouTube.
---
The #RealCollege Virtual Journey, sponsored by the Hope Center for College, Community, and Justice. A series of online workshops and engaging activities led by experts and delivered free of charge. The theme for August is Higher Ed Finance.
Wednesday, Aug. 4, 3 p.m.: "The State Must Provide," a special event with author Adam Harris.
Wednesday, Aug. 25, 3 p.m.: Two webinars: (1) Equity Avengers: Presidential Perspectives on Institutional Budgets and (2) The Free College Movement and Students' Basic Needs. Both at 3 p.m. Register here. Recordings of previous events are available by scrolling down this page.
---
Chronicle of Higher Education. Free virtual events (and plenty of previously recorded webinars):
Wednesday, July 28, 2 p.m.: Successful Online Academic Programs (Webinar recordings available at link below): A panel of experts in cutting-edge online platforms, program planning, and student retention will gather to discuss the lessons that can be learned from their success.
Thursday, July 29, 2 p.m.: Student Well-Being and Flexibility: An International Comparison. A global panel of experts will discuss the needs of college constituents — mental health, financial constraints, flexible-learning options, and more.
Monday, Aug. 2, 2 p.m.: The Evolving Role of the Librarian. A panel of experts joins The Chronicle to examine what is expected of library managers now and what skills they should develop to continue to meet the changing demands of the profession.
Monday, Aug. 9, 2 p.m.: Managing Covid Risks Among the Vaccine-Hesitant. A panel of experts offering insights about messages and strategies that can help keep students safe and encourage vaccination.
Thursday, Aug. 12, 2 p.m.: Attracting Students to Cutting-Edge Programs. Colleges are investing heavily in STEM programs. Will there be enough student interest to make that investment pay off? Our panel of experts discusses the considerations college leaders must make as they seek to prepare students for the workforce of the future.
Register for the Chronicle webinars here
---
Bookmark the VCCS professional development website
---
Thank you for reading. Why does Stephanie Ogilvie Seagle feature free learning opportunities on the Green House Grants Blog? Because we transform ourselves by learning like our students. All of us are teachers and learners, no matter our titles.