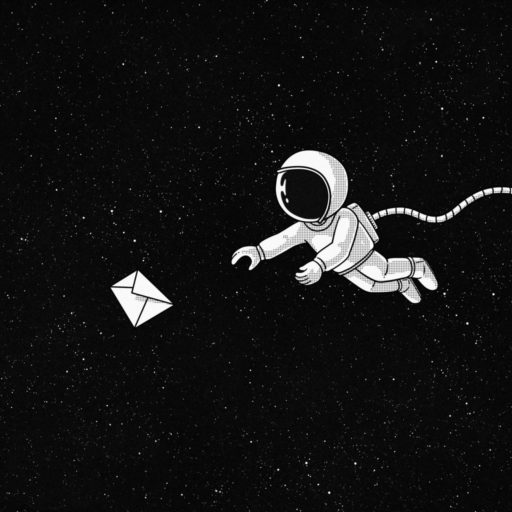 Many times during the pandemic, I have felt like an astronaut, flying solo in my home office "spaceship," connected only through email and Zoom portals.
We've relied on email to share information long before COVID, but our disrupted year gave me the space to really reflect on the communication that happens in between our Zoom meetings.
Frequent, crystal-clear communication helped me relax, especially as life was spinning out of control.
I realized sending more effective emails could help alleviate anxiety, for myself and others.
When it came to managing the various grant projects orbiting around the college, I started thinking of myself less like an astronaut and more like mission control.
The grants office can help launch these ambitious missions, but project directors are the true pilots. We have to constantly communicate in order to succeed.
If you are working on a grant-adjacent project — as a project director especially — you really can't over-communicate with us. In fact, that's the No. 1 job of a director of any kind: Communicate, communicate, communicate.
Radio silence can be scary and lonely. Just think of those tense moments in "Apollo 13" and "The Martian" and "Contact" and "Gravity" and "Interstellar." (Yes, I watch a lot of sci-fi.) I welcome your frequent emails and "ccs." I will even encourage a few "Houston, we have a problem" jokes. But just a few.
I've come up with a list of five personal "rules" for writing more effective emails. This is a practice I'm constantly trying to improve, so call me out if I'm not following through. Maybe you'll find them helpful?
1.
I will acknowledge your email soon after I receive it, but that doesn't mean I will take action immediately. I usually need some time to process, especially on Monday mornings and the day I return from vacation. (I always need to ease into my inbox on those days.) You will receive a response within 24 hours — usually much sooner. If I can't resolve the issue immediately, you will get some version of, "Thanks, got your email, and I'm planning to take care of ____ by (a deadline). I will get back to you with questions if I have them." And I make sure to add this to-do item to my weekly "quest map" so I don't forget!
2.
I will be clear about what I need from you. If I need you to take action, I will make this obvious and will probably highlight in bright yellow, or turn it into a more organized chart if there are multiple pieces. Is my email just an FYI with no action needed? I will make this clear as well. And if I'm forwarding you an epically long email thread, I will summarize the key points so you don't miss anything important.
3.
I will give you a deadline. I'm a former journalist who thrives on deadlines, so this is natural to me. Deadlines help us prioritize and manage our time wisely, especially when we're trying to juggle multiple projects. I try to summarize the action needed and deadline in the subject of the email.
4.
I will attach everything you might need to take action. I'm a fan of Wikipedia — so I've been trying to bring the wiki spirit to my emails, meaning, I want to save you the time and hassle of searching for previous emails to give you the full story. When appropriate, I try to compile all of the backstory and documents into one email so you can have them at your fingertips. This helps when you're trying to quickly prep for a Zoom meeting … and with grant documentation as well.
5.
I will be mindful of clicking "reply all." I aim to be as inclusive as possible (for information sharing purposes), but I try to avoid taking the entire group down a rabbit hole of unnecessary minutiae with ongoing replies. This is a strategic balancing act I continue to refine. But again, I want to reiterate: I personally welcome your frequent communication — this makes my job easier as Chief Nerd of Grant Mission Control. You really can't annoy me. Well, unless you use excessive Comic Sans font in your emails, then, yes … mission accomplished.
Do you have any email tips you would like to share? I would love to hear about them: sseagle@virginiawestern.edu.
On our grant radar
*Free* professional learning opportunities
Moving Forward with Purpose by Steve Gilliland. May 20, 10 a.m. Presented by the Virginia Community Colleges Association (VCCA) Support Staff Commission. "More than ever, people need to rely on cooperative strength, think differently and continue moving forward with purpose. This keynote speech reflects on where we've been and the powerful potential that awaits those ready to seek and secure it. Together we are enduring a dramatic chapter in the real-life story of access, empathy, progress and well-being. If we fail to adapt, we fail to move forward. Life is about moving on, accepting changes and looking forward to what makes you stronger and more complete." Learn more about the speaker here. Admission is free, but registration is required.
In this live, virtual presentation, you will learn:

How to maintain patience and a positive attitude while teaming with others toward that next horizon.
How to fuel your passion and enthusiasm for goals that push you beyond challenges.
How to develop perseverance, that unwavering commitment and willingness to keep moving forward despite all obstacles.

The Future Trends Forum: Discussions about the future of education and technology with writer/futurist Bryan Alexander. April 15: What do accrediting agencies foresee for higher education's evolution? with Dr. Belle S. Wheelan, president of the Southern Association of Colleges and Schools Commission on Colleges (SACSCOC). May 27: How can we enhance the academic opportunities for Black students? with Freeman A. Hrabowski, III, president of the University of Maryland, Baltimore County. More upcoming programs. Video recordings available on YouTube.
The #RealCollege Virtual Journey, sponsored by the Hope Center for College, Community, and Justice. A series of online workshops and engaging activities led by experts and delivered free of charge. Upcoming topics include a conversation with "Pregnant Girl" author Nicole Lynn Lewis on May 12, and "Campus-Based Supports for Students with Familial Responsibilities" on May 19. Register here.
Basic Needs Insecurity Among Virginia Community College System Students: A #RealCollege Webinar. June 3, 3 p.m. In fall 2020, over 10,000 Virginia Community College System (VCCS) students participated in the Hope Center's #RealCollege Survey. The survey assessed students' basic needs security and their well-being, as indicated by employment status, academic engagement, and mental health. It also explored the impacts of the pandemic, which challenged VCCS students, faculty, and staff in new ways. Get a first look at the survey results and hear about the VCCS's growing work to support students' basic needs and achieve the state's college attainment and equity goals. Register here.
NSF Spring 2021 Virtual Grant Conference. Designed to give new faculty, researchers, and administrators key insights into a wide range of current issues at NSF. Program officers will be providing up-to-date information about specific funding opportunities and answering attendee questions. June 7-11. Registration is free and opens at noon May 5.
Virginia's Education Equity Summer Institute. June 15-17, 9 a.m. to 5 p.m. The Virginia Department of Education hosts this conference for Virginia educators, school leaders, education policymakers, and more. Breakout sessions and keynotes will include professional development to support Virginia's recently expanded History and Social Science standards and the implementation of the new elective course in African American History for high school students that will launch this fall. June 15: Teaching Black History: Building Teacher Content Knowledge and Instructional Capacity. June 16: Teaching through Culturally Sustaining Pedagogies. June 17: Culturally Responsive and Inclusive Educator Practice at Four Critical Levels.
Bookmark the VCCS professional development website
Funding opportunities
NSF: Robert Noyce Teacher Scholarship Program. Provides funding to provide scholarships, stipends, and programmatic support to recruit and prepare STEM majors and professionals to become K-12 teachers, especially in high-need school districts. Community colleges strongly encouraged to apply; however, it requires collaboration with K-12 and co-leadership with 4-year school. (due Aug. 31)
Grant starter kit