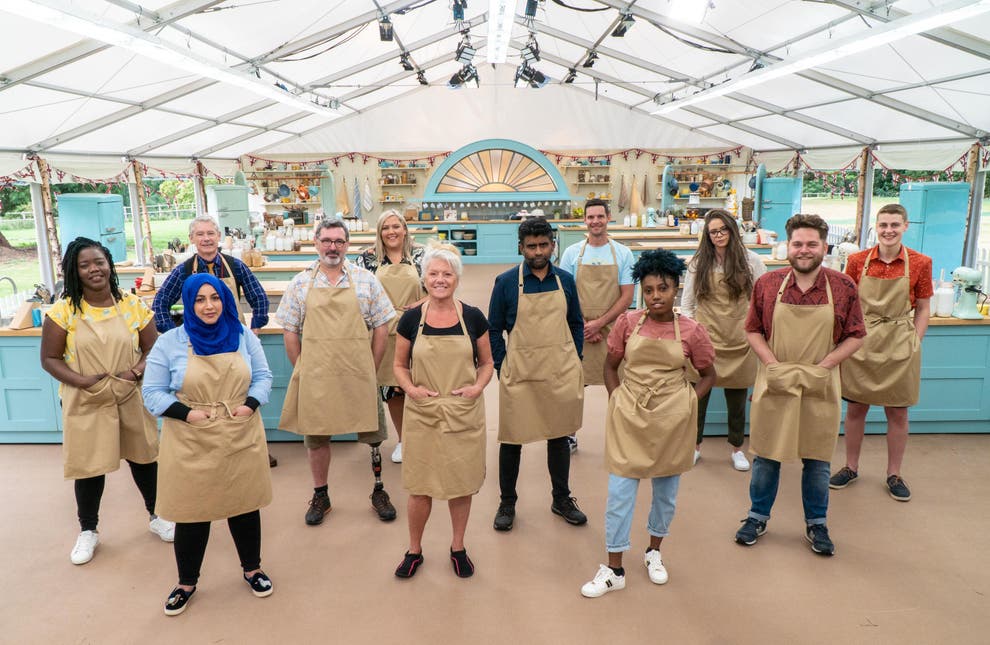 I never thought I would get this emotionally involved with a cooking show.
Or, to be more precise, a *baking* show.
It's not that I haven't watched them before.
My 7-year-old is a HUGE fan of the Kids Baking Championship on the Food Network. In fact, Taylor Pusha, a Northside Middle School student, won the holiday version of this kids show in 2020, dazzling the celebrity judges with her flavorful gingerbread.
And, of course, who could forget Virginia Western chef John Schopp, who competed in the Halloween Baking Championship in 2016?
So I'm very familiar with the competitive food TV genre … which is why I became so enchanted by "The Great British Baking Show," which my husband and I continue to binge on Netflix. We've watched about six seasons already, starting from the most recent (2020), and going backward.
I love this show even though I don't really love to bake.
How is this possible?
Because "The Great British Baking Show" isn't really about baking.
For me, it's about creating a little learning community — an "island of sanity," to borrow a term from author Margaret Wheatley, whom I have mentioned before.
Margaret Wheatley explains her "island of sanity" concept in this excellent YouTube interview about building relationships, fighting bureaucracy, and teaching in a post-COVID world.
Here's what I mean about the GBBS becoming a learning community/island of sanity:
About a dozen home bakers — all amateurs — gather under a giant party tent in the English countryside for a series of 10 weekly baking challenges. With the exception of the most recent quarantined season, the bakers compete on the weekends and go home to practice during the week, which reminds me very much of a class. The international TV audience is learning along the way as well.
While a baker is eliminated each week during this "bake-off," the vibe feels much more collaborative. They never work as formal teams — but the "competitors" often help each other as they struggle — and sometimes spectacularly fail — throughout the challenges. Instead of cutthroat conflict I've seen amplified on most other food shows, this one is … supportive. Collegial. Downright joyful.
I don't think this can be attributed to just one thing.
Like a good bake, there are many ingredients that come together in this magical recipe.
Let's start with the production design: The beautiful outdoor setting, with natural sunlight and numerous shots of blooming spring flowers. The pastel, Easter-egg color scheme — down to the stand mixers — and plucky background music. The judges deliberating around a kitchen table, cups of coffee (or tea?) in hand. Even the wardrobes: They tend to be colorful and full of happy polka dots and floral prints.
Anna Beattie, the show's creator, told the Guardian in 2013: "I loved that idea of village fetes and an old-fashioned baking competition with people who only wanted to bake a good cake. It was as simple as that."
Each season features the same familiar format: Three challenges per episode. Two judges who focus on the baking results, and two hosts who bring some pep talks and comic relief during the actual baking, which can get a little tense. As we watched, my husband remarked on comedian Noel Fielding: "He just seems like a genuinely nice person."
The judges are honest, but the feedback is kind and constructive and will help these bakers long after the show ends. Which is important, as baking is a craft that takes years of practice.
For most of these bakers, their creations are expressions of love. Many of their cakes and breads and pastries celebrate childhood memories or members of their family.
Now here's where it gets emotional. Some of these contestants are so humble and surprised when longtime judge Paul Hollywood raves about their bakes, they don't gloat. They just … cry.
The show helps these bakers believe in themselves.
The "Great British Baking Show" also helps us get to know each baker, spotlighting their personalities, day jobs, and relationships at home. We hate to say goodbye when it's their time to leave the tent — and all the bakers and judges gather for hugs right after they deliver the sad news. But we're also crying happy tears as the credits roll, especially when an ecstatic "star baker" calls a loved one to tell them the good news.
When the field is narrowed down to three finalists, the winner is announced in front of proud family and friends who have gathered on the lawn for that "village fete," sometimes with slides and bouncy houses.
The winner walks away with some glory, a bouquet, and a fancy cake plate … but the camaraderie feels more like the real prize. The finales end with photos of the competitors hanging out with their new baking friends all around the UK, long after the filming ends.
It didn't really surprise me when I learned the company that created the show is called Love Productions, as it seems love is what they are trying to spread.
Love for baking, love for learning, love for one another.
This is exactly what I want to model in my work and at home: Creativity, care and collaboration.
I'm all about reflective exercises, so please indulge me a minute.
Would it be possible to create a similar GBBS atmosphere in a classroom — no matter the subject? What about in your area of expertise?
Let's have some fun here: If I were to create my imaginary "Great Nonfiction Writing Class," what might that look like?
For the asynchronous portion: A series of weekly, real-world writing challenges to practice technical skills and to showcase what students love. I would start with John Warner's "The Writer's Practice" for ideas.
For the face-to-face or synchronous session: Use most of this time for students to share and edit in a supportive, collaborative, psychologically safe environment — probably in duos and building from there. Maybe we could meet in the arboretum.
I would aspire to become a balanced blend of artisan teacher and supportive comedian — to share honest, constructive feedback while also giving everyone a proverbial hug of encouragement. I would recognize my power to control the emotional climate. I would also wear statement spectacles, like judge Prue.
Maybe we bring in at least one "celebrity judge"/leader/employer from the community to talk about our work.
Our class would end in a celebration of some sort — a live reading and publication of our favorite writing? Or another idea chosen by the students themselves?
Baked goods will always be welcome.
Which reminds me … you can help congratulate Taylor Pusha, Roanoke winner of the Kids Baking Championship, by ordering sweet treats through her home-based business: https://www.tmcakesandcreations.com/.
My daughter was thrilled to meet her baking hero when we picked up some delicious cupcakes, cookies, and rice cereal treats for Valentine's Day. We can't wait to try her famous gingerbread around the holidays. (Because as much as I love these baking shows, I will NOT be baking gingerbread.)
Episodes of "The Great British Baking Show" are streaming now on Netflix. Season 12 is currently being filmed and may be released in Fall 2021.
On our grant radar
*Free* professional learning opportunities
The Future Trends Forum: Discussions about the future of education and technology with writer/futurist Bryan Alexander. April 15: What do accrediting agencies foresee for higher education's evolution? with Dr. Belle S. Wheelan, president of the Southern Association of Colleges and Schools Commission on Colleges (SACSCOC). May 27: How can we enhance the academic opportunities for Black students? with Freeman A. Hrabowski, III, president of the University of Maryland, Baltimore County. More upcoming programs. Video recordings available on YouTube.
Innovations in Pedagogy Summit: Fostering Curiosity, Wonder, and Creativity for All Students. A virtual event presented by UVa's Center for Teaching Excellence. Educators have the opportunity to both create and foster learning environments where students' curiosity, wonder, and creativity can flourish. But what does this look like in and out of the classroom, in person and virtually, in small courses and large — and how do we ensure we are creating spaces where all students thrive? May 12-13, noon to 4 p.m. each day. Free and open to the public. Registration required.
The #RealCollege Virtual Journey, sponsored by the Hope Center for College, Community, and Justice. A series of online workshops and engaging activities led by experts and delivered free of charge. Upcoming topics include a conversation with "Pregnant Girl" author Nicole Lynn Lewis on May 12, and "Campus-Based Supports for Students with Familial Responsibilities" on May 19. Register here.
NSF Spring 2021 Virtual Grant Conference. Designed to give new faculty, researchers, and administrators key insights into a wide range of current issues at NSF. Program officers will be providing up-to-date information about specific funding opportunities and answering attendee questions. June 7-11. Registration is free and opens at noon May 5.
Bookmark the VCCS professional development website
Funding opportunities
NSF: Robert Noyce Teacher Scholarship Program. Provides funding to provide scholarships, stipends, and programmatic support to recruit and prepare STEM majors and professionals to become K-12 teachers, especially in high-need school districts. Community colleges strongly encouraged to apply; however, it requires collaboration with K-12 and co-leadership with 4-year school. (due Aug. 31)
Grant starter kit