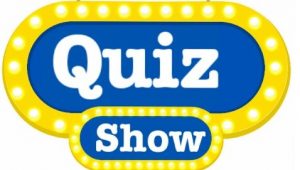 Hello, and welcome to the Virginia Western Game of Trivia, which is really a quiz, but GOT is the only acronym that makes any sense.
(Cue the laugh track)
The game is a quick way to relay important data points and random bits of trivia about our college … and also an excellent excuse for our game host to learn how to use Google Forms. (Ba-dum-tisssss!)
But first … do yourself a favor and play this background YouTube music to get the full quiz show experience!
Can you hear those happy horns?
OK, much better.
Our first question was sent in by the amazing (and brave) Natasha Lee, our Student Activities Coordinator. Thanks for all you do, Natasha!
(Please clap!)
So let's get to today's one and only question … (and be sure to click "View score" after you answer) …
Did I hear someone ask about a prize?
Ahhhhh, yes.
We all win a valuable prize pack full of … knowledge!
And hopefully some laughter.
🙂
Thanks again to Natasha for sharing these knowledge nuggets for our very first (deep, dramatic voice): GAME OF TRIVIAAAAHHH (echo, echo, echo).
GOT some fascinating trivia?
GOT data points we should share with the college?
Let's turn it into a quiz question!
Email GOT host Stephanie, who is definitely thinking about adding "game show host" to her LinkedIn profile: sseagle@virginiawestern.edu