Perhaps you've heard the buzz about "Cheer," that new cheerleading documentary series on Netflix.
What I didn't know before bingeing all six hours of the series over one weekend (don't judge) was that the school at the center of the series is a community college.
Navarro College, in Corsicana, Texas (outside Dallas), has an open-door admissions policy, and its enrollment is virtually the same as Virginia Western's: 9,200+ students for Navarro, 9,300+ for VWCC.
I wholeheartedly recommend you watch "Cheer" if you haven't already … and I'll leave it to the professional TV critics to summarize the highlights.
Instead, I'll focus on some themes and questions that tie directly back to our work here at Virginia Western.
1. Distinctiveness
In the last month, Marilyn Herbert-Ashton (VP of Institutional Advancement, Director of Grants, and Dean of Nursing) has asked members of the IA team to think about what makes our work and our division distinct. In the case of Navarro, it's clear their competitive cheerleading squad — the Bulldogs — is one of their most distinctive features. The team keeps winning national titles at the annual cheerleading competition in Daytona, Florida. As a result, Navarro has become famous within the cheerleading world. Students travel from across the country to attend this community college because of its cheerleading squad. But as you learn during the series, many of the Corsicana locals had no idea about their cheer fame (perhaps they will now?). Which leads me to this question … What about your own department is extra special? And what makes Virginia Western distinctive? We should be talking more about our strengths and what makes us unique … and showcasing our distinctiveness.  
2. Teamwork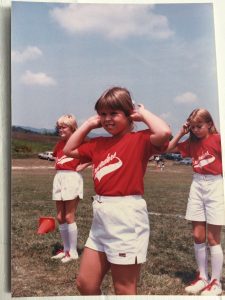 The diverse Navarro students and their struggles are very moving … and they will sound familiar to community college educators. By the end, I was crying along with the young athletes — both women and men — as they prepared for another competition in Daytona. Beyond rooting for individual students, I became most fascinated with Navarro's dynamic as a team; how they had to get over their fears or injuries or interpersonal squabbles and trust they would catch each other … and that's literally catching each other in cheerleading, when they perform stunts with names like "basket toss." While my brief cheerleading career ended in elementary school, I thought back to my years playing softball and volleyball. In college, my team was the student newspaper. Those late nights working on the paper were more memorable and valuable than most of my coursework at George Mason University. I remember those times when I pass our own student clubs setting up fundraisers in the halls, or practicing their dance moves in the commons. Natasha Lee, VWCC's Student Activities Coordinator, spoke about soft skills and the sense of belonging during the "Superheroes, Assemble!" in-service session. Now it's your turn to reflect: What was your best team experience? How could you apply those lessons to your work now?
3. Wherever you go, there you are
This is one of the best pieces of advice I have ever received … and it came from the dedicated faculty advisor for my student newspaper (coincidence?). I thought about those words when I was the lowest lady in the newsroom hierarchy … it was my first job at The Roanoke Times, my hometown newspaper. Instead of resenting what many might think of as boring, repetitive work (editing calendar listings), I rocked that part-time gig and grew it into a full-time editing job years later. Those were some of the best, most creative years of my life. I thought about the advice once again as I was watching "Cheer." The Navarro coach, Monica Aldama, grew up in that small town of Corsicana, Texas. She earned her MBA from the University of Texas and planned to build a career on Wall Street. Instead, she chose to raise her family in her hometown and applied for the coaching job at Navarro. She used her MBA skills to build this powerhouse squad — and put her college and herself on the map. Do you ever feel like you have to move to a bigger place — or have a more prestigious title at a more prestigious organization — in order to do your best, most innovative work? I don't think you have to … because wherever you go, there you are. And here we are. What's stopping us?
— Stephanie Ogilvie Seagle, Feburary 2020