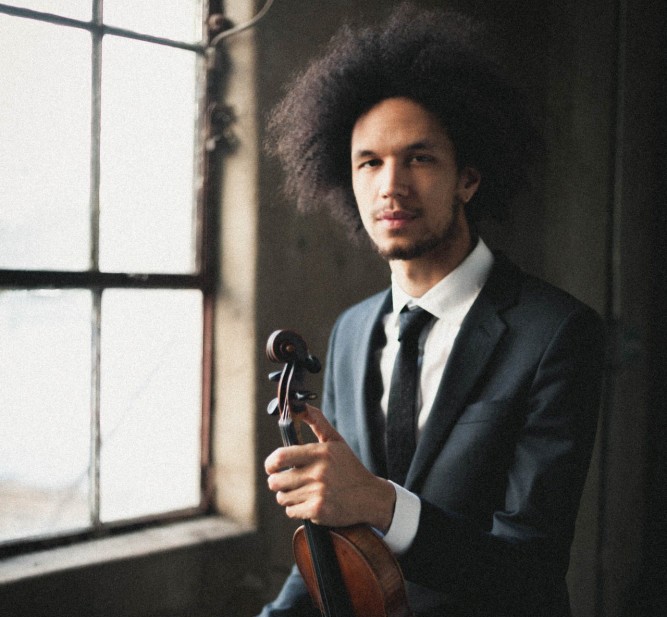 When I attend professional conferences — especially one focused on "entrepreneurial ecosystems" — I don't expect to be moved to tears.
But there I was, fighting back an ugly cry, in the middle of the Tom Tom Summit & Festival in Charlottesville last week.
Even stranger, I wasn't moved by anyone speaking. It was during a live performance by Andrei Matorin, a professional violinist and composer.
Matorin accompanied the marquee keynote by Pamela Abalu and Chindeu Echeruo, who delivered a dramatic presentation about designing environments and organizations for love and happiness.
But it was while listening to Matorin's music when I made a powerful connection to another message I heard earlier in the conference.
Just minutes before, I watched Jason Feifer, energetic editor-in-chief of Entrepreneur magazine, talk about how he defines entrepreneurs ("anyone who makes things happen") … and three key entrepreneurial mindsets, all centered on the willingness to embrace change.
Feifer emphasized true entrepreneurs never see themselves as finished … they are never one thing, always evolving. This has been referred to as being in "permanent beta."
I saw this concept embodied in Matorin's music.
When we expect to hear a violinist, that familiar, classical sound comes immediately to mind, doesn't it? Matorin was not this. He started quietly, plucking the violin strings while fidgeting with a couple of contraptions at his feet. I'm not that familiar with musical instruments, so I later learned these were looper pedals, which Matorin uses to record snippets of music and then layer all of his loops together into harmonizing beauty.
I found one of his YouTube videos to show you exactly what I mean:
As Matorin plucked for a few moments and then switched to gliding across the strings, building layer upon layer of sounds, I realized our work lives mimic this individual symphony.
Perhaps we start one job … our days and years becoming a routine loop … then we shift and do something else, building a different kind of sound. I tried to imagine my own career path like this looped song … what the beat would sound like, where the flares of joy would burst out, when the pace would become more erratic, like around the time I switched from a career in newspaper journalism to community college grant work. All of those exciting and proud and scary memories welled up into tears as I listened to Matorin perform.
What would your life's work sound like?
Thinking about career loops in musical terms doesn't seem as scary, especially when you are the artist in control. The song would be extremely boring if we didn't layer and change it up and experiment with new sounds.
We all face anxieties about our jobs … about our skills, about technology, about what we don't have much control over. The members of our community are struggling with the same uncertainty. How can Virginia Western help them compose the most beautiful, imaginative songs as possible, for just one loop or a few loops in their lives?
— Stephanie Ogilvie Seagle | sseagle@virginiawestern.edu