So I'm writing this just a few days since CityWorks (X)po 2017, while it's still fresh.
I'm still processing all of the stories and ideas and heavy subject matter — including institutionalized racism — that we discussed during the annual conference in Roanoke's Grandin Village, but I thought I would focus on my concrete actions that might inspire more of us at Virginia Western.
Here we go:
1. I donated more money to Virginia Western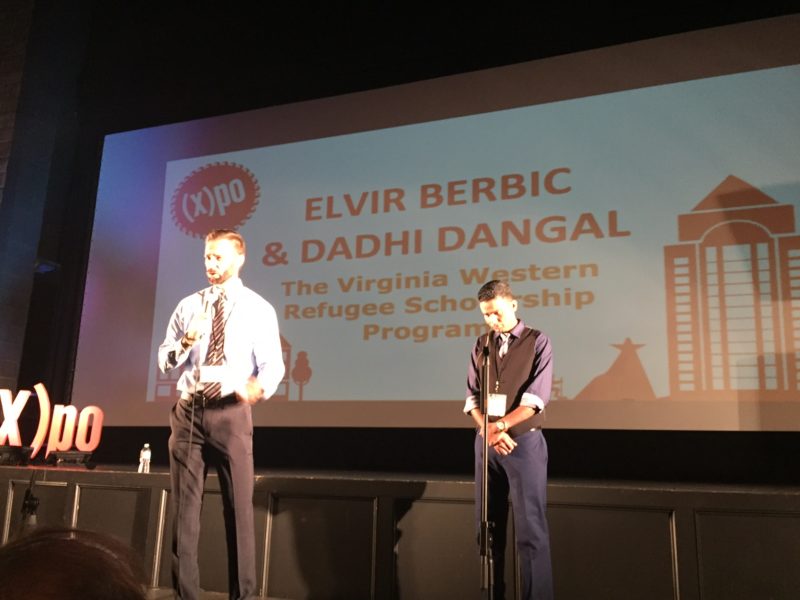 I cried twice during this year's (X)po.
The first time was while watching this video about Welcome Home of Chattanooga, which provides a home for anyone with a terminal illness who has nowhere to go for end-of-life care. (Don't watch without Kleenex … you've been warned.)
The second (happy) cry was after hearing the story of Dadhi Dangal, the first recipient of Virginia Western Educational Foundation's Refugee Annual Scholarship. Starting when he was 7 years old, Dadhi, of Bhutan, spent 18 ½  years in a refugee camp in Nepal before moving to the U.S. in 2008. Even while struggling to support his family, Dadhi earned his GED, received his LPN certificate at Virginia Western, and ultimately completed VWCC's LPN to RN bridge program. He is currently an RN at LewisGale. "When I received the letter saying that I received the Refugee Annual Scholarship for $1,000, it was like a winning a big lottery, because when I came to this country 7 or 8 years ago, I only had, like, $5 in my pocket," he said at (X)po. Elvir Berbic, who lived in a refugee camp in Croatia before moving to Roanoke, started the scholarship last year with the help of his coworkers at Virginia Tech Carilion School of Medicine. I recommend you watch the full (X)po segment, as it reminded me why I work here. I also recommend this Roanoke Times story for more about the scholarship and, if, like me, you are moved to immediately donate money to the Refugee Annual Scholarship, you can do that here. According to Elvir, the fund will be able to award two (2) $1,000 scholarships next year.
2. I will buy this book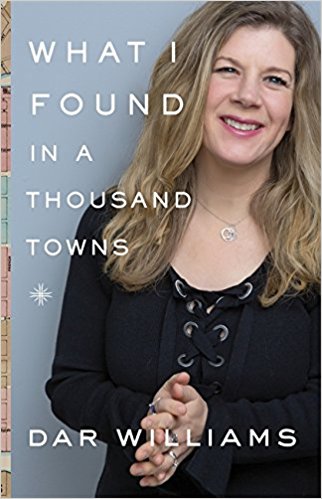 At (X)po, I learned more about Book City Roanoke, a new group organizing local writers and book clubs, and just generally promoting "our things literary." Book City is hosting a discussion series called Finding Roanoke, which is based on Dar Williams' new book: "What I Found in a Thousand Towns: A Traveling Musician's Guide to Rebuilding America's Communities — One Coffee Shop, Dog Run, & Open-Mike Night at a Time." If you buy the book locally at Barnes & Noble or at Book No Further, a new indie bookshop opening Oct. 17 at 16 West Marketplace, you will receive a free ticket to the series finale: A Dec. 11 dinner with Dar Williams and Beth Macy. I'd love to see you there. Learn more about Book City and the series here.
P.S.: After I signed up for Book City's email newsletter, I read this interview with Doloris Vest, who is opening Roanoke's new bookshop, Book No Further. Good stuff!
3. I reserved this library book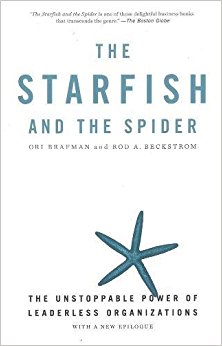 Josh McManus is kind of a rock star in the placemaking field, making a name for himself through his community building projects in Detroit, Chattanooga and Akron. He returns to (X)po each year with updates from his latest adventures, and this year, he concluded the conference with his personal system for "getting sh!t done" — a system designed to turn big ideas into action. Check out his to-do-list templates and pearls of wisdom here. Lately, he said he's reading a book a day — satiating his current fascination with neuroscience — and also shared a handful of book recommendations, including "The Starfish and the Spider: The Unstoppable Power of Leaderless Organizations". I'm a social science nerd always trying to understand how to innovate in big organizations, so I've already reserved a copy at my neighborhood library.
4. I'm getting to know Carilion Clinic, our valley's No. 1 employer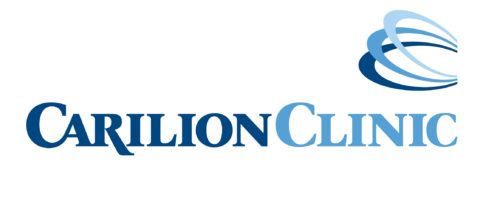 On the final day of (X)po, I could choose from one of five field trips around Roanoke. School buses took us on these two-hour tours exploring various themes. As Carilion is our valley's No. 1 employer — and Virginia Western is helping to shape the growing healthcare workforce — I chose the "Key Influencers of Community Health" field trip, as it showcased Carilion's efforts to address community health and wellness needs. Carilion's community outreach team explained the Robert Wood Johnson Foundation framework for what makes a community healthy (headline: it's mostly influenced by social and economic factors, not access to clinical care), and a representative from United Way explained its collaborative role as well. Our small group also received a tour of the beautiful, new Institute for Orthopaedics and Neurosciences (ION) center (the renovated Ukrop's grocery store), which showcases art and poetry throughout the building.
Here are a few takeaways from my field trip that might impact the work we do at Virginia Western:
Did you know Carilion has a wilderness medicine program? Dr. Jessie Gehner, a Wilderness Medicine Fellow, took the (X)po stage to talk about the injury she suffered on the Appalachian Trail that ultimately led her back to Roanoke and to Carilion. I wondered how our nursing programs or first responders might explore this concept, especially as the region continues to promote our abundant outdoor amenities … and then I learned VWCC has offered a Wilderness First Aid course. Watch Jessie's segment starting at the 3:51:50 mark.
After touring the LEAP Kitchen in the West End neighborhood, I wondered if Virginia Western could refer more of our entrepreneurial students to this shared commercial kitchen and food business incubator. Maureen Best, LEAP's executive director, was all about developing that relationship. Learn more at http://leapforlocalfood.org/kitchen/.
Carilion shared some breaking news on our tour: It's planning a half-acre urban farm and community garden for Morningside Park in Southeast Roanoke. These initiatives are all tied to Carilion's Health Improvement Implementation Strategy, which I mentioned in an earlier post. In this report, Carilion Clinic emphasizes the health needs of Southeast Roanoke especially and lists the top priorities for the Roanoke Valley for 2016-18:

Poor eating habits/ lack of nutrient dense foods in diet
Access to mental health counseling/substance abuse
Access to adult dental care
Access to dental care for children
Lack of exercise/physical activity
Relatedly, Carilion's focus on supporting local food systems and making  fresh fruits and vegetables more accessible is evident in their Fresh Food RX program and its goal to buy 10% of cafeteria food from local farmers. I'll be keeping an eye on Carilion's Community Health & Outreach page.
5. I Googled and bookmarked so much cool stuff
The same weekend (X)po ended, I reviewed my conference notes and started connecting with the people who got my attention. I narrowed down that kitchen-sink list to five highlights …
http://lgbthistory.pages.roanoke.edu/walking-tour/
Dr. Gregory Rosenthal, an assistant professor of public history at Roanoke College, organizes free Roanoke LGBTQ history walking tours in downtown Roanoke and Old Southwest.
https://www.grandintheatre.com/film-lab-program
Did you know the Grandin Theatre offers an experiential, hands-on Film Lab program for teens? I love that most of the students are young women.
http://valhen.org/hci/


Virginia Tech hosts

VALHEN Hispanic College Institute, a

*free* residential program

that prepares Hispanic high school students to enter and succeed in higher education.

http://elgl.org/govlove/
GovLove: A podcast about local government … and don't forget podcasts by CityWorks (X)po.
www.LibrariesTransform.org


I'm so glad I bumped into speaker

Jeff Julian

during a breakfast break, because I learned that before he joined the American Library Association as

director of its Public Awareness Office

, he worked in communications at Elgin Community College and Joliet Junior College, both in Illinois. On stage, he talked about the ALA's Libraries Transform initiative, which promotes the transformative power of libraries in communities. Jeff shared this cool tidbit: Did you know there are more public libraries than Starbucks in America?

In our breakfast conversation, I gushed about my love for VWCC's librarians and the ALA's Libraries of the Future blog, which you might remember from my earlier post, 5 reading habits of a creative grant champion. I asked Jeff what the most important thing community colleges should focus on, and he said: (1) Promoting the fact that our library is open to the public (not just students), and (2) Focus more on student success.
— Stephanie Ogilvie Seagle, Grant Specialist