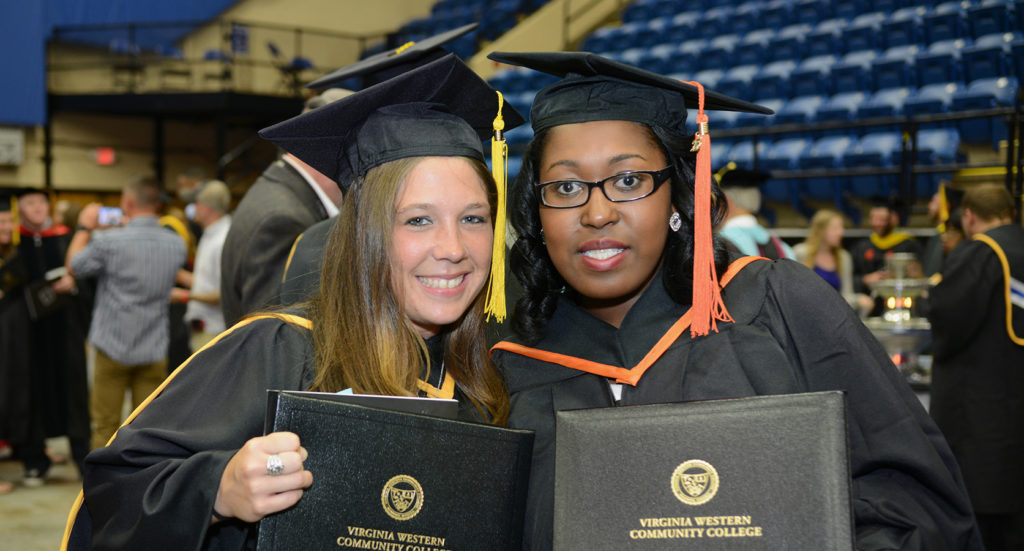 Congratulations!
We are proud of your accomplishments! Attaining a degree or certificate took much persistence and dedication. We are glad you have achieved your academic and career goals. Please use the menu on the right to find out what you need to do before, during, and after graduation!
Virtual Commencement Ceremony
Prior to the Governor's recent update, Virginia Western determined it would host a virtual commencement ceremony in accordance with health and safety information developed by the CDC, the Virginia Department of Health and the Governor's Office. The new limit for indoor events is a 500-person maximum, or 30 percent of a venue's capacity. That is not enough to accommodate our college's graduates, faculty and staff, even without counting an audience. While the state is now permitting outdoor ceremonies to have larger numbers of attendees, with corresponding safety measures, the limitations as well as availability of such locations in our region do not make a regular in-person Virginia Western graduation ceremony feasible this year.
The college's re-opening plans this academic year have focused on making campus and academic settings as safe as possible for our students, faculty and staff. The Commonwealth is not in the vaccination phase for the majority of our employees and students, and we believe it is in the best interest of our community's health to proceed with a virtual event. We look forward to planning a full in-person graduation ceremony next year.
May 14, 2021: Due to safety restrictions related to the COVID-19 pandemic, Virginia Western will host its commencement with an online video ceremony in 2021. The traditional speaking agenda along with the conferring of degrees and student names being called will be posted on the college website and YouTube channel on May 14. The Spring 2021 virtual commencement ceremonies can be found on this page.
For students to be included, they must first apply for graduation. To find out how, visit this page.
Important Dates
Apply for Graduation – Spring 2022: Online graduation applications will be accepted January 18 – March 18, 2022.
If you will be a summer graduate and wish to participate in the spring commencement, you must apply for graduation by March 18, 2022.
Diplomas Available – Fall 2021 graduates:
Your diploma will be mailed to your home address beginning late January, 2022.
Summer 2021 diplomas have already been mailed. If you have not received yours, please contact the records office at records@virginiawestern.edu.
A student may submit a special request to records@virginiawestern.edu to have a diploma mailed to them should circumstance prevent them from coming to campus to pick it up in person.
Additional Information
Catalog Year for Graduation
The Requirement Term (Catalog Year) to be used to determine graduation requirements is the one in effect at the time of the student's initial program placement into the plan, or any catalog thereafter, as long as the student has maintained an active status with the college.
In the event that there has been a break in a student's enrollment at the college resulting in discontinuation, the catalog in effect at the time of the student's re-admission into the plan, or any catalog thereafter, is the catalog that shall be in effect for the student. Following a three-year period of non-enrollment resulting in discontinuation, the student may only be re-admitted to those plans that are currently active. A student may not be re-admitted to a plan which has been inactivated.
In the event that a student remains in an active status with the college, but their plan of study becomes inactive, the student will be notified of their options and the time period required for completing the degree.
The catalog used for certifying graduation shall have been in effect no more than five years prior to the time of graduation.
Graduation Notes
Students may be eligible to graduate with multiple degrees and certificates if the content of the curricula differ from one another by at least 25%. Specific curriculum conflicts can be found here. Please contact the appropriate School Dean or the Registrar with questions regarding the awarding of multiple degrees.
Students are not eligible to earn more than one degree in the same curriculum. For example, students who earn degrees in a curriculum with a specialization (i.e., an A.S. in Science with a specialization in Health Science) will not be eligible to receive a second degree in the same curriculum (i.e., an A.S. in Science).
Students completing an Associate Degree or Certificate (excluding Career Studies) at VWCC will be eligible for honors as follows:
Cumulative GPA of 3.2 – cum laude
Cumulative GPA of 3.5 – magna cum laude
Cumulative GPA of 3.8 – summa cum laude
Graduation honors are reflected on the student's academic transcript and diploma.