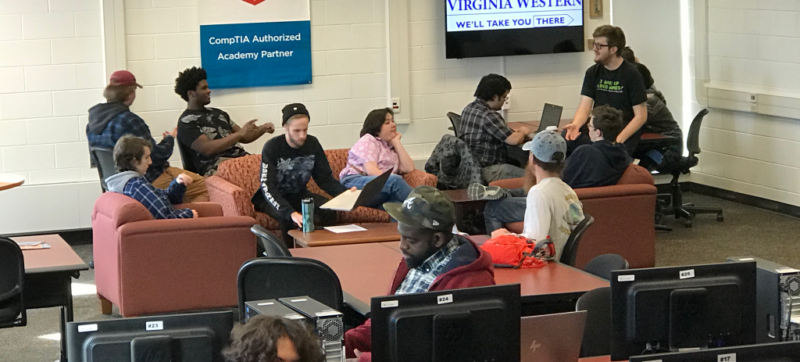 The global cybersecurity market is currently worth $173B in 2020, growing to $270B by 2026, according to austcyber.com. 
To respond to this growing need for trained professionals, Virginia Western offers an Associates of Applied Science degree in Cyber Security and Network Administration as well as a more focused career studies certificate in Cyber Security that can be completed in one year or added to existing degree paths to broaden your skill set. Both paths provide help prepare students for industry certifications in security and networking.
These curriculum are designed to meet requisite knowledge, skills and abilities identified in the National Initiative on Cybersecurity Education (NICE) Workforce Framework 2.0 and prepare students to enter begin their career in the cyber security workforce in positions such as a Network Analyst, Security Analyst, or a Security Architect.
Virginia Western also recognizes the need to provide general security training to every Information Technology and Computer Science student, by giving every student the IT and CS programs the opportunity to prepare for and complete the Certified Secure Computer User certification from EC Council. See President Dr. Sandel's message here.
Virginia Western Community College has partnered with EC-Council and CompTIA to offer students industry certification vouchers at an academic discount. Be sure to use your VCCS student email address to qualify for discounts.
Virginia Western Community College has been designated by the National Center of Academic Excellence in Cybersecurity as a Center for Academic Excellence in Cyber Defense (CAE-CD).