Established in 2006 by the Virginia Western Alumni Association, the Distinguished Alumni Award recognizes Virginia Western Community College alumni and former students who have attained extraordinary distinction in their professional field or life and serves to honor all the men and women whose attendance at Virginia Western helped them achieve their educational and professional goals allowing them to better serve their communities.
For more information on the Virginia Western Alumni Association, see www.virginiawestern.edu/alumni or contact Philanthropy Director Amanda Mansfield at amansfield@virginiawestern.edu or (540) 857-6962.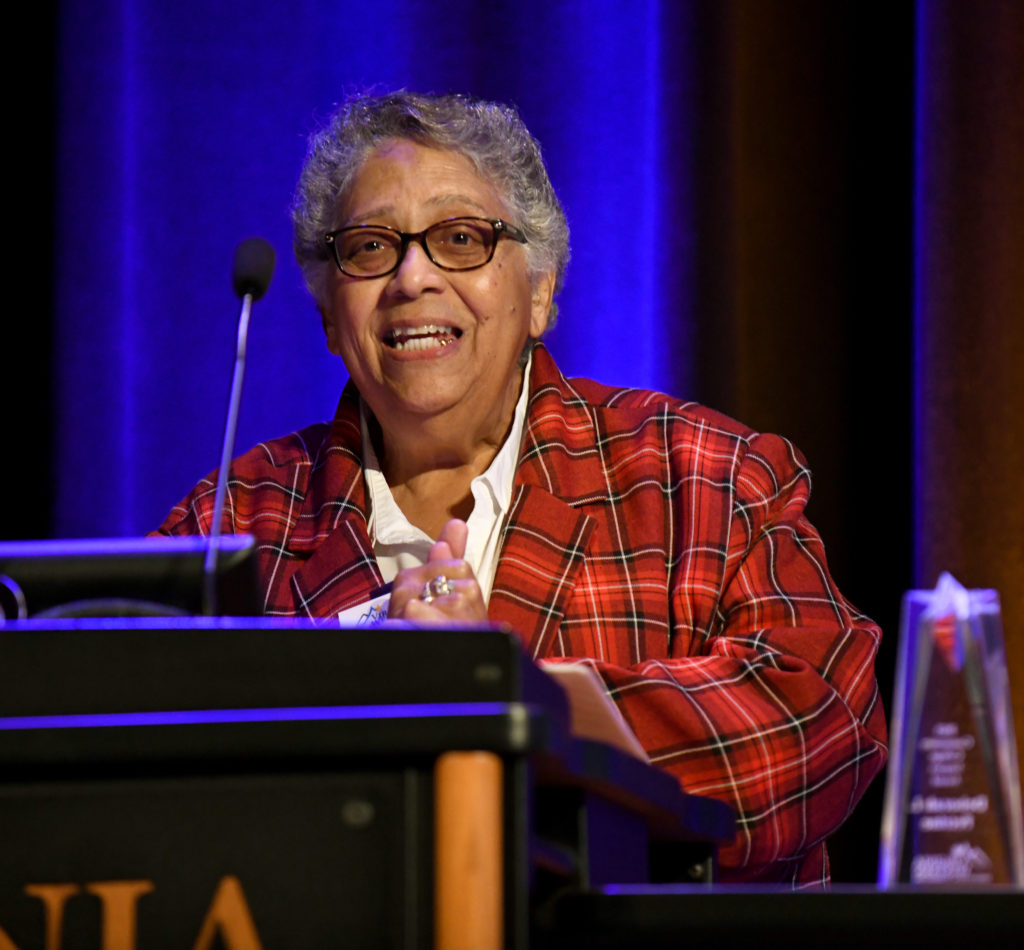 2023 – Dr. Brenda L. Hale ('89)
Dr. Hale's professional career began with her enlistment in the U.S. Army, where her interest grew to help others and become a nurse. She received her Licensed Practical Nursing education from Fitzsimmons Army General Hospital in Denver, Colo., and earned her associate degree in nursing from Virginia Western in 1989. She also received an honorary doctorate of humane letters from Bethlehem Bible College in 2010; a doctorate of theology in biblical studies from the Word of Life Theological Seminary in 2013; and an honorary doctorate of humane letters with all rights and privileges from Roanoke College in 2018.
Dr. Hale was the first African American elected as secretary for the Virginia State Board of Nursing in January 2008 and was also listed in "Who's Who" in American Nursing, 1990-91. While in Hawaii, she served in the Non-Commissioned Officers Association (NCOA) from 1977-82 as a counselor advising military retirees and veterans regarding financial planning. She spearheaded vanguard programs in various arenas, including fundraising for Special Olympics and serving as President of the NCOA Tripler Army Medical Center Chapter from 1976-78. She retired from the Army in 1979 as Sergeant First Class (E-7) and is a disabled veteran.
Dr. Hale is the president of the Roanoke Branch NAACP and the Vice President of Region 4 of the Virginia State Conference. She was instrumental in reactivating the Roanoke NAACP Youth Council in 2010. Her nonprofit board service includes: Total Action Against Poverty (TAP), Roanoke City Rescue Mission, Local Colors, Equal Justice Initiative and the Community Housing Corporation Board.
Dr. Hale is "a dynamic and caring leader (who) serves her community faithfully and with honor," wrote the NAACP's Gloria Randolph-King in her nomination letter. "She is always committed to the community and serves as an advocate for justice."
---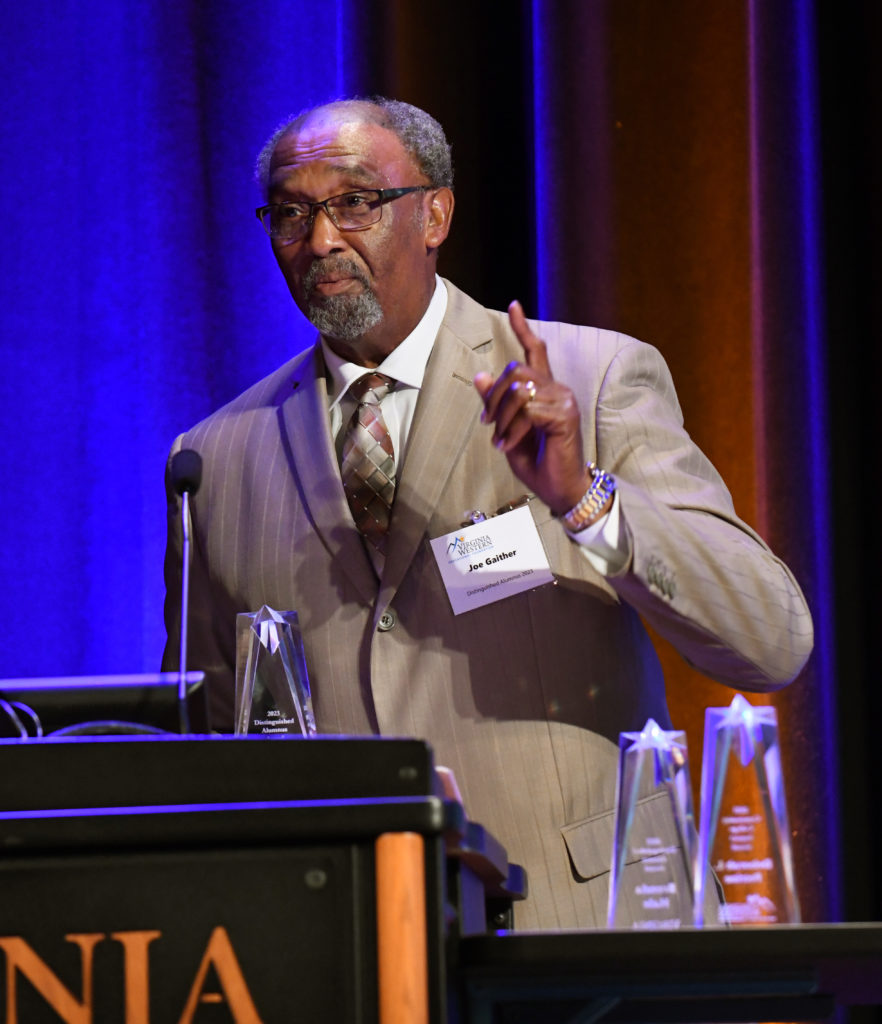 2023 – Joe Gaither ('77)
Gaither famously led his youth basketball teams to regional and national championships for more than 40 years; during his tenure, 89 players received Division I scholarships. "The Coach Gaither Story," a 2022 biography, recounts how Gaither became an inspiring mentor to inner-city kids. He was a guide as they traveled to distant cities for the first time in their lives, competed and won on the national level, and found a way to a college education that would otherwise be out of reach.
"Over his 25 years of coaching basketball with the Inner City Athletic Association teams, 11 years coaching the William Fleming junior varsity basketball squads, 17 years coaching the Roanoke Hawks AAU teams, and serving as a coach for two top private schools in Southwest Virginia, (Gaither) has had a pivotal impact on the lives of up to 2,000 athletes," Ted Edlich writes in "The Coach Gaither Story."
Edlich, the retired longtime president and CEO of TAP, witnessed Gaither's impact in the community and summed up his approach as: "Out-work your opposition. Push yourself to be better. Place the team above your personal ambitions. Believe in a power greater than yourself that is on your side. Test yourself against the best. At all times, respect others."
Gaither is ordained as a Deacon at Roanoke's Shiloh Baptist Church. In nominating Gaither, the Rev. Adrian E. Dowell Sr. wrote that Deacon Gaither "has the unique ability to encourage and uplift individuals who are experiencing difficult moments in their lives."
Gaither's community honors include: 1992 City of Roanoke Citizen of the Year Award; 2006 Southern Christian Leadership Conference – Dr. Martin Luther King Jr. Drum Major for Justice Award; and the 2006/2007 Virginia Independent Schools Athletic Association Division II Basketball Coach of the Year Award.
Kenneth J. Belton, a member of the Virginia Western Community College Educational Foundation Board of Directors, wrote in his nominating letter that Gaither is "well-known for his leadership, dependability to get things done, his integrity, moral character, problem-solving, knowledge, spiritual and wise counsel, positive attitude and teamwork."
---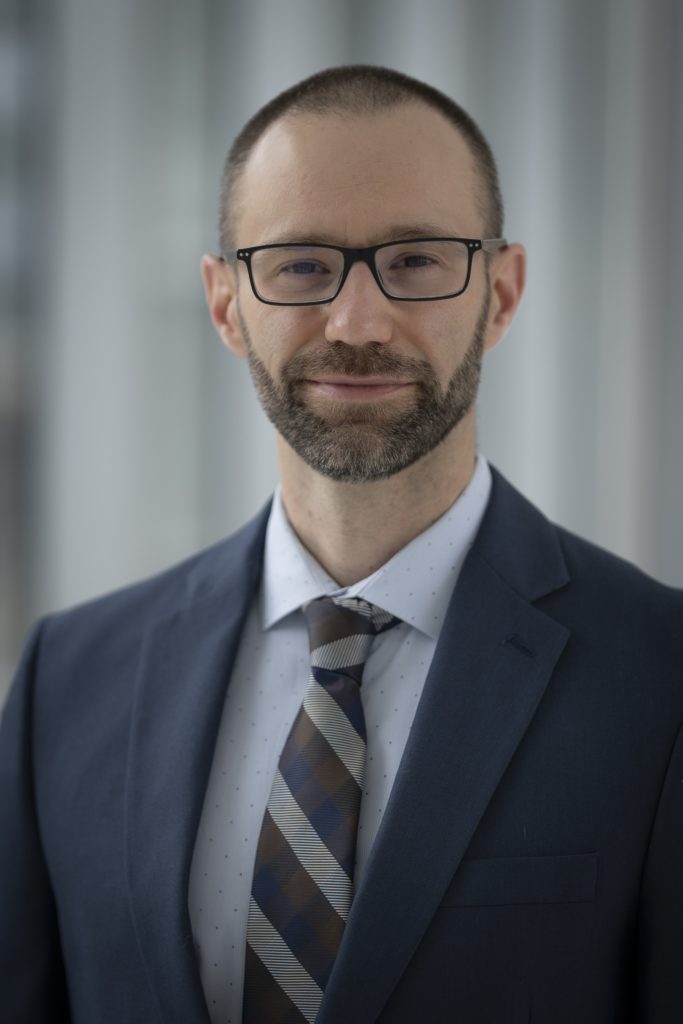 2022 – Elvir Berbic
In addition to supporting the Refugee and Immigrant Scholarship, Berbic ('06) is a member of the Educational Foundation's Scholarship and Grants Committee and leads a partnership between the College and the Virginia Tech Carilion School of Medicine that provides for a postgrad career forum between medical school students and Virginia Western STEM students. He also championed Roanoke's first futsal court as part of his efforts to give back and to improve the lives of immigrants in the community.
Berbic's path to Roanoke passed through a refugee camp in Croatia, where his family resided after they fled the civil war in Bosnia. At that camp, Berbic first began to learn English, and his family moved to Roanoke in 1995 when he was 14.
"You go through your teenager things that you go through and at the same time you are in a strange place," said Berbic in a recent Roanoke Times interview. "You had to grow up a little quicker than everybody around you. You try to focus on schoolwork, being a kid, but at the same time you have to assist your parents with how to write a check, for example, how to pay bills, translate getting car insurance. You kind of live between two places."
Through sports, Berbic found ways to belong. He played on the William Fleming High School soccer team and joined the football team as a placekicker. Twenty years later, the Virginia Western and Radford University master's degree graduate is employed as the VTC School of Medicine's student affairs manager.
"It's been (and it continues to be) an incredible privilege to work with everyone at Virginia Western to make education affordable and accessible," Berbic said. "My goal is to simply do what this community and its people have done for me: They made me feel like I belong."
---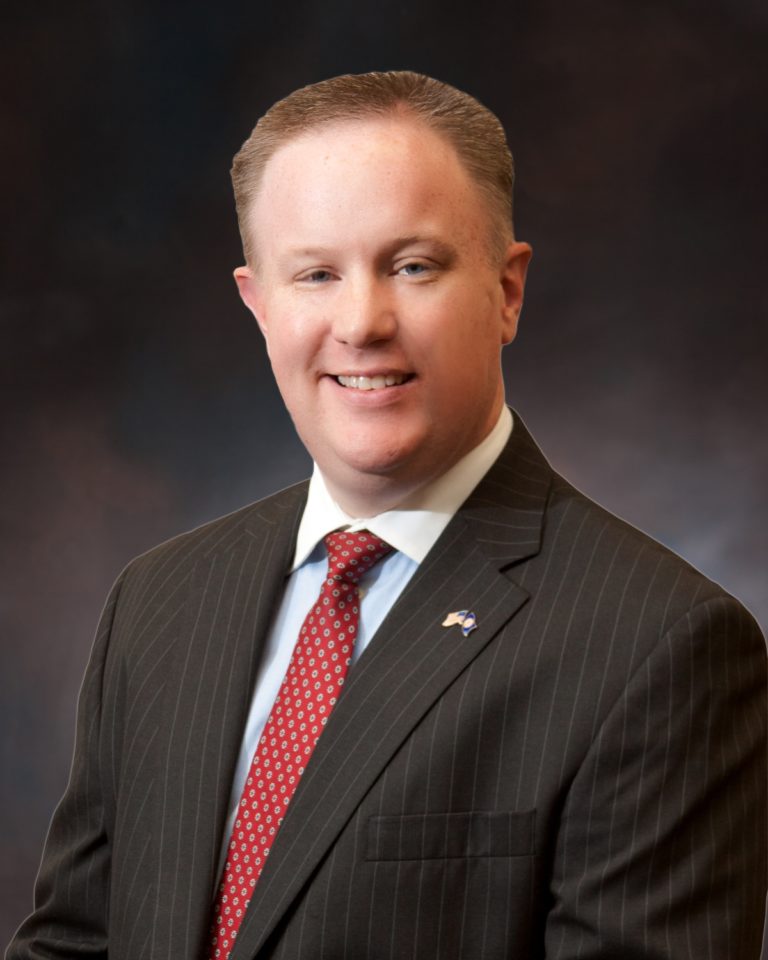 2022 – P. Jason Peters
A native of Roanoke, Peters began his service to the citizens of Roanoke County by volunteering as an emergency medical technician with the Vinton First Aid crew when he was 16 years old. He has served in that capacity for 29 years and is the current president. In 2010, Peters was appointed to the Roanoke County Planning Commission, serving for three years before being elected to his first term on the Roanoke County Board of Supervisors in 2014. Peters currently serves as Vice Chair of the Board.
While serving as Board Chairman in 2016, Peters was diagnosed with thyroid cancer which ultimately required surgery. While the surgery improved his condition, his cancer is still present. Despite this challenge, Peters has continued to serve Roanoke County in his various roles on the Board.
"I admire Mr. Peters' resolve to remain committed to the citizens while facing hardships," wrote County Administrator Richard Caywood in his nominating letter. "I believe Mr. Peters exemplifies the meaning of a loyal and dedicated public servant."
---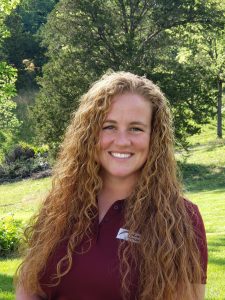 2021 – Mary Katherine (Kate) Lawrence
The Virginia Western Community College Educational Foundation announced that Mary Catherine (Kate) Lawrence has received the 2021 Distinguished Alumni Award. Lawrence is Botetourt County's Agriculture and Natural Resources Extension Agent for the Virginia Cooperative Extension. She took classes at Virginia Western between 2005 and 2008. This year's award recognizes Lawrence's commitment to the area's agricultural community as well as her impactful role in developing and supporting Virginia Western's newly-established Associate Degree in Agriculture program.
"I value my time spent at Virginia Western and often share with youth and community members just what a valuable resource the school is," Lawrence said. "If you dig in and make the most of what it offers, it can help students continue their education and get where they want to be."
Lawrence initially attended Virginia Western to complete prerequisites required for Virginia Tech's Bachelor of Animal Science degree, which she received in 2008. She continued to take online and accelerated classes through Virginia Western to complete that degree, and later went on to earn a Master's in Integrated Resource Management Colorado State University.
Lawrence joined the Cooperative Extension in 2012. About that same time, she worked closely with Virginia Western's STEM leaders to develop the curriculum for the new agriculture studies program, which started in 2019. Lawrence has been a guest lab instructor for animal science classes, and frequently hosts students on Botetourt farms for hands-on learning experiences. Four students of this inaugural class will graduate this month.
"Without Kate, connecting information learned in the classroom would be hard to put into practice in a hands-on setting," said Heather Lindberg, Assistant Professor of Virginia Western's STEM program. "Kate goes above and beyond by happily sharing her resources, time, and expertise with all of those involved in our agriculture program."
In addition to her involvement with Virginia Western, Lawrence is very active in the Botetourt community, volunteering with 4-H Clubs and the Roanoke-Hollins Stockyard, and advising on the Regional Cattlemen's Association. She is credited with rejuvenating the Botetourt County Fair after a 50-year hiatus. Most recently, Lawrence has been recognized for working with the Department of Health to organize the COVID-19 vaccination effort for the local farming community, facilitating awareness and ensuring farmers were able to sign up, even those without access to technology.
"We all certainly should be proud of any alumnus who strives for excellence in our community. Kate is a model for each of us. She is caring and intelligent, and she gives to her community each and every day. In true Virginia Western style, Kate Lawrence makes a difference." said Amy White, Dean of Virginia Western's STEM program.
---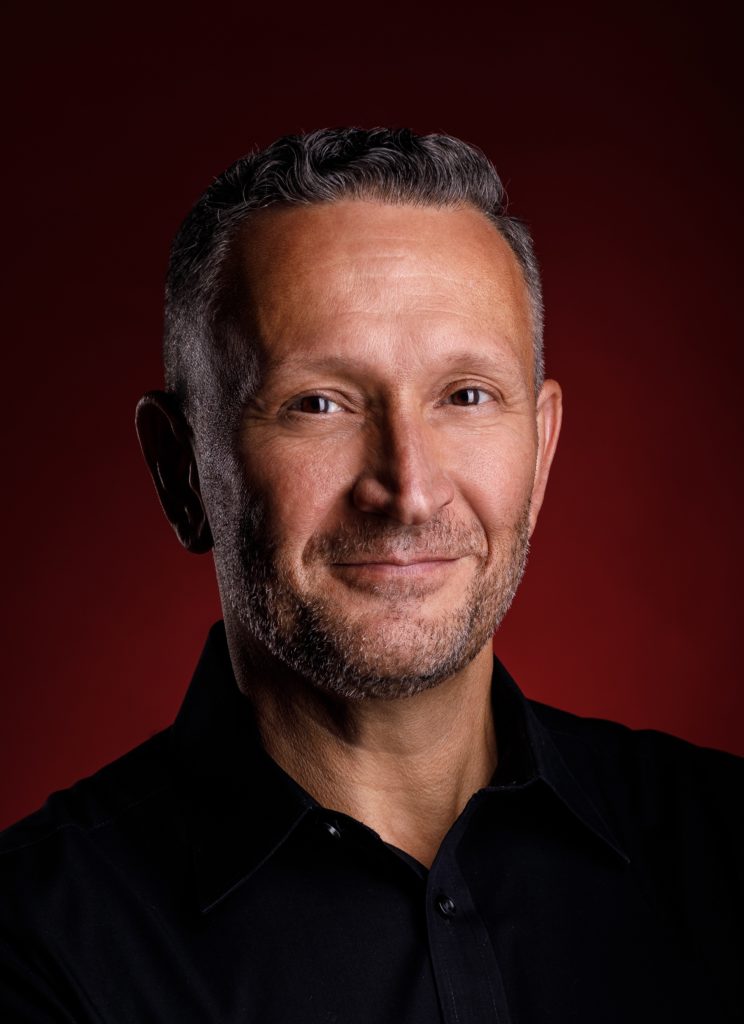 2020 – Tony Pearman '10
The Virginia Western Community College Educational Foundation recognizes Tony Pearman ('10), President and CEO of Access Advertising and Public Relations, with its 2020 Distinguished Alumni Award. Pearman first attended Virginia Western in 1998, later returning for additional coursework in 2008 and 2010.
Pearman and colleague Todd Marcum formed Access Advertising & Public Relations in 1996. Since its founding, the agency has grown to serve clients throughout the Eastern United States and around the globe, and boasts more than 450 design and public relations awards for excellence. Headquartered in Roanoke, Va., with an office in Richmond, Access specializes in regional and national industry relationships that include focused work in healthcare, higher education and business-to-business. Among its clients are HCA Virginia, Virginia Tech, Marshall University, TMEIC, Optical Cable Corp., American General Life & Accident Insurance Co. and Medeco High Security Locks.
Access has been recognized with national Healthcare Advertising Awards, Cannonballs from The Richmond Show, Telly Awards, hundreds of local, regional and national ADDY Awards, CASE awards for work in higher education and Summit Awards from the Public Relations Society of America.
As a leading industry advocate for creative idea generation and impact, Pearman has served as chair of the National ADDY Committee, is a member of the national AAF Board of Directors, and is the recipient of the AAF Silver Medal for lifetime contributions to the advertising industry. Pearman has received both the Advertising Person of the Year award and the American Advertising Federation Silver Medal.
"Tony's story illustrates the best outcomes of community college opportunity. His accomplishments and service have impacted so many lives – and his dedication to the success of our students is tremendous. We are honored and proud to recognize him as a Distinguished Alumni," said Dr. Robert H. Sandel, president of Virginia Western Community College.
Through philanthropic and pro bono work that supports the community it serves, Access has been recognized for its impact in child abuse prevention, with the Roanoke City Police Department, the YCMA of Virginia's Blue Ridge, the Roanoke Valley Preservation Foundation, Habitat for Humanity and others. In 2006, Access became the first advertising and PR firm to be recognized with a Perry F. Kendig Award for its support of the arts.
"Virginia Western has been a trusted source of learning for myself, and for many members of my firm, for more than 20 years by not only providing ongoing continuing education but also producing some of Access' and this region's most talented marketers," said Pearman. "As one of our strongest client relationships, Access has been proud to give back to Virginia Western by working to support the vital resources they provide for our community."
Pearman continues to support Virginia Western student success and achievement through the Pearman Annual Scholarship, which provides assistance for tuition, books and other related expenses to second-year students enrolled in the College's Visual Design Program on a full- or part-time basis. Heavy emphasis in the award process is placed on the merit of the student's portfolio, which receives evaluation by Virginia Western faculty. Pearman has also dedicated focus and energy to higher education as an advertising and design adjunct faculty member at Virginia Tech.
---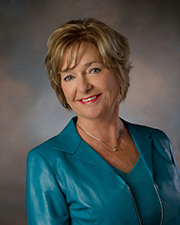 2019 – Deborah L. Petrine '74
Deborah L. Petrine ('74) is the Chairman and CEO of Commonwealth Care of Roanoke and Chair of the Foundation's Advocacy Council for the Virginia Western Forward Endowment Fund: a vision of Dr. Charles W. Steger Jr. A first-generation college student, Petrine first attended Virginia Western in 1973-74, later returning for enrichment coursework.
Petrine worked her way through Virginia Tech as a secretary/receptionist in a nursing home and received her bachelor's degree in Business Administration. She was appointed by the governor to the Virginia Tech Board of Visitors in 2011 and was elected Rector in 2014, making her the first female in the school's history to lead the board. She served as the first Chair of the Center for Gerontology Futures Board upon its inception in 1992 and subsequently as the first Chair of the Pamplin College Management Department Advisory Board. She is also a lifetime member of the Women in Leadership and Philanthropy and a member of the Roanoke Valley Hokie Club. Petrine continues to serve on the Board of Visitors and also on the Virginia Tech Pamplin College of Business Advisory Council, as well as the GO Virginia Region 2 Council and Feeding America Southwest Virginia.
In 2005, Petrine was awarded the prestigious James G. Dunton Lifetime Achievement Award for her service to the elderly and infirm in Virginia. She served as the first female Chair of the Virginia Health Care Association from 1993-95. She also served a two-year term representing Virginia on the American Health Care Association Board of Directors. Additionally, she served four years on the Board of Examiners for Nursing Home Administrators, was appointed in April 1997 to the statewide Nursing Facility Advisory Committee, and was appointed by the governor in 2010 to a four-year term on the Governor's Advisory Council on Revenue Estimates.
---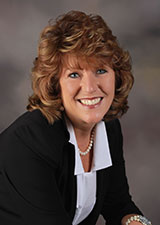 2018 – Elizabeth Testerman '06
Elizabeth Testerman is a a Human Resources Consultant for American Electric Power/Appalachian Power Company. She received her Associate of Applied Science in Management from Virginia Western Community College in 2006. She also received a Bachelor Science in Organizational Management and Leadership from Bluefield College in 2007 (accelerated). Ms. Testerman has volunteered as a mentor and community advocate for Virginia Western's Women in STEM Mentoring Program. The initiative taps community mentors to assist female students and special populations in professional matters and to provide them career-networking opportunities.
---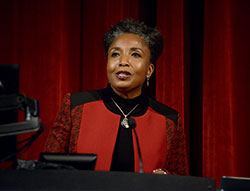 2017 – Dr. Carol Swain '78
Dr. Swain is a nationally recognized author, public speaker and political commentator, and the author or editor of seven books. Her scholarly work has been cited in two Supreme Court cases; her fields include race relations, immigration, representation and evangelical politics. Dr. Swain was born in impoverished conditions in Bedford, Va., as the second of 12 children. She dropped out of high school in the ninth grade but later received her GED and enrolled at Virginia Western Community College. After graduating from Virginia Western with an associate's degree in business merchandising, Dr. Swain earned a bachelor's degree in criminal justice from Roanoke College ('83, magna cum laude), a master's degree in political science from Virginia Tech ('84), a doctorate in political science from the University of North Carolina at Chapel Hill ('89) and a Master of Studies in Law degree from Yale University ('00).
---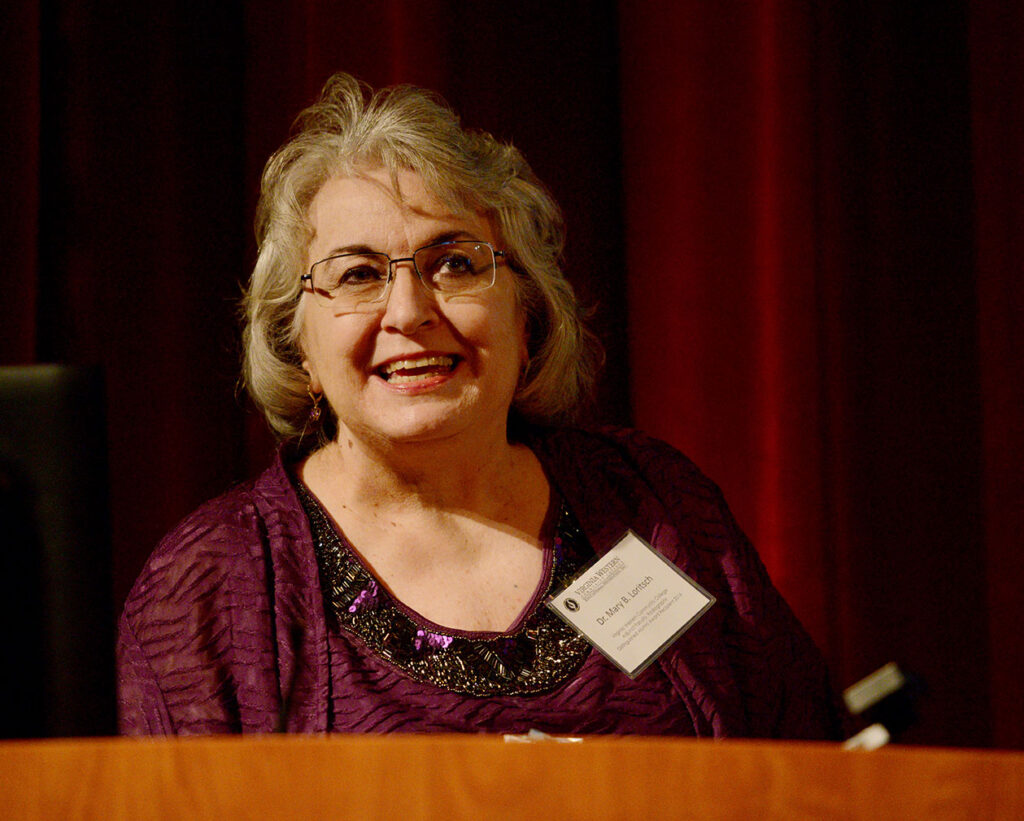 2016 – Mary B. Loritsch, Ed.D., R.T. (R) '74
Dr. Loritsch graduated with honors from the first class of the Radiography program at Virginia Western in 1974, and has served the institution faithfully for more than 38 years. She retired in December 2015 as Professor and Radiography Program Director, and has since returned to continue to serve Virginia Western students as Adjunct Radiography Faculty. She received her Bachelor of Science from Radford University, and her Master of Arts and doctorate degrees from Virginia Tech.
Dr. Loritsch is well-known for her national committee leadership and expertise in health care education accreditation, compliance, education, privacy and radiology. A leading member of both the American and Virginia Societies of Radiologists, Dr. Loritsch is a long-time advocate for national standards for the uses of medical radiation. Appointed by Gov. Mark Warner to serve on the first Radiological Technology Advisory Board in 2002, and reappointed by Gov. Tim Kaine to serve through 2010, Dr. Loritsch demonstrates a commitment to healthcare, higher education and scientific research that serves as an inspiration to her colleagues, students and peers.
---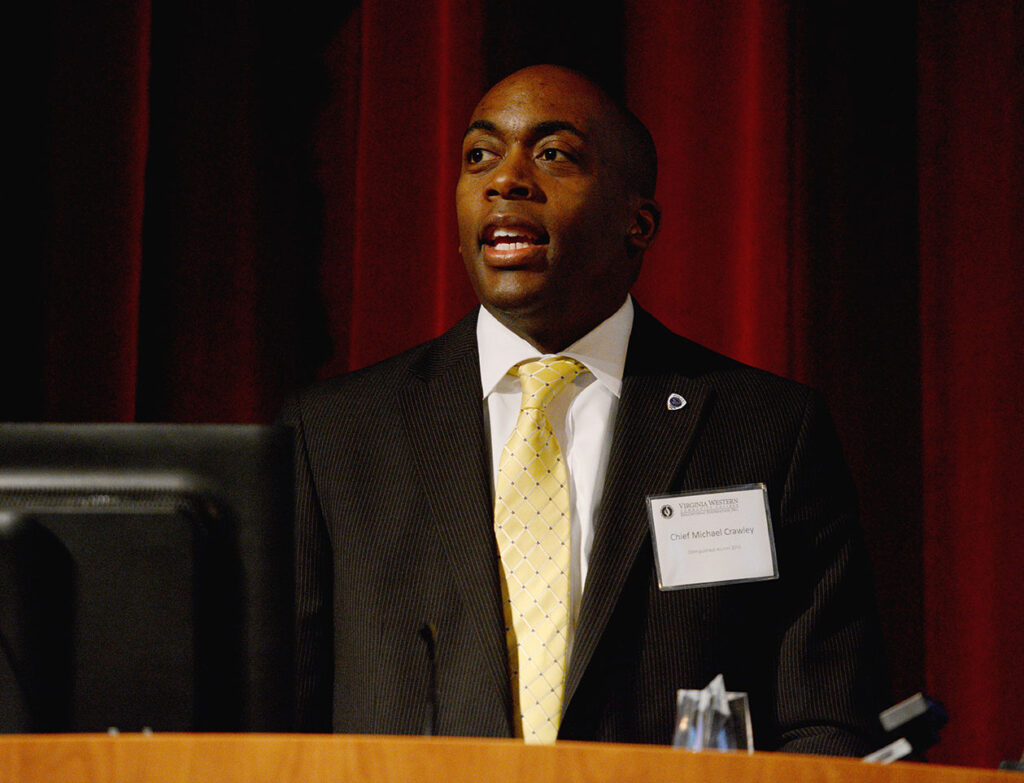 2016 – Michael A. Crawley, Salem City Chief of Police
Chief Crawley is a Roanoke native who graduated from Patrick Henry High School in 1991. He attended Virginia Western Community College, where he met his wife, Amy, in 1995, and earned his bachelor's degree in Management and Leadership from Bluefield College.
Chief Crawley began working with the Salem Police Department in 1999 as a patrol officer and quickly earned the respect of his colleagues and administrators. In 2002, he was voted by his peers as Officer of the Year. He was promoted to Senior Police Officer and in 2004 was assigned to the Special Investigations Unit of the Detective Division.
In 2006, Chief Crawley was transferred to the General Investigations Unit, where he rose to the rank of sergeant. He served as the services division sergeant and patrol division sergeant before being appointed Deputy Chief in 2014. He is the first African-American police chief in the city department's 94-year history.
"We are proud to count Dr. Loritsch and Chief Crawley as among our students," said Dr. Robert H. Sandel, President of Virginia Western Community College. "Both have served their professions with remarkable dedication and earned the admiration of their peers. They demonstrate the impact that our students can make in the Roanoke Valley."
---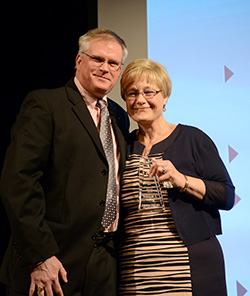 2015 – Deborah A. Yancey '97 & '98
"Debbie is well-known for the constant, compassionate dedication displayed toward her students," said Dr. Angela Falconetti, Vice President of Institutional Advancement and Executive Director of Virginia Western's Educational Foundation. "Debbie has always been a favorite teacher and valued colleague, and is a courageous, creative and graceful leader. She embodies the true spirit of service, scholarship and accomplishment that defines a 2015 Distinguished Alumni."
Yancey's relationship with Virginia Western began in 1996, when she became a student as well as a part-time tutor. She completed an associate's degree in Accounting with cum laude honors in May 1997, receiving another associate's degree in Management, again cum laude, in December of that same year. She received a third AAS in Banking & Finance from VWCC in 1998. She received her BA in Accounting from Radford University in 2000, and she achieved a Master's of Business Administration from Averett University in 2003.
Yancey became an adjunct faculty instructor in 2003, moving to full time within a few years. She continued to teach until 2014, and currently serves the College as Dean of Business, Technology and Trades.
Her commitment to student success is nowhere more evident than in her Suits for Students initiative.
Striving to best prepare students for their futures, Yancey had her students undergo "mock real-world interviews." The exercise required students to actually prepare and present themselves for an appointment with a new employer.
Knowing that dressing for success is not always possible for everyone, Yancey collected suits for the students to borrow if needed. To do so, she gathered donations or purchased the suits herself. These suits have since been donated to the Hall Associates Career Center on campus to continue to help Virginia Western students make the transition to real-world success.
---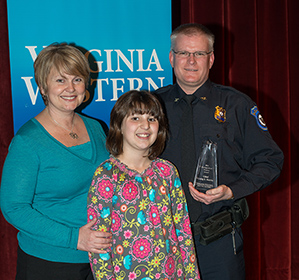 2014 – Chief Craig S. Harris '00
Chief Craig Harris, Virginia Western Community College class of 2000, became Chief of Police at the College in 2005 and works tirelessly for the benefit of the entire community. He started his police leadership career with the Vinton Police Department in 1999. He worked as a police detective until 2003 and was promoted to Sergeant of the Investigations Division.
While with the Vinton Police, he enrolled at Virginia Western with the goal of furthering his career in police leadership. He pursued an Associate of Science in General Studies and went on to receive a Bachelor of Science in Administration of Justice from Bluefield College in 2002 and a Master of Science in Business Management from Liberty University in 2009.
In addition to leading the campus police force, he began teaching as an adjunct faculty member in the School of Liberal Arts and Social Sciences Associate of Science in Administration of Justice program.
In 2011-12, he served as the Secretary for the Blue Ridge Association of Chiefs of Police, and is a member of several professional organizations including the Virginia Association of Chiefs of Police, Blue Ridge Association of Chiefs of Police, Virginia Association of Campus Law Enforcement Administrators, Virginia Forensic Science Academy Alumni Association, and the Cardinal Criminal Justice Academy Governing Board.
He led Virginia Western to be ranked as the safest college of 2012 in Virginia and eighth safest college or university in the United States by stateuniversity.com. A recipient of the Classified Staff Outstanding Achievement Award in 2009, and two Police Officer of the Year awards in 2001, Chief Harris has long proved his commitment to professionalism in his field.
Chief Harris has been married 19 years to his wife Jill, and they have a beautiful daughter named Anna who is 10-years-old.
Proud to be named a 2014 Distinguished Alumni Award, Chief Harris continues to serve the Virginia Western and Roanoke community as a consummate professional and dedicated servant of the law.
---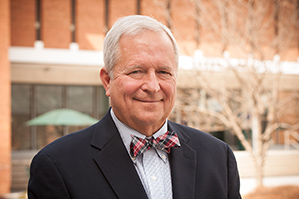 2014 – J. David Wine '73
J. David Wine, Virginia Western Community College class of 1973, enrolled at the College following an unsuccessful attempt at a four-year university. He turned an Associate of Science in General Studies into a productive career as an entrepreneur and community supporter.
Growing up in Botetourt County as the fourth generation of landowners at Crumpacker Orchards in the Bonsack area, Wine attended Lord Botetourt High School. He developed a life-long love of horticulture and gardening, and is proud for his urban organic garden to be on the 2014 Historic Garden Week Roanoke Garden Tour presented by The Mill Mountain Garden Club and Roanoke Valley Garden Club.
He and his wife Mary Ann live in the City of Roanoke, where they raised three children, who have now blessed them with seven grandchildren. David and Mary Ann enjoy retirement by traveling and serving their community.
Following graduation from Virginia Western in 1973, Wine began working in respiratory therapy at Pulaski Hospital. Soon, he started his own company, Advanced Healthcare Services, selling in-home nursing care equipment.
He got into the right business at the right time, and sold Advanced Healthcare Services to a corporate buyer in 1998.
Wine now serves as a member on the Roanoke Symphony Orchestra Board, Taubman Museum of Art Board, Roanoke College Advisory Board, Hollins College Advisory Board, Carilion Clinic Foundation Board, and the Virginia Western Educational Foundation Board.
He has long been a supporter of Virginia Western Community College, and is proud to serve his alma mater as a volunteer. He was honored to be named at 2014 Distinguished Alumni Award recipient.
---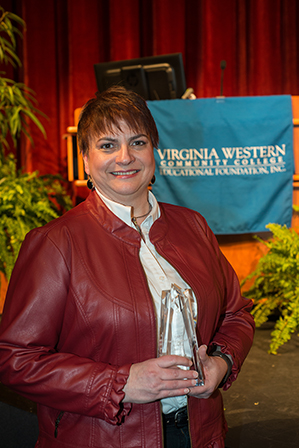 2013 – Cheryl Cunningham '86
Virginia Western proudly announces that Cheryl Cunningham, Virginia Western Radiography faculty, is the 2013 Outstanding Alumni Award recipient. Cunningham was recognized by the Virginia Western Educational Foundation at the recent Scholarship and Awards Ceremony.
Cunningham graduated from Virginia Western Community College in 1986 with degree in radiography. She started her career as a Radiologic Technologist at Lewis Gale Clinic and Pulmonary Medicine Associates.
In 2003, she "came home" as an adjunct clinical instructor at Virginia Western. She said she knew teaching was what she wanted to do, and she pursued a Bachelor in Health Science in 2007 and Master in Community Health Education in 2009, both from Old Dominion University. She has also completed two Digital Radiography for Instructors Seminars at UNC-Chapel Hill.
Cheryl joined the radiography faculty at Virginia Western full-time in 2010, and continues to be active in the Virginia Society of Radiologic Technologists as well as at First Christian Church Roanoke and at Virginia Western. She served on the Virginia Western Alumni Council since 2007, chairing the council beginning in 2008 to present.
---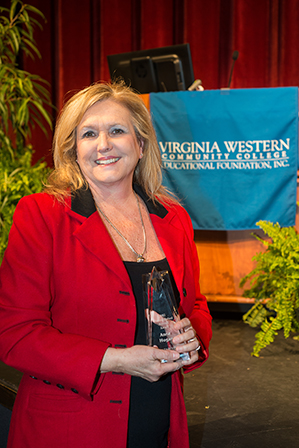 2012 – Anne Hogan '76
Anne H. Hogan graduated from Virginia Western Community College in 1976 with degree in nursing. She started her career as a Registered Nurse and is certified as a pediatric nurse and legal nurse consultant.
In 2003, Anne started her own private duty nursing business and now employs 20 nurses who care for patients in the home setting.
She graduated from the New York Institute of Photography in 2011 and started a photography business.
Her first children's book "The Three Amigos" was published in 2011 and she is now working on a second children's book.
Both of her children completed their first two years of college at Virginia Western, and went on to further their education.
"I feel very strongly that Virginia Western provides excellent opportunity for education to all ages at affordable cost," she said. "I would not be where I am today if it were not for Virginia Western."
Anne served on the Virginia Western Alumni Council since 2007 and is currently vice chair.
---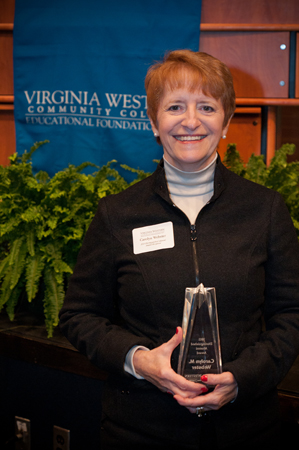 2011 – Carolyn Webster '81
Virginia Western Community College proudly announces that Carolyn Webster, senior vice president of nursing and chief nursing officer of Carilion Clinic, is the 2011 Outstanding Alumni Award recipient. Webster was recognized by Virginia Western at the recent Educational Foundation Annual Awards Ceremony.
Webster graduated from Virginia Western in 1981 with an Associate of Applied Science in Nursing, and has remained a supporter of the college throughout her career. She served on the Educational Foundation Board of Directors from 2002-2007 and again from 2010-present. She is currently a member of the Scholarship and Grants Committee.
She first joined Carilion in 1971, as a staff nurse, and has been an integral member of the hospital staff for over 36 years. She has held positions of staff development, Director of Emergency Department, and Vice President of Nursing Operations, before moving into her current role as Senior Vice President and Chief Nursing Officer of Carilion Clinic.
As the Roanoke native progressed in her career, she also added to her education, earning a Bachelor of Science in Nursing from Radford University, a Master of Business Administration from Averett University, and attending the Wharton Fellows Program in Management for Nurse Executives.
---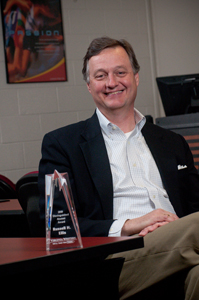 2010 – Russell H. Ellis '80
An entrepreneur and software developer, Russ Ellis graduated from Virginia Western Community College in 1980 with a degree in data processing. A tireless supporter of Virginia Western, he served as president of the Virginia Western Educational Foundation Board of Directors in 2008 and 2009 and is co-chair of the Foundation's current major gifts campaign to support the Community College Access Program.
"Virginia Western serves such a critical need in building the workforce in the Valley and region," Ellis said. "It provides affordable education that really works. It makes a huge difference in students' ability to grow in their careers. I am interested in helping continue that in any way I can. This region needs the workforce that Virginia Western provides."
Russ is currently the owner of Rusty's Best Corporation and is president of Xcellos Corporation. His community involvement extends far beyond his outreach efforts on behalf of the college, he also serves on several community boards including the Taubman Museum of Art, the Roanoke Valley Governor's School, and The New Century Technology Council.
---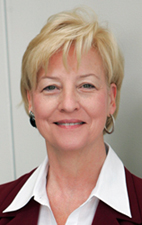 2009 – Shirl D. Lamanca '75
As a product of Virginia Western and now as Radiography Program Head and Interim Dean of Mathematics, Natural Science, and Health Technology, Shirl D. Lamanca can attest first hand to the life changing experiences that Virginia Western Community College offers. From her time in the classroom as a student to her time as a professor and now administrator, Shirl has dedicated herself to providing the highest caliber of service to her students, fellow employees, and to the field of Radiography.
Shirl was also instrumental in the creation of the Virginia Western Alumni Association in 2004 by serving on the first Alumni Council and by serving as Alumni Association Chair from 2005 through 2008.
---

2009 – Dennis R. Cronk '72
Dennis R. Cronk has been around the world and back-several times and will readily admit, "Virginia Western provided the foundation for me to move in the direction I did." That direction led him to become President/CEO of Poe & Cronk Real Estate Group. He has made numerous television appearances, and serves as chairman of an international trade delegation to the People's Republic of China. He is also a Past-President of the National Association of Realtors.
Through all of his experience and success, Dennis says "[it] all backs up to the fact that I am a small-town fellow who went to Virginia Western, got a foundation of knowledge, and took that and built on it, with loving support from my wife, family, and friends."
---
2008 – Donna L. Mitchell '81
Donna L. Mitchell is a 1981 graduate of Virginia Western Community College and credits the college with changing her life. "My years at Virginia Western were a pivotal time for me," she writes. "The warm, nurturing, empowering environment there brought me from a shy child to a self-confident young woman." A confidence that bred accomplishment, Donna transferred to Virginia Tech where she was "very well prepared" to earn separate degrees in Business Management and English. Not afraid to take risks, she found a niche where she could intertwine both her business and analytical skills as a stockbroker for UBS Financial Services Inc. for more than 20 years and, now, the Vice President of Investments.
Donna wrote in the College's 2006 annual report "Every day, Virginia Western proves the adage that, "If you give a man a fish you feed him for a day, but if you teach him how to fish you feed him for a lifetime." To further student's access to education, she and her family established the James Mark Mitchell Endowed Scholarship in 1997 in memory of her brother. In 2004 Donna and four of her classmates from Virginia Western established the Friendship Endowed Scholarship and the Friendship Annual Scholarship to financially assist female students in the college's service region.
The impact of her efforts for Virginia Western continue to be felt as she tirelessly supports the Educational Foundation in its day-to-day fundraising and advocacy initiatives. Donna is a past president of the Educational Foundation having served in that position in 2006 and 2007. She was also instrumental in establishing the College's first Alumni Association in 2004 and served as the first Alumni Council chair until 2006. In 2008 she was awarded the Chancellor's Award for Leadership in Philanthropy by the Virginia Community College System.
---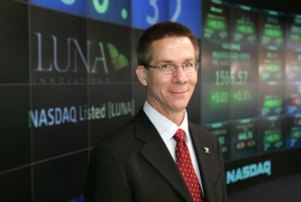 2007 – Dr. Kent A. Murphy
Dr. Kent Murphy began his educational endeavors at Virginia Western Community College, where he completed 61 credit hours before transferring to Virginia Tech, earning his bachelors, masters and doctoral degrees and is now Founder, CEO, and Chairman of Luna Innovations Incorporated, a publicly traded company on the NASDAQ. Luna Innovations develops and manufactures new-generation products for the healthcare, telecommunications, energy and defense markets. Through its disciplined commercialization business model, Luna has become a recognized leader in transitioning science to solutions. Luna is a two-time Tibbett's award winner, the 2005 recipient of the Governor's Technology Award for Entrepreneurship, and the 2007 Roanoke Regional Chamber of Commerce Small Business of the Year.
Dr. Murphy is formerly a tenured professor in Virginia Tech's Bradley Department of Engineering and has over 35 patents which have generated hundreds of millions of dollars in product revenue. In 2001, he was named Virginia SBIR Entrepreneur of the Year, and in 2004 was recognized by the Governor and Science Museum of Virginia as Virginia's Outstanding Industrialist of the Year. Dr. Murphy is a founding member of the Virginia Research and Technology Advisory Commission, appointed by the Governor, and continues to serve today. He is also a member of the NVTC Board of Directors, Greater Washington Board of Trade Potomac Tech Task Force, the Governor's Office Productivity Advisory Committee, and the SBIR Steering Committee in association with the National Research Council and the National Academies. In May of 2003, he gave testimony at the Full Committee Hearing of the Senate Committee on Commerce, Science, and Transportation on S.189, the 21st Century Nanotechnology Research and Development Act, a $3.4 billion nano technology funding bill. At a reception honoring the recipients on November 15, Dr. Murphy commented, "If it were not for Virginia Western, I would not be here in front of you today or have founded a company that has provided over 300 jobs for the Roanoke Valley and Southwest Virginia."
---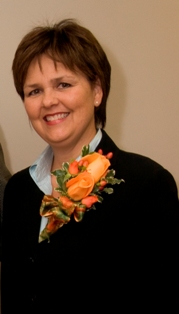 2007 – Charlotte C. Tyson '84
Mrs. Charlotte C. Tyson is a 1984 graduate with her Associates of Science degree in Nursing from Virginia Western Community College. She went on to earn her Bachelor's of Science Degree in Nursing from the Medical College of Virginia and a Master's of Healthcare Administration from Pfeiffer University. She has been Lewis-Gale Medical Center's Chief Operating Officer since October, 2005, and is currently serving as the hospital's Interim CEO. As a 521-bed tertiary facility, Lewis-Gale Medical Center has provided state-of-the art medical care for residents of the Roanoke Valley and Southwest Virginia for nearly 100 years and played an instrumental role in Virginia Western's first major gifts campaign by giving the largest gift in the history of the college, $1.5 million dollars.
Prior to that time, Mrs. Tyson was the hospital's Chief Nursing Officer, Quality Management Director, and Director of Oncology/Medical Surgery Departments. She serves on the Board of Directors of Project Access of the Roanoke Valley and is professionally associated with the American College of HealthCare Executives, the American Organization of Nurse Executives, and the American Society of Health Care Risk Managers. She was featured in 2006 in a Virginia Western Educational Foundation billboard campaign providing a "you can do it too" encouragement to our region's youth. At a reception honoring the recipients, Mrs. Tyson commented, "I am so proud to be a graduate of this institution which provides such a positive impact on our region."
---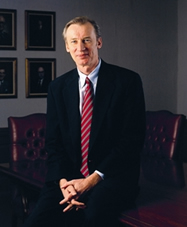 2006 – John B. Williamson, III '75
John B. Williamson, III was announced as the first recipient of the 2006 Distinguished Alumni Award at Virginia Western's 40th Anniversary Celebration at The Hotel Roanoke on January 17. A 1975 graduate of Virginia Western in Business Administration, John went on to earn his B.S. from Virginia Commonwealth University and his M.B.A. from The College of William & Mary. John has held numerous positions in both the public and private sectors including Assistant County Administrator for Nelson County, County Administrator for both Nelson and Botetourt County, and is currently Chairman, President & CEO of RGC Resources, Inc. In addition, John has held many positions on local and regional boards including President of The Arts Council of the Blue Ridge, Chairman of the Roanoke Valley Chamber of Commerce, and President of the Virginia Western Educational Foundation. John also spearheaded Virginia Western's first major gifts campaign which raised $4 million dollars to support key initiatives of the college. As the commencement speaker for Virginia Western in 2000, he told the graduates "Had it not been for Virginia Western, I might not have ever started on my college education." He echoed those thoughts in his acceptance speech when he dedicated his Distinguished Alumni Award to the faculty at Virginia Western for their commitment to student success.