Computed Tomography (CT) Imaging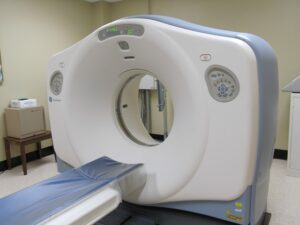 Did you know that Computed Tomography (CT) at Virginia Western Community College prepares you to use state of the art technology to become a travel or trauma CT technologist? Begin your journey today to a career that is fast paced and uses cutting edge technology to reconstruct anatomical structures in 3D.
Requirements
Applicants for Computed Tomography must have completed an approved program in radiography, radiation oncology or nuclear medicine technology. The student must be registered or registry eligible by the appropriate certification agency. All students must have a current CPR Healthcare Provider certification and must maintain that certification throughout the program. Applicants must have maintained a "C" average in past program courses in the discipline of certification.
COST OF ATTENDANCE
The cost of attendance is an estimate of the costs a student may have while at Virginia Western.
ADVISING
healthprofessions@virginiawestern.edu
 Fralin Center HP339
New Students: Chapman Hall
 540-857-6644
Fax: 540-857-6640
Mailing address:
School of Health Professions
3091 Colonial Ave., SW
Roanoke, VA 24015
PROGRAM HEAD
Susan A. Nolley, M.S., R.T.(R)
Assistant Professor, Radiography
SCHOOL OF HEALTH PROFESSIONS