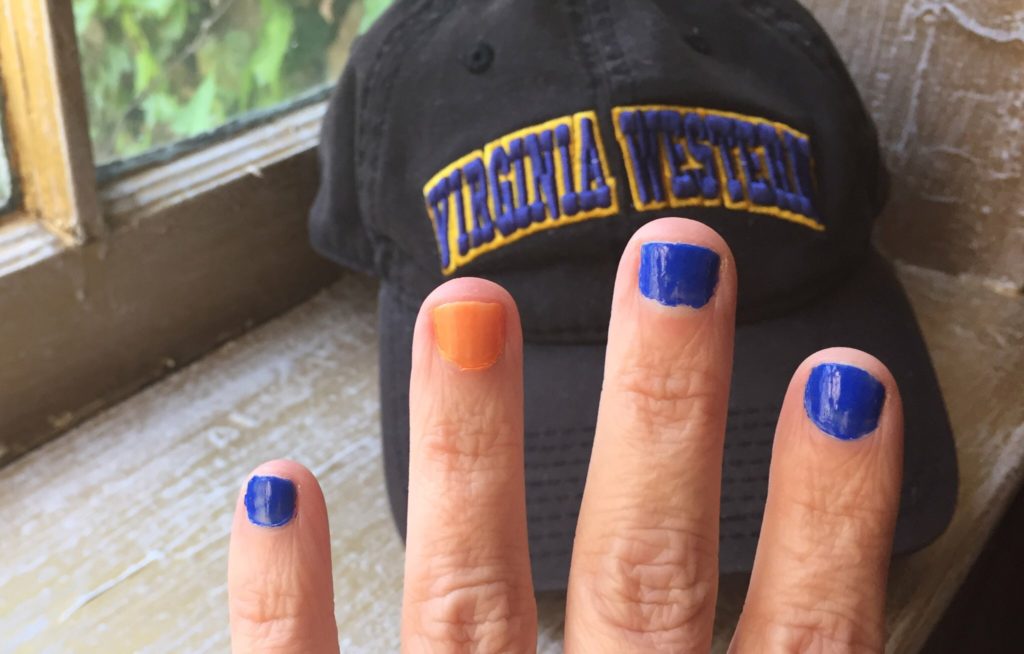 I painted my fingernails blue and gold, y'all.
I was shopping the Elizabeth Arden warehouse sale in Salem this past weekend (where we get a 10% discount with our VWCC ID badge!) and found the $2 nail polish along the back wall.
I thought the colors would be perfect during the week of Spring Fling, which is Friday.
But my Virginia Western pride doesn't stop with a manicure.
I also make a point to wear a VWCC ball cap when I run errands on the weekend, which frequently provokes conversations about the college in checkout lines.
I do this on purpose because I know informal interactions are the secret sauce to building relationships.
They are also the pixie dust for innovation.
And this is where it all comes around to grants …
… stay with me.
Over the holidays, I stumbled onto this video of author Simon Sinek: "Why Leaders Eat Last."
Sinek, who has a degree in cultural anthropology, is best known as the author of "Start With Why: How Great Leaders Inspire Everyone to Take Action."
I was hooked … and spent most of that day bingeing more of his YouTube and TED videos, where he talks about leadership and teamwork. I immediately ordered his 2014 book, "Leaders Eat Last: Why Some Teams Pull Together and Others Don't."
I highly recommend this book, especially as higher education — and Virginia Western — continues to transform and stoke our anxieties. "Leaders Eat Last" provokes questions about *why* we work here — and what motivates us to do our best work.
In the book, Sinek praises a few companies for their supportive cultures, including 3M, maker of Post-it Notes. Simply put: Post-its were born from failure. One of 3M's scientists was trying to create a strong adhesive. Instead, he made a weak adhesive — but instead of burying his "failure" out of embarrassment, he shared the mistake with his colleagues in case someone else could figure out how to use it. Years later, another scientist at 3M remembered the weak glue when he was frustrated by his bookmark, which kept falling out of his church choir book on the music stand. He wanted that bookmark to stay put. Eureka! …. now Post-its cover everything we own.
Sinek points to the company's culture as what made this breakthrough possible:
Innovation at 3M is not simply the result of educational pedigree or technical expertise. Innovation is the result of a corporate culture of collaboration and sharing. … The cross-pollination of ideas — combined with an emphasis on sharing across product lines — has led to an atmosphere of collaboration that makes 3M a place where employees feel valued. "Innovation from interaction" is one of the company's favorite mottoes. (p. 169)
"Innovation from interaction" … this is how it relates to grants.
Grants are more than money. They are tools for creating change in our college and in our community, and they are powered by creative ideas. The most effective grants require imagination, courage, good planning … and collaboration.
And the collaborative magic doesn't necessarily happen in formal meetings (but those help, too).
It happens when we pass each other in the hallways … the conversations we have while waiting in the coffee shop … the serendipitous interactions at events like Spring Fling.
We build trust and relationships in these small, face-to-face moments, which are hard to measure. This 3-minute Sinek video explains how consistency (not intensity) builds the healthiest cultures. For example, brushing your teeth twice a day … every day … (consistency) vs. intensity (going to the dentist twice a year). Going to the dentist is important and easy to track and measure … but the effectiveness of a single session of tooth-brushing? Not so easy to measure … but essential to dental health over time.
All of the stuff we too often dismiss as unimportant or wasteful or frivolous … these are critical to the sense of teamwork we have at this college, and ultimately, the good ideas (and healthy failures) that can spring from this teamwork.
I hope to see you having fun at Spring Fling … with our without blue fingernails.