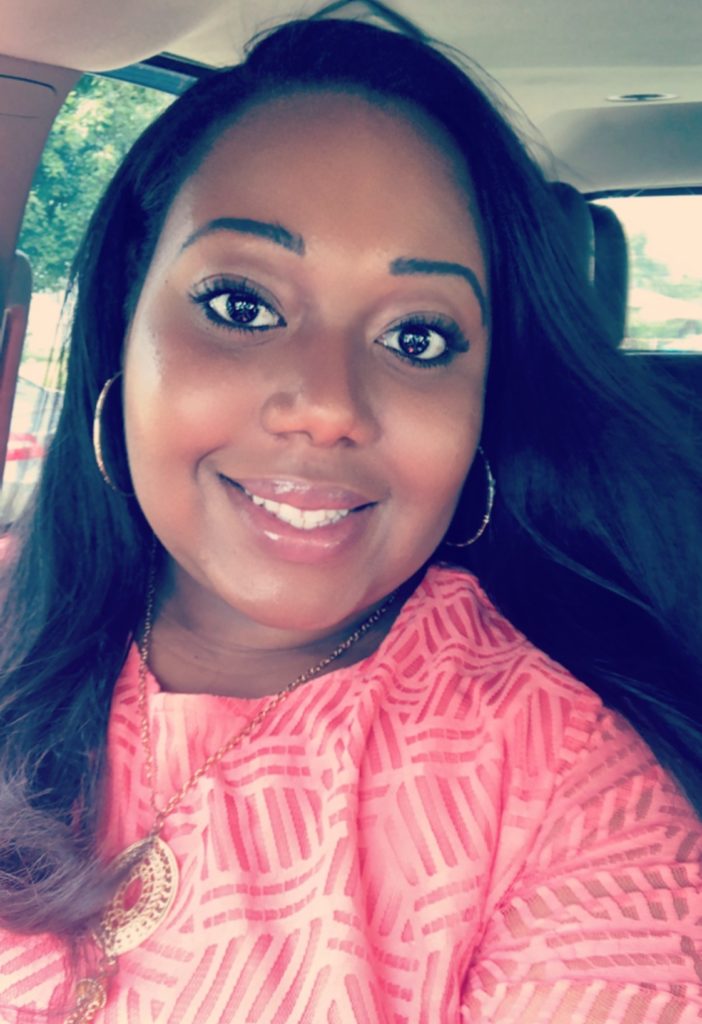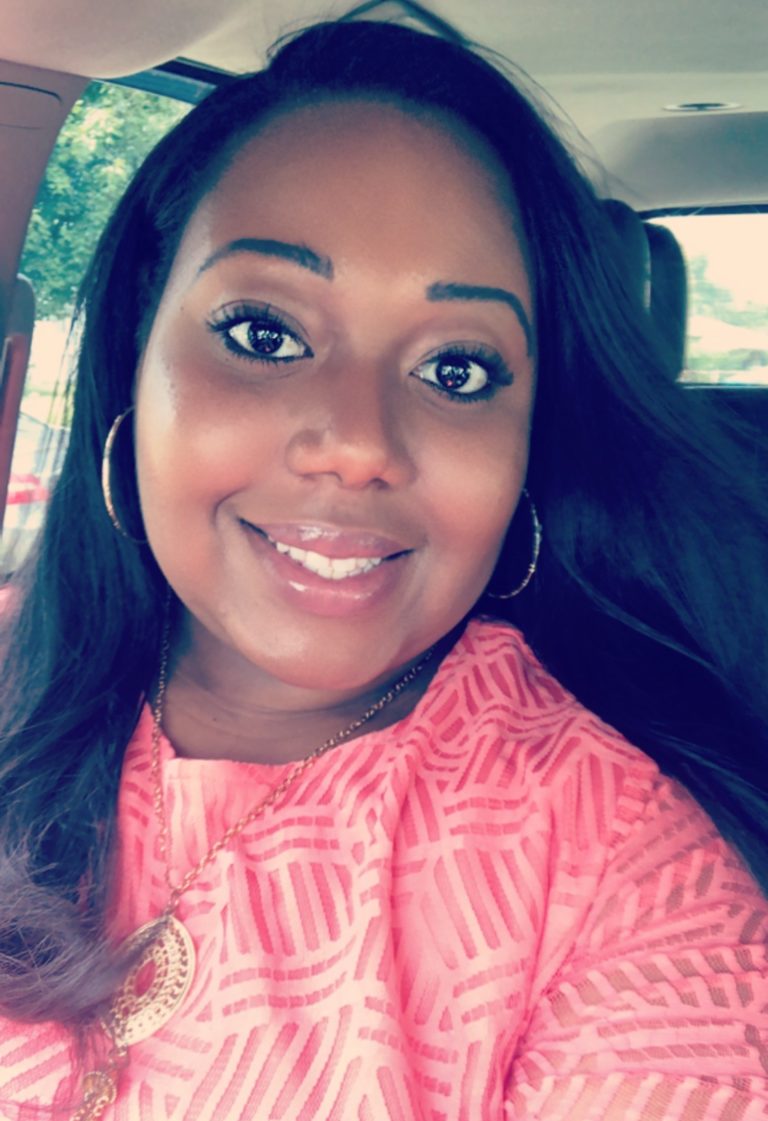 September 2023
I'm Sharnice…
I am an Administrative Assistant in the Virginia Western Educational Foundation.
The Star City is my hometown.
My kitchen is my happy place – I love to bake and cook! I enjoy reading inspirational books or books to expand my faith. I also enjoy listening to podcasts and music.
I am inspired most when I see individuals beat the odds that have been against them.
Upon my job search in 2022, I was attracted to Virginia Western's mission statement. Having the opportunity to aid in exposing students, regardless of their age, to educational opportunities that can pave the way for success is rewarding. I feel privileged to be able to share this opportunity with my colleagues.
I like that Virginia Western promotes a space where students can be and feel empowered for success. Working in the Educational Foundation gives me the opportunity to see first-hand how the Foundation and College collaborate to ensure that students can optimize all financial resources at their disposal.
To me, Diversity is the representation of various cultures and human differences. When we all learn to cultivate a posture of respect and understanding for our differences, we can transform the world into a better place for all. Diversity should be important to everyone.
---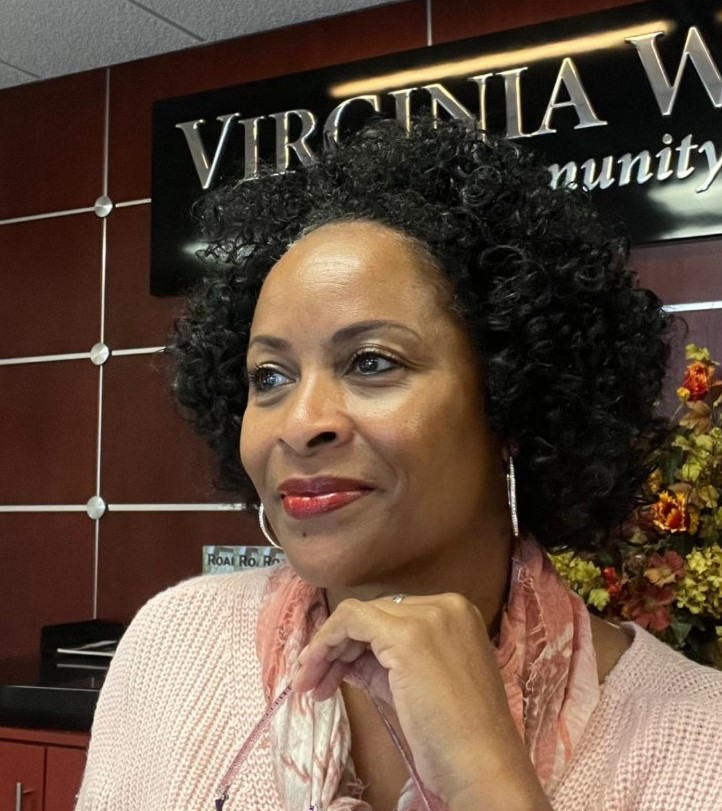 August 2023
I'm Linda…
I am an Administrative & Office Specialist for the Dual Enrollment Office at Virginia Western Community College. I hold a Bachelor of Science degree in Clothing and Textiles from Cheyney University in Cheyney, Pennsylvania.
I grew up in East Orange, New Jersey, which I call home, but I was born in Roanoke, Virginia, and spent many summers here as a child with my grandmother and many cousins. I consider Roanoke my second home. My mom moved back to Roanoke 6 years ago. I followed my mom to Roanoke, after my retirement of 26 years of service as the Assistant Registrar, in charge of Registration & Graduation, in the Enrollment Services Department at Essex County College in Newark, New Jersey.
Given my love of education, the college environment, and my past experience & skillset, I felt that Virginia Western Community College and I would be a good fit. I took some courses through the Goodwill Learning Academy to update my office skills and applied for a position at Virginia Western. Dr. Elizabeth Wilmer, Vice President of Academic and Student Affairs, is a great supervisor and has made me feel most welcomed, along with Dr. Robert Sandel, President, and Dr. Kathy Beard, Coordinator of Dual Enrollment. I like the campus environment, the many welcoming staff members, and the beautiful campus grounds. I am a sucker for nature, so who would not like Virginia Western Community College?
I enjoy reading, cooking, studying & buying crystals, as well as semi-precious gems & stones. I also love to travel. Gardening is my Happy Place–nothing like seeing all of your hard work turn into something beautiful. I currently have a nice flowerbed in front of my house, and a number of different vegetables growing in a raised-garden on my back deck.
My proudest moment has just been getting through life's moments…day-by-day, through faith and my family.
For me, diversity is the removal of barriers and ensuring that everyone has equal access to opportunities and support. Diversity also involves respecting the unique needs, perspectives and potential of all people. Diversity in the workplace refers to having a workforce that includes employees of different backgrounds, identities, and abilities. It covers not only demographic factors like race, gender, age, and religion but also personal and cultural aspects like education, skills, experiences, beliefs and lifestyle. It can be values held by many organizations that are working to be supportive of different groups of individuals, including people of different races, ethnicities, religions, abilities, genders, and sexual orientations.
Diversity is very important to me, because my previous employment at Essex County College was very culturally diverse. I felt comfortable being surrounded by so many different races and cultures, mostly minorities, a big old melting pot. It was home. After moving down here to Roanoke, it was a bit of a culture shock for me; the pace, people, and way of life. I decided to re-enter the workforce. I was skeptical about where I wanted to work, or if I wanted to work again, but I realized that I like to work and needed to work…to be active, to be productive, to have a purpose in life besides laying on my couch and watching tv. I worked at a few places, but I was not happy with the food service industry or retail-related jobs. I wanted a place where I could be happy and comfortable again, to hopefully make a difference, so I looked at Virginia Western Community College and applied for a position.
As an older Black Woman, I wanted to feel connected and welcomed in the workplace, so being hired to be the welcoming face outside of President's office here at Virginia Western Community College, shows that, no matter a person's race, age, religion, lifestyle, or cultural differences, VWCC has worked to be supportive of different groups of individuals. For me, it means representation to any African-American student coming to VWCC, to see someone who looks like them, to know they are also welcomed, and also, for people of different races and backgrounds, to see to me as an individual of substance, integrity, character, and joyful. I truly feel honored to be in the position that I am in here at Virginia Western Community College and to be part of another college with a commitment to diversity and inclusivity.
---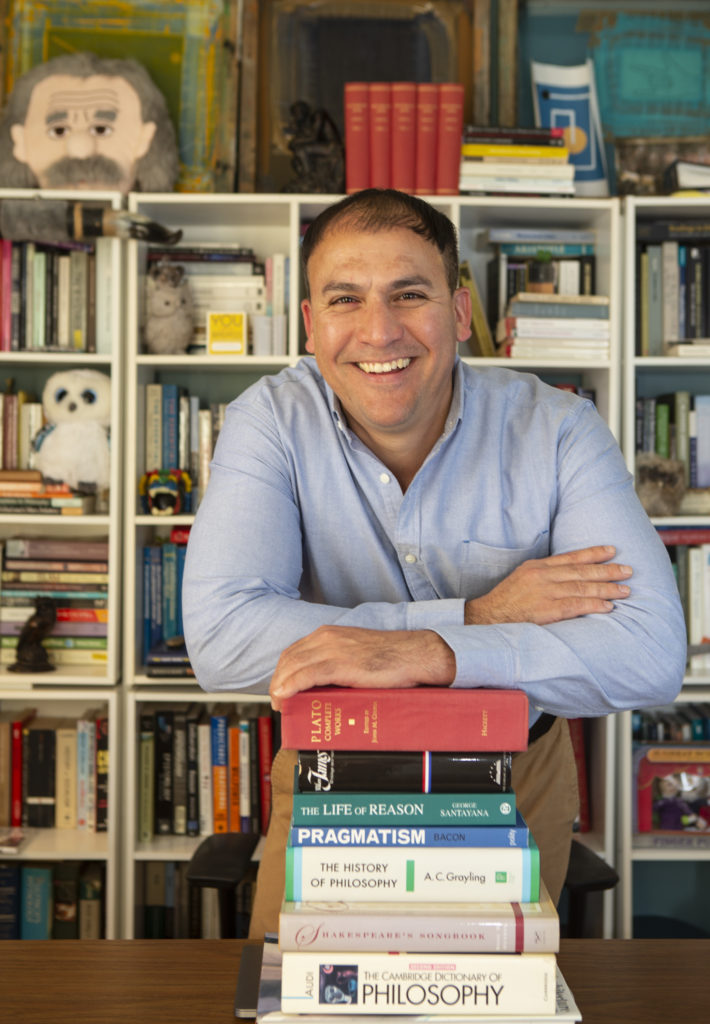 July 2023
I'm Ivan…
I am a Professor of Philosophy in the School of Liberal Arts and Social Sciences (LASS). My PhD is in Philosophy from Michigan State University. I have taught at Western for ten years.
I was born on the Mexican side of the Southern border but have lived in my adopted country since 1992, and in Virginia since 2002. I have a special place in my heart for Mexican and Texas culture, where I have family, but I now consider Roanoke, Virginia my hometown.
I attended a community college in Houston, TX, the city my family migrated to in search of opportunity. I was a first-generation college student, clueless of what I wanted other than a college education. This changed when I took Intro to Philosophy from Dr. Daniel Coleman: a professor who made me fall in love with the subject and helped me feel that someone with my background could become a philosopher. I transferred to the University of Houston, earning a bachelor's degree in philosophy. After graduation, Virginia Tech gave me a scholarship to pursue a Master's in the field. This is the reason I moved to Blacksburg, VA, and eventually to Roanoke, after my wife and I decided that she would stay in the Star City while I attended PhD-level seminars at Michigan State University. It took a village for me to be where I am now, but key was the support of my wife, Dr. Elizabeth Wilmer, and Amy Anguiano. Without their help, it is hard to see how I could have done it.
I spend most of the day philosophizing with students and others, and when I am not, I exercise, tend my garden, read, travel, walk my dogs, and dine-and-wine with loved ones.
My dad's, sister's, and wife's characters inspire me, so do the great philosophers, constructive criticism from students, and anyone who refuses to let accumulated disadvantages steal their dreams, or privilege make them complacent. Scholarly achievements swell my heart the most, like when I held a hard copy of my dissertation, and the first time I got published. These two achievements showed me that I could develop my own ideas and contribute to the advancement of human knowledge.
Philosophy is rarely taught before college, yet it is essential to cultivate one's humanity. Virginia Western provides me with the space and resources needed to share the value of philosophy with a diverse student population from areas that tend to be underserved.
Diversity is a rainbow of human colors, flavors, identities, orientations, and points of view. A good education involves forming hearts and minds in such a way that the person continues to grow as a human being, not just as a worker. But this kind of formation presupposes the enlargement of one's horizons that only exposure and openness to diversity make possible.
---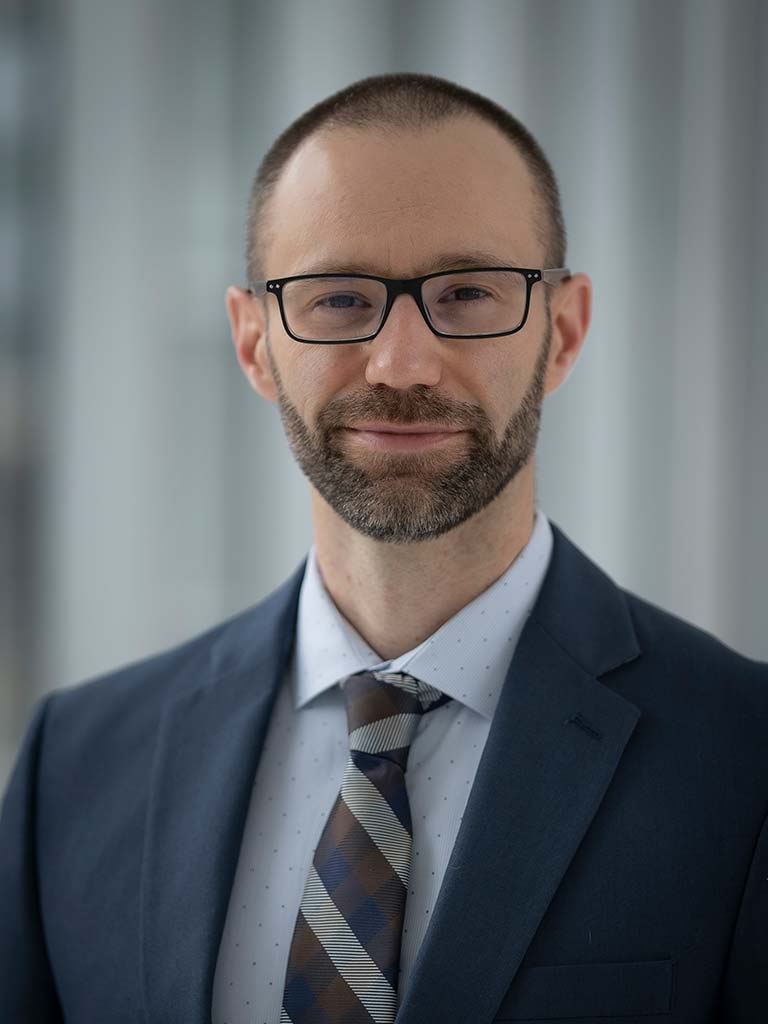 June 2023
I'm Elvir…
I am an alumnus of Virginia Western. I graduated in 2006 with an Associate's degree in Social Science with a concentration in History.
I am currently the Student Affairs Manager at Virginia Tech Carilion School of Medicine.
I was born in Bosnia and Herzegovina and I arrived in the U.S. (Roanoke) at the age of 14 in 1995. I consider Roanoke and Bosnia my home.
I came to Roanoke with my family as a refugee. We escaped a three-year civil war. My brother and I both went to William Fleming High School. I came to VWCC in 2001 to complete my Associate's degree.
At Virginia Western, I liked the small class size and supportive and passionate faculty.
In my free time, I enjoy the outdoors and exercising. Those things provide mental and physical benefits. I also enjoy spending time with my wife and our three dogs.
My proudest moments include: Graduating from VWCC and then from Radford University with my undergraduate and graduate degrees. Creating a Refugee and Immigrant Annual scholarship at VWCC and the first outdoor futsal court in Roanoke.
It's important to acknowledge that we have incredible diversity in our community, therefore, it's increasingly more important to practice inclusivity. Diversity means that there are many people in the room, and inclusivity asks how many of those people have a seat at the table that's in that room, and how can we ensure that all voices are represented and heard at that table?
---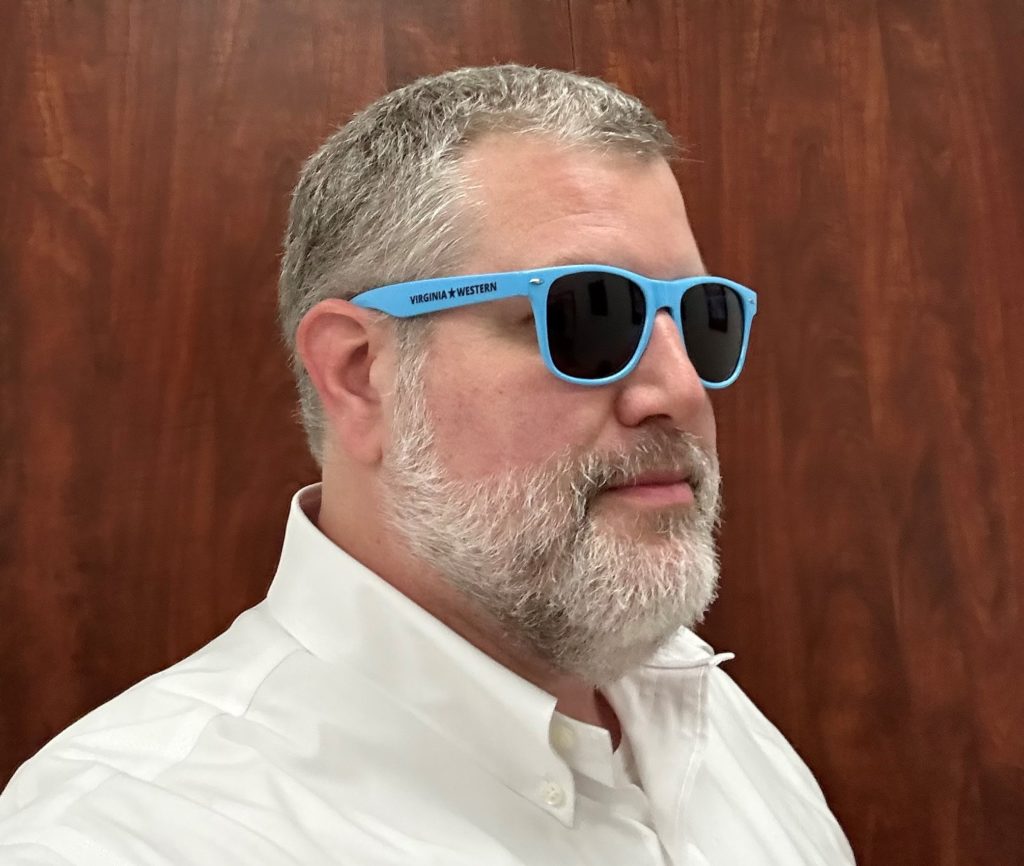 May 2023
I'm Randy…
I am the Associate Vice President of Human Resources at Virginia Western Community College.
I hold a Juris Doctorate, Masters of Arts in Industrial/Organizational Psychology, and Bachelors of Science in Psychology.
I am from Bedford County, VA. I grew up in rural Bedford almost 45 minutes from an actual grocery store. When we came to Roanoke as a kid it was like being in the "big city."
You'll often find me in the National Forest on top of a hill or other area watching the sun come up or go down. I enjoy motorcycling on backroads throughout the valley or anywhere it's not likely I'll get a speeding ticket. While staring into the sun or wearing a helmet, I often get lost in aligning intersections between western and eastern thought.
I recall being told by a teacher in grade school that I would never amount to anything. His voice and pointing finger replayed in my mind the entire time I took the bar exam. I passed in part because I let his words spur me on to be better than what he thought I could be. You can tell me I'm worthless, it only gives me strength.
Virginia Western is a place where people engage around a mission to help other people achieve their dreams – there are few things in life that are better than that!
Diversity is inherent to the quality of being human. Even within ourselves we hold different voices, competing perspectives, and changing insights. It is important to recognize that we often view ourselves as one being, while forgetting that others are human just like we are. Diversity means valuing that which is the other, allowing it to shape and fill us so that we can be better than what we otherwise are alone.
---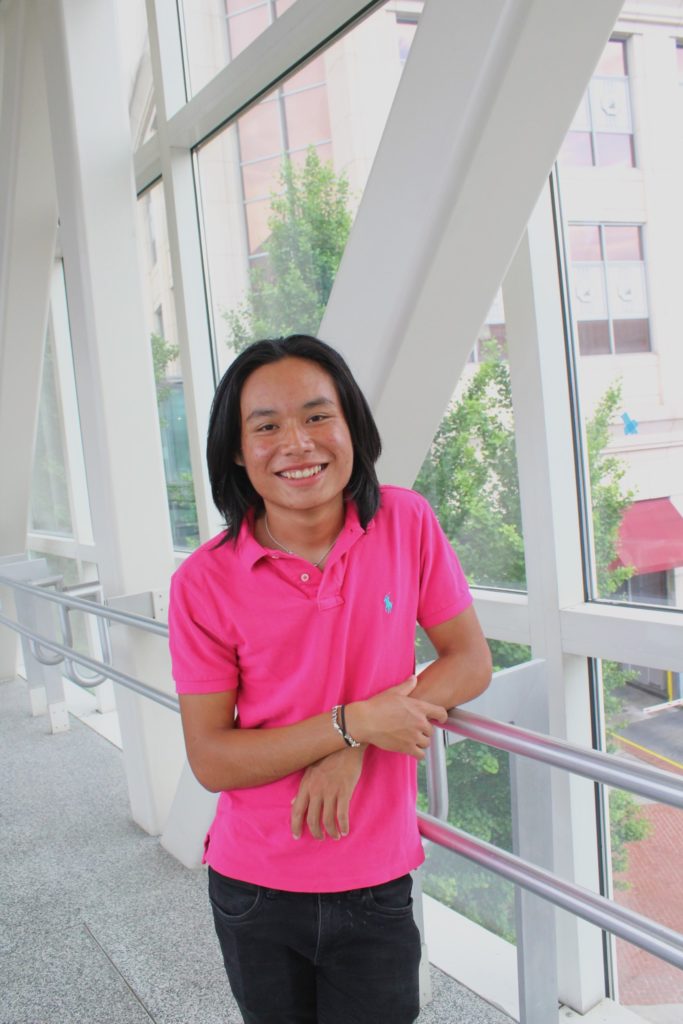 April 2023
I'm Thoo Lay…
I am a current student at Virginia Western in the Science – Computer Science program.
I was born in Thailand and spent a little bit of my childhood in a refugee camp, but I would say I grew up in Roanoke. I consider Roanoke home because it is where I spent most of my childhood and life.
My family came to Roanoke as refugees in 2011.
My interests are going on walks, hiking cool trails, kayaking, cool clothes, music, and music production. I enjoy exploring neighborhoods, especially cool ones with cool buildings or landscapes. I enjoy listening to music a lot. I like Lil Peep and a lot of cloud rap, but I've mostly been listening to a lot of indie, shoegaze, and old punk rock.
The people I take most of my inspiration life wise are people from church. They all have different backgrounds, but we are able to come together to support each other. They are selfless and willing to help with whatever you're going through. I have known them since I was little, and they help me stay on the right track.
What I like most about Virginia Western is the new friends I have met and activities I have been able to participate in. I am not good at socializing, but I have been able to make some friends, so I am grateful.
My idea of diversity is acceptance of all backgrounds, beliefs and interests. I think it is good to be accepting or try to understand a person that is different from you. I believe it broadens your understanding of the world and exposes you to new things. It is important because not being accepting or not willing to try to understand another person creates hate, and hate stunts your growth as a person.
---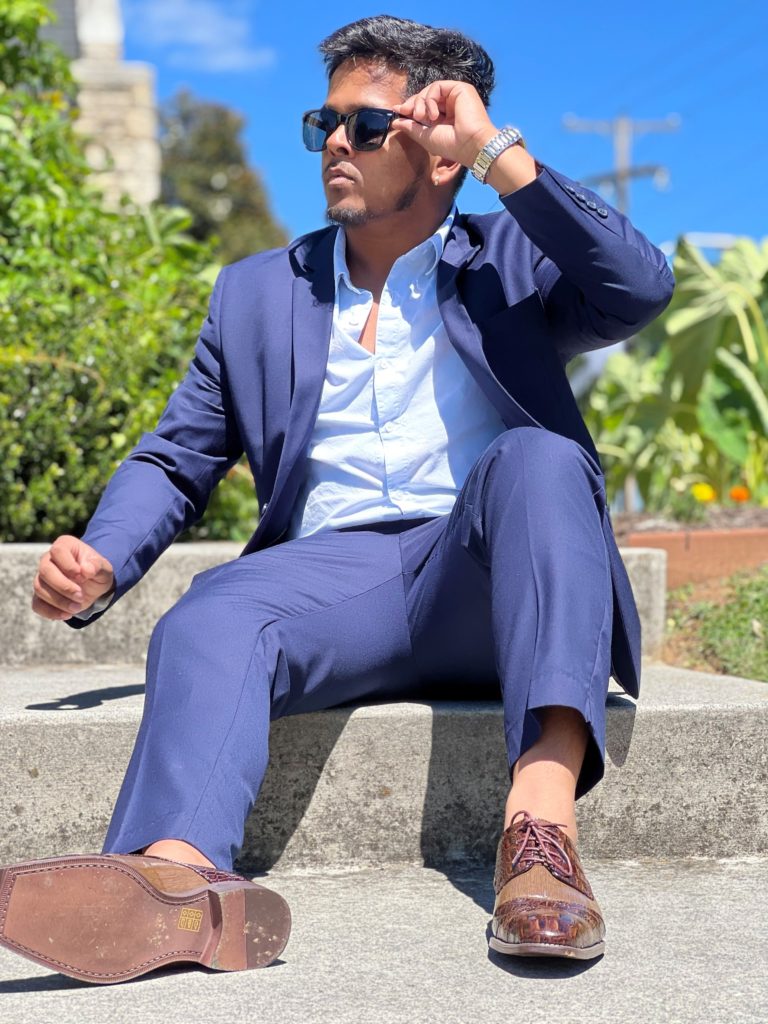 March 2023
I'm Deepak…
I am a current student at Virginia Western majoring in mechanical engineering.
I am originally from the country of Nepal and, when I moved to America, we moved around quite a bit. We first arrived in Atlanta, GA. My family and I stayed there for about two years. Then we moved across the country to Flathead, MN. We only lived there for a year and a half. Finally, my family decided to settle down here in Roanoke, VA. I would consider Roanoke my home because of the people I've had the pleasure of knowing in my almost 10 years of living here.
Right now, I have quite the interest in mentoring. I have been given the wonderful opportunity to mentor some high schoolers from my church. Most of them are just in the beginning stages of high-school and also Nepali. So, I have some understanding of what they will encounter in the coming years. I enjoy physical activity. Soccer, working out, hiking and a little boxing here and there are some of my more focused on passions. Every weekend the high-schoolers of my church, New Life Fellowship, and some of the older guys play soccer in Rivers Edge Recreation Center. From time to time I enjoy driving around town by myself. I might play some music or turn on the radio but it is mainly just a time to clear my head and talk to God privately.
I don't know if I have one significant inspiration and/or your proudest moment in my life I could choose from. In middle school, I once scored a goal from the halfway line in soccer–to some that would be impressive and to others it would just be another Tuesday. During my 8th grade year, I participated in cross country in the fall, wrestling in the winter and soccer in the spring. We were 1st place in all three seasons and I had the pleasure to be a team captain in soccer and wrestling. That could be somewhat significant if you look at it a certain way. Honestly, I believe the most significant and proudest moment was back in March of 2016. On March 26, 2016, I chose to give my life to God. I had the opportunity to be Baptized that fateful Saturday. From that moment on, I chose to live a separate life, one not for me but for Christ. I would not change or second guess that decision for anything. That is the most significant decision in my life.
Attending Virginia Western Community College has been a goal of mine ever since I heard of it back in middle school. I most like how helpful Virginia Western is. To a student who doesn't have the privilege to have parents who went to college, life after high school seemed sketchy at first. I had no idea what you would do after graduation, if you just started working somewhere or if there was a better/more accessible option. So, when I heard I could go to college without it costing an arm and a leg, there was no way I would let that opportunity pass. When I started applying for Virginia Western everything went so smoothly. I was able to find assistance on FAFSA easily, any questions I had about classes were answered so quickly and I didn't have to worry about being cramped in a small dorm because there were no dorms to worry about. I could go to campus and come back home in a matter of minutes. For that reason, I love how accessible Virginia Western has made its campus for the Community.
To me, diversity means inclusion. Inclusion without deep-seeded hate of one another. A place where you don't have to be ashamed of your ethnic background for fear of what other people thought of you. A place where you don't knowingly generalize someone just because that race has a history of this and that. Every group of people has some bad apples but to judge a person based on one encounter you had with that group is nothing short of ignorant. Diversity is important to me because anti diversity makes almost no logical sense to me. How can you even enjoy a place where everything is the same, no one has anything that sets them apart and people actively choose to seclude themselves from others. There would be no, for the lack of a better word, flavor.
---
February 2023
I'm Leo…
I'm a current student at Virginia Western studying Electrical Wiring and Construction Management. I'm a first-generation college student.
I was born in Baltimore, Maryland, and then moved to Roanoke when I was about 3 years old. I consider Roanoke to be my home.
Family is what brought me to Roanoke. I came to Virginia Western with the purpose to be a successful first-generation college student. I want to leave a legacy for my entire family that even if people don't think you can do it, you really can. I want to prove to my family and my cousins that you can go to college and be successful.
My favorite thing to do is play soccer. I have earned 6 medals for soccer. I like to go out hiking, and travel. I like spending time with my nieces and nephews and cousins, teaching them things and showing them how to be successful people. I like to make people happy.
Graduating from high school was my proudest moment because I could have never imagined I would be the first person in my family to graduate high school. But I did it. My family is my inspiration. They support me no matter what.
I like Virginia Western because I have met people with the same ideas and inspirations. I have made good friends. I like the staff, because they told me to never give up when I was having a hard time. I didn't do well my first semester here but everyone gave me another chance and helped me out. I like that there are places on campus where I can go study and do my homework.
Diversity means that no matter where we come from, we can all watch FIFA World Cup together! It's cool to meet people from different cultures that I never would have imagined getting to know here in Roanoke. We can share ideas, food, music, and fun.
---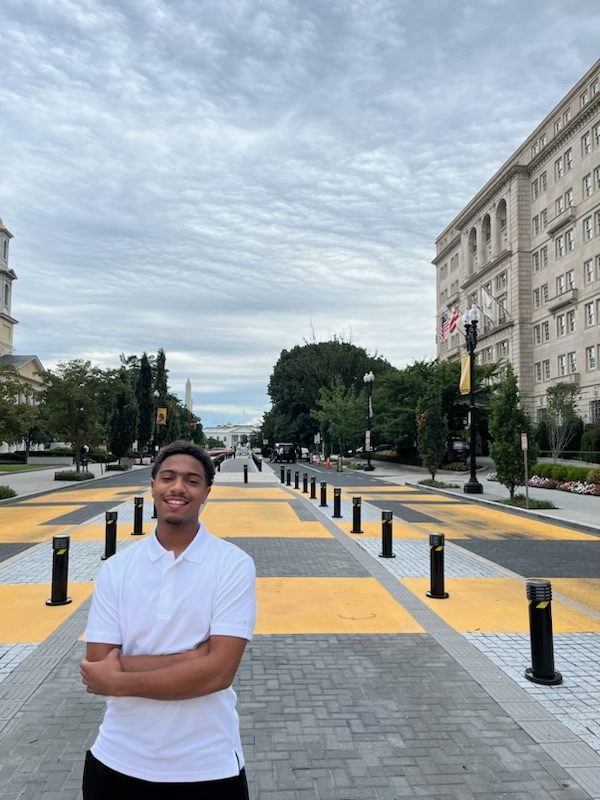 January 2023
I'm Yasir…
I'm a current student at Virginia Western majoring in Electrical Engineering. I plan to finish my associate degree then transfer to a four-year university.
I was born in Wisconsin, America. I grew up in Sudan and I came back to the U.S. to attend college at Virginia Western. I consider Sudan to be my home.
I came to the Roanoke area because I saw that there is a good community here and reviews on the internet were decent about it.
Since my childhood, I've been enjoying helping people and volunteering. I also love going to the gym, swimming and playing soccer.
My proudest moment was during my last year of high school before taking the British IGCSE exam. I was struggling with one subject which was additional math. I have been studying this subject everyday a minimum of 2 hours but when we had a test at school, I still scored low grades. I started working more and I practiced a lot of math problems. After I took the Final exam, I was really nervous, and I didn't know what can happen at the results day, but the great thing is that I scored an "A" at this class and that was one of the achievements that I will never forget in my life.
I want to go to college so I can be a successful man in the future with a great career which can create a positive impact on the community.
What I like most about Virginia Western, is the community with its students who are always motivating each other, the Professors who are always there to help the students, and all the staff members who offer their service all the time.
To me, diversity means different people with different mindsets and different cultures which can add good things to your character and teach you more interesting things about the world. It's very important to be different; if everyone was the same the world wouldn't be exciting!
---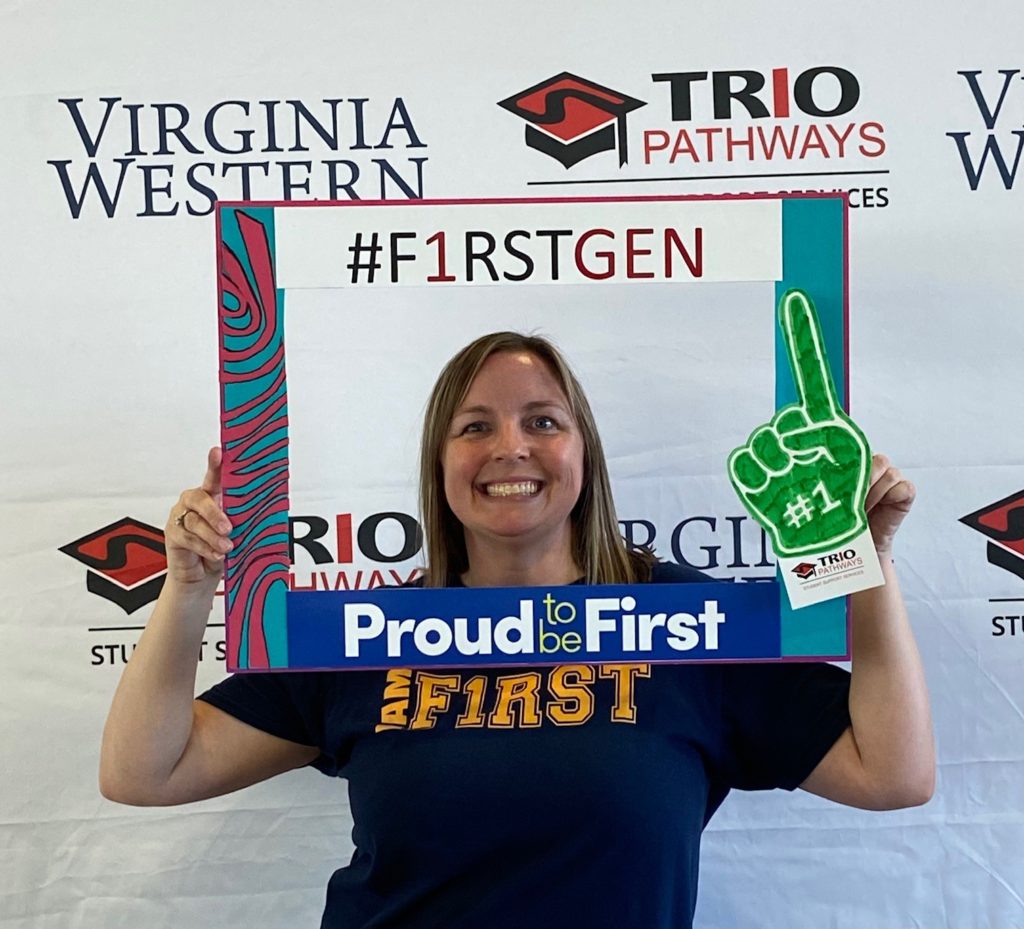 December 2022
I'm Kitty…
I am employed at Virginia Western as a TRIO Academic Success Coach.
I possess a Bachelor's Degree in Psychology from JMU and a Master's Degree in Community Counseling from Marymount University.
I grew up in Annandale, Virginia, a suburb of Washington, DC. I consider that my home – my parents still live in the house I grew up in my whole life.
My husband and I chose to live in the Roanoke area because his family had relocated here, and it was a good half-way point between where I grew up and where he grew up (Big Stone Gap, VA). I first came to work at Virginia Western in a position in the Hall Associates Career Center in 2014, and then in 2016, I began working in the TRIO program. Working in the TRIO program is very meaningful to me because I, myself, was a shy and anxious first-generation college student who could have benefited from extra guidance and support! Now, I get to be the person to my students that I wish I had in my life back then.
I love spending time with my family and friends. I have an 11-year-old son and a 9-year-old daughter who keep me busy and entertained. We love visiting museums, listening to music, making each other laugh, and going on road trips. I also enjoy when I can binge watch shows on Netflix (rare occasion for a full-time working mom!)
Many of the students I have met while working at Virginia Western are a huge inspiration to me. Many students have overcome struggles and hardships in their lives, but they still show up every day, work hard toward their goals, and find time to be kind and put a smile on other people's faces. They inspire me to stay positive and never give up, no matter what challenges arise.
What I like most about Virginia Western are the caring faculty and staff, and the students I am so lucky to work with. The students teach me so much, and make each day exciting.
To me, diversity means the beauty in differences. I believe diversity is important because learning is a lifelong adventure, and we can (and must) learn from people who look, think, act, and believe differently than we do.
---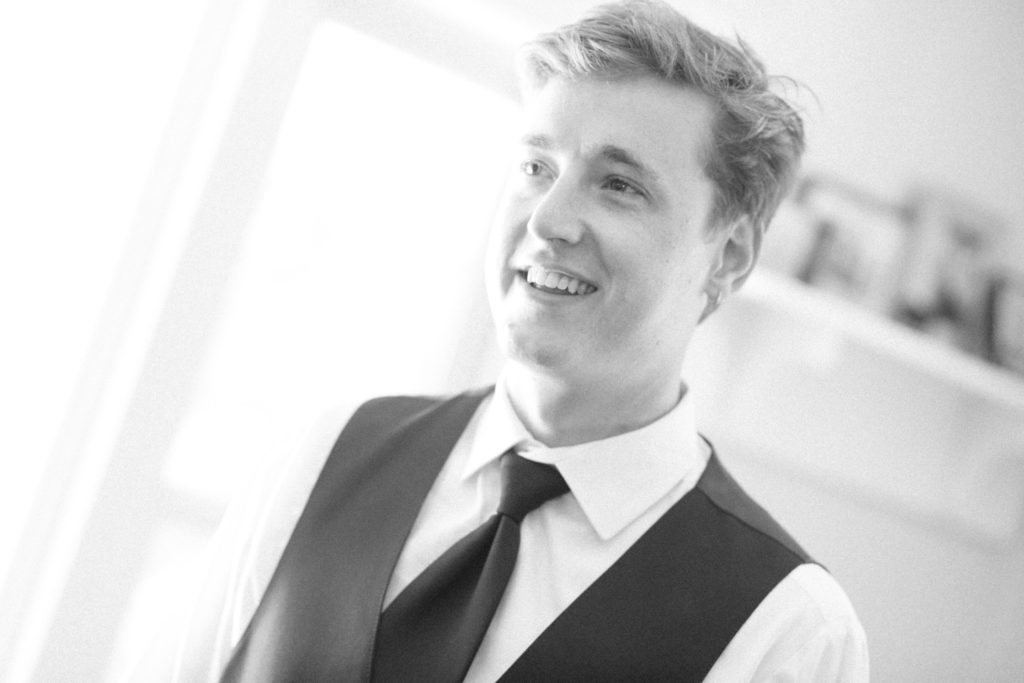 November 2022
I'm Waldo…
I am a current student at Virginia Western majoring in Horticulture Technology. I plan to work in the cannabis industry.
I grew up in Roanoke, VA.
I enjoy creative expressions of all sorts, nature, and friendly competition on the basketball court and ping pong table. Also, dinosaurs, Pokémon, and all things fantasy!
My most significant inspiration would be the relationship I had with a dear friend of 10 years who has since passed away. He was the kindest soul I ever met. This friend endured unceasing criticism for his belief in the beneficial effects of cannabis. His hardship, coinciding with his selflessness, empowers me to speak out about the mistreatment of cannabis users, as well as issues related to criminal justice, poverty, and the war on drugs.
I came to Virginia Western to educate myself in a field which ignites my passion.
At Virginia Western, I love the responsiveness of the student community to foster connections with each other. This is something I am an ongoing witness to within horticulture classes, club meetings, and school sponsored events. A true atmosphere of community and inclusivity.
I am gay and struggle with a disability, but I am also a white man. To me, diversity means acceptance and respect for all people regardless of whether they've "earned" it. It also means listening to other members of our greater community, particularly when the subject matter is something about which I know little.
---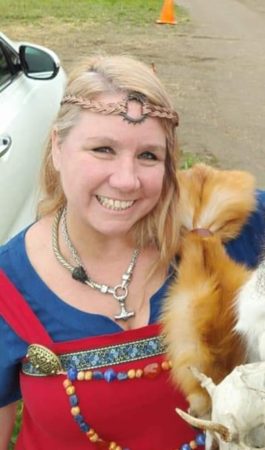 October 2022
I'm Kristie…
I am a Program Advisor at Virginia Western, supporting students in the School of Business, Technology, and Trades (BTT).
I have a Master's of Education degree in Counseling for Higher Education.
I am from New York, although I have lived in Savannah, GA for the last 15 years. I was ready to leave Savannah and wanted to move somewhere with 4 seasons, mountains, rivers, etc. I had visited Roanoke after my mom passed away and really liked it here. The people were really nice, so I decided to move here.
My interests/hobbies: I played rugby for 25 years, but recently had to quit due to injuries. I like to swim, hike, and play with my dogs. I make jewelry and chainmaille and sew/make outfits, mostly for Renaissance fairs.
My most significant accomplishment is being the first person in my family to graduate from college.
I like that there are so many different majors and programs to choose from at Virginia Western. There is basically something for everyone here. Plus, everyone is so friendly.
Diversity means having a wide range of perspectives, involving people from different cultures, races, genders, as well as political and economic backgrounds. It is important because we have the ability to learn and grow from each other. This leads to more innovation and creativity in the world.
---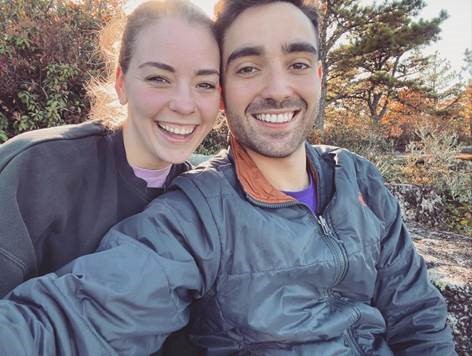 September 2022
I'm Andres…
I am an alumnus of Virginia Western. I graduated in 2020 from the Nursing Program and I am employed as a registered nurse.
I was born and raised in San Juan, Argentina. I lived there for 20 years, and then I decided to move to the United States in December of 2017. I honestly consider my home wherever my wife and I are together.
My wife and I met in Argentina in 2015. That same year she came back to Virginia to start nursing at Liberty University. She graduated at the end of 2017 and accepted a job position at the Pediatric Intensive Care Unit at Roanoke Memorial Hospital. VWCC had a great nursing program and also accepted international students, so I decided to pursue my nursing degree there.
I am thankful to God for all the unexpected things, good and bad, that have happened in the past 5 years. Sometimes life just happens, and it is important to be a good steward for the time we have been given. I am proud of the things I have been able to accomplish in the past couple of years, and I am thankful that I have been given the opportunity to study and live in Roanoke.
The nursing program at VWCC is a great highlight for me. The faculty are wonderful they are very knowledgeable and compassionate. I struggled my first semester; living in a different country means that you will face challenges such as with the language and schoolwork. I was very close to failing in a class, but my professors as well as my classmates helped me get there. If I ever had any questions or concerns, they were ready to help me figure it out. Clinical instructors were also amazing, like I said before, I am so thankful that the Lord put amazing faculty and classmates in my way to help me succeed.
I love spending time with my wife; Olivia is my best friend. We enjoy doing anything that is outdoors, so we hike a lot! We have done almost every hike in the Roanoke area, and we have done some backpacking as well. Skiing and white-water rafting are some of the other activities I enjoy doing as well!
I think that diversity has to do with bringing a variety of elements together and using them all to create something new. These can include ideas, experiences, backgrounds, thoughts, also including spiritual and emotional components. Without diversity we could miss crucial personal development and miss opportunities to see things from different perspectives. We have been created differently, and we should bring those differences together to do better.
---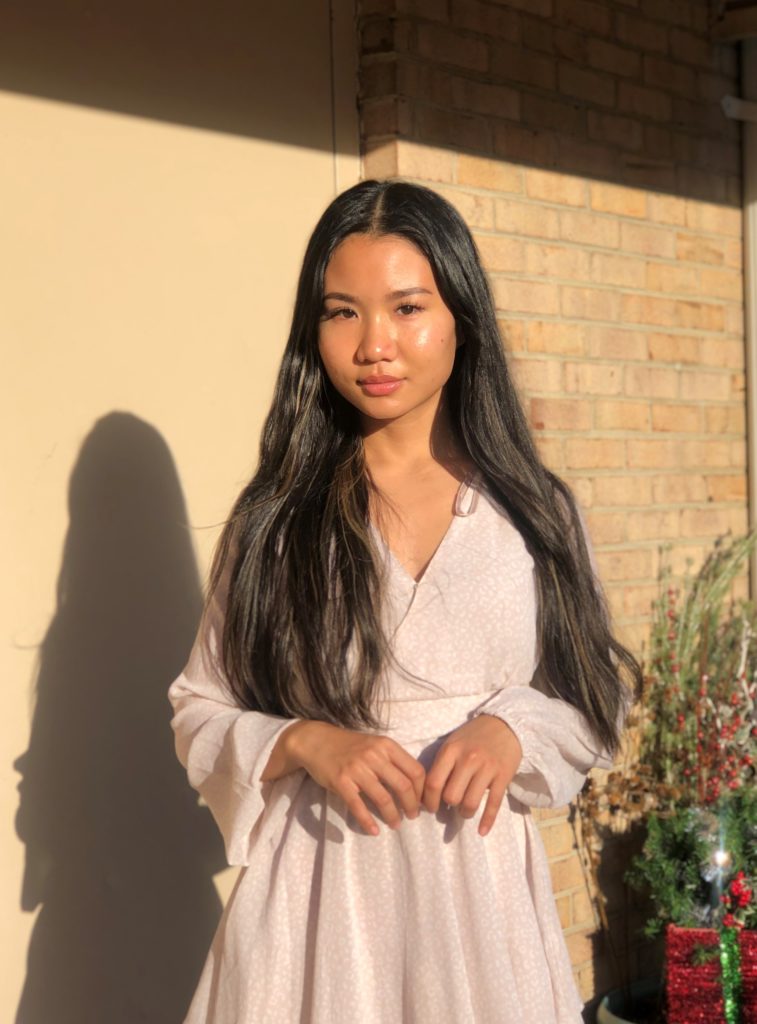 August 2022
I'm Eh Tha (pronounced Ehh-thaa)…
I'm a current student at Virginia Western. I'm majoring in biology and plan to minor in psychology at a four-year institution. My goal is to be as educated as possible.
I was born and raised in Thailand. I moved to America when I was eight years old. I consider Thailand a home because of the culture and food. Roanoke is also my home for now, but one day I would like to settle somewhere else.
I came to Western because I wanted to be more prepared for a four-year University. I also wanted to spend a few years of college close to home.
I love Western because the staff here are able to assist students with everything they need. The professors and advisors are willing to navigate with the students. They are willing to work diligently to make sure I am on the right track. The institution also has many resources to make sure every student has everything they need. Western offers many opportunities for a brighter future.
Some things that I like to do in my free time are going to the gym, reading fiction or sleeping. I enjoy hiking, traveling and trying out new food. I like to write poetry when I'm inspired, but rarely do so. I also love coffee and boba.
My parents are my most significant inspiration because they are hardworking and resilient. Despite what they have experienced, their ability to accelerate so that my siblings and I can have a better life inspires me to go after my dreams. They also sparked my interest in learning and growing in faith. I am who I am today because of my parents. My proudest moment would be graduating high school. The last year of high school was mentally and emotionally draining. To be able to walk across the stage made me feel accomplished and more appreciative of the learning process. I'm also K'nyaw, which is an ethnic minority group located in Burma and Thailand. I'm proud of my heritage and our history.
Diversity means embracing everyone's differences and uniqueness. We all come from different cultural backgrounds and diversity helps us to celebrate our individuality. Having a diverse group enables us to be creative. Diversity is what allows us to be original and authentic.
---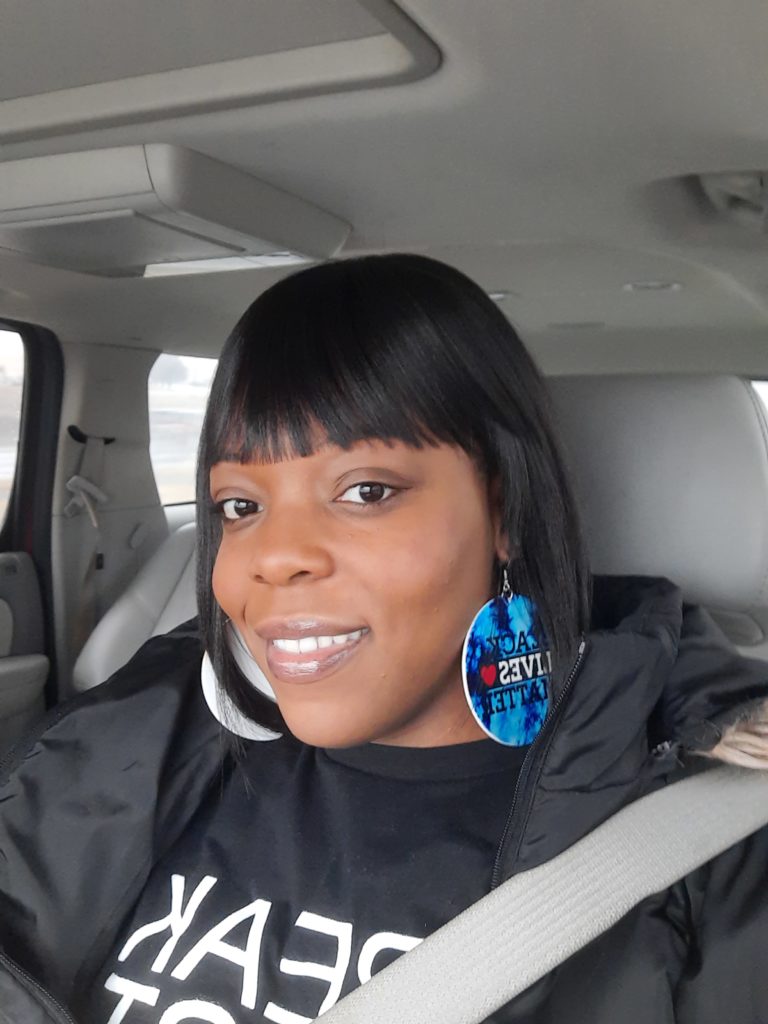 July 2022
I'm Sha-Nita…
I am an alumnus of Virginia Western. I graduated in 2019 and am currently a Registered Nurse.
I was born and raised in Roanoke, VA.
I came to Virginia Western to return to Nursing school and needed a program that was flexible to accommodate my work schedule. The program at Virginia Western was perfect.
In addition to the flexible class schedule, the instructors of the nursing program encouraged me to be a better nurse. Their knowledge, compassion, and genuine caring nature kept me grounded.
I love spending time with my family doing things like traveling, family game night, family movie night, etc.
My inspiration has been my children. I wanted to show them that anything is possible. I also wanted to prove it to myself. Graduating from nursing school and having them there to cheer me on was my proudest moment.
To me, diversity means different. I believe it is important to be exposed to people who are different in order to gain new perspectives. Learning about new cultures also reminds us to show gratitude and teaches us to be better versions of ourselves.
---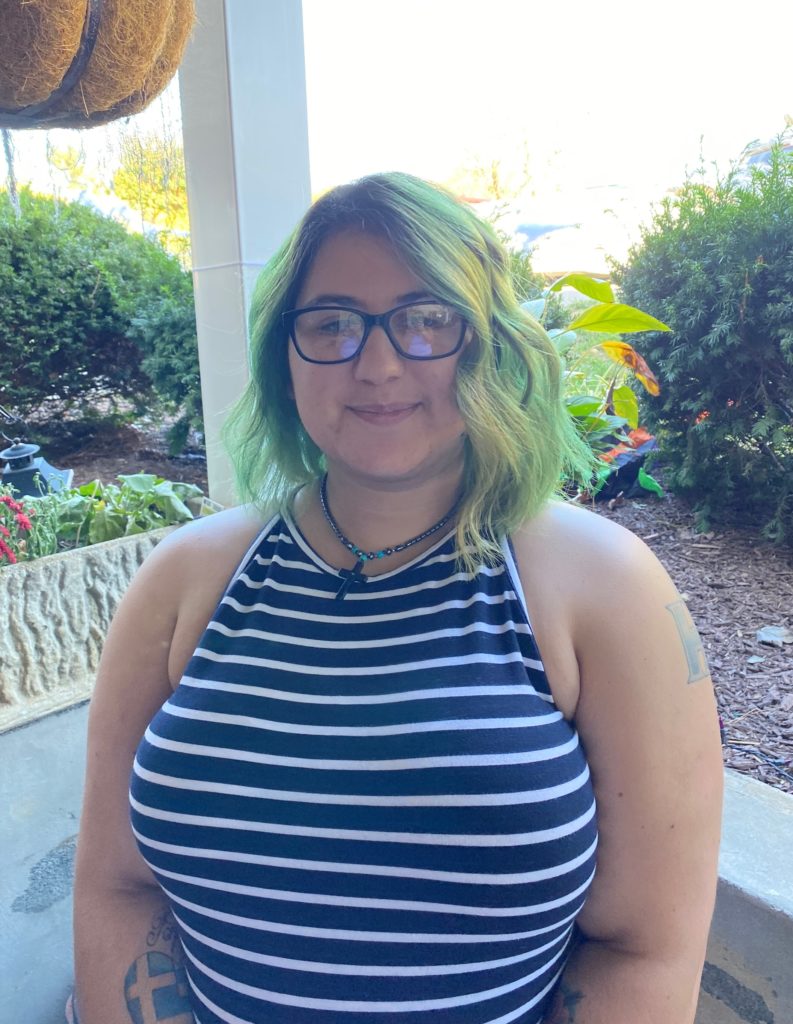 June 2022
I'm Heather…
I am a current student at Virginia Western pursuing a Business Administration degree.
I was born in New Jersey, but my father is from Greece and met my mother in America. My father still lives in New Jersey, but my mother, myself, and my sister have moved throughout multiple states and cities until we moved to Roanoke about 7 years ago. This is the longest place I have lived and I am proud to consider Roanoke my home now.
I decided to go to Virginia Western after leaving public school and having to redo my high school career through a home-schooling program. The home-schooling approach enabled me to further my education while providing the time I needed to readjust to this type of schooling.
Some of my main interests are learning new things, knitting, video games, mind puzzles, and learning about true crime. I also enjoy reading, meeting and hanging out with new people, getting tattoos, and trying new experiences.
My most significant inspiration would be my mother. She is the strongest and most important person I have ever met. She has supported me throughout all of the struggles I have gone through. She has been a pushing force behind me even when I had no interest or motivation to go on. This year my mother made a huge decision to purse a degree also through Virginia Western. I am so excited to graduate from Virginia Western, but I can't wait to share that experience with my mother as we are supposed to graduate in the same semester.
One of the best things I have noticed about Virginia Western is how open everyone is here. The staff, teachers, and even students seem to be the most welcoming and interesting people that want to help you succeed!
Diversity to me means embracing different religions, culture, experiences, and values to accept everyone for who they are. This is extremely important to me because I have been through a lot of rough stuff in my life already at my ripe age of 19, but I find comfort in learning about and supporting others through their life experiences to the best of my ability. I believe the different situations and experiences we go through make us all unique and the people we grow to be. Another reason I believe diversity is so important is because nobody will ever go through the same situations and it allows everyone the opportunity to open their mind and become more accepting to everyone around them.
---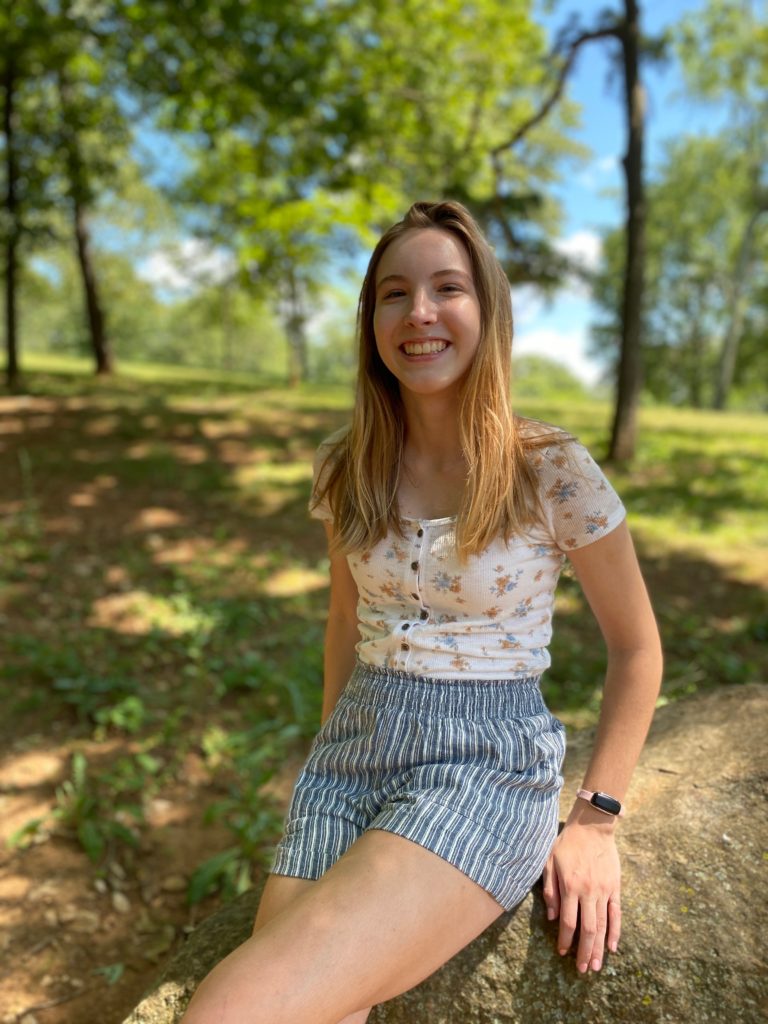 May 2022
I'm Taylor…
I am a student at Virginia Western and a member of the VWCC Diversity Club. I am currently a Social Sciences: Education major and am planning to transfer to pursue a bachelor's degree in Elementary Education.
My grandparents immigrated here from England and Costa Rica. Since then, Roanoke has been where my family calls home. Although I was not born in Virginia, I consider Roanoke my home because I was raised here. I am attending Virginia Western to continue my education while still remaining close to my home.
I enjoy spending time with my friends and family, as well as taking my Australian Shepherd, Bennie, for walks. I also love creating art in my free time.
My proudest moment was walking across the stage at my high school graduation after putting in so much time and dedication throughout the years.
My favorite part about Virginia Western is that they create a lot of fun opportunities for students to explore and meet one another and learn about the different academic options they have.
I believe diversity means being inclusive to all people, regardless of any circumstances. Everybody should be included and receive equal opportunities no matter who they are. Everybody should feel welcome and valued.
---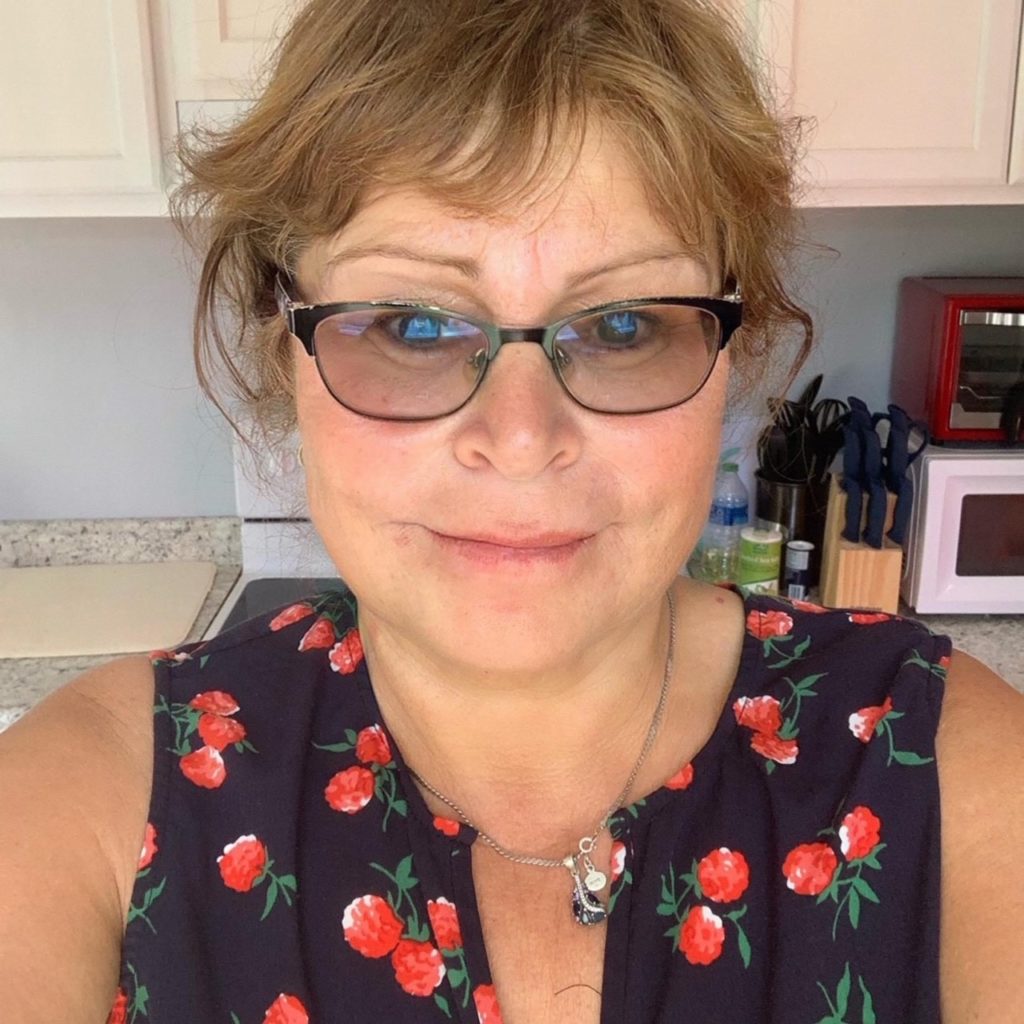 April 2022
I'm Anna…
I am a full-time Professor of Geology in the School of Science, Technology, Engineering and Math (STEM) at Virginia Western. I have a PhD in Geology from Virginia Tech and earned a doctorate degree in Geology from Budapest, Hungary.
I grew up in Budapest, Hungary, one of Europe's most beautiful cities. I am an American citizen, but, in my heart, I have 2 homes: Budapest, Hungary and Roanoke, Virginia.
Originally, I came to the USA with a scholarship from my government to learn more about geology and life in a foreign country. While I was working in the lab at Virginia Tech, we won a grant with my Hungarian topic which enabled me to stay in Blacksburg for 4 more years. I was working as an Associate Professor at the Technical University in Budapest, and they extended my stay in the USA so that I could obtain an American PhD. While in Blacksburg, my kids were in high school and elementary school. I realized that many young people here did not like science. I felt I had a calling to stay and change this as much as possible.
When I got my job at Virginia Western Community College, I felt at home. I loved that I can spread the love of science to a lot of people from different age groups. Thus far, I have taught students ranging in age from 16 to 76. I have the chance to teach a lot of hard-working adult students who are curious about learning and pay from their own pockets to get ahead in life. Of course, I also enjoy teaching young people with their fresh mind and natural interest in learning.
I love teaching and am passionate about my job. I also enjoy traveling and collecting minerals. I adore organizing field studies in geology–trips inside and outside of the USA. I love my two Hungarian Vizslas, and, when possible, I play tennis and ski. 
Growing up in Hungary, we did not have much diversity, but I have learned to love people from different countries/backgrounds since living in the United States. I enjoy learning about different cultures and would encourage others to be curious about diversity and learn more about different cultures as well.
---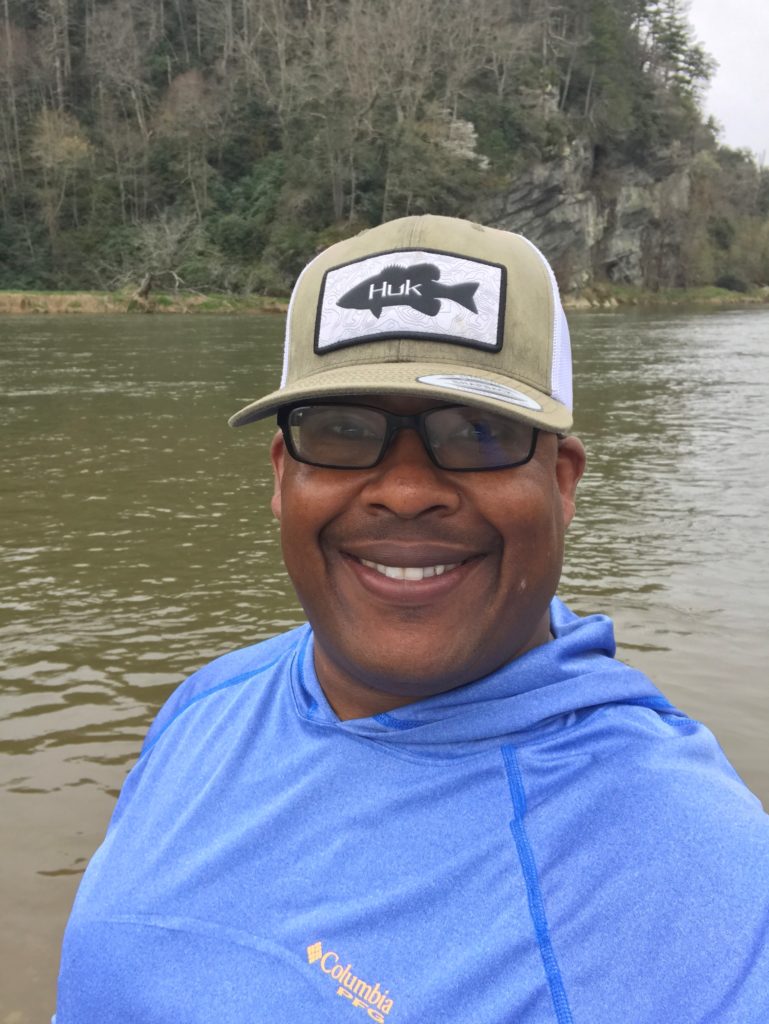 March 2022
I'm Frank…
I am employed at Virginia Western as the Roanoke City CCAP Success Coach.
I have a Bachelor of Arts degree in History from the University of Virginia at Wise and a Bachelor of Science degree in Exercise Science from James Madison University.
I grew up in Rocky Mount, VA (Franklin County, VA). I went away from the area for a couple of stints. I lived in VA Beach for two years, but the beach was just not for me. I missed these mountains of the Roanoke Valley too much, so I moved back!
I really enjoy nature and the outdoors. What brings me greatest enjoyment is being out on the James River fishing from my kayak. I also enjoy vegetable and herb gardening in the warmer months, and I have quite the succulent collection!
I would say my proudest moment was meeting the great Civil Rights leader and U.S. Congressman John Lewis in his office in Washington, D.C. Being a history major and after reading March: Book One, I was inspired to meet John Lewis. After months of correspondence with his office, that day would be made a reality on June 17, 2015 when my mom and I would meet John Lewis in person!
By far, the people are my favorite part about Virginia Western. From day one, whoever I have spoken with has always been willing to help me. Also, whenever I have needed help assisting a student, the attention to the student's needs has been exceptional! The people here at Virginia Western are the BEST!
Diversity to me is embracing the fact that we are all unique in our own way. I feel it is important to understand this uniqueness and share it amongst each other, collaborate, and have conversations about it. I feel it is this diversity that makes our communities, the Roanoke Valley, and even Virginia Western so special. It is each person's uniqueness that comes together, working together to do great things together!
---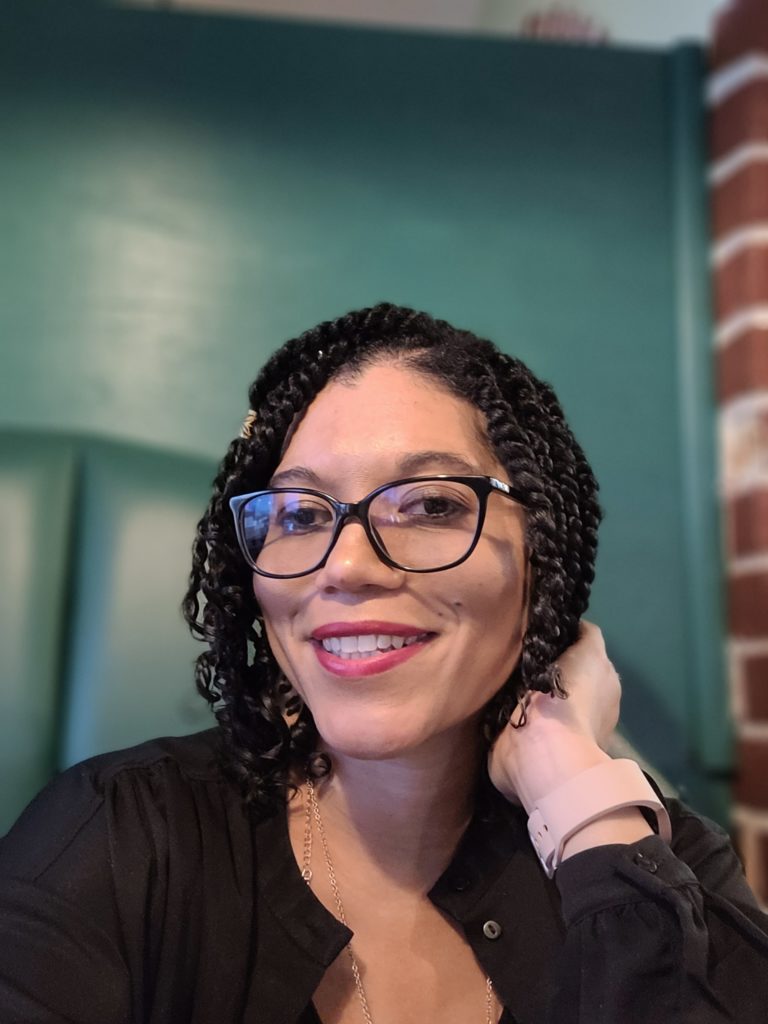 February 2022
I'm Nickole…
I am an alumnus of Virginia Western. I graduated in 2019 with an Associate of Applied Science degree in Administrative Management Technology and obtained a Medical Billing Certificate.
I am also continuing my education at Virginia Western, pursing an additional degree in Human Services.
I am currently employed full-time at Virginia Western as an Onboarding and Financial Planning Specialist in Student Affairs.
I was born in Trenton, New Jersey and grew up in Roanoke, Virginia. My mother moved to the Roanoke area when I was young.
Besides being a mother of 3 teenage boys, my top two interests are dancing and taking care of plants. I love to dance because it brings me joy! I am called the plant lady here on campus because I have a green thumb. I love everything about plants, especially how much joy they bring people.
My proudest moment was when I graduated from Virginia Western and was picked to deliver the commencement speech. I think I cried all that week, not because I was sad but because I was overjoyed! If you had asked me years ago when I was a teen mom who dropped out of school if I were going to college, I would have laughed! College was not in the front of my mind because I had to take care of a child. I now have an Associate Degree with many certificates and am currently working on my second degree to better understand and assist my students.
I like that Virginia Western is not just a college; it is a community! The staff and professors go above and beyond to make sure each student has a chance to be successful. I also like the different resources here on campus to assist students. I decided to work at Virginia Western because I want to make a difference in others' lives.
As a person who is multiracial, diversity is very important to my family and me. We are a mixture of many races, and we have learned to respect each other and embrace our differences. I teach my children to respect all individuals regardless of race or ethnicity.
---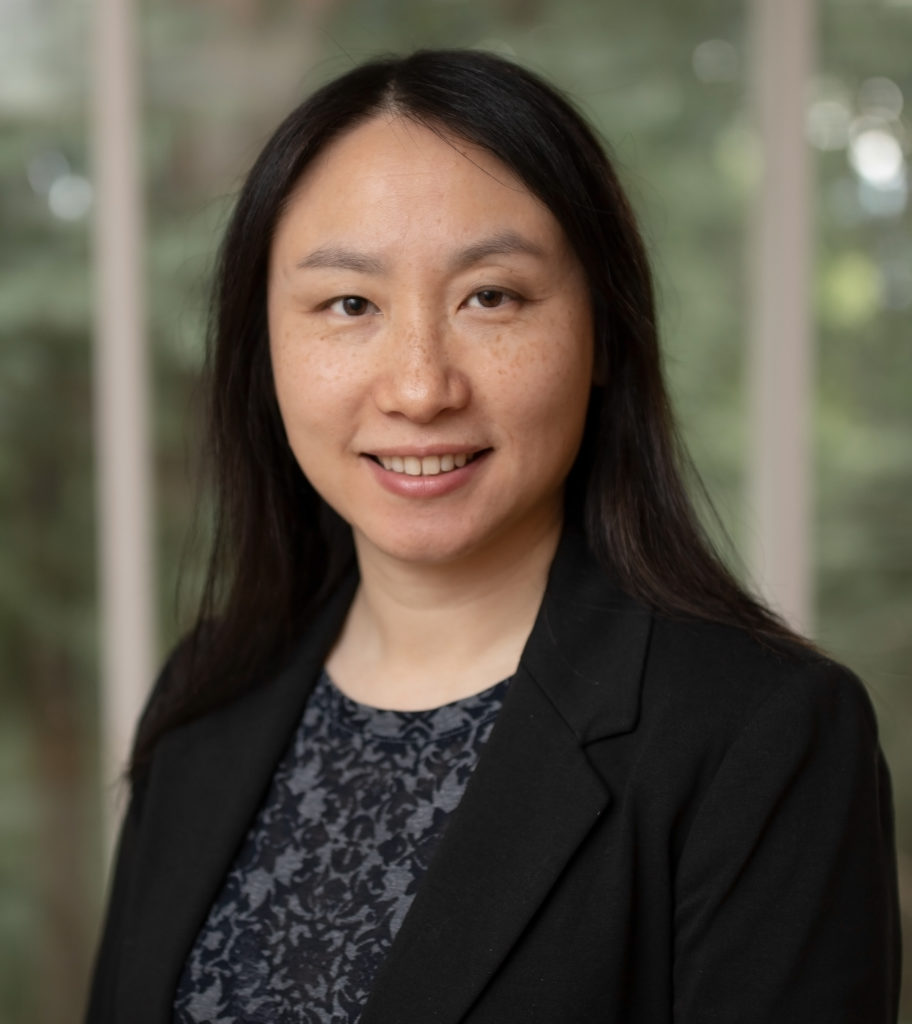 January 2022
I'm Carrie…
I am the Instructional Designer and Technologist in the department of Online Learning and Instructional Technology at Virginia Western.
I grew up in Shenyang, China. Shenyang is located in the Northeast of China with a total population of about 9 million.
After working as an English professor for 3 years at a college in China, I decided to go to America to continue my education. I completed my master's degree in Educational Technology, and then I was accepted into a doctoral program at Virginia Tech. While there, I met my future husband…so I stayed here after that.
Reading is my number one interest during my spare time. I also enjoy traveling with my family. Recently, I have started tennis lessons. The lessons were originally for my child, but I decided to join her after seeing her playing and learning. It's a very fun sport.
Years ago, my proudest moment was walking across the stage to receive my doctoral degree diploma. But now I will say, my proudest moment is seeing my child and watching her growing, learning, and exploring the world every day.
I have worked at Virginia Western since 2006. I came to Virginia Western because of several reasons: the friendly and inclusive working atmosphere, the opportunities that I would contribute in the area of faculty development, and the potential that I would be a part of supporting students who are in need to achieve their educational goals.
Diversity to me is respecting people who are different from me in their personal and professional life. That includes many aspects: age, gender, race, religion, ethnicity, sexual orientation, educational background, work background, economic class, (dis)abilities, etc. Diversity is also vitally important in the context of education. As we know, a diverse group of learners can be found in just about any course. Recognizing the importance of including students' individual preferences and experiences in all aspects of learning is the key to providing them with access to an equitable learning experience.
---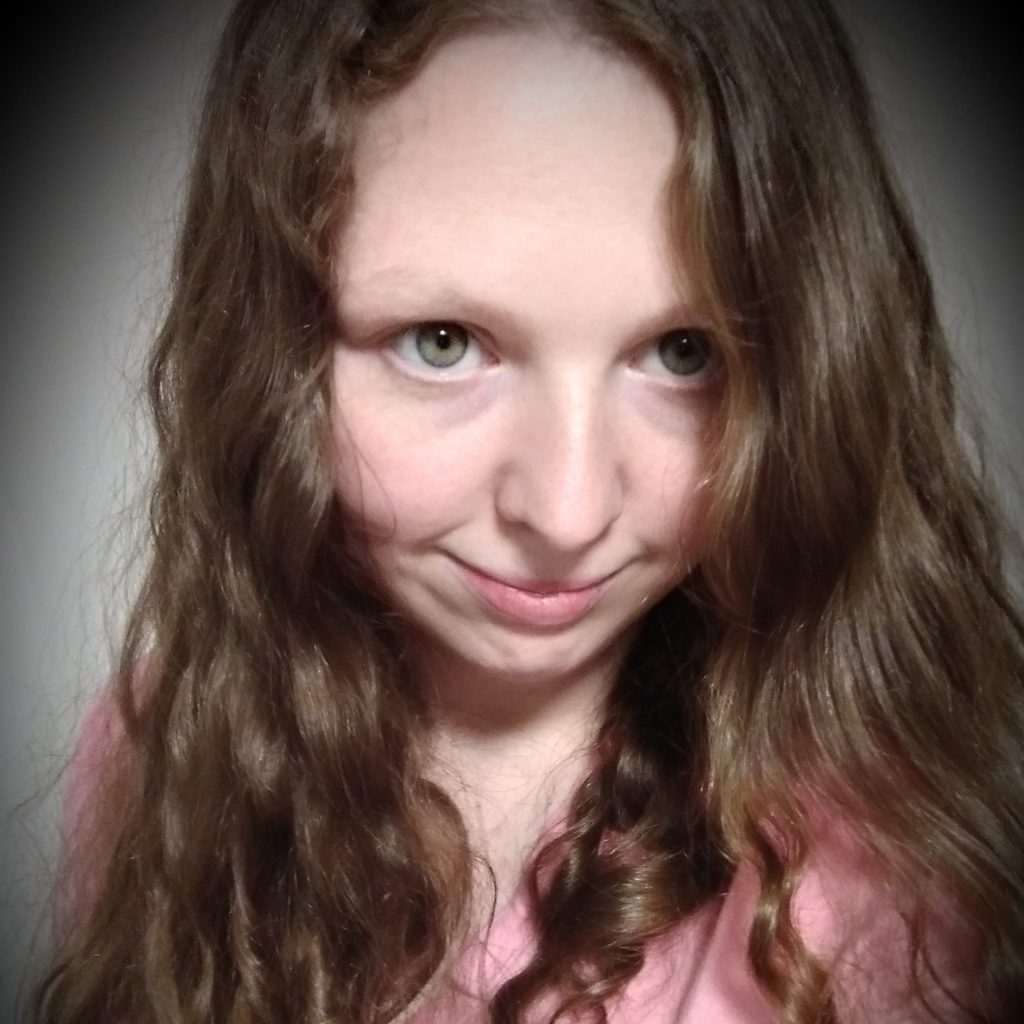 December 2021
I'm Erica…
I am a current student at Virginia Western. My goal is to become a RN.
I grew up in a little place you have probably never heard of called Hiwassee, Virginia. I now live in Floyd County.
I am a mother of four kids, so my kids are a huge part of my life. When I'm not doing schoolwork or taking care of kids, I work as a correctional officer. I enjoy talking with and helping others. ln addition, I enjoy the outdoors like hiking or fishing.
Other college students who have graduated with their degree and who have overcome huge challenges like working or having kids while going to college are a huge inspiration to me.
I am a first-generation college student and completing my first semester was a proud moment for me. That moment was special because I overcame and balanced a lot to make it happen. God has blessed me and making it through was a major reminder that I can do this. I hope others reading this will know that they can do this too.
Virginia Western gives off a vibe that everyone wants to see you succeed. I like that faculty are willing to help you if you put in the work.
Diversity is a beautiful make up of different races, religions, backgrounds and cultures. Diversity is important because that is who we are as Americans. We are each different and bring different characteristics to the table. The differences are refreshing. How boring would it be if we were all the same?
---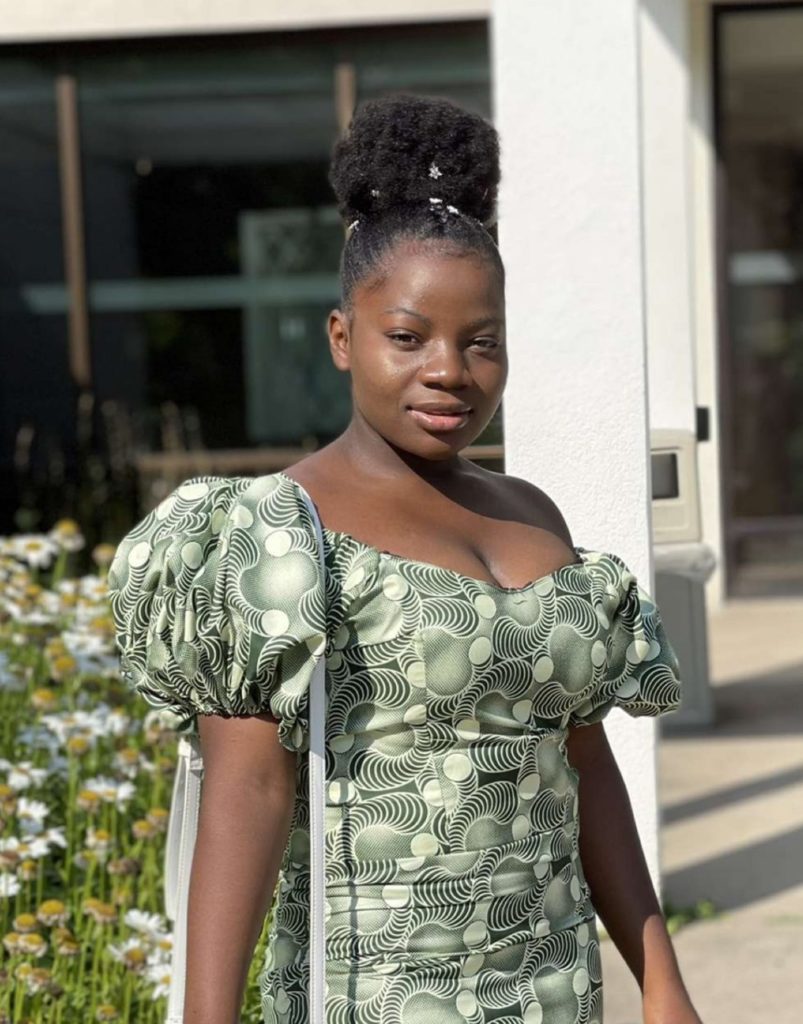 November 2021
I'm Estela…
I am a current student at Virginia Western majoring in Health Science. I plan to finish this fall then transfer to a four-year college. I currently work as a caregiver.
I was born in Tanzania, which is a country located in the Eastern part of Africa and was raised in Roanoke. My family and I immigrated to Roanoke, Virginia in 2007 for a better life.
I like watching international movies and shows like K-drama and Indian movies. Another thing I enjoy doing is trying new food from different parts of the world.
My significant inspiration is my family, because they push me to do my best in everything I do.
One thing I like about Virginia Western is how it contains staff members that care about their students. Also, how there are many different types of resources like TRIO, for example, that are there to set students on the right path.
Diversity to me means uniqueness. There are numerous cultural groups, each made up of unique individuals.
---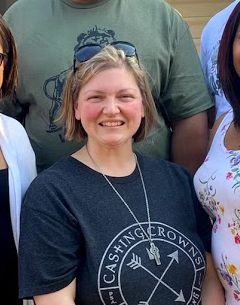 October 2021
I'm Jolene…
I am the Associate Vice President of Institutional Effectiveness at Virginia Western.
I grew up in Charlottesville, VA and while I am a triple Hokie, I do consider Charlottesville, VA my home.
I came to Virginia Western because I see a lot of opportunity and potential to change lives for Virginia Western's community. I also see an opportunity to build upon the pre-existing foundation to increase our diversity acumen. Virginia Western is an exceptional college with a lot of great things happening. I hope that I can be a change maker and help Virginia Western to shine as bright as the Roanoke Star.
I am inspired to empower individuals to reach their fullest potential/dreams and that motivates and drives my actions each and every day.
Virginia Western is a college community that feels like one big happy family. Everyone is working towards student success and contributing in their unique ways to that success.
I have a lot of interests, a keen love for learning, and a deep desire to help others achieve their dreams. I enjoy helping others so I currently mentor students from my previous institution to help them get to graduation, I hope to do something similar at Virginia Western. I coach coach-pitch softball. I am an advocate for diversity; I have a passion for expanding community understanding of neurodiversity, a desire to ensure that education is available to all including those who are incarcerated; abolishment of the death penalty for the state (got that one); I am currently working on a proposal to the Governor requesting consideration for individuals who were convicted of a crime that is now legal to be exonerated, and I am petitioning the Governor to consider wage garnishment for crimes such as driving without a license rather than jail time. Needless to say, I also am civically engaged.
I am the proud mother of three amazing children, Amelia (9), Rowan (8), and Griffin (8). Yes, I have twins. I enjoy doing arts and crafts, playing, and taking special day trips with them.
Diversity, equity, and inclusion are an essential part of institutions, businesses, and corporations. A healthy variety of people from different backgrounds and cultures provides us with greater innovation and creativity, a wider perspective, and promotes teamwork.
---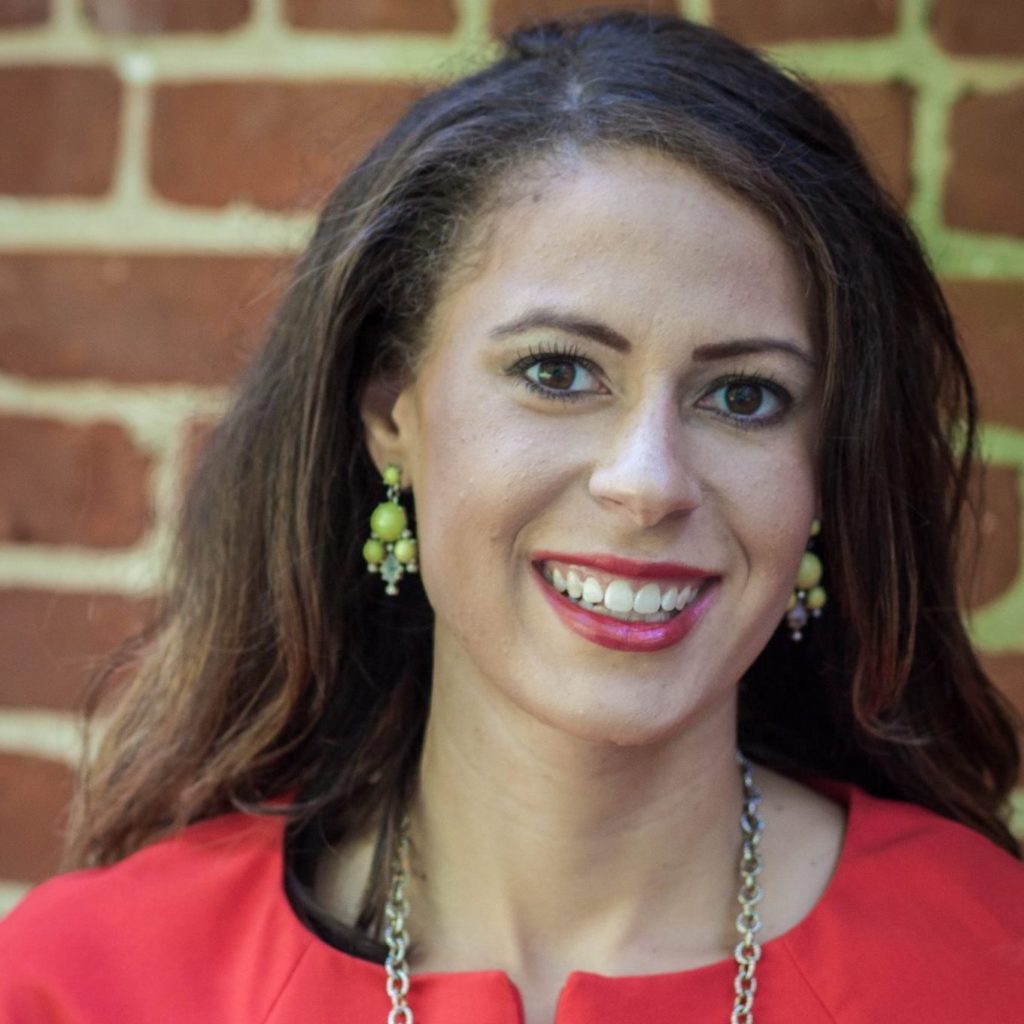 September 2021
I'm Ashton…
I am an Alumnus of Virginia Western. I work as a Care Manager at Jewish Family Services.
I currently reside in Richmond, VA with my husband and children. I'm really glad I relocated to the Richmond area because there are so many cool attractions such as the beach, Busch Gardens, Water Country and so much more.
I really enjoy spending time with my family and playing with my puppy, Lincoln. I also love going out to explore new places with my husband. We recently traveled to Charleston, SC for our anniversary and really enjoyed the sightseeing. I also have a passion for advocating for people with disabilities which is why I work for Jewish Family Services. Every day I get to advocate for someone and ensure that they have what they need to be successful. I'm very blessed to work in my position.
I am extremely proud of my children and the fact that I get to be their mom. I really enjoy getting to spend time with them. I also recently got married in the middle of the pandemic and I am super proud to now be a wife. In addition, I'm very proud of myself for the advocate I have become. I have a son with special needs and I have learned over time how to be an effective advocate for him in the public school system to ensure that he has everything that he needs for his education. I'm really proud of him for making straight A's this year and using our experiences as a special needs family to help other families.
I love the people at Virginia Western. During the time that I was a student at Virginia Western, I encountered the most caring and helpful people. The faculty and staff at Virginia Western made my time there so much better.
As a person who is biracial and is part of a diverse family, diversity is extremely important to me. I want to raise my children to appreciate diversity and cherish those with different cultures. When I was a student in college, I encountered people from various cultures and interacting with them enriched my college experience significantly.
---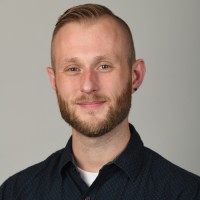 August 2021
I'm Corey…
I am the Social Media and Special Events Coordinator in the Marketing and Strategic Communications Department at Virginia Western. I have a bachelor's degree in Communications with a minor in Film.
I was born and raised in Roanoke!
I had graduated college and was looking at what my next direction in life would be. I had explored moving to the West Coast and other random places, but one day I received a call saying I had an interview at Virginia Western. I completed the interview and was offered the opportunity to join the College. Here I am almost a decade later!
Playing with my pup, Ellie, is my number one hobby! Other than that, traveling with my wife is my favorite thing to do. From weekend trips to random places, to larger trips across the globe, we always have an amazing time that's full of laughs and minimal stress. Seeing new places, meeting new people, and exploring different cultures and ways of life is extremely important to us, and I would highly recommend it to anyone!
My wife is such a strong inspiration and influence in my life. She is one of the hardest working individuals I have ever met, in one of the hardest environments a person can work in. I am constantly in awe of her mental fortitude and her drive to always improve and learn. In regard to my proudest moment, it is easily the moment I was able to call her my wife on our Wedding Day. She has brought out the best in me, and I am forever grateful for that.
VWCC is such a unique place, full of people who strive to provide students with knowledge and life lessons that will help them thrive in the next step of their life path. The people I have met, the stories I have heard, and the friends I have made are something I will take with me forever. Virginia Western is a haven of opportunities, the only requirement is that you seek them out.
Diversity, to me, has been something that has been extremely important to me, and something that was instilled into me by my mother. Always putting myself in another's shoes, trying to understand and be empathetic, and seeking out conversations with those who have different opinions, beliefs, heritage, culture, and life experiences are so important to me. Every person is different and unique, and that should be celebrated and valued!
---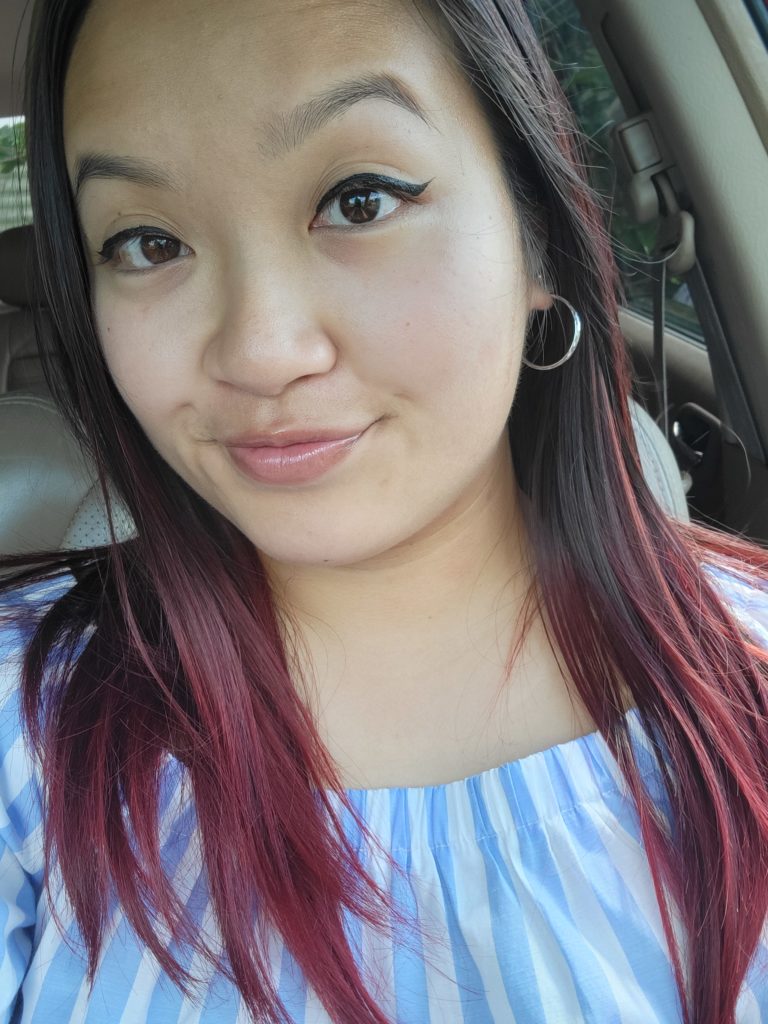 July 2021
I'm Ha…
I am an alumnus of Virginia Western. I graduated in December 2019 with my Associate of Health Sciences degree and in May 2020 with my Associate of Applied Science (RN). I am currently a Registered Nurse at LewisGale Medical Center located in Salem, VA.
I was born and raised in Roanoke, VA. I am Vietnamese and the first generation in my family to graduate with a college degree in the United States. I am also the first generation to pursue a healthcare career.
I knew my passion was for nursing. Before I found Virginia Western, I was in another nursing program and failed out. I told myself no matter how long it took, I will become a nurse. I then found Virginia Western and was accepted into the RN program for Fall 2018. My ultimate goal is to become a Family Nurse Practitioner.   
I enjoy reading books, cooking, baking, playing ps4 games, and doing make-up as my hobbies in my free time.     
My proudest moment was when I passed my NCLEX and was able to call myself a Registered Nurse. The feelings of accomplishment and success after many trials and challenges to finally get to where I wanted to be was worth it.
I appreciated the nursing faculty working with students with their schedule and being understanding about our situations.
Diversity makes each individual unique in their own way by their backgrounds, culture, personality, life experiences, values, and beliefs, that makes us as a person. Diversity helps bring new perspectives and new ideas. It is important to have diversity in life, as it can help promote a new learning experience and change.
---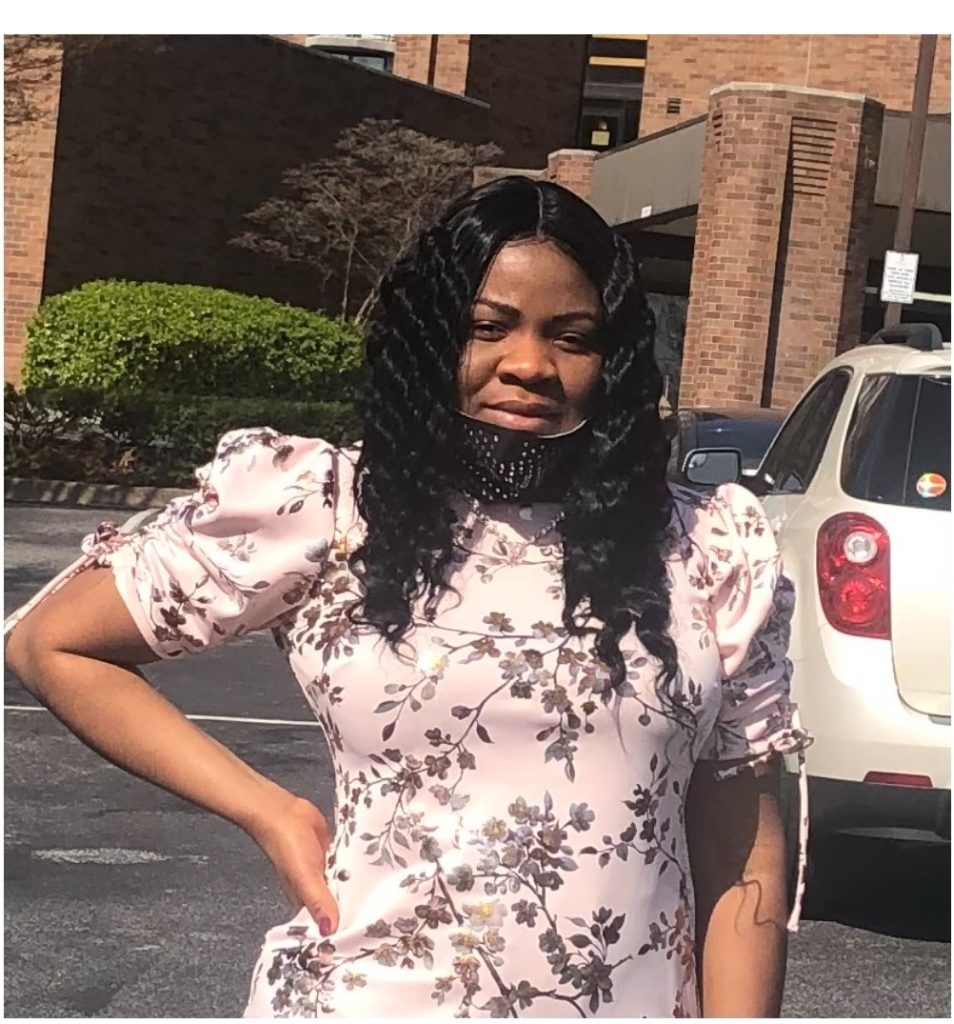 June 2021
I'm Jennifer…
I am an alumnus of Virginia Western. I graduated in 2019 with a degree in Nursing and am currently a Registered Nurse.     
I am originally from Ghana, West Africa. I have been in the USA for a little over 18 years. My family, including my husband, mother, and three children moved then. Now, I have four children since my last daughter was born here. We relocated from Randallstown, Maryland to Roanoke, Virginia when my husband got a new job opportunity. Since I was an LPN and always wanted to further my education in nursing, I chose to attend VWCC to accomplish my degree.
I love spending time and staying at home with my family, going on vacations whenever there is a chance, and visiting families in Maryland. I also enjoy listening to gospel music.
My proudest moment was walking on that stage on graduation day with an Associate Degree in Nursing and my children watching and cheering for me with them knowing that, if I can do it, then they can achieve greater things.
I like the nursing program and all the professors. I like the in-class and clinical schedules and how they try to work with you knowing that some students, like me for instance, had to work and attend classes to provide for their family. I always felt comfortable going to any of the professors with issues or concerns I was having, knowing that they would always provide me with good learning resources and studying techniques which helped me succeed in the nursing program.
Diversity to me means bringing in new ideas and experiences, which give people opportunities to learn from each other's cultures and beliefs. It also helps bring in different ideas and perspectives, which leads to better problem-solving.
---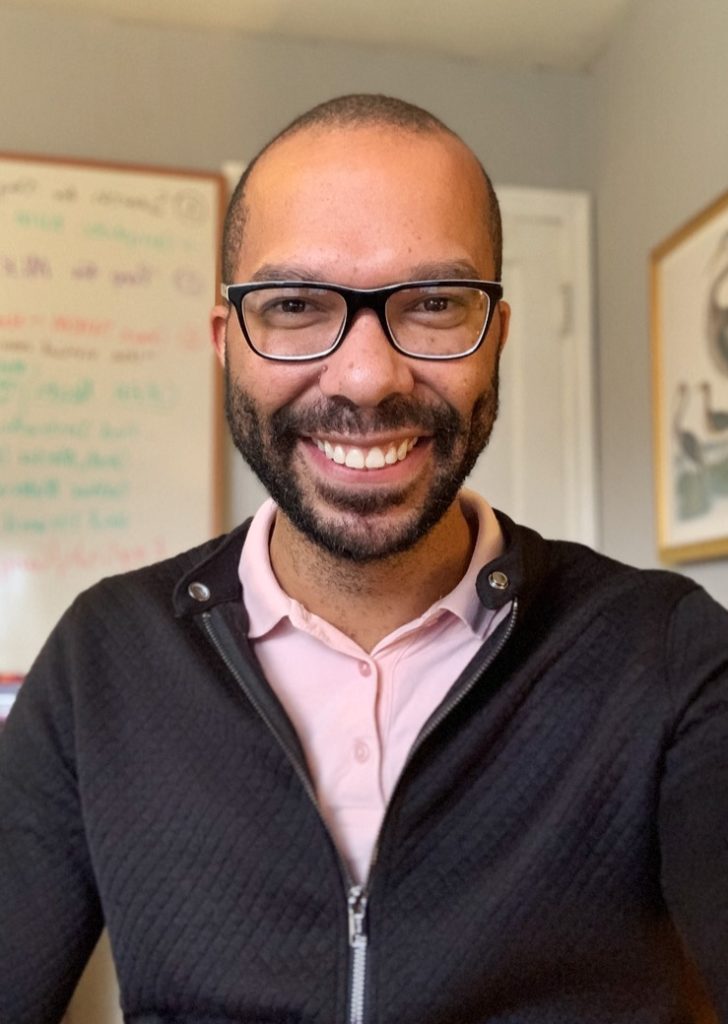 May 2021
I'm Wil…
I am a Course Coordinator in the School of Career and Corporate Training (CCT).
I was born in DC…grew up in the red dirt of southern Virginia.
I came to the Roanoke area and Virginia Western to pursue a career in higher education.
I enjoy spoiling my mini schnauzer, specifically turning a blind eye when he nips the ankles of my friends and family. I love my flower garden! Currently, I'm growing about 40 different varieties, with high hopes to reach 100 by June. Fingers crossed for awesome blooms! Very recently I started volunteering as a remote Career Coach with Dress for Success. If you aren't volunteering at the moment, try it out. Your skills are needed. Hanging out in my backyard and grilling food with friends is my happy place. A few days ago, I grilled swordfish kebabs…yes I paid too much…no I did not like it.
I could speak for hours and hours on the many people that have inspired me. Instead, I'd like to share a quote with you I heard in a podcast over the weekend that struck me, "Procrastination is the arrogant assumption that God owes you another chance to do tomorrow, what he gave you the chance to do today." – O'Neal. Isn't that powerful? It certainly motivated me to keep going and not give up or in.
At Virginia Western, I have found a group of peers that are ready to support me win, lose, or draw. Even as we all work diligently to serve the students of our valley, faculty and staff find ways to celebrate our highs and champion our lows. It's a beautiful thing.
Diversity, for me, is appreciating the beauty found in humanity. Appreciating diversity steers your world in a way that embraces people of different genders, sexual orientations, and ethnic and social backgrounds. It's important because diversity allows us to welcome new perspectives and knowledge. To all, if no one has welcomed you to Virginia Western…Welcome! I am glad you are here! How can I support your goals?
---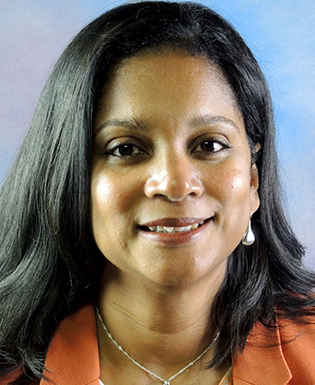 April 2021
I'm Shonny…
I am the Career Services Manager in the Hall Associates Career Center under Virginia Western's School of Career and Corporate Training.
I grew up in Staunton, VA, and certainly consider it home.
A career relocation brought my family to Salem from Scranton, PA, in 2006. Minus the three-year residency in PA, I have spent most of my life in VA. This area has been one of my favorite and is where our 2 children grew up. I was fortunate enough to join the Virginia Western team in 2012.
My greatest passion and most significant inspiration is my family. My husband and I are recent empty-nesters and still love opportunities to spend time with our son and daughter. Aside from family activities, I must admit that I am a bit of a Scrabble enthusiast. (Believe it or not, there a few cognitive benefits.) Other enjoyable pastimes include reading, cooking, learning new technology, and a touch of binge-worthy tv viewing.
I love that Virginia Western is a place of opportunities. There are opportunities to connect with people who are different yet the same, to learn something new about yourself and the world, and to change or improve your life's circumstances.
Diversity to me is acknowledging and respecting our differences across ethnicity, race, gender identity or preference, age, and religion, without being divided by those differences. It means seeing reflections of ourselves that remind us all that we belong. It's not color-blindness but an embracing color-awareness and acceptance that validates our very unique triumphs and struggles. I may not have walked in your shoes, but I respect your journey.
---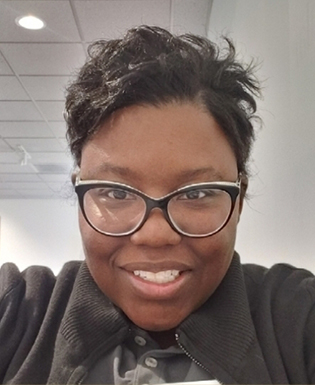 March 2021
I'm Antoinette…
I am a student at Virginia Western in the Registered Nursing Program.
I am originally from Washington, D.C. However, my entire family lives in Vinton, Va.
I've lived in Roanoke, Virginia for the last 15 years. I have recently discovered all the beauty that Roanoke has to offer such as hiking, strolling the greenway, and attending festivals in downtown.
The proudest moment of my life thus far is receiving a phone call from Pam Woody offering me a seat in the Registered Nursing Program.
Virginia Western has given me the opportunity to pursue my dream. As I enter my last semester at Virginia Western Community College, I've come to appreciate the smaller courses and all the resources that the institution has provided.
Diversity means that each individual encountered is made from a different thread, these threads are of different colors, sizes, some are tattered while others are neat. These threads individually are beautiful, but together the pattern is undeniably stunning. Diversity is acknowledging those differences but seeking to understand the value of each individual.
---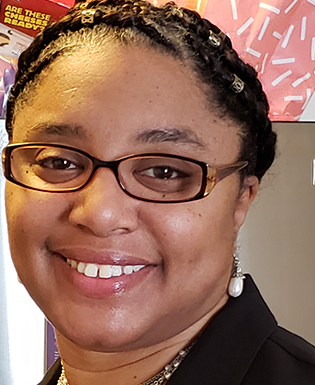 February 2021
I'm Anita….
I am an Assistant Professor and Clinical Coordinator in the Associate Degree Nursing program at Virginia Western. I started here in 2014 part-time and became full-time in 2015.
I was born in Lynchburg, VA. I have lived in Richmond, VA & Northern Virginia.
I came to Roanoke because of Virginia Western. A former colleague encouraged me to apply as a part-time Clinical Adjunct and I did. A full-time position came open the following year and I applied and was accepted. For quick mini-vacations, my husband and I would always come to Roanoke because of its close proximity to home, the mountains and trails, and the downtown shops.
I love to read, write poetry and travel. If I could live at the beach or by water, I would. It is so soothing to me and relaxing.
I love the people I work with and I love the diversity of students that I have the opportunity to interact with. When I onboard/orient new faculty, I let them know that they have not just entered a team, but they have just become part of a family of professional instructors.
---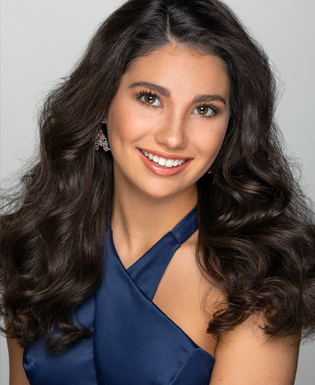 January 2021
I'm Skylar…
I am a student at Virginia Western. I started my journey at VWCC when I was 13 years old. In 2022, I will graduate with my associate degree and advanced high school diploma. I plan to transfer to a four-year university for my bachelor's degree in Biology. I love STEM and I am considering two career paths in the science field: Pediatric sports medicine specialist or Bioinformatics professor with a focus on research.
I am president of Phi Theta Kappa and VP of Psi Beta at VWCC. I serve as a student ambassador at the college and love assisting new students in their college dreams. I also love music, dance, and theatre.
I am originally from Roanoke.
I am Native American and I am proud of my family's heritage in our nation.
I love VWCC because of the welcoming community of students, faculty, and staff. VWCC offers incredible opportunities for students with a passion for higher education and students who are eager to enter the workforce. The modern equipment and facilities have positively impacted my learning experience and have raised the bar for my four-year university selection.
---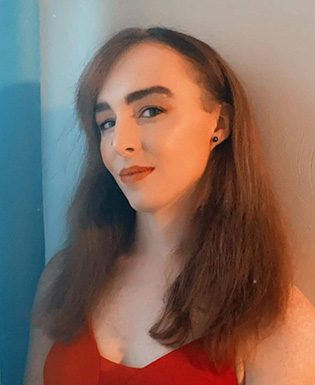 December 2020
I'm Daniella…
I am a student at Virginia Western working on a transfer plan to Roanoke College where I plan to study Psychology.
I was born in Roanoke, but my adopted family is from Honduras.
I left for the Army in 2014 and, in 2018, spent a year in California before returning to the area in Summer 2019.
I love to read, write, do art, play music (trombone, drums, or violin), play games, volunteer at the Roanoke Diversity Center, and spend time with my family.
I like Virginia Western because, as a Queer Trans woman, I feel more welcomed and respected here.
---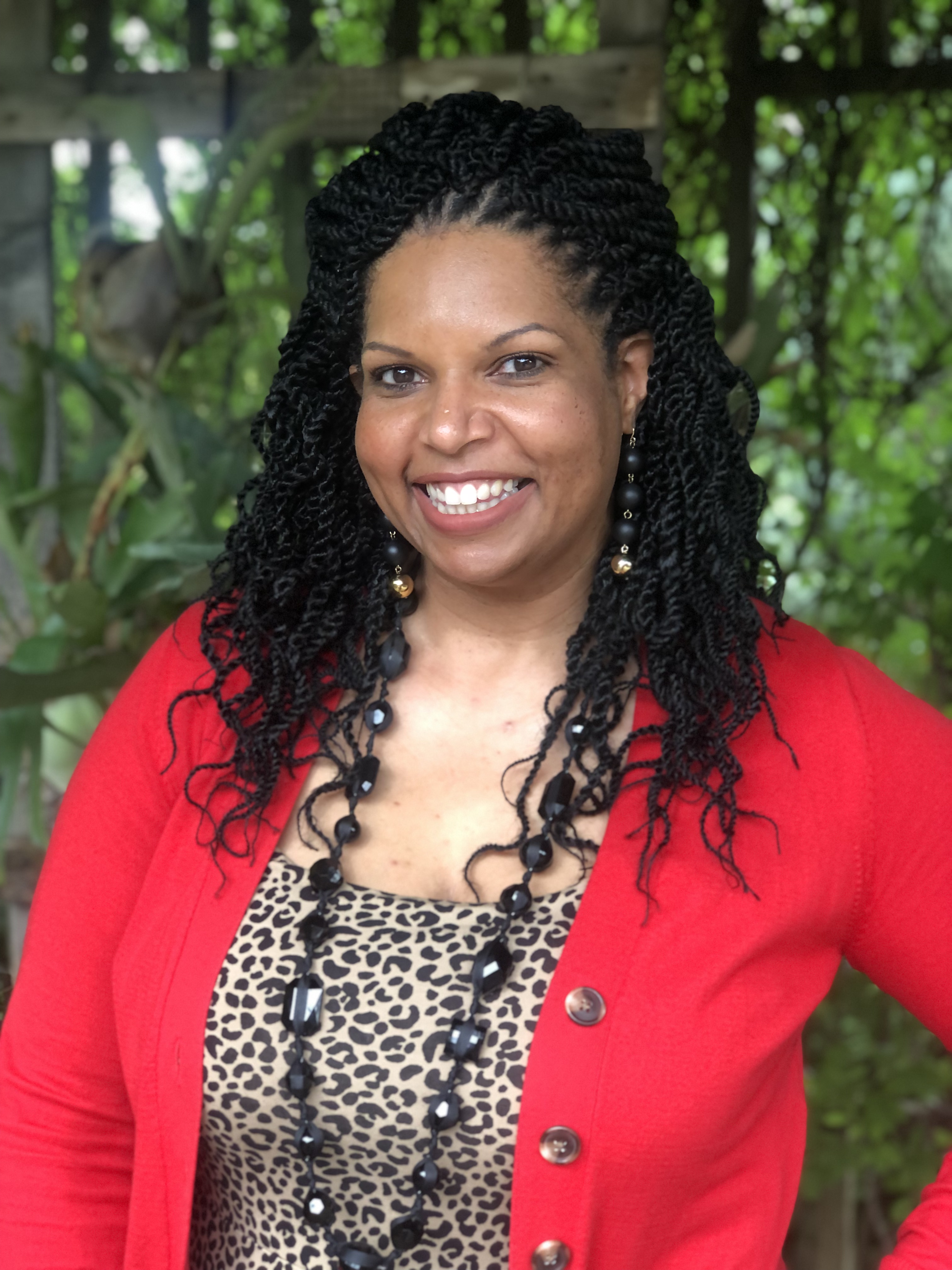 November 2020
I'm Heather…
I am a New Student Advisor at Virginia Western and joined the College in January 2012. I also teach SDV 101 (Student Development) as an Adjunct in the School of Liberal Arts and Social Sciences.
I am from Dublin, VA.
I came to the Roanoke area in 2001.
I enjoy spending time with my husband, daughter and fur baby, as well as working out and competing in strongman and powerlifting competitions. I am a huge advocate of using the weight room to enhance not only physical strength, but mental strength as well.
I love the sense of community that VWCC fosters and building relationships with co-workers and students. I love that, whether you are a student straight out of high school or someone who has been in the workforce for years, the College offers a plethora of opportunities to fit educational and employment needs. There is nothing like supporting students right where they are on their journey and being an advocate for their success.
---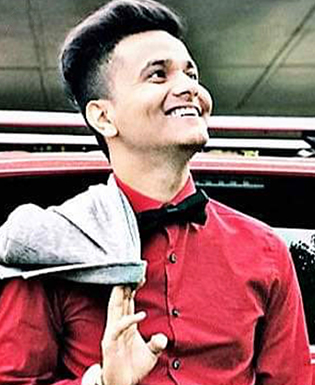 October 2020
I'm Sabin…
I am a student at Virginia Western.
I am from Nepal. I came to Roanoke, VA in September 2009.
My interests include playing soccer and helping others.
My favorite part of being a VWCC student is that there are a lot of activities and opportunities you can choose from. Also, I appreciate the diversity at VWCC.
---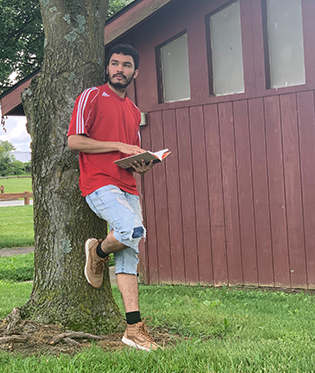 September 2020
I'm Hao…
I am a student at Virginia Western.
I was born and raised in Roanoke, VA.
I love to travel to new places and read books. I'm also into journalism.
I love that Virginia Western is a great steppingstone for those unsure of their path in life.
---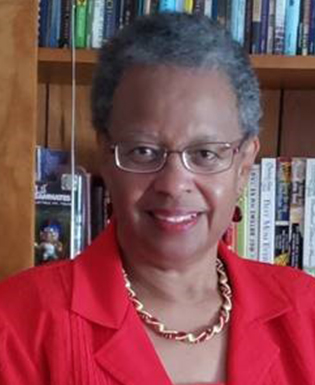 August 2020
I'm Vera…
I am a student at Virginia Western.
I was born in Prince Edward County, Farmville, VA. I moved to Roanoke in June of 2016 from Alexandria, VA.
Some of my interests are family gatherings, attending church, being kind to others, decorating and learning new things.
What I like most about Virginia Western is that there are some very helpful faculty/staff and students who make learning in my seasoned years enjoyable.
Read more about Vera! In Roanoke, realizing an educational goal delayed by Virginia's massive resistance
---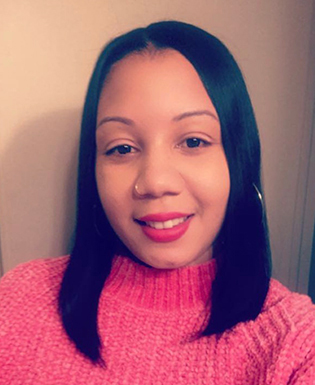 July 2020
I'm Tashara…
I am a student at Virginia Western.
I was born and raised in Roanoke, VA.
I love to spend time with my husband, 3 daughters, and my family. I am very active in my church, where I teach young adult Sunday school, and I am also the Assistant person in our Praise Dance ministry.
I love Virginia Western because of the different backgrounds that surround the school. It gives me a chance to connect with individuals and learn their culture, as well as mine. I love the age ranges because I get the chance to connect with students who have just graduated High School and adults who have decided to come back to school to pursue a degree. The teachers and staff at Virginia Western are awesome and I couldn't ask for a better support system to help me reach my goals.
---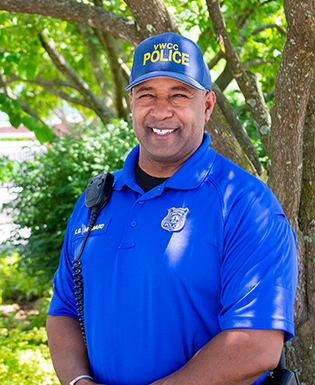 June 2020
I'm Kirk…
I am a Campus Police Officer and student at Virginia Western. I joined the Virginia Western Police Department in 2014 after 24 years with the Roanoke City Police Department.
I was born in Washington, DC and grew up in Covington, VA.
I moved to Roanoke in 1987.
I enjoy exercising, weightlifting competitions, personal training, learning/taking college courses, and spending time with family and friends.
I like being a part of our campus community, building relationships with employees and students with a focus on campus safety.
---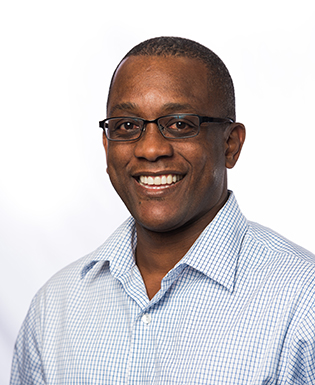 May 2020
I'm Alexander…
I'm a faculty member in Spanish, Communications, and Marketing and serve as the Program Head for Humanities.
I'm from the Dominican Republic.
I came to Roanoke in 2011.
I enjoy spending time with my family, dancing, exercising, and talking (a lot).
I love helping people to improve their lives through education.
---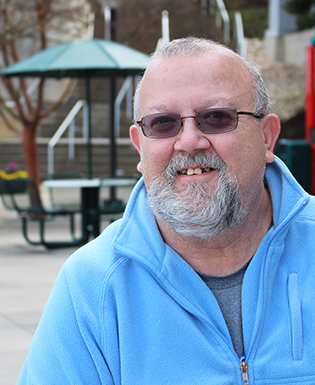 April 2020
I'm Roger…
I'm a student at Virginia Western majoring in Management.
I'm from Vinton, Virginia.
I have lived in this area all my life.
I enjoy watching college basketball and reality T.V.
What I like best about VWCC is the friendly, welcoming environment and the wonderful interaction between students, faculty, and staff.
---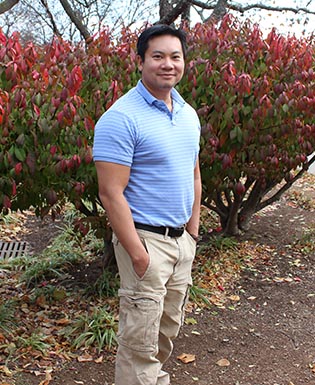 March 2020
I'm Joe…
I am a faculty member in the Nursing program.
I am from Vietnam.
I came to Roanoke in 2000.
I like the outdoors, fishing, hunting, and building.
I enjoy the students and my co-workers. This is my dream job, working with nursing students and a wonderful team of nursing instructors.
Joe's Story
Although I was born in Vietnam, I consider myself a second-generation immigrant to the United States. After the Vietnam War, my parents settled in Martinsville, Virginia in 1980. I was 3 years old and my brother only 1 and a half years old. There were many challenges that we faced including: not knowing the language, not knowing the culture, and starting completely over as a family in a strange place. I could only imagine the culture shock that my parents went through. As you may guess, there is not a large population of Asian people in Martinsville. Although a sense of belonging and fellowship were difficult to come by most of the time, our family persevered. We were thankful for many volunteers from church and good-hearted people that helped us to assimilate to our new culture. Once I went to college, I started to notice that there were other people who may have gone through similar situations as myself. It was then that I realized how important a sense of belonging and fellowship was to the assimilation process. I then remembered something my Dad told me, "There is good and bad in all cultures, we are a part of two cultures. Take the good from each culture and make the best out of your situation." I find myself living by those words. He and my mom did come from absolutely nothing and put four kids through college as first-generation immigrants. When I look at the student body at Virginia Western, I see an opportunity for instructors and students to learn from each other's cultures. We at Virginia Western can "take the good" from our cultures and make the best out of whatever comes our way!
---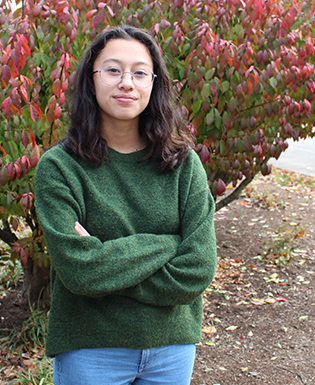 February 2020
I'm Jasmin…
I'm a student at Virginia Western pursuing an Associate's degree in Science. I plan to focus future studies in Psychology.
I'm from West Palm Beach, Florida.
I moved to Franklin County in 2002.
I enjoy learning and am interested in human development and behavior. I like to watch Netflix originals like Big Mouth, Bojack Horseman, and Mindhunter. I also enjoy spending time with my family.
I like the programs at Virginia Western that are made to help students get through college like TRiO and the food pantry!
---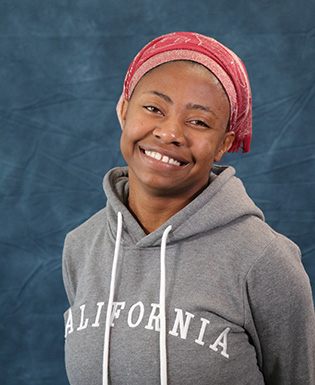 January 2020
I'm Florence…
I'm a student at Virginia Western majoring in Human Services.
I'm from Tanzania.
I came to Roanoke in 2007.
I enjoy binge watching, singing in the choir, and spending time with family.
I like that the teachers at Virginia Western are welcoming and that we have a diverse campus community.