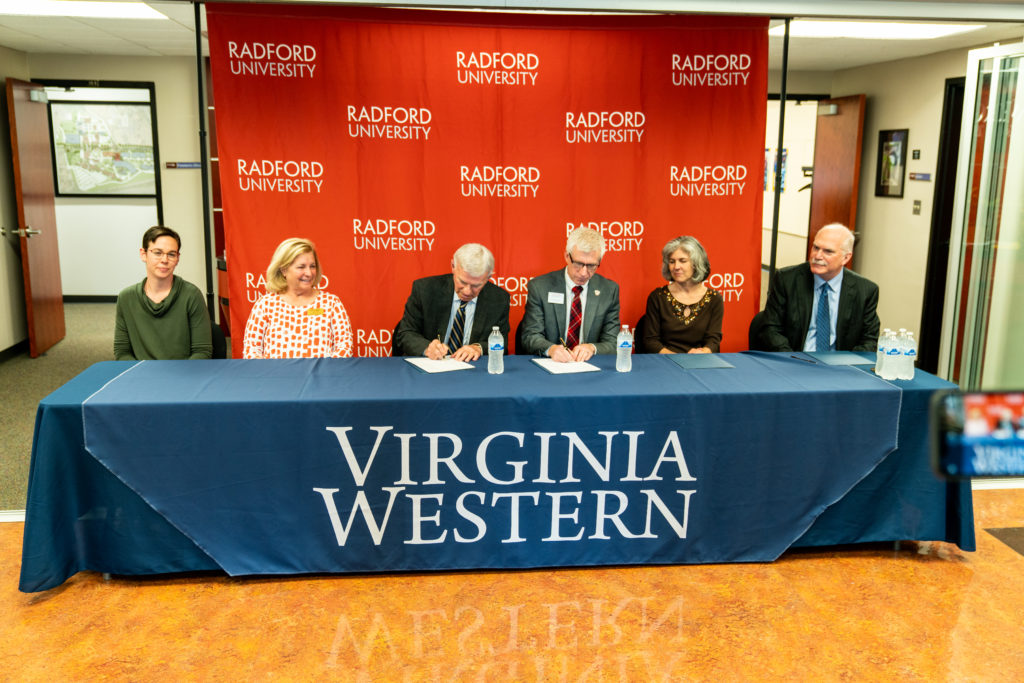 Virginia Western Community College and Radford University signed an articulation agreement on Monday, May 1, that will result in a cost-effective transition for students focusing on the field of biotechnology.
Virginia Western students completing the Associate of Science (A.S.) degree in Science with a specialization in Biotechnology and meeting all requirements will be guaranteed admission to the Bachelor of Science (B.S.) degree in Biology program at Radford University. Virginia Western's president, Dr. Robert Sandel, and Radford's president, Dr. Bret Danilowicz, signed the articulation agreement in an 11 a.m. ceremony in Fishburn Hall on the Virginia Western campus.
"We are delighted to partner with Virginia Western to create an easily accessible pathway to a biology degree at Radford University," said President Danilowicz. "The affordability and convenience of Virginia Western's core courses and biotechnology program, combined with Radford's focus on undergraduate research, student success and career development, provides students a great way to earn a highly regarded bachelor's degree in just four years."
The A.S. in Science with a specialization in Biotechnology is new to Virginia Western beginning in Fall 2023. The degree program fits into the larger framework of a $15.7 million grant-funded collaboration to build a biotechnology incubator in Roanoke. Virginia Western is a partner in the project with the City of Roanoke, Carilion Clinic, Virginia Tech Corporate Research Center, Verge and Fralin Biomedical Research Institute at VTC. Virginia Western is expanding its degree and certificate programs to cultivate and support the workforce needs of the region's growing biotechnology sector, including the jobs anticipated in the lab space being developed at 1030 S. Jefferson Street in Roanoke.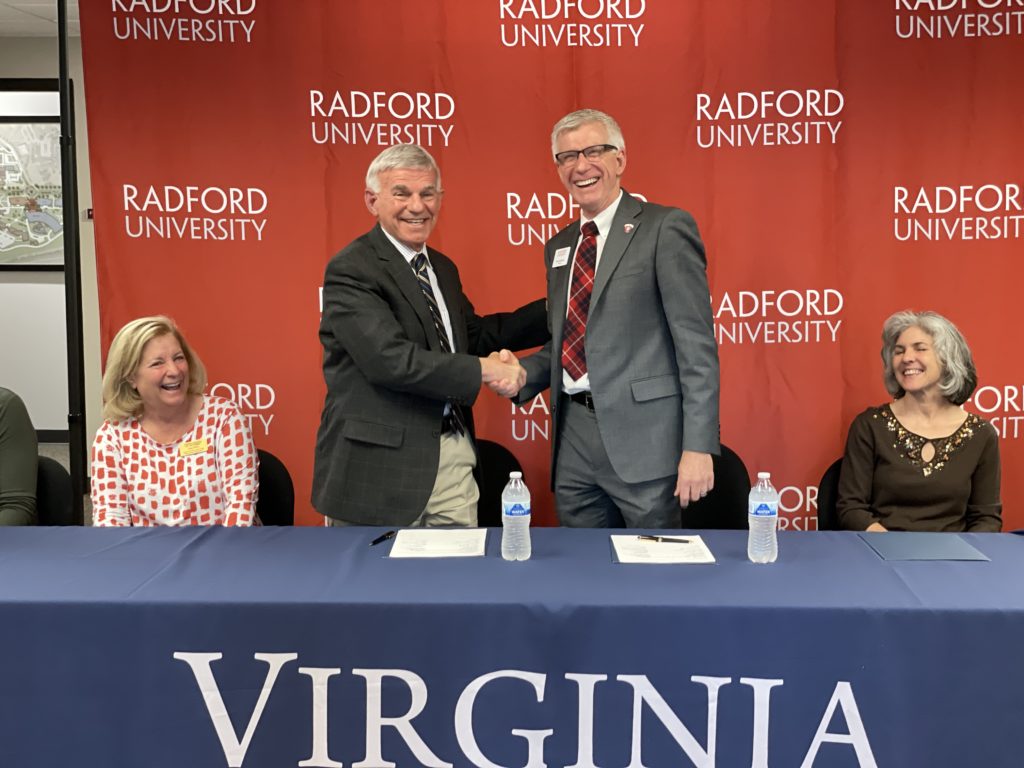 "At Virginia Western, we are always cognizant of our role in the economic ecosystem of the Roanoke Valley and Southwest Virginia. As we fulfill our piece of the puzzle in the biotechnology incubator project, this articulation agreement with Radford University will help our students gain the knowledge they need to contribute," said President Sandel. "The incubator will require a skilled workforce for all the job opportunities that the biotechnology project will create, including roles that require a bachelor's degree and beyond."
Virginia Western received funding through the Roanoke biotechnology project to develop the curriculum for the two-year degree. Virginia Western currently offers a one-year Biotechnology Career Studies Certificate.
"This agreement with Radford is a true two-plus-two agreement that will help our students reach the goal of completing a bachelor's degree in four years," said Amy White, dean of Virginia Western's School of Science, Technology, Engineering and Mathematics. "By having a clear path of coursework to follow, students can graduate and enter the biotechnology field as it gains momentum in the region."
Among the requirements, Radford University students must complete at least 120 credit hours to earn a Bachelor of Science degree; of these, 45 hours must be completed at Radford, including at least half of the hours in the major.
"This partnership creates opportunities for Virginia Western biotechnology students to seamlessly transfer to Radford University for a bachelor's degree in biology," said Dean Steven Bachrach of Radford University's Artis College of Science and Technology. "Students will expand their science skills, engage with Radford faculty in the classroom and research laboratory, and make use of modern instrumentation. These students will graduate Radford University-ready to pursue careers in a wide range of health-related or environmentally focused fields, or seek further education at the best graduate programs in the country." President Danilowicz noted that this is a beginning step in a larger partnership. "This successful articulation agreement is the signal for us to start running together. We plan to add many additional accessible pathways for Virginia Western students and for the entire Virginia Community College System."