Deborah L. Petrine of Roanoke, Virginia, has received the 17th Annual Chancellor's Award for Leadership in Philanthropy. She was nominated for the award by Virginia Western Community College.
More than two dozen individuals, families, and organizations have earned the 2023 Chancellor's Award for Leadership in Philanthropy. The awards were presented at a luncheon ceremony in Richmond on Tuesday, April 18, 2023. New VCCS Chancellor Dr. David Doré was the keynote speaker.
"It is a privilege and an honor to be in the company of such an esteemed group of philanthropists," Doré observed. "Were it not for your generosity, some of our students would have to put their hopes and dreams on hold, while others might have to abandon them altogether. Thanks to you, however, our students will be able to work in an environment that is relatively free of the kind of financial pressures that can paralyze or even derail their forward progress, and for that, we are extremely grateful."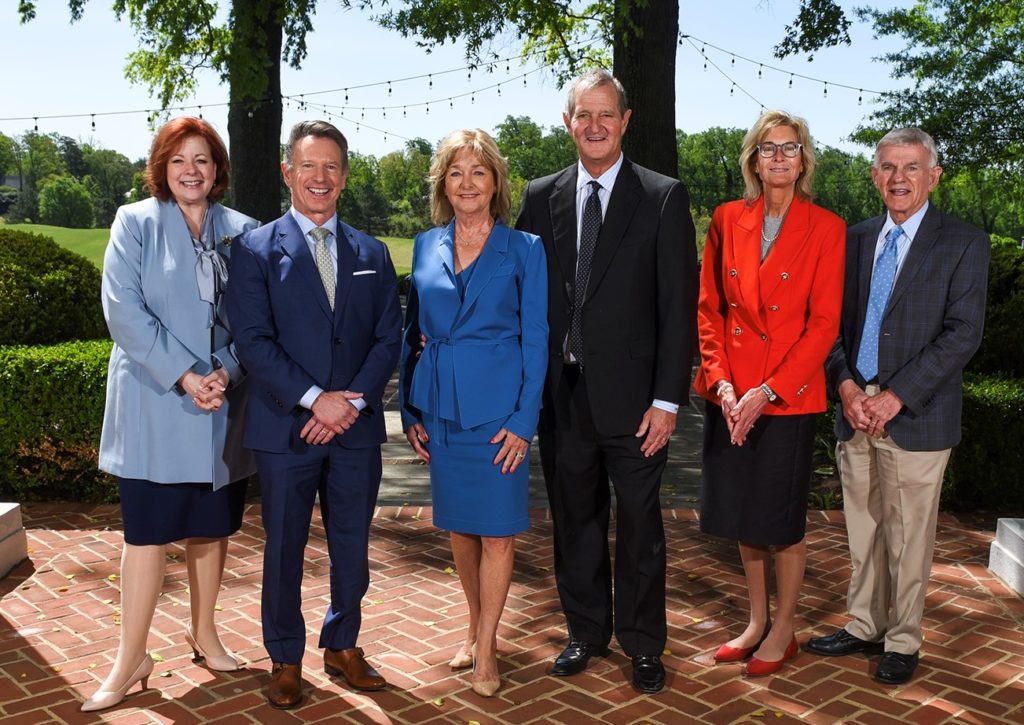 The annual event, hosted by the Virginia Foundation for Community College Education (VFCCE), honors leading philanthropists from each of Virginia's 23 community colleges as well as the statewide foundation. Recipients are nominated for their outstanding commitment to the growth and development of Virginia's community colleges and their respective foundations.

This year's class of distinguished philanthropy leaders has collectively contributed $14 million to Virginia's Community Colleges.
Petrine is Chair and CEO of Commonwealth Care of Roanoke and Chair of the Virginia Western Community College Educational Foundation Board of Directors. The Virginia Western Community College Educational Foundation nominated Petrine in recognition of a new naming gift she made with her husband, Jim Petrine. This $255,000 gift, to the Virginia Western Forward Endowment Fund: a vision of Dr. Charles W. Steger Jr., will establish the Petrine Center for Nursing Studieson the third floor of the Horace G. and Ann H. Fralin Center for Science and Health Professions. The Virginia Western Forward Endowment Fund is the Educational Foundation's permanent unrestricted endowment fund, established in 2017 with a goal of supporting the College through initiatives that propel the Roanoke region forward.
In 2005, Petrine was awarded the prestigious James G. Dunton Lifetime Achievement Award for her service to the elderly and infirm in Virginia. She served as the first female Chair of the Virginia Health Care Association from 1993-95. She also served a two-year term representing Virginia on the American Health Care Association Board of Directors. Additionally, she served four years on the Board of Examiners for Nursing Home Administrators, was appointed in April 1997 to the statewide Nursing Facility Advisory Committee where she served two years, and was appointed by the governor in 2010 to a four-year term on the Governor's Advisory Council on Revenue Estimates.
Petrine continues to serve on the Board of Visitors as well as the Virginia Tech Pamplin College of Business Advisory Council. She was a member of the Virginia Tech Foundation and the Virginia Tech Carilion School of Medicine Board for two years, served as the first Chair of the Center for Gerontology Futures Board upon its inception in 1992 and subsequently as the first Chair of the Pamplin College Management Department Advisory Board. She is also a lifetime member of the Women in Leadership and Philanthropy and a member of the Roanoke Valley Hokie Club.
Petrine received her bachelor's degree in Business Administration from Virginia Tech, where she has remained active. She was appointed by the governor to the Virginia Tech Board of Visitors in 2011 and was elected Rector in 2014, making her the first female in the school's history to lead the board.
Petrine is a first-generation college student and was the 2019 recipient of Virginia Western Community College's Distinguished Alumni Award.
"Debbie's journey typifies the best outcomes of community college opportunity. Her accomplishments and service have made an indelible impact on so many lives, and we have always been honored and proud to recognize her as a Distinguished Alumna," said Dr. Robert H. Sandel, president of Virginia Western Community College. "Her impact as Chair of the Educational Foundation Board of Directors and Advocacy Council for Virginia Western's Endowment Initiative is matched only by her generous personal dedication and fidelity of spirit."
Recipients of the 2023 Chancellor's Award for Leadership in Philanthropy:
| | |
| --- | --- |
| BLUE RIDGE | Carr Family Foundation/ Mitch and Iris Carr |
| BRIGHTPOINT | William "Bill" Van Arnam |
| CENTRAL VIRGINIA | Dr. Kathryn M. Pumphrey |
| DANVILLE | Leah Shields and Family |
| EASTERN SHORE | Philip E. and Carole Ratcliffe Foundation |
| GERMANNA | John "Jack" Rowley |
| LAUREL RIDGE | Steve and Reta Rodgers |
| MOUNTAIN EMPIRE | The Slemp Foundation |
| MOUNTAIN GATEWAY | Lumos Foundation |
| NEW RIVER | New River Valley Health Foundation |
| NORTHERN VIRGINIA | Kimmy Duong Foundation- Kimmy Duong & Long Nguyen |
| PATRICK & HENRY | ValleyStar Credit Union |
| PAUL D. CAMP | Obici Healthcare Foundation |
| PIEDMONT VIRGINIA | Bobbie and Bob Bruner |
| RAPPAHANNOCK | The Harding Family |
| REYNOLDS | Patricia and Andrew Gibb |
| SOUTHSIDE VIRGINIA | Sylvia and Bill Solari |
| SOUTHWEST VIRGINIA | Dr. Peter Mulkey |
| TIDEWATER | TowneBank |
| VIRGINIA HIGHLANDS | Virgil Wimmer |
| VIRGINIA PENINSULA | Dr. Jonathan Romero |
| VIRGINIA WESTERN | Deborah L. Petrine |
| WYTHEVILLE | Patricia McClane |
| VFCCE | Betty and Ben Davenport Jr. |