By Beth JoJack
Nursing education has evolved mightily since Virginia Western Community College launched its Associate of Applied Science (AAS) degree in nursing 50 years ago.
That first cohort of nursing students, who began their studies in the fall semester of 1972, christened the College's Nursing Learning Laboratory, which boasted a collection of films and slides to "provide a review for many new procedures," according to the college newspaper, The Communi-Cator.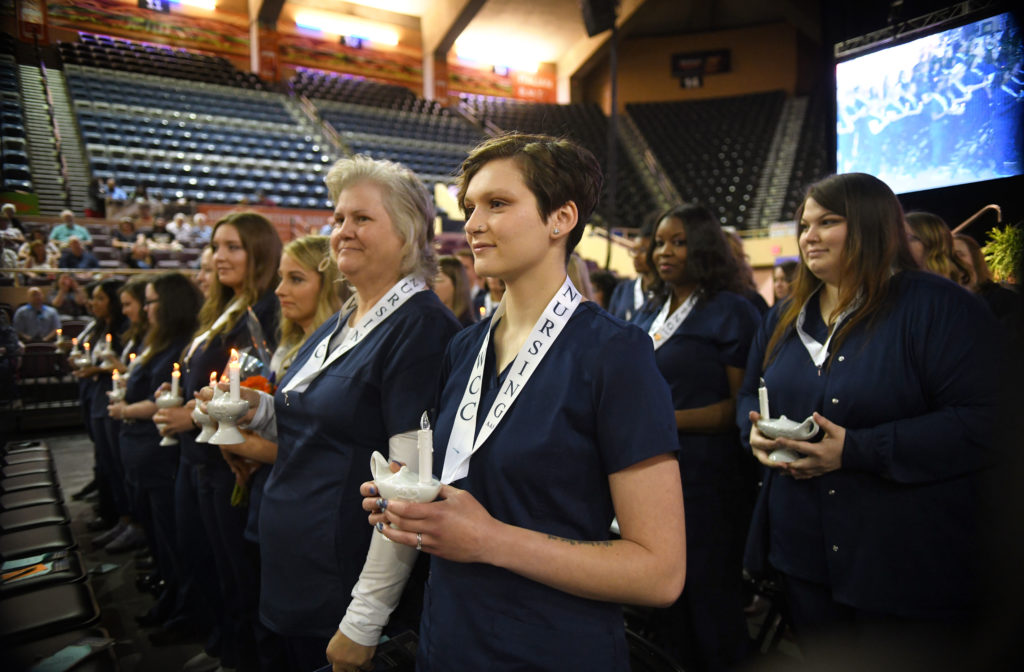 Fast forward to 2022. Today's nursing students practice their skills on a Laerdal SimMan 3G, a computer-driven patient simulator capable of groaning, sweating and even bleeding. Using it, students can practice everything from inserting a catheter to starting an IV.
That's just the tip of the high-tech iceberg. Over the course of the two-year program, students can expect to use ebooks and apps, take adaptive quizzes (a computer program selects quiz questions based on how an individual student performs) and complete virtual simulations in which students practice handling real-world nursing scenarios.
"There's so many different technology resources you can use to have an interactive classroom," said Whitney Bowles, a former nursing faculty member at the College. "This can assist the nursing student in learning and applying the material we are teaching."
Learning to analyze
Since class time is dedicated to hands-on learning, students have to be conscientious to set aside time to learn health care concepts independently.
"I don't stand at a podium and lecture," said Darla Summers, who's also an assistant nursing professor. "I post my PowerPoints and do a recorded lecture for the students to view in advance. It gives them flexibility. They can listen to it in the car. They can do it at midnight. Whatever time they prefer."
Before attending Summers' class on neural content, for instance, students will have needed to study the PowerPoint and assigned reading on subjects such as brain tumors, strokes and Parkinson's disease.
"So when we come in, we do case studies," explained Summers, who worked as a nurse for Carilion Clinic, specializing in neurosurgery, for more than 16 years before transitioning to teaching.
In class, Summers presents information about a patient suffering from neurological symptoms and students will apply the concepts they've studied to the case.
"We can ask a student to explain, 'How would you respond to this as a nurse?'" said Bowles, who worked as a nurse in the emergency room at LewisGale Medical Center in Salem for more than 15 years.
The goal, Bowles said, is to help students develop solid clinical judgment. "In nursing, you have to be able to analyze the patient's situation," says Bowles. "If the patient deteriorates, you have to be able to quickly decide what you're going to do about it."
Funding innovation
Keeping the Virginia Western nursing program equipped with the latest digital educational technology to prepare students for nursing careers gets expensive.
That's why, in 2021, Summers launched the Nursing Program Fund. Managed by the Virginia Western Community College Educational Foundation, the fund is designed to provide financial support for some students to take the National Council Licensure Examination (NCLEX-RN) and to purchase innovative software and equipment for the program.
"A lot of these students now, they like interactive educational games," said Summers. "We also buy models for the more kinesthetic learner. All that stuff costs money."
In 2023, an updated version of the NCLEX-RN, a standardized test U.S. nursing students must pass to become a registered nurse, will be released. The new test is expected to put a greater emphasis on gauging a student's ability to think critically and exercise clinical judgment while providing patient care.
College administrators hope to buy a new digital assessment platform to assist both faculty and students as they prepare for the new exam.
"It costs a lot of money," said Summers. The expense is about $13,000, she said, "and we need something that is more tailored for students."
To help raise money, Summers organizes a Nurses Run for Education Virtual 5K race every year.
"I like to run," she said. "So it's a way to raise funds and do something fun with the students and community."
Organizing a fundraising event isn't in her job description, but she said she sees it as her duty.
"We all do a lot of extra stuff that we don't have to do," she said. "I do it because I want to. It's a very humbling, rewarding job to see these students grow and to be a part of their educational experience."
It's a job that's critical for society. Today, as in 1972, communities are desperate for nurses. According to the U.S. Bureau of Labor Statistics, there will be nearly 180,000 openings for registered nurses every year through 2029.
Bowles points out that 90% of Virginia Western nursing graduates stay in the community to work. "So you feel like you're making a difference in your home area," she said.
(This story was published in the Winter 2023 edition of Impact magazine, a publication of the Virginia Western Community College Educational Foundation.)