On May 13, 2022, Virginia Western Community College conducted its AAS Nursing Program Pinning Ceremony at the Berglund Center. At the ceremony, nursing faculty announced awards for four students:
Dominique Hardy: Spirit of Nursing Award
Kara Gerenser: Spirit of Nursing Award, honorable mention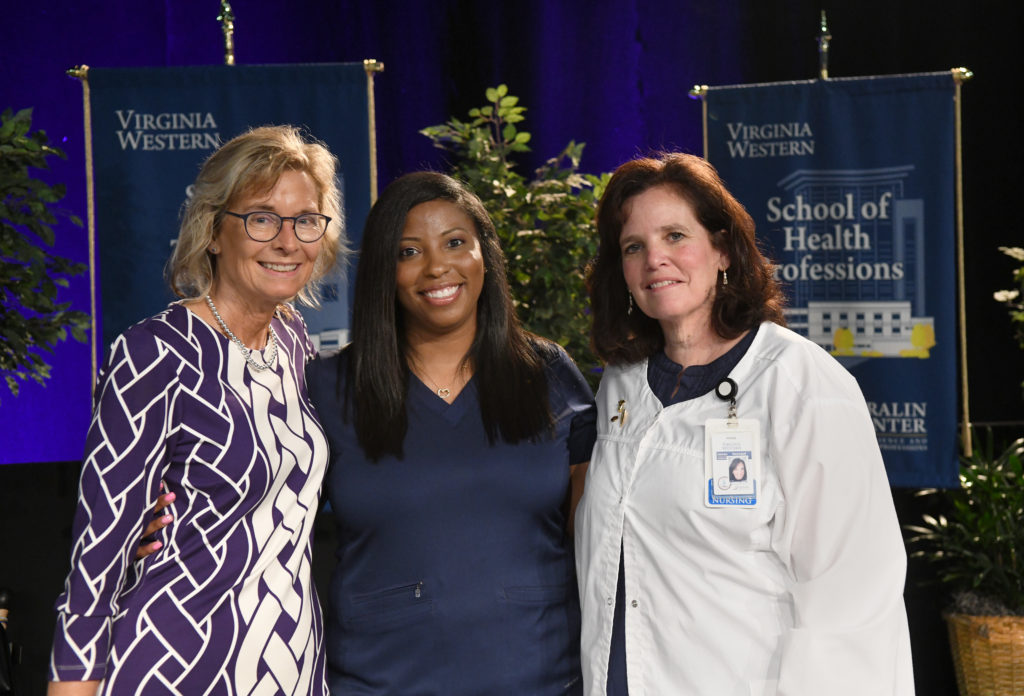 Maggie Gallimore: Compassion Award
Kirstin Gordon: Compassion Award, honorable mention
The AAS Nursing Program Support Fund, established by the Virginia Western Community College Educational Foundation in 2021, supported the awards given to the students. Donors who give to the fund help the Nursing Program recognize outstanding students, provide professional development to faculty and staff, subsidize student testing expenses, enhance instructional technology and otherwise help maintain the program's vitality.
To donate online directly to the Nursing Program Fund, visit https://www.virginiawestern.edu/giving/give-now/ and type "Nursing Program Fund" in the "Other" field.
Darla Summer, a nursing faculty member, has organized two virtual 5K races to benefit the Nursing Program Fund and addressed the graduating students at the pinning ceremony. Here is the text of her speech: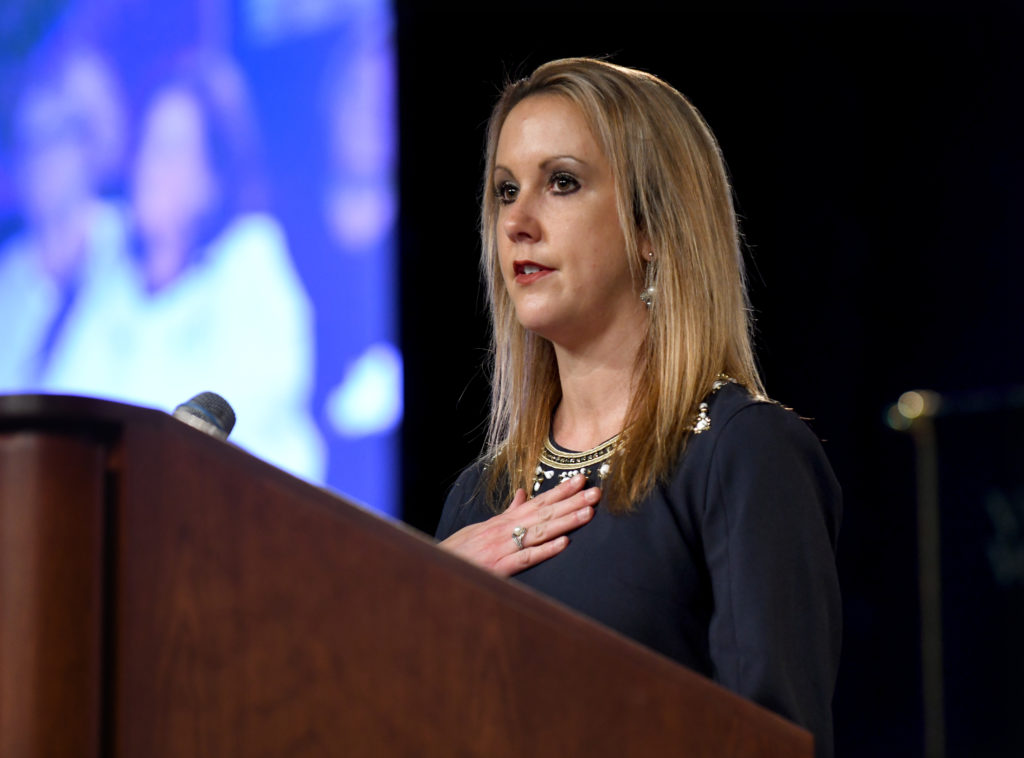 Dear family, friends and colleagues,
Thank you for celebrating this milestone with our nursing graduates — who are either your family, friend, daughter or son. My name is Darla Summers and it is my privilege to have been asked to speak to you today. I am even more honored to simply be a part of such an accomplishment.
It is hard to try and come up with something original and inspirational to say to such a resilient group of future nurses. I mean at this point, is there really anything they can't handle?
All I can say is I wished you could have seen these amazing students in class, simulation and in clinicals the last two years or so. So I am going to tell you about it because I guarantee their viewpoint is different than ours. We never said it was going to be easy, but I hope now everyone can say it was worth it.
From the classroom perspective, these students worked their tails off. Even the pandemic couldn't stop them. They studied, took notes, cried and lost a lot sleep. And they cried again, hugged and encouraged each other when the going got tough. Giving up wasn't an option, and even the 80 Prep-U's, 60 Kaplan exams and countless TTE's didn't stop them over the last two years. And I believe I heard someone say they got to over 10,000 Prep-U practice questions. (Don't worry, you will thank us later).
They reminded each other of due dates and checked on each when they missed class. They listened to recorded lectures while driving to work or to a child's sport. They did their assignments in between life demands and studied for tests up until the wee hours of the morning. I know because of the amount of Starbucks they had when walking into class. They postponed vacation plans, missed important events and sacrificed time with their families and friends. They went to nursing school while trying to also take care of their families and sick loved ones. Most even juggled full-time jobs, are single parents or live paycheck to paycheck without complaint; choosing schoolwork above most anything else.
From the clinical perspective, these students learned how to properly assess a patient, learned hundreds of medications and not just giving them but also catching errors. Going from maybe never touching a patient, to holding their hand during their last breath of life. Or sang to a patient a song of their choice to help distract them when they can no longer feel their legs due to a new spinal cord injury. Taking the screaming and scratching with grace because they know the patient can't help it. Helping take care of a whole unit because of chronic short staffing and it is the right thing to do. Spending an entire clinical shift getting knots out of a patient's hair and braiding it before post conference. Singing "Amazing Grace" out of tune and messing up the words like no one noticed. Giving your clinical instructors heart attacks and "Sweaty arm pits" as we taught you new skills and giving you the space you needed to learn. And the heart-wrenching passion we see when you get upset because we can always do better for our patients.
I must admit that I will miss the "cheese stick" that somehow always made it into my clinical jacket at the end of a 12-hour shift. And the paranoia and excitement of who was getting it next. Right, Mr. Nguyen?
Parents, family, friends, and kids — they put you last, while also putting you first to obtain their RN degree. If they didn't do this for themselves, they did it for you. And they did it when they thought they couldn't or wouldn't. Now look at them! Because of your support and your own sacrifices, you will soon have a future RN in the family. Thank you.
Now to our new nursing colleagues, you are getting ready to state one simple phrase a million times over the course of your career. "Hello, I am going to be your nurse today." It seems so trivial, but those words and your actions hold a lot of power for the patients you will soon be responsible for. Never forget that.
I urge you to be kind when no one is looking, give grace when it is not deserved, listen and do not settle. Ask for clarity when you do not understand, advocate even when it is not popular, show compassion and do not judge a person's situation. Give the benefit of the doubt and seek to understand. Be that nurse that everyone wants to have.
In closing, I would like all the nursing graduates to turn to each other — give a fist bump and say, "We did it."
Congratulations, class of 2022 — YOU did it and we are so stinking' proud of you!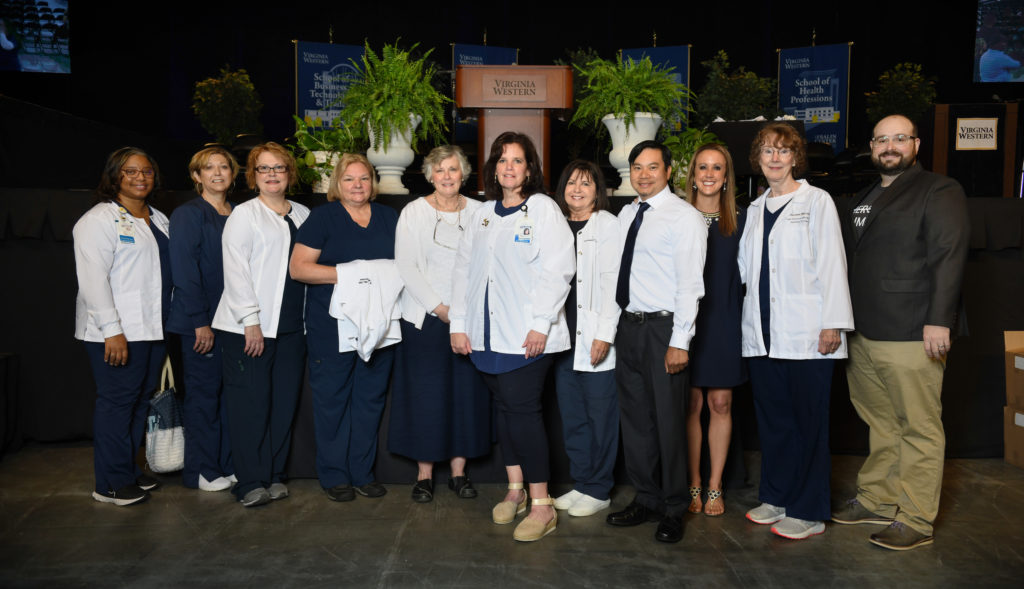 Virginia Western's Associate of Applied Science (AAS) Degree in Nursing was established in 1972 to prepare students for licensure as a registered nurse. The nursing program is accredited by the Accreditation Commission for Education in Nursing (ACEN) and is approved by the Virginia Board of Nursing. 
The two-year nursing program has a competitive admissions process that attracts more than 500 applicants annually. Graduates complete more than 500 hours of clinical experiences providing direct patient care in the Roanoke Region. Nearly 90 percent of nursing graduates continue to live and work in the Roanoke Region after completing their studies.