The following is the speech delivered by Virginia Western student Vera Morton during the 2022 Commencement on May 13, 2022, at the Berglund Center:
WATCH THE VIDEO: Vera Morton – YouTube
Good evening, President Sandel, Virginia Western Faculty, guests, family, friends, and my peers — the Graduating Class of 2022! 
Thank you for allowing me to stand before you on this eventful day to share my journey of Triumph over Defeat! Success over Failure! Reclamation over Loss!
I have a serious question to ask you. "Have you ever been robbed?"
Many of us have been robbed of something, whether it is our time, sleep, or material things.
Let me tell you about MY robbery.
I was robbed about one hundred miles East of Roanoke in Farmville, Virginia. My robbery eventually made headline news across the nation and beyond.
You see, what was stolen from me would have led to a better life. I was robbed of my education!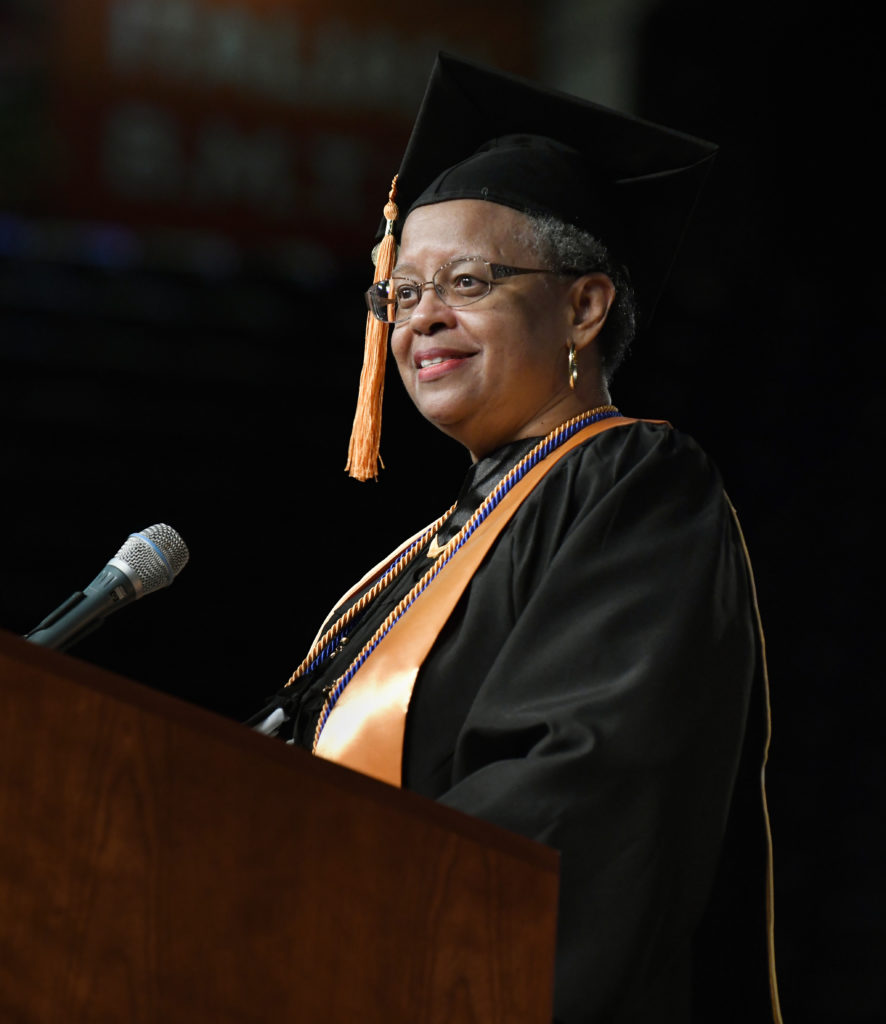 In 1959, rather than integrate the public schools, Prince Edward County, Virginia, literally closed and locked the doors of its public schools for five long years.
As a result of the Brown vs Board of Education Supreme Court ruling, the Prince Edward County School Board was ordered to reopen its school doors in 1964, but not without continuing to rob many of us of an education.
In 1964, when schools re-opened, I was placed into the third grade — not because I had the understanding and academic knowledge of a typical third-grader, but because I was nine years old.
Please bear in mind, I had not yet gained the foundational knowledge of 1st and 2nd grades — such as Reading, Spelling, Writing and basic Arithmetic. (For you Millennials who may not recognize the term Arithmetic, it is Math.)
Additionally, I was designated a Hall Monitor in 3rd grade, escorting other students to various classrooms or offices. I believed that was an honor, not realizing missing classroom instruction was yet another way of robbing me.
Unfortunately, in high school, I often was placed in classrooms with teachers who required very little in-class work and no homework. Looking back, by the time I reached the eleventh grade, I realized I had not learned very much and was unable to write a basic essay.
Furthermore, students like myself who were not excelling were asked to combine our eleventh and twelfth grade years to speed up our graduation date.
Thus, this teenager, who was three years behind academically, graduated at the age of eighteen–but with only nine years of a formal education.
On my graduation day in 1973, I realized I did not have the literacy skills required to get a good job or to succeed in college. I had been robbed!
After graduating, I got a job at a dress factory. Two years later I married my husband who, 47 years later, remains the love of my life. Later, I became a mother of two wonderful sons.
In 1985, I found employment at a daycare center and a retail store. Dissatisfied with my job options, I decided to attend the local community college with the intention of receiving an Associate Degree.
I knew English class would pose a challenge, yet I was ready for a fresh opportunity to improve my writing and speaking literacy skills.
Can you believe my first assignment was to write an essay? I worked hard and proudly submitted my finished paper. During the next class meeting, as my instructor was returning papers, he suggested I remain after class.
He returned my essay marked with a red "F," and I will never forget his verbal comments which followed: "Where in the world did you learn how to write? I have never ever seen someone with a high school diploma be so dumb." His outrage was followed by, "I want you out of my class!"
Hurt and in tears, I mustered up enough courage to respond, "I heard you were the best English teacher, so I signed up for your class." I then added, "You don't know my story."
Peering at me in disgust, he lashed out, "I could care less about your story! Get out of my class!"
In determination, I responded, "I am not going to get out of your class; I need a good English teacher!"
I became obsessed with improving my writing skills, so I solicited help from English tutors and other professors. Yet every time I submitted a paper, it was returned with a red "F" but with no explanations nor suggestions to improve it. I was forced to either drop or eventually fail his class. My childhood robbery had inflicted another painful blow.
That experience left me devastated. Believing a college degree was out of the realm of possibility for me, I gave up on that dream. 
By 1995, I was hired as a 411 operator. However, that job was short lived when I was fired after three weeks because I was unable to spell or pronounce many names of individuals or locations for the customers.
Fast forwarding to 2017, we relocated to Roanoke due to my husband's job. I revived my dream and enrolled at Virginia Western, first under the Senior Citizens Act and eventually through the Brown vs Board of Education Scholarship, which provides assistance for individuals impacted by the Prince Edward County School Closing. 
Officially enrolled, I took a leap of faith and signed up for a Beginning Spanish course. Almost immediately, my childhood robbery resurfaced. When my professor called on me to read, I struggled to pronounce some words, only to be laughed at by a few of my classmates. Feeling ashamed, I told my professor of my plans to drop her class.
Her response utterly amazed me! "Not on my watch!" she declared and arranged for us to meet in her office daily for tutoring. As a result of her patience and dedication, I persevered and passed the course. Muchas Gracias Senora Simpson!
Believing in Philippians 4:13 – "I can do all things through Christ which strengthens me" and with Professor Simpson encouraging me, I continued to enroll in one or two courses a semester. 
With my confidence building, I decided to confront one of my greatest fears — speaking in public! So, I took another leap of faith and enrolled in a Public Speaking Class with Professor Scott.
One assignment was to prepare a PowerPoint with citations. I was slightly familiar with PowerPoint, but a "Citation" meant a speeding ticket to me. I knew absolutely nothing about academic research, so documenting and citing sources was a big challenge. Again, those missed years of public school had robbed me once more!
Fortunately, recognizing my frustration, Professor Scott also encouraged me not to give up. Thus, with the aid of my buddies Google and YouTube and my professor's support, I began researching how to do PowerPoints and citations.
After submitting that assignment, throughout that semester, I gradually became a more confident researcher and speaker. 
So grateful to my first two professors who would not allow me to give up, I also owe a debt of gratitude to every professor, administrator, staff member, classmate, TRIO Pathways and The Office of Disability Services at Virginia Western who assisted and encouraged me along this academic journey to successfully complete my Associate Degree.
Most of all, none of this would have been possible without GOD and the love, support and endless encouragement of my husband, sons, other family members and friends. I love and appreciate each one of you.
As I bring this to a close, I say to you, my fellow 2022 graduates, being robbed by someone or something is an ugly, hurtful, and embarrassing thing to endure.
Each of us can speak to some loss we have faced while pursuing a Certificate or a Degree. Yet, we all have refused to let it rob us! Together, we have persevered through a pandemic and managed to move beyond other setbacks and struggles to make it to this moment.
Therefore, I say to my fellow 2022 Graduates, never rob yourself of an education or any life-long dream — even if you must achieve that dream one course at a time. Remember, the race is not always won by the swift or the strong, but by those who endure to the end. 
I humbly stand before you this evening as a dedicated life-long learner. In other words, my learning journey is not over yet. And neither should yours BE. My hope for you is to experience every success possible and not let any challenge keep you from achieving your dreams!  
So, this evening, please do not just turn your tassel and say, "Thank God, I finally made it!" Instead, thank God for seeing you through this chapter that has prepared you for the next chapter of your journey. 
If this 67-year-old — who began her higher education journey with odds stacked against her — can march across this stage with honors, unless you choose to rob yourself, there is ABSOLUTELY — ABSOLUTELY — NO LIMIT TO WHAT YOU CAN ACCOMPLISH!
Thank you and God Bless each of you.