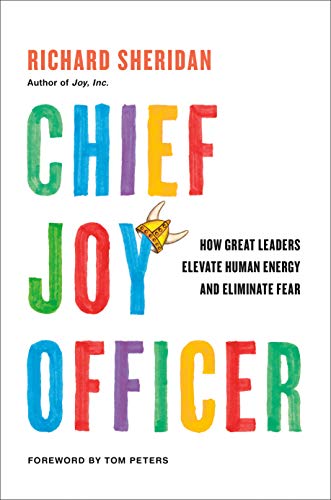 I'm still on my joy ride, and I just finished another book: Chief Joy Officer: How Great Leaders Elevate Human Energy and Eliminate Fear.
ICYMI … over the summer, I read a Harvard Business Review article that argued that all organizations should prioritize joy. This HBR article clicked with me like no other in quite some time, and it inspired me to read an armload of books on the topic, all of which revolve around the importance of joy, especially in our jobs. Catch up on my reading list here.
"Chief Joy Officer" is book No. 4 since July, and the second book I've read by author Richard Sheridan ("Joy, Inc." was the first). In both books, Sheridan talks about Menlo Innovations, the small software company he co-founded in Ann Arbor, Michigan. His ideas about intentionally restoring joy for customers and coworkers have resulted in ongoing public tours and workshops; some of the biggest companies in the world have visited Ann Arbor to learn more about "the Menlo way."
There's a lot of good stuff to unpack in both books, but I'll only share one tidbit today. Sheridan says the most important thing a leader can do for her organization is to stay in "learner" mode, which includes elevating a reading practice that will ignite imaginations.
The Menlo team regularly hosts book clubs, Lunch and Learns, and visits by area professors to discuss their work. It reminds me of how in-service and other professional development opportunities impact our creativity and overall satisfaction with our jobs. (There are grants to help make them happen!)
This also validates my tendency to read like a maniac … and share some of my favorite reads in this blog space.
If you're a big reader (or want to become a bigger one), then you should immediately check out Book City Roanoke (www.bookcityroanoke.com), THE place to find all things literary in our region. 
"Book City Roanoke is really about creating the kind of city I want to live in– a city of readers and ideas," founder Doug Jackson explained in a January 2019 Hollins Magazine article. 
"Readers and writers are good for community; a lively book culture in which ideas are batted about is good for a democracy. It's the foundation of a creative community. Things only work in community when we know that our participation matters, that we have a voice and can effect change in our place."
Months ago, I signed up for email alerts from Book City Roanoke, and the latest email noted a long list of book events scheduled through December.
This event caught my attention, and I thought it might interest the Virginia Western community: "Using Graphic Novels in Teaching," a free, day-long symposium, is happening from 9:30 a.m. to 4 p.m. Saturday, Sept. 7, at Hollins University. The event is free and includes a keynote address with graphic novel author/illustrator Ben Hatke. Call Laura Jane Ramsburg at 540-362-6081 or email LRamsburg@hollins.edu for more information. 
You can quickly sign up for Book City Roanoke emails by scrolling to the very bottom of this page:
https://bookcityroanoke.com/contact/
Also: Don't forget about the fantastic Brown Library right on our campus. Before going to other Roanoke Valley libraries or Amazon, I check for books in the Brown catalog FIRST … and I love to walk through their latest magazines and book releases for a serendipitous treat.
And if you have ideas about Lunch and Learns … or some other book-related event … please raise your hand. I'm on the Engagement work group this year and would love to get something started.
— Stephanie Ogilvie Seagle, September 2019