Perhaps you saw the headlines last week, like this one: 
"Free tuition coming to Virginia community colleges under service program" ( Read the story )
Gov. Ralph Northam said a formal announcement would be coming in a few weeks, but he was talking about the G3 program that community colleges across the state — including ours — have been working on since February. Virginia Western's popular Community College Access Program (CCAP) is mentioned in the article, as an example of a free-tuition model. 
As part of the G3 (Get Skilled, Get a Job, Give Back) planning grant, VWCC is developing at least one stackable pathway for healthcare, our region's most demanding high-growth job sector. We also wanted to learn the design-thinking mindset to help us replicate the process for additional pathways, so we hired the Education Design Lab to lead a series of design sessions for the college.
REWIND << You can catch up on our G3 journey with my previous blog posts:

1: Introduction: Why I'm so excited about our G3 grant project
2: Design session #1 recap: What's the 'secret sauce' for student success?
Design session #2: Prototypes created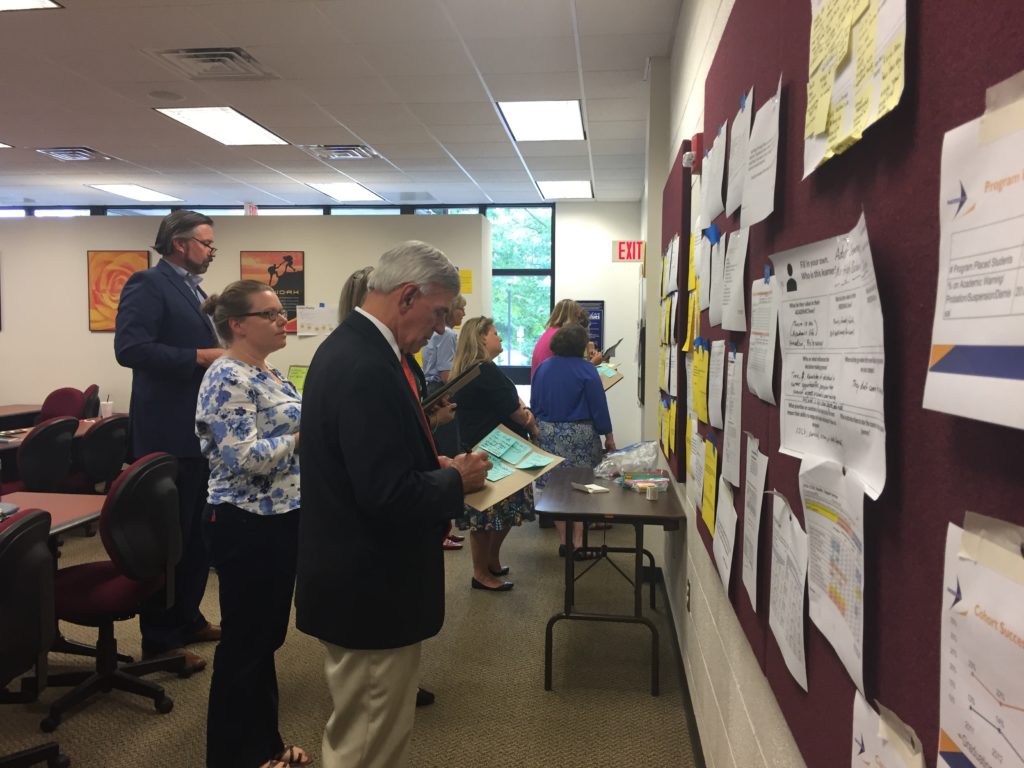 In late June, Virginia Western hosted a Gallery Walk for a variety of campus stakeholders, as well as some outside employers and community partners.
About 45 people experienced this Gallery Walk in the HR conference room, which was covered with printouts: Quotes from students, comments from staff, and other data related to the student experience at VWCC.
As a result of group discussions with participants after each Gallery Walk (and after hundreds of colorful sticky notes), the G3 Core Design Team narrowed down all of the emergent themes into four prototypes that aligned with the expected grant deliverables. 
These four concepts were explained in the Education Design Lab's summary report:
1. Soft Skills
This concept encourages faculty members to not only embed but also call out the soft skills that are covered in their curriculum. The idea stemmed from an employer need that students need "soft" skills in addition to the technical skills they are learning throughout their clinical and non-clinical course. The prototype benefits students be allowing them to see which skills are covered in the courses and the hope is that eventually there might be a way to track and display these easily for students when they are applying for jobs within the Roanoke area.
2. Choose Your Own Adventure + Program Publicity
Two early concepts were combined to help meet the student need to find a program that best suits them moving forward. A common thread throughout the gallery walk was that students were unsure as to what careers and paths were available to them within the healthcare industry. There is a lot of talk about nursing, and in fact many students are confused as to what different people are doing even within that profession.
This prototype will begin by creating a visual that shows students the multiple pathways as well as the projected time to graduation, average starting salary, format in which the program is currently available (day/night/online), any "other" requirements such as driving to clinicals, pre-reqs and other costs associated with the program. The map will link other like areas for students who find themselves unable to participate for one reason or another.
It is the hope that once this early prototype is developed it could be expanded and scaled to exist on kiosks or apps that can be accessed from anywhere. The information provided will also include student, employer, and faculty testimonials, as well as on the job videos so students can become more familiar with the job, as well as the tools and equipment needed.
3. 2 Doors 2 Nursing
Regional and national data continues to point to the overwhelming need for more nurses, at all levels. Currently the nursing program at VWCC enrolls new students in the fall semester, leaving a large wait list for good students, as well as group of new nurses eligible for employment only in the summer, which can be difficult for employers who are constantly trying to find new employees. This prototype will create both a fall and spring start for the VWCC nursing programs which will double the number of new nurses graduating per year, as well as create more opportunities for enrollment and year-round reservoir of new nurses for employers. In order for this to take place, it would require buy-in from administrators, as well as hiring more faculty members. In addition to adding the spring start, the faculty will examine which courses might be able to be taught online or in a hybrid format to attract new students who are unable to attend on a full-time basis.
4. One-door + VWCC online
Plans are already underway to create a one-door advising model at VWCC. However, this prototype expands that thought to create a one-door to VWCC: One place where prospective students can go to get the information they need to become a student and continue their studies at VWCC. The idea also needs to be expanded to support the online student community and will include online advising, online services, and online faculty hours. The advising model will also include a peer mentorship program so that all new healthcare students (to start) will be paired with an existing student to help them traverse the first year. This program might also fulfill the community service deliverable required by the G3 grant for those interested in becoming peer mentors. 
Next steps: Feedback wanted
Keep in mind these are just rough concepts … starting points that will require much more discussion. We may pursue just one concept to completion … or more likely, a blend of two or more. We are learning the design-thinking approach: How to stay loose, seek any missing data and feedback, and adjust plans as necessary.  
Throughout July and August, the Core Design Team will be "testing" these prototypes with students, faculty, employers, and other campus stakeholders.
Look for the storyboards during breaks at in-service (details coming soon). You can always call or email with feedback:  sseagle@virginiawestern.edu or 540-857-6084.
Or reach out to a member of the G3 Healthcare Pathways Core Design Team:
Kathy Beard, Dual Enrollment Coordinator
Jeffrey Gillette, Professor, Medical Lab Technology
Tracy Harmon, Associate Professor, Administrative Management Technology
Lauren Hayward, Director of Nursing
Marilyn Herbert-Ashton, VP of Institutional Advancement (and Project Director)
Rachelle Koudelik-Jones, Dean of Institutional Effectiveness
Carol Rowlett, Coordinator of Research & Assessment
Stephanie Seagle, Grant Specialist
Marty Sullivan, Interim Dean of Health Professions
We'd love to hear your thoughts before Sept. 1. 

The Education Design Lab will join for a third and final session on Sept. 10, when the Core Design Team will finalize prototypes and pathways and design an implementation plan. All of the grant deliverables must be completed by Oct. 31.
This initiative is 100% supported by a federal U.S. Department of Labor, Employment and Training Administration Workforce Innovation and Opportunity Act (WIOA) award made to Virginia Western Community College by the pass-through entity, Virginia Community College System. The total program cost for this initiative is $176,068.
— Stephanie Ogilvie Seagle, July 2019