Adults are a growing majority in U.S. higher education, meaning that you – an adult learner – are becoming the new traditional learner in a growing movement. At Virginia Western, we understand your need to balance important responsibilities with education and career goals. We aren't just an excellent choice for recent high school graduates, we also welcome more experienced adults as well; whether you are returning to college after a long break, or thinking about college for the first-time, it's all good.
"More than 62% of our student body is older than 20 years. No matter what your age, you will find peers at Virginia Western who are on the same journey for self-improvement."
High School Grad? – Good jobs that pay with less than a 4-year degree in Virginia
Top 5 Industries:
Manufacturing – Public Administration – Construction – Health Services – Information, Financial Activities, and Real Estate
Top 5 Occupations:
Management – Office and Administrative Support – Construction and Extraction Sales – Installation, Maintenance, and Repair
Food Service Industry? Level-Up Your Culinary Skills!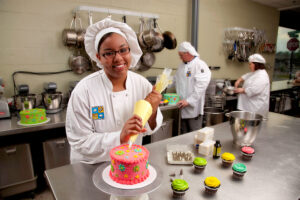 The Roanoke Region's food scene has blossomed over the past decade. A number of chef-focused, quality-driven restaurants, authentic ethnic restaurants, caterers, pastry shops and bakeries are making their mark on the community.
The Al Pollard Culinary Arts Program at Virginia Western Community College is proud to serve all people seeking culinary skill and knowledge for the betterment of themselves and the community.