Stepping outside the box can mean trading one classroom for another.
In the fall, three classes of Virginia Western students took a short journey to downtown Roanoke for sessions at RAMP, the Regional Accelerator and Mentoring Program. RAMP provides a 12-week regional business accelerator for startups in technology and life and health sciences, as well as a range of skill-building for those in the technology startup pipeline.
Students in biotechnology, mechatronics and animal science attended the Introduction to Entrepreneurship class in sessions on Nov. 21 and 22, 2022, led by Lisa Garcia, vice president of entrepreneurial development and director of RAMP. The classes were part of a program conceived before the pandemic, as a joint initiative with Virginia Western and RAMP, with support from the Virginia Western Educational Foundation.
The classes were organized by Dean of STEM Amy White. "We really want to integrate the concepts of entrepreneurship into our students' outlook on possible career pathways," White said. "Some of them might not realize the possibilities open to them when they build their networking skills and think beyond companies that already exist."
In one session attended primarily by mechatronics students, Garcia challenged them to talk about mental models, asking them about a book, podcast or something else that changed the way they think. One student remembered a manager who told him, "The ones who don't make mistakes are the ones who never try."
Another said that during his first class in engineering, his dad told him, "What one man can do, another man can."
The larger lesson, Garcia said, is that we aren't static. As Steve Jobs said, "You've got to start with the customer experience and work backwards," Garcia told the students. RAMP teaches "customer discovery," emphasizing whether the entrepreneur has really listened to everyone who could be a customer. She introduced the students to a range of concepts, including customer journey mapping and a business workflow diagram.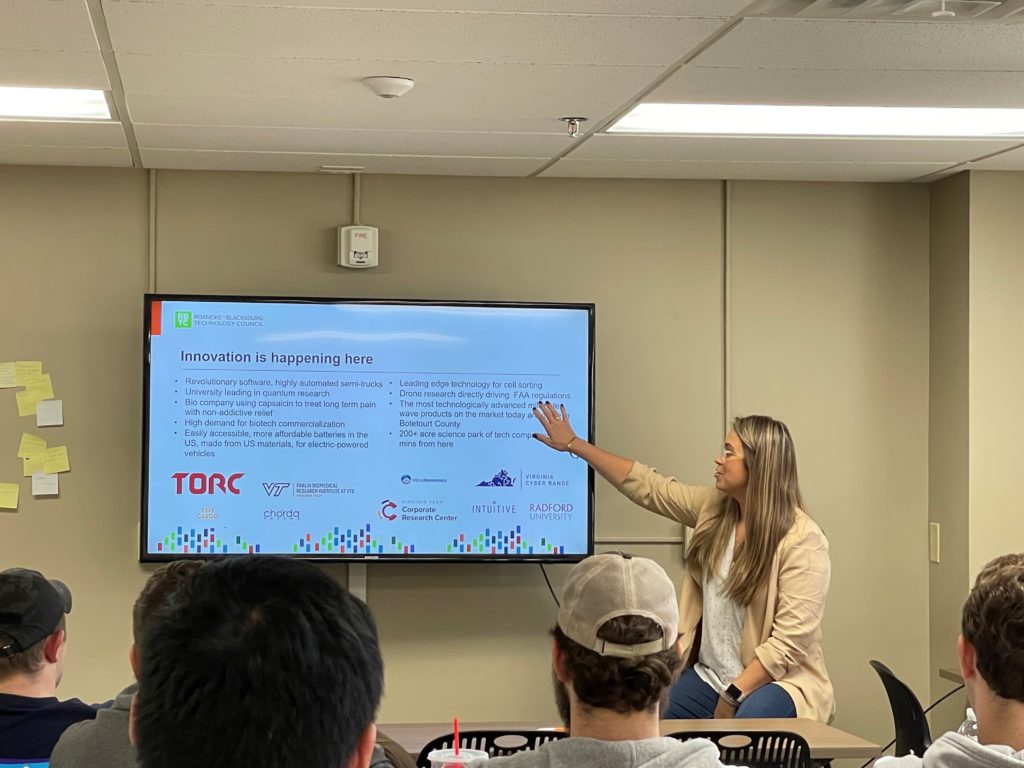 Students also heard from Taylor Spellman, associate director of the Roanoke-Blacksburg Technology Council. Her message was that "innovation is happening here," with a list of firms based in this region that are advancing technology in their industries. Spellman encouraged the class to prioritize internships and networking by thinking about "buckets" such as economic development, workforce and talent attractions, town and city councils, and other avenues where they might find benefits such as professional development, advice and ways to build their own community.
Garcia showed a pie chart of the top 10 startup mistakes. Number one on the list, by far? "Building something nobody wants." How do you know whether people want your product? Garcia emphasized the need to get clean data before proceeding with the arduous task of getting a product to market.
RAMP was founded in 2017 as a partnership of the Roanoke-Blacksburg Technology Council, the City of Roanoke, and Virginia Western Community College.
Garcia gave an example of a successful startup that came through RAMP, Rendyr, which created a uniquely designed portable laser cutter. Mechatronics professor Dr. David Berry attended the session with his students. Berry noted that a former Virginia Western student had done sheet metal work for Rendyr. Berry noted other companies RAMP had helped launch where former Virginia Western students had a place, such as Micro Harmonics in Botetourt County, which creates millimeter wave products. Another example is Constructability 3D, which developed software for homes under construction.
From 2018 to 2021, Garcia taught the RAMP entrepreneurship classes as an adjunct faculty member of Virginia Western. The cohort members going through RAMP each year were Virginia Western students, who then, in turn, hired students.
While the Educational Foundation isn't managing RAMP's facility as of 2022, the College is still involved with RAMP through these classes. The key is letting students know "they have opportunities right here, doing fascinating work with technology companies," Garcia said.