(This story appeared in the Winter 2022 edition of IMPACT magazine, published annually by the Virginia Western Community College Educational Foundation.)
By Karenna Glover
For most of his senior year, Andrew Tuck was planning for his next chapter — starting college at Virginia Tech. Throughout his four years at Staunton River High School, he had debated whether to go to Tech or Ferrum College. He knew he wanted to stay close to home to continue working on the family farm while earning a degree in agriculture studies.
Just before he put his deposit down at Tech in spring 2018, Tuck learned that Virginia Western Community College would welcome its first class of agriculture students to the new degree program that fall. Entering the inaugural class was a no-brainer for Tuck — he would be even closer to his family farm in Bedford County, smaller class sizes would allow him to get to know his peers, and he would save a significant amount of money while getting a start on his degree.
In May 2021, Tuck and five other students became the first graduates of the newly created agricultural studies program at Virginia Western. Amy White, Dean of Virginia Western's STEM program, said students like Tuck are exactly why the program was started.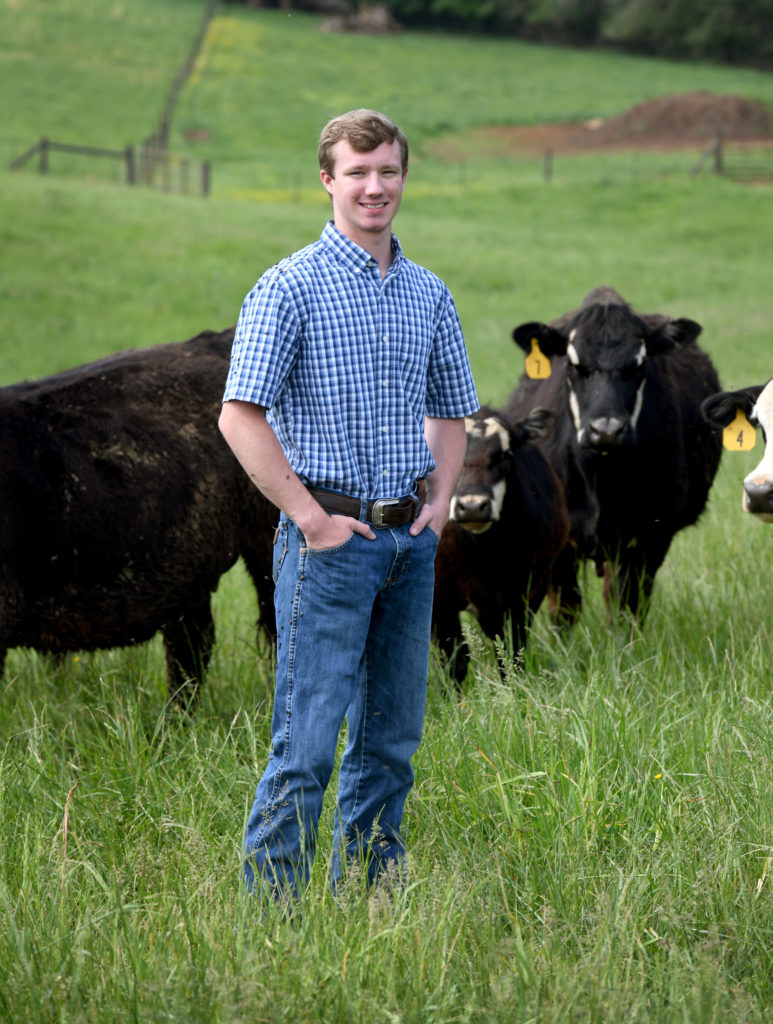 "We wanted to give students in our area a chance to expand their knowledge and skills in agriculture, and then be able to return to their family farms to work," said White, who lives on her family farm in Botetourt County.
Family farms across the country and in Virginia have been disappearing for a number of reasons. Often, the younger generation isn't interested or able to continue operating it. That was almost the case in Tuck's family because none of his three sisters has any interest in the farm, which has been in the family for over six decades.
For Tuck, though, farming has been the center of his world for as long as he remembers. As a child, Tuck participated in 4-H and Future Farmers of America, advancing to serve as a judge at state and national livestock competitions. Even with this experience, Tuck said the classroom and hands-on instruction he got at Virginia Western exposed him to different aspects of farming that will help him evolve his family farm.
"In just two years, I learned so much more than I thought I would about other types of agriculture, like nutrition and how forages survive in different conditions — information which I can take back and apply at our farm," Tuck said.
Students visited area farms and saw first-hand how to manage the health of both the animals and the plants and soil. They saw cattle being vaccinated and tagged, learned about digestive and reproductive systems of poultry at White's farm, visited a slaughterhouse and explored a hemp farm and greenhouse.
Outside of the science of farming, agriculture students also complete courses in business and financial management, which is often their first exposure to this side of farm operations. "I really hadn't thought a lot about the money side of things," Tuck said. "But now I'm thinking about how to make some improvements and increase our profit."
After graduating magna cum laude with an associate in science degree from Virginia Western, Tuck went on to Virginia Tech in fall 2021 to study animal science with an emphasis on livestock production.
Feedback provided by Tuck and the other students of the inaugural class helps White identify ways to enhance the program as it matures, and also confirms it is meeting a need.
"It gives me chills to hear Andrew talk about what he's learned and that his future is focused on staying here and making his family farm even more successful," she said. "That's why we created the program — to keep local students here and keep family farms prospering."