(This story appeared in the Winter 2022 edition of IMPACT magazine, published annually by the Virginia Western Community College Educational Foundation.)
By Karenna Glover
In February 2020 when Virginia Western Community College's Chief of Police, Craig Harris, heard about the coronavirus, he knew it was time to act. At the time, there were no reported cases in southwest Virginia, but the U.S. acknowledged it was a global health emergency. As an experienced emergency management leader, Harris felt now was the time to prepare.
He reached out to Virginia Western President Robert H. Sandel, who met with Harris and assembled a team of leaders to oversee the College's response to the pandemic. This team was responsible for developing the response and a reopening plan to protect the health and safety of students and staff. The COVID-19 re-opening taskforce, chaired by Marilyn Herbert-Ashton, Vice President of Institutional Advancement, included representatives from human resources, the business and finance office, facilities management, IT, student services and faculty.
The diverse makeup of this team allowed for representation from across the College community. "There were no egos involved," Harris said. "All opinions were valued, and we've had very intelligent people making smart decisions."
Herbert-Ashton fondly thinks of the team as the "boots on the ground," individuals who were willing to jump in to make timely decisions while being prepared to address new situations as they emerged. Solutions ranged from creating proper ventilation throughout campus facilities, increasing WIFI hotspots so students could connect to the Internet from their cars in parking lots; creating masking requirements and providing vaccine accessibility.
These efforts paid off, she said, because the campus never experienced an outbreak, requiring a shutdown. "I'm really, really proud of that," she said. "Because of all of the efforts everyone — from the team to the students and employees — put in, the college was safe and healthy."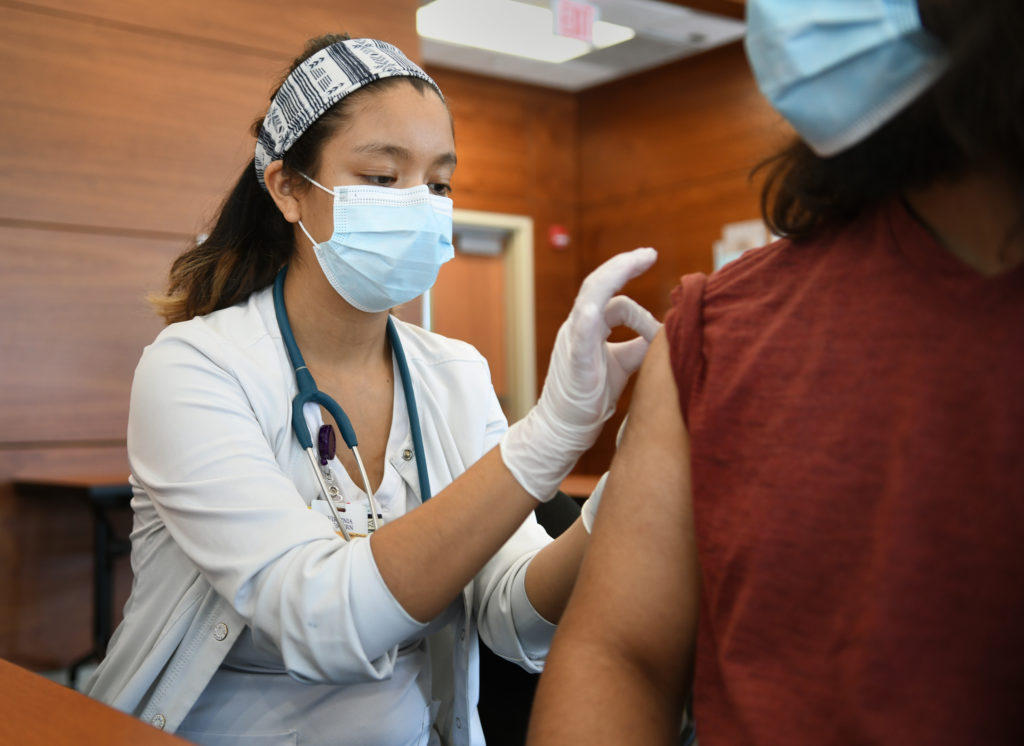 Beyond the core team, the external relationships the College has built were key to successful planning and implementation. Harris, for example, regularly networks with police chiefs and emergency management leaders throughout the region so it was easy to get additional support and share best practices as needed.
"If there's any solace the Roanoke community can take from the pandemic lessons, it's that we responded so well to this crisis because we knew each other and we were willing to go the extra mile for each other," he said. "Relationships were already established, so when the bell rang, everyone knew it was time to pitch in and help."
Nowhere was this more evident than within the College's nursing community. From the early days of the pandemic, community health partners sought out opportunities to engage both students and faculty from the nursing program.
In April 2021, the College partnered with Carilion Clinic to assist with the vaccination clinics hosted at the Berglund Center. Students and faculty completed the six-hour training and skills check, and then assisted at the clinics, vaccinating an average of 2,000 people a day. Students served as scribes, vaccinators and patient evaluators. Volunteering with these vaccine clinics gave them hands-on clinical experience that often takes a semester to earn, said Lauren Hayward, Virginia Western's Nursing Director.
In May 2021, the College partnered with the Virginia Department of Health to host a vaccine clinic on campus. The summer semester had just started, so many of these nursing students were one week into their academic program and already administering shots to the public.
"It was almost like a call to arms," Hayward said. "Anyone who could do something to help needed to be doing so, and we saw it with our students and our faculty."
In fact, Hayward said, many former students contacted her asking what they could to help. "The way we saw it is we're not defeating anything unless we're working together," she said. "It is in our nature as nurses to not sit and wait for someone else to do something. We want to be part of the solution."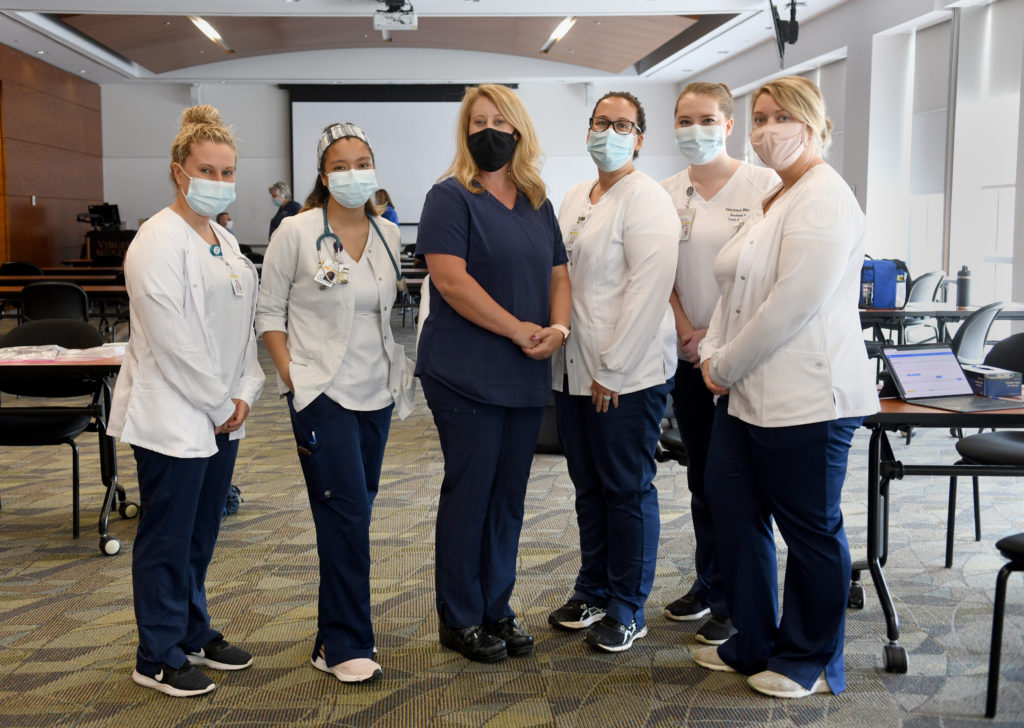 This willingness and participatory leadership allowed for new partnerships to form and strengthened existing relationships not only with community organizations but between Ccollege departments.
"The way the College responded as a whole was an incredible journey," Harris said. "There were hiccups along the way, but they were overshadowed by the unified response by everyone working together."
The COVID-19 team continues to meet, and Harris doesn't expect that to change before the 2021-22 academic year closes. "Even if there aren't a lot of new things to discuss, it's still critical for us to get together and make sure things are going well. We don't want to get slack and end up being forced to shut down."