(This story appeared in the Winter 2022 edition of IMPACT magazine, published annually by the Virginia Western Community College Educational Foundation.)
By Karenna Glover
When Sheridan Saunders found herself quarantined at home in fall 2020 for a COVID exposure, she was concerned about missing two weeks of school and how she would complete her clinical and classroom work at Virginia Western Community College. She was in her final sprint to finishing and getting a degree in radiography. Because the previous semester had been cut short due to the pandemic, her classes and clinicals were fast-paced to make up for the lost time.
But Saunders didn't waste any time, and immediately contacted her program director, Susan Nolley, and presented a solution to stay on track despite her absence during quarantine.
"I was really afraid I'd fall behind," said Saunders. "Knowing May (graduation) was right around the corner, I wanted to learn and retain as much as I needed to so I could get to my end goal and everything I had been working toward for the last few years."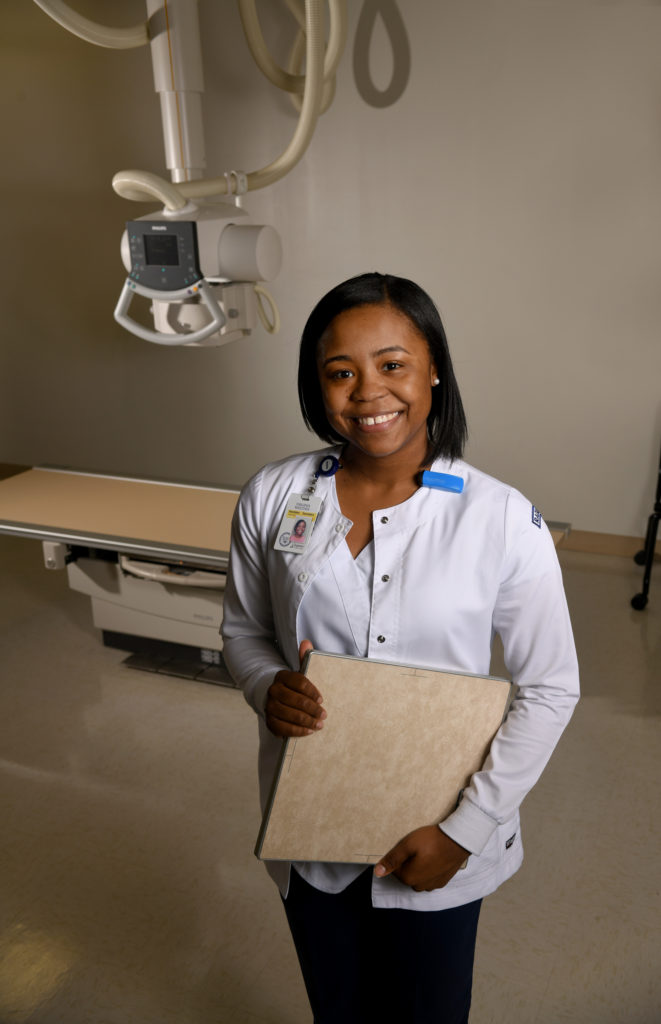 Saunders proposed to Nolley that she take all of her tests on schedule, and connect to classes and clinicals via Zoom to ensure she didn't fall behind.
"Many students would have looked at the 2-week quarantine as a break from their course work," Nolley said. "But not for Sheridan; she was transparent, and she initiated the proposal and suggested a way to participate. She knew exactly what needed to happen and solved her own problem."
While Nolley was impressed with how Saunders handled herself in this situation, she wasn't at all surprised. Saunders had demonstrated initiative and dependability throughout her time in the program.
"She was an excellent student, and immediately presented compassion and drive with a willingness to work on areas that she wasn't strong in," Nolley reflected. "She exhibits all the traits that are necessary in a quality radiographer."
As a student at William Fleming High School, Saunders played volleyball and lacrosse where she saw a lot of sports injuries, which sparked her interest in the orthopedic field. Her senior year, she applied to several colleges, both in state and out of state. As the deadline for deciding on a college approached, she chose to stay local and attend Virginia Western Community College. She had discovered that the college offered great learning opportunities in health sciences, specifically in radiography. She also participated in Virginia Western's Community College Access Program (CCAP), which covered all of her tuition expenses. Looking in the rear-view mirror, Saunders still says it was the right decision to start her path toward radiography.
"I really got a quality education. The professors are challenging, but everyone has been helpful and responsive, and definitely dedicated to students succeeding," she added.
Having the financial relief with CCAP funding for all three years also helped. "Having my tuition covered allowed me to stay focused and not worry about my finances, " Saunders said. "When people run across financial burdens, it can get hectic and stressful. Not having that burden or figuring out how to pay for my classes really helped me be a better student."
Clinical work is a large component and requirement of the radiography program. Saunders completed her clinical work easily and accepted a student technologist position at Carilion Clinic's Outpatient Orthopaedic Therapy Clinic. Clinical experience allows students to apply classroom learning to real-life scenarios, but it also allows the partners, like Carilion, to get to know the students and consider them for future employment opportunities.

"It's important that as a student you really be on your Ps and Qs at clinicals," Saunders said. "It's like a constant job interview. It can reflect your professionalism and can really help or hurt your future. You have to show up every day asking yourself how you want these people to remember you, and work toward that."
After finishing at Virginia Western in May 2021, Saunders passed board certification to be a radiologic technologist and was promoted to a full-time position at the Carilion Orthopaedic Clinic.
The radiography program at Virginia Western is 49 years old and very competitive. Typically, 130 to 160 students apply each year but only 21 students are selected. The makeup of each cohort is usually consistent: one-third of the class are recent high school graduates, another third are in their early to mid-20s and the balance over 30. Enrollment has been stable over the five years that Nolley has been program director.
The program is accredited by the Joint Review Committee on Education in Radiologic Technology (JRCERT), and follows the requirements of that accreditation and educational guidelines from the American Society of Radiologic Technologist (ASRT). Students usually take five semesters to complete the 70 required credits. Graduates of the program are eligible to take the American Registry of Radiologic Technicians (ARRT) national board certification exam.
Once they pass the exam, radiography graduates are able to begin their careers in imaging modalities, which typically include, CT, MRI, cath lab, mammography and interventional radiology. Students rotate through various modalities so they gain experience with each one during the radiography program.
The community partnerships with local hospitals and outpatient clinics ensure that students get hands-on clinical experience in addition to their classroom work. "We could not do our part here education wise without our partners," Nolley said. "They are essentially a main artery for the program and vital to student success."
Those clinical experiences are often gateways to employment. Community partners typically seek out Virginia Western students to fill job openings, Nolley said. She estimates 90 percent to 95 percent of technologists in the area came from the College's Radiography program.
On average, many of the program graduates look for employment in diagnostic imaging, soon followed by one of the modalities after passing the certification exam. Additionally, a handful seek higher education or choose a different career path.
New radiography techs typically earn a base pay of $18 to $20 an hour locally, said Nolley.
In her 13 years with the program, Nolley has seen it transform significantly due to rapid advances in technology. "What we can do with radiographic images through manipulation/enhancement and computer-assisted diagnosis techniques is amazing, and allows us the opportunity to do and see things we were not able to before," she said. "Today we can acquire an image and send it to the radiologist or another medical facility across the world to be read almost instantaneously."
These advancements also require that the program's curriculum stays relevant and prepares students. As Nolley likes to remind her students, they are in one of the most important roles with patient care.
"I like to tell my students to remember their place in medicine. Without what we do, others can't do their job," Nolley said. "We are one of the first steps to a diagnosis for a patient so they can get accurate treatment. We have to do our job right."