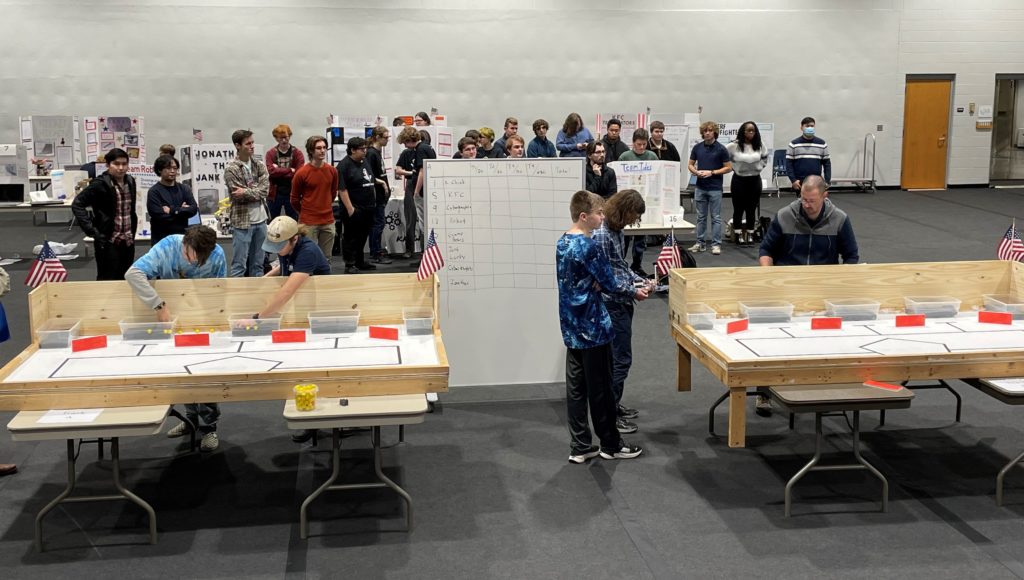 Robots and 19th-century "ships" co-existed in the Humanities Gymnasium this month.
Meanwhile, students got to glimpse the future outside with the display of a Torc Robotics autonomous-equipped tractor.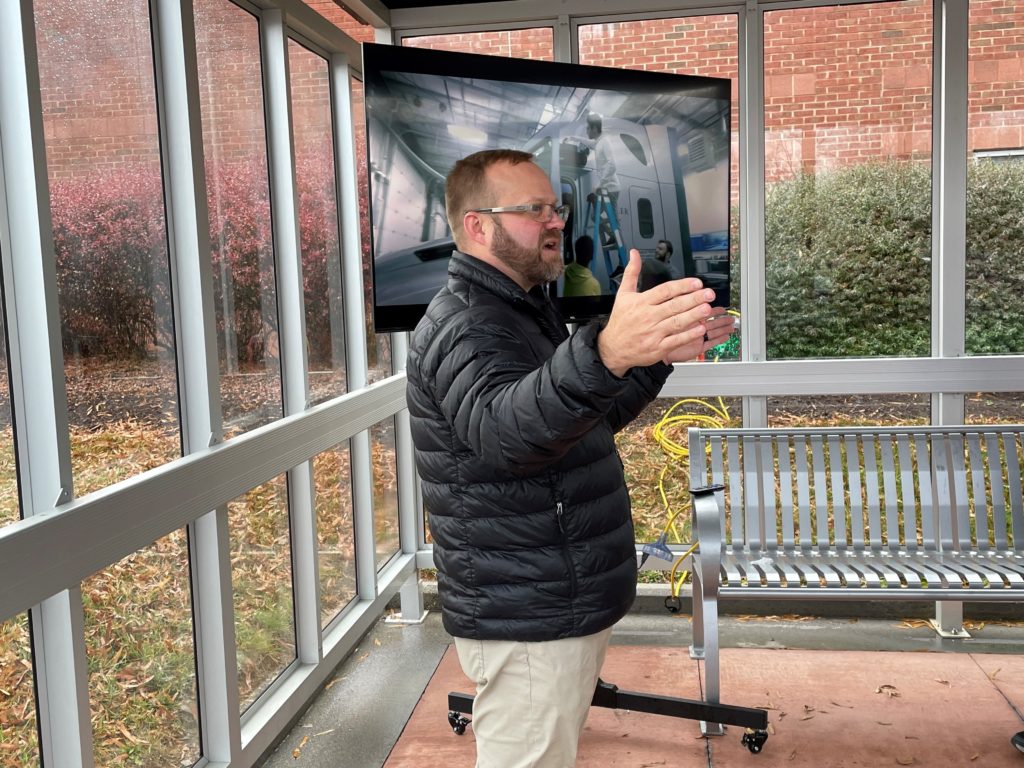 Virginia Western hosted the 14th Annual VWCC Autonomous Robot Competition on Saturday, Dec. 3, with 16 high school and college teams participating. This year's competition was called the "Star Spangled Defender," historically based on Fort McHenry's defense of Baltimore during the War of 1812. This theme stemmed from the choice of Baltimore for the 2023 American Society for Engineering Education's annual robotics competition.
Virginia Western engineering faculty member George Studtmann directed the competition, and Torc representatives also helped with judging.
For the Virginia Western event, teams were charged with building an autonomous robot that defends the fort by lobbing or delivering "cannon balls" (made of foam) to five attacking British Man-of-War ships. The "ships" were actually six-quart plastic tubs placed strategically on tables mapped out for the robots' progress through four trials. Four rectangular cards in the "beachhead" represented British shore assault landing craft.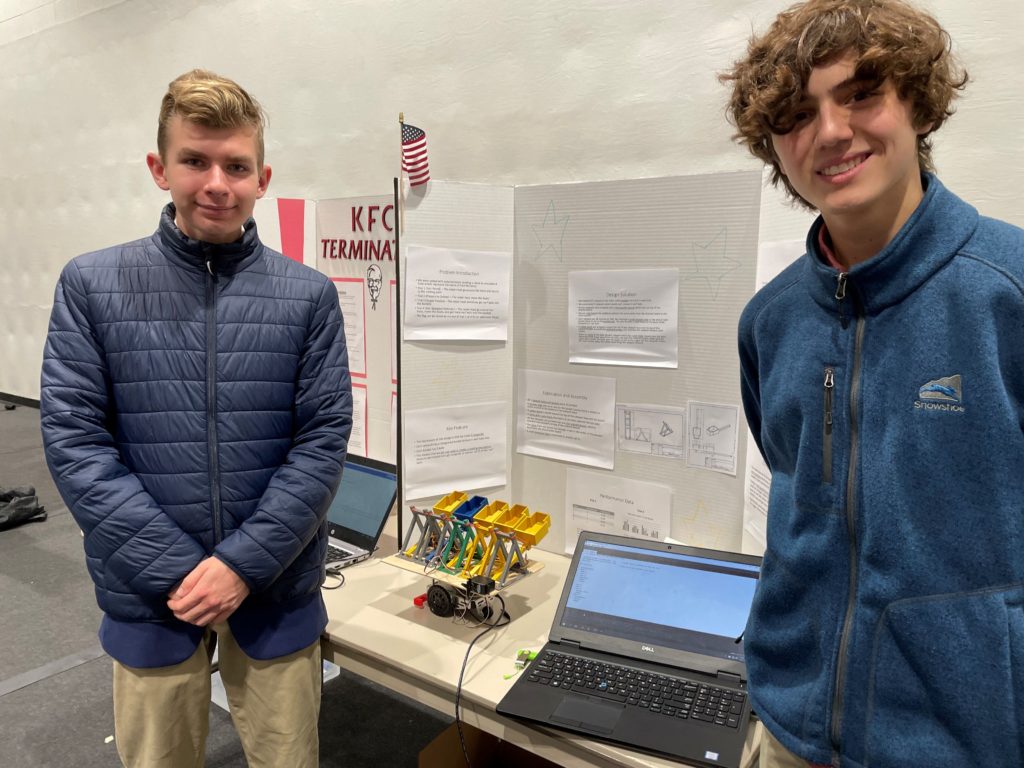 Before the robot time trials, each team participated in an exhibit session with a project poster board to promote their project to judges, other students and attendees of the event. This judging included questions about design evolution, robot operation, fabrication methods, design analysis and exhibit quality.
Four time trials determined more of the scoring:
Trial 1. "Fort Patrol" (navigation)
Trial 2. "Prepare to Defend" (knocking down or pushing back the shore assault landing craft)
Trial 3. "Target Practice" (shooting the Man-of-Wars)
Trial 4. "Star Spangled Defender": In this trial, the robot had 120 seconds to knock down or push back the four British landing craft and deliver five balls to each of the five Man-of-War buckets.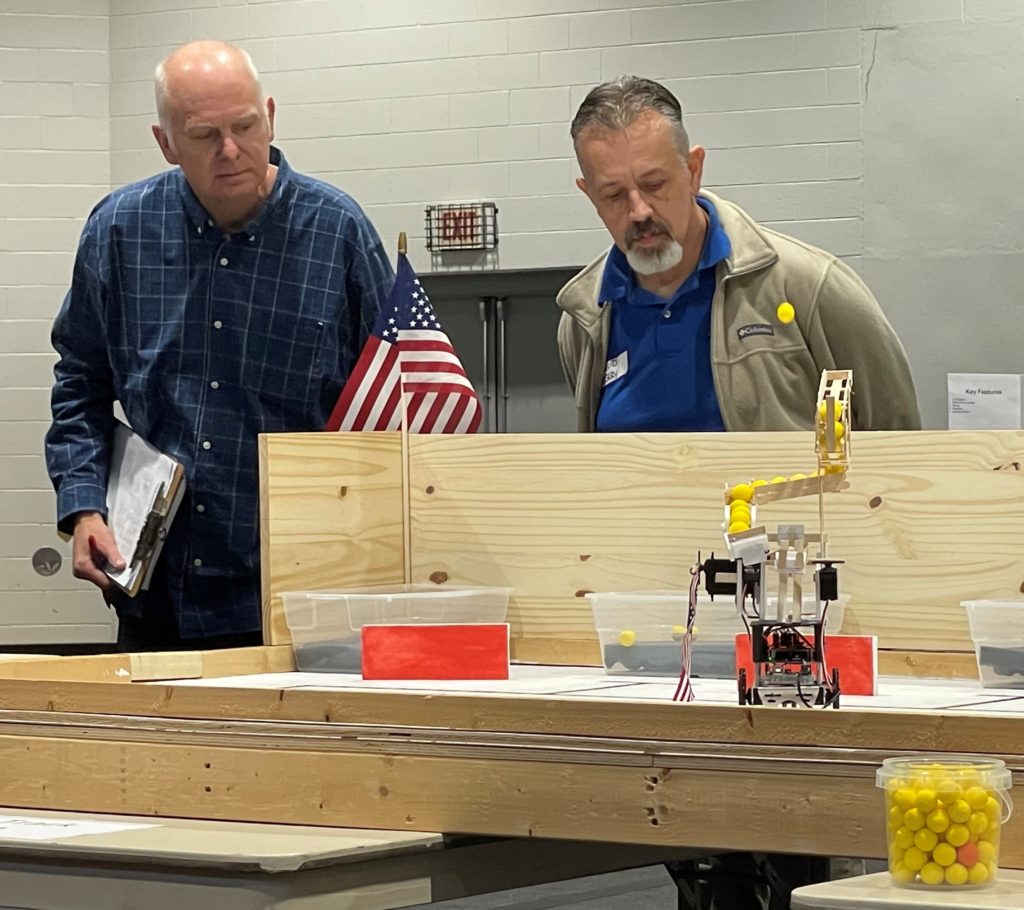 Target Practice and Star Spangled Defender gave the winning designs a chance to shine. Yellow foam balls evoked the National Anthem's phrase of "bombs bursting in air," as the best-performing designs maneuvered to the British vessels and shot their payload of balls, much to the cheers all those watching from the stands in the Gym. American defenders had a night to defend Fort McHenry, but each team had two minutes or less to carry out these missions. For an extra flourish – and in some trials, points – teams also programmed a small American flag to be raised on the robot.
Virginia Western students Nate Giraudeau and Abby Crosser made up the winning team, called Robot. The robot Jonathan, created by a team of Virginia Western students Will Walsh, Jacob Foster, Andrew Pham and Duy Ngo, placed second overall in the competition. They were also the top two college teams, with The Ball Launchers – Travis Dean, James Lusk and Ben Robinson – placing third. Nerf Fighters – Kendra Cuff and Chris Nguyen – placed fourth among college contenders.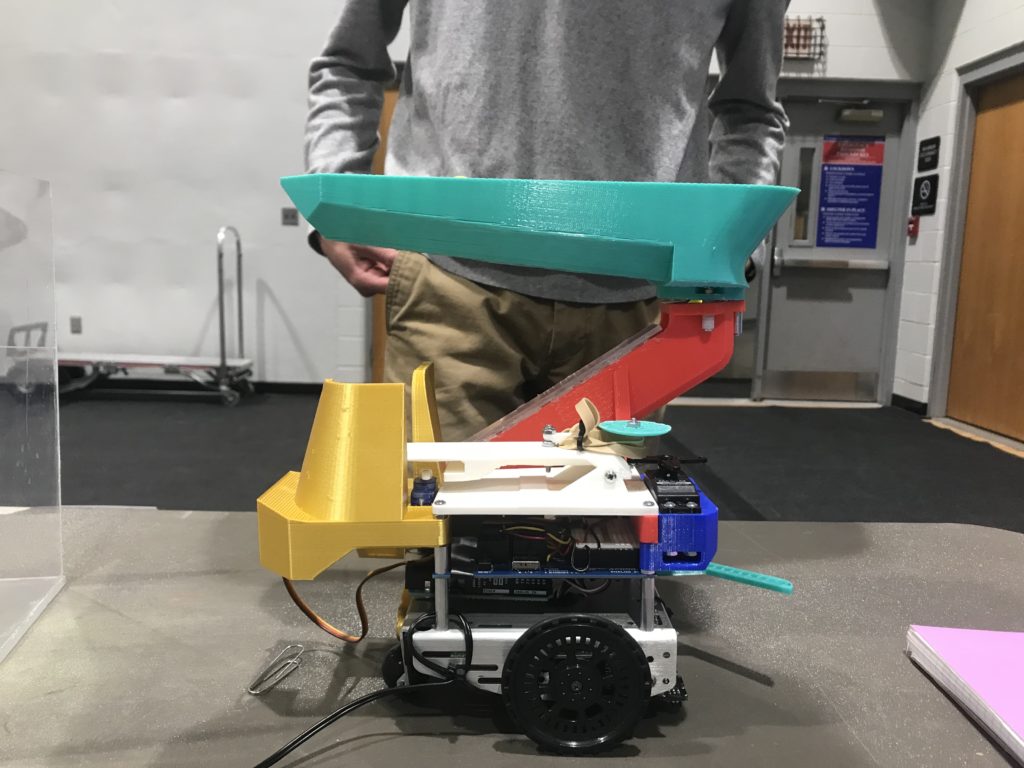 For the high school teams, the Cyber Knights II team of Gareth Graham and Alex Doherty placed first, with the fourth-best score overall. The Just Lucky team of Christian Harris and Matthew Moshier placed second among high school teams. Ninja Sharks, consisting of Jeffrey Whitacre, Owen Cooper and Daniel Bowling, placed third, and the team of Phoenix Foundation, Joshua Halsted, Michael Scherrep and Michael Yamatani, placed fourth among high school teams.
"We are so proud of the competition and the work that both students and faculty put into this very successful event," said Dean of STEM Amy White, who heads the School of Science, Technology, Engineering and Mathematics. "We also value the participation of our industry partners and feel that their presence gives students a great networking opportunity. It is a very exciting day – there is something pretty special about a gymnasium full of people cheering for student-designed robots!"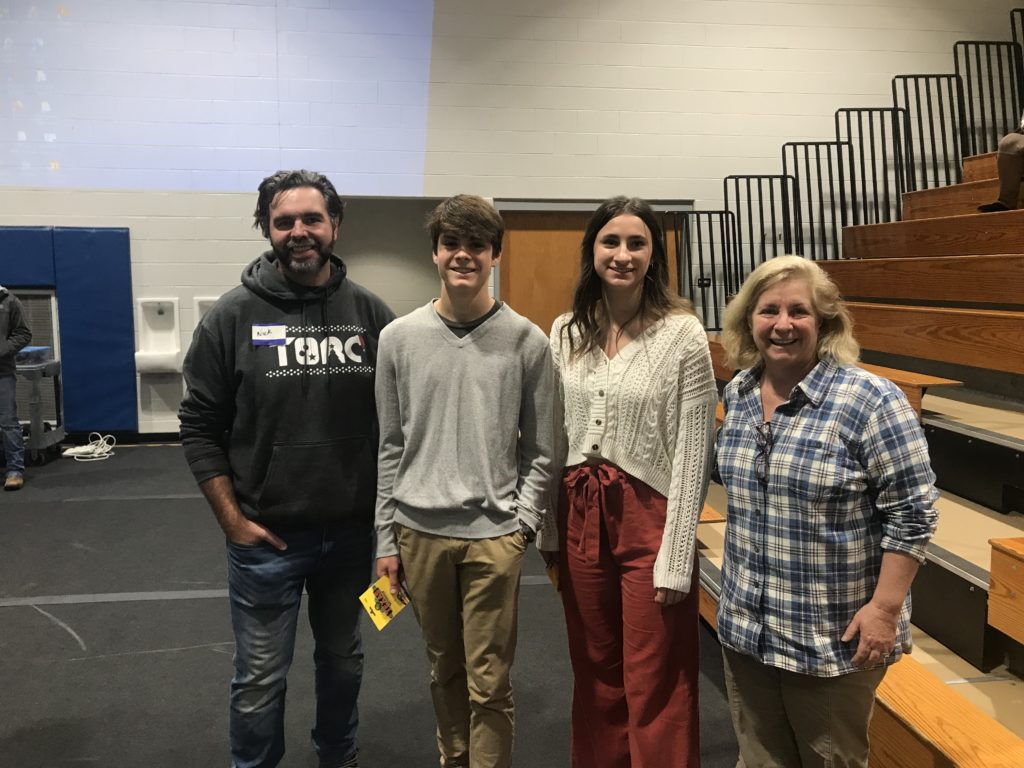 Before the time trials, students had the opportunity to rotate outside to learn how the same systems they are learning are being implemented on the road.
Walter Grigg, Leader – Industry Partnerships at Torc Robotics in Blacksburg, Va., led presentations on the company's work and mission. Torc Robotics brought an autonomous-equipped tractor to campus to demonstrate the hardware the firm has developed for long-haul transportation. Torc, which is a majority-owned subsidiary of Daimler Truck, conducts testing on Interstate 81 and a route between Albuquerque, New Mexico, and Amarillo, Texas, after rigorous testing on closed tracks. Grigg noted to students that all Torc vehicles have a driver, and that this would be the case for many more years of safety testing.
Students had the opportunity to ask questions about Torc and the direction of this technology. "These trucks will never displace a driver," Grigg said, because of a growing labor shortage in the industry, and because this technology is designed for a specific purpose of transportation from one terminal to another. He pointed out features of the tractor, including the use of radar, LiDAR and optical cameras, and explained the process of geomapping the road itself down to a piece of gravel in Texas.
Grigg, who is an alumnus of Virginia Western, said Torc participates in events such as the robotics competition to help foster the same "curiosity and inspiration that formed our own company," and "to make sure everyone we speak with understands our commitment to safety as we develop and commercialize this technology."