ROANOKE – A record-high 630 students are attending Virginia Western Community College tuition-free this fall, thanks to the private-public community partnership that funds the Community College Access Program (CCAP).
Since 2008, public localities and private donors have united in support of CCAP, which is the largest "free college" program at a Virginia community college. CCAP provides up to three years of tuition for recent high school graduates who meet program requirements, as funding allows. More than 3,872 Roanoke Valley students have participated in the program as of fall 2022.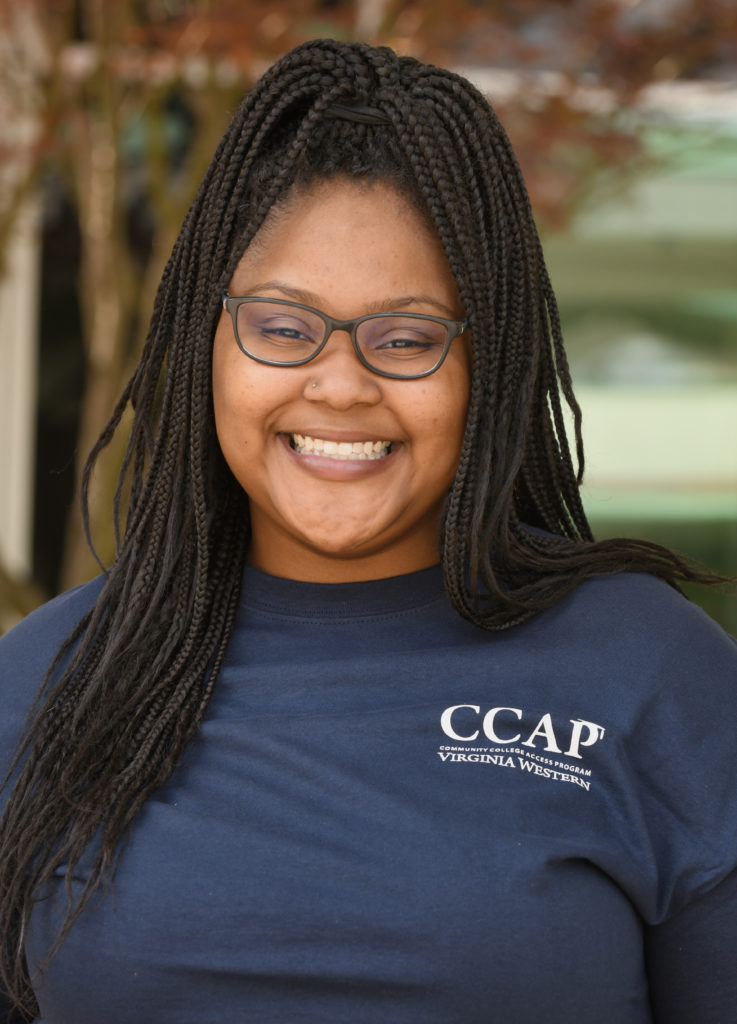 "Thanks to the community's dedication, commitment and belief in our young people, our high school graduates continue to be able to start their academic and career journeys close to home and enter a workforce that eagerly awaits them," said William Farrell II, Chair of the Virginia Western Community College Educational Foundation, a nonprofit affiliated with Virginia Western Community College.
The prior peak of CCAP participants was in fall 2015, with 551 students funded by the Educational Foundation scholarship.
"Increased funding by our locality partners opened the doors for more students to receive CCAP support," said Amanda Mansfield, Philanthropy Director of the Educational Foundation. "We are heartened that they recognize the critical link between Virginia Western students achieving degrees and certificates and building a stronger workforce. Our special acknowledgements go to to Roanoke and Botetourt counties for their dedicated expansion efforts."
Roanoke Valley high school seniors may apply for CCAP support in fall 2023 by filling out an online application by Feb. 1, 2023. Those interested in learning more about CCAP are invited to attend upcoming in-person and Zoom information sessions, scheduled for midday and evening times through January. Registration is required at virginiawestern.edu/CCAP.
They also can sign up for important CCAP updates about application deadlines, financial aid workshops and more by texting "CCAP2023" to 877-235-2279. (Reply STOP to cancel, HELP for help; message and data rates apply.)
CCAP recipients for fall 2023:
BOTETOURT COUNTY
First year: Courtney Amos, Kendall Bennington, Craig Bowyer, Sean Bralley, Faith Brandt, Kaitlin Burks, Jessie Cassell, Lena Chandler, Robert Chapman Jr., Justin Compton, Samuel Crane, Zachary Crawford, Casey Curran, Joshua Deaner, Aidan Dietrich, Lydia Dobbs, Wyatt Duckworth, Wesley Ferguson, Kyle Flinchum, Alan Gallimore, Tyler Gallimore, Julia Gillespie, Taylor Gunter, Savannah Hare, Emma Harrell, Reagan Harris, Faira Horne, Clay Houston, Austin Huffman, Sydney Jones, Ella-Grace King, Maxim Krimski, Noah Lankford, Cyrus LeNoir, Elizabeth Leonard, Sarah Lucas, Billie McClung, Micah McClure, Ryley McKinney, Bailey Mines, Yamile Moctezuma, Joseph Monaghan, Grace Montgomery, Kayla Myers, Tyler Newsome, Emily Nolan, Kassidy Paige, Chase Peery, Brianna Pigeon, Miyah Riley, Isabella Roberts, Cameron Rodgers, Aidan Rothwell, Carmen Sheppard, Jordan Shrewsbury, Brogan Shutts, Sydney Smith, Hayden Thomasson, Jordan Thornhill, Samantha Trent, Matthew Walker, Jonas Wilkes, Ethan Wilson and Courtney Zerrilla
Second year: Jackson Butler, Josh Davidick, Julia Desai, Desiree Gallimore, Lorien Griffith, Andrew Lawhorne, Brianna LeBlanc, Meredith Moran, Gabrielle Pickle, Caleb Snyder, Caroline Walker and Elias Whitt
Third year: Austin Allen, Coby Kingery and Zander LeNoir
CRAIG COUNTY
First year: Tanner Davis, Jennifer Fitzpatrick, Brayden Frango, Mason Huffman, Kaitlyn Radford and Chasity Wolfe
Second year: Autumn Hutchison, Jaela Hutton and Lucy Rigney
FRANKLIN COUNTY
First year: Makayla Alley, Katelynn Altice, Kaylee Altice, Cameron Angell, Nastazja Bennett, Emma Bowman, Harley Brooks, Zach Brooks, Jacob Brown, Teresa Carroll, Wendy Carter, Cynthia Castaneda, Zac Chittum, Emma Cox, Carly Davis, Ethan Davis, Heidi Delgado-Garcia, Lorena Delgado-Salinas, Bakari Deskins, Catherine Dickenson, Marshall Dickerson, Olive Dill, Luke Divers, Olivia Dow, Seth Durr, William English, Erica Garcia, Stone Gibbs, Alexandria Gregory, Aiden Hall, Rylee Hall, Chase Harendt, Zachery Haynes, Caleb Henderson, Alyssa Hodges, Landon Hodges, Hatcher Holyfield, Michael Jones, Payton Jones, Aiden Keith, Elliott Kemp, Thurston Krulikowski, Donald Lampley, William Leary, Danielle Ledbetter, Nicolas Leon Guzman, Dylan McCown, David Patterson, Devin Powell, Lakota Pridgen, Gavin Pulley, Madison Regan, Anna Rider, Amanda Roberts, Hayley Sanders, Hunter Shively, Lindsey Smith, Reagan Smith, Peter Spangler, Morgan Sydenstricker, Makayla Vaught, Emma Walker, Nathaniel White, Charlotte Winch, Hannah Woodford, Selah Wright and Haley Zwolinski
Second year: Daniel Angle, Mary Atkins, Jade Bennett, James Bridges, Jared Caudill, Robert David, Krista Dudley, Landon English, Grace Hahn, Pamela Hostutler, Nicole Kingery, Stefan Knott, Samuel Krauss, Skyler Light, James Lusk, Ethan Meade, Tommy Nguyen, Luke Pasley, Eliza Quesenberry, Isaiah Richards, Michael Shanahan, Sadie Sheppard, Bianca Sink, Juliana Slate, Rylie Turner, Hailey Vanover and Zoey Wood
Third year: Caleb Cokendolpher, Jacob Flora, Bethany Graham, Skylar Grigorieff, Casey Hodges, Nathaniel Hodges, Taylor Janney, Courtney Johnson, Jacob Lemon, Karly Mullins and Kavyn Page
ROANOKE CITY
First year: Bibi Sarah Alakozai, Hope Avis, Sungula Ayamba, Isaiah Bailey, Welshney Balisage, Jason Bates, Na'Mauri Bonds, Benjamin Bonesteel, Ethan Bowlby, Justina Bradbury, Savannah Brewbaker, Moises Castaneda, Alyssa Coleman, Nicholas Cothran, Benjamin Craft, La' Tazia Crouch, Mia Cundiff-Thephasouk, Jamar Davis, Kateleigh Dillon, Makayla Duff, Levi Duncan, Dario Duran, Jonathon Espinosa, Jazavier Ezekiel, Diego Figueredo, Kelsey Foutz, Gonzalo Gallo, Anthony Garcia-Davila, Mia Garza, Greta Gearhart, Stephanie Gonzalez-Cordoba, Karli Hall, Lizet Hernandez, Reilly Hill, Paris Hobbs, Isaiah Humbert, Kenneth Jones, Lucas Kennedy, Micah Keyser-Rothgery, Taliyah Kotz, Benjamin Kraciuk, Matthew Kreppeneck, Ryan Lamb, Campbell Land, Phoenix Laney, Daniel Launderville, Gary Lemon, Jasime Letterman, Griffin Lewis, Alexander Lopez-Bravo, Sophia Lovejoy, William Lowe, Kylan Lundy, Abina Magar, Gavin Manning, Eden Martin, Kenisha Maurice, Gwenyth McCormick, Mariah Mitchell, Deepak Monger, Calvin Montgomery, Jose Morales, Nathan Morrow, Anna Murphy, Keona Nicholson, Michael Oldson, Kimberly Parrish, Benson Pietrzyk, Charles Preston, Julissa Ramirezlopez, Eleanor Reddan, Roberto Reyes, David Richardson, Tra'Quan Robertson, Emma Rodriguez, Unqique Rosser, Kendall Scott, William Serfass, Kianna Simmons, Mason Smiley, Christopher Smith, George Songer, Joshua Spencer, McKenzie Talley, Sapana Tamang, Jayden Thomas, Alianna Tribble, Otto Tyler, Oscar Vilchis-Trejo, teauree vincent, James Weeks, Cydney Williams, Uriah Williams, Dyamond Woods, Samuel Workman, Thomas Wright and Vienna Yugo
Second year: Meghan Alexandre, Aryal Allie, Mario Ball, India Best, Shaniyah Byers, Travis Dean, Samantha DeSouto, Zavier DiStefano, James Dowe, Areonna Ellison, Arionna Ferrell, Jacob Foster, Puspa Ghorsai, Ayanna Gibens, Jonathan Guerrant, Jordan Ham, Lorin Hanger, Cristal Hernandez- Cortes, Shrouq Ibrahim, Jasmique Jones, Eamon Lash, Maggie Layman, Nicholas Maiolo, Erynn Martin, Andrik Mendez Ayala, Roman Moody, Grace Morrow, Duy Ngo, Chris Nguyen, Lacie Oyler, Alexandra Rodriguez, Jeffrey Sebastian, Sonja Taylor, Justine Thomas, Onaca Umak, Aniya Walker and Jasmine Woodson
Third year: Erika Claros, Troy Fitzgerald, Madison Moore and Wardah Rasheed
ROANOKE COUNTY
First year: Arianna Adebiyi, Michael Amoroso, Carmen Anderson, Andrew Ballinger, Ryan Barbour, Sara Bechtold, Chayton Behrens, Victoria Bell, Bryce Bennett, Alyssa Bishop, Noah Bone, Nicholas Borchevsky, Hadley Brandetsas, Trinity Bridgen, Abigail Brown, Bryce Brunelli, Bennett Burger, Nicholas Carter, Don Casil Jr., Mason Cass, Sara Chapman, Jonathan Chen, Chloe Clark, Sidney Clemmer, Madison Coffer, Elias Coleman, Megan Coleman, Connor Colgan, Elizabeth Collins, Benjamin Cook, Hannah Cooper, Ethan Corbett, Treveon Cossaboon, Landon Cox, Ryan Crouch, Elliot Danz, Kiera Davidson, Sheridan Dooley, Gavin Dorsey, Colin Doyle, Riley Duncan, Sarahann Earls, Brooklyn Eaves, Sierra England, Kellan Enos, Makayla Entsminger, Conner Evans, Justine Fizer, Isabella Franco, Aidan Franklin, Josie Galliher, Mikaila Gentry, Connor Gilkeson, Victoria Goodman, Haley Gowen, Ashley Griffin, Abigail Gunn, Lilymae Gunter, Reese Guth, Breanna Hall, Kailyn Hardy, Samuel Hart, Olivia Hartman, Jasmine Hefner, Sadie Henderson, Nathan Hendrick, Holly Hinchy, Nathan Hinkle, Kaiya Hoagland, Kenley Hodges, Sean Hoey, Molly Holthouser, Reese Hood, Jason Hunter, Blaise Ingram, Robert Janney, Cole Jarrett, Bryce Johnson, Rebecca Justice, Pyxle Karnes, Mercedes Kastner, Tanner Kennedy, Brianna Kinnally, Sofia Kouser, Cheyenne Lawless, Tiffany Le, Nathaniel Linkous, Vinton Mai, Jay Marshall, Landon Marshall, Jayson Marvin, Josiah Mauceri, Zachary McCroskey, Logan McDaniel, Taylor McKay, Dylan Mills, Ashley Moore, Ryan Moore, Kamaya Moorman, Julianne Morgan, Clinton Morris, Elizabeth Morris, Erika Morris, Aayusha Neupane, Steven Nguyen, Tori Nininger, Ella Overstreet, Noah Painter, Shivani Patel, Donovan Phoebus, Thomas Pierce, Andrew Pronko, Hannah Puskar, Brock Rader, Madelyn Richardson, Abigail Ricker, Evan Ridinger, Kendal Seale, Emma Silva, Jackson Simmons, Jamie Small, Damien-Chaos Smith, Faith Smith, Kayla Smith, Levi Smith, Thoo Lay Soe, Andrew Sowder, Logan Stump, Belma Subasic, Kaile Surrell, Lainey Thornhill, Chase Tinsley, James Tozier, Lana Turner, Amra Vatres, Ethan Wade, Logan Wade, Gracie Walker, Greta Walls, Colin Webb, Laine Wegener, Madison Williams, Katelyn Wissinger, Carson Wood and Cameran Zimmerman
Second year: Brandon Acker, Grant Alderson, Hailey Bryant, Haley Church, Michaela Clarke, Rachel Cruff, Tyler Cundiff, Erin Curtis, Jaylin Delby, Victoria Deweese, Isabelle Divers, Abigail Estrada, Jordan Gearhart, Makayla Grubb, Eva Harner, Emily Harrell, Noah Hartson, Wilkin Hatfield, Kailey Henderson, Destinee Holland, Jerry Huang, Ellyson Hurd, Noah Kargman, Kyler Kleinhenz, Eli Klepper, Andrew Kroese, Robbie Kyle, Jacob Mardian, Catherine McCown, Matthew Miles, Alaina Miller, Zachary Moore, Danielle Moser, Anne Notebaert, Megan Painter, Franchesca Pernot, Kylie Ralston, Jordan Read, Katherine Richards, David Richardson, Benjamin Robinson, John Rusinak, Javon Saunders, Seth Schindler, Dylan Smith, Andrew Sorial, Elijah Spencer, Matthew St.Clair, Annie Stevens, Chyenne Sweeney, Mackenzie Sylvester, Conner Thompson, Steven Tingler, Caleb Tinsley, Charlie Urgo, Sarah Varney, Julie Wang, Grace Willis, Taylor Wood and Hannah Young
Third year: Merima Adanalic, Amber Arthur, Sophie Currier, Jayden Glass, Mason James, Colin Jones, Savanna Lear, Maia Lemore, Conner McKinney, Nathan Patrick, Ariana Pineda, Wilson Shi-Wang, Eden Walls and Lynden Whicker
SALEM
First year: Joshua Albert, Taylor Arons, Hunter Bayne, Dylan Bender, Emma Blevins, Otoniel Bobe Cummings, Reginald Brown, Maigen Burton, Kylie Butt, Miles Canlas, Michael Carlos-Benitez, Kenley Coleman, Matteo Collins, Holdon Colwell, James Convery, Isabella De Lieto, Thomas Delby, Matthew Ewing, Ayden Fesperman, Alexandria Folden, Calvin Foster, Bailey Fralin, Gabriel Goldston, Jordan Jennings, Sarah Jones, Joshua Kiser, Gabriela Kline-Reyes, Sean Laughlin, Anesline Lumile, Zachary Mangone, Samuel Miles, Logan Milton, Lindsey Moran, Noah Morgan, Owen Mossor, Christian Nolasco-Jacobo, Kalin Paxton, Aaron Peters, Catherine Pugh, Andrew Puthenpurackal, Vance Richards, Christopher Robertson, Elena Sable, Collin Scaggs, Jackson Seto, Ryan Shearer, Harrison Smith, Brenden Steele, Layla Trice, Lily Webster, Connor Weeks, Alyssa Winters, Stephen Witt and Addison Wolfe
Second year: Malak Altawel, Zachary DeSouto, Maggie Duncan, William Jenkins, Jordan Lucas, Adriana Justo Ortiz, Josie Phillips, Jada Prater, Rebekah Rothkopf, Liya Santhosh, Rafe Scaggs, Carter Schaeffer, Kyleigh Smithey and Gabrielle St. Amour
Third year: Elijah Boyer, Grace Kelley, Regan Laughlin, Bailee Lintner, Christopher Murphy and Annalise Smith
For more information about CCAP, see virginiawestern.edu/ccap or contact Carolyn Payne, CCAP Coordinator: (540) 857-7544 or cpayne@virginiawestern.edu.