Project helped gaming club members transition back to campus
Virginia Western Community College has a new campus location – this one in the gaming world of Minecraft.
Student members of the Gaming Club developed the idea and began construction of the virtual campus during the pandemic. While most clubs struggled to keep students engaged and active during the pandemic, this activity gave members a common goal to unite around and helped them transition back to in-person learning. It took them about nine months to complete the project, with the final touches being added as they returned to campus last fall.
"When students find a common goal and something that brings them together to work toward that goal, the results are amazing," said Natasha Lee, Virginia Western's Student Activities Coordinator. "These students care about the campus, and this project gave them something to rally behind when they were getting burnt out from their normal."
In addition to bringing the students together, all students who participated played a role, from architects to managing the logistics to communicating with other members. Practicing these soft skills through this project will help them transition to the workplace, Lee added.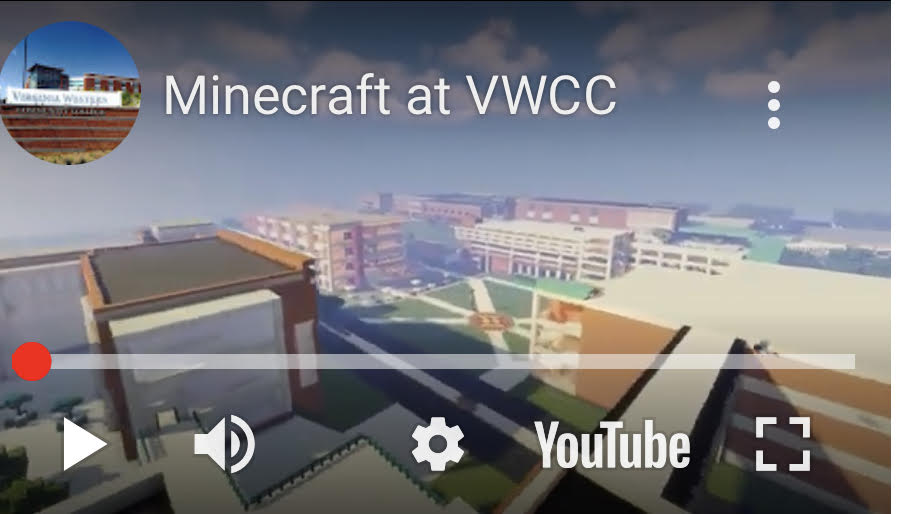 Their creation is viewable at https://www.virginiawestern.edu/student-life/minecraft/, and can be used for virtual tours and exploring campus. It may help incoming students learn building locations and help plan walking routes from parking lots to classrooms. It's also going to be used as a recruitment tool to showcase the campus in a fresh, fun way that high school students can connect with. Minecraft users can download the files and add them to their own virtual game.
The Gaming Club is one of around 20 student organizations at Virginia Western. The College supports a variety of club types, from academic to social and special interest groups – all based in the Maury and Sheila Strauss Family Student Life Center. Students can meet others in their program of study, or meet friends to support them through the college experience.
"This week, a student in the Computer Science Club shared that he learns so much in club meetings that he is doing better in his classes this semester," Lee said. "He finds the club is a place to learn in a creative way, and to collaborate with classmates. Clubs are an outstanding way to support our learning environment at Virginia Western."