Edwin C. "Ed" Hall of Roanoke, Va., has received the 16th Annual Chancellor's Award for Leadership in Philanthropy. He was nominated for the award by Virginia Western Community College.
More than two dozen individuals, families, and businesses from around Virginia have earned the 2022 Chancellor's Award for Leadership in Philanthropy. The awards were presented at a luncheon ceremony in Richmond on April 21, 2022.
The annual event, hosted by the Virginia Foundation for Community College Education (VFCCE), honors leading philanthropists from each of Virginia's 23 community colleges as well as the statewide foundation. Recipients are nominated for their outstanding commitment to the growth and development of Virginia's community colleges and their respective foundations.

This year's class of distinguished philanthropy leaders has collectively contributed $10 million to Virginia's Community Colleges.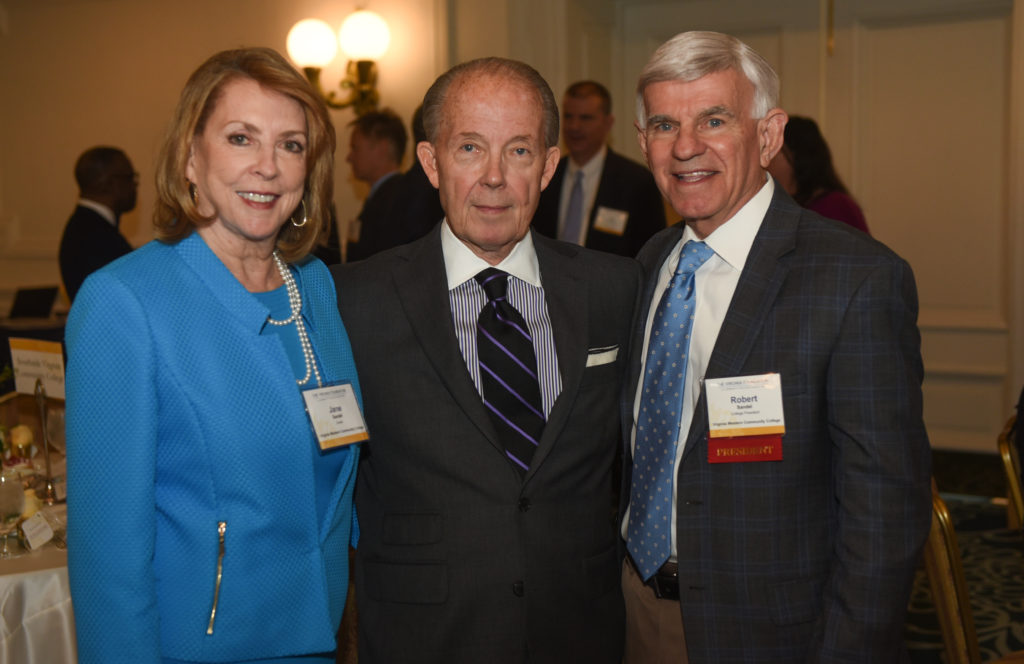 Hall, founder of the Roanoke-based real estate firm Hall Associates Inc., pledged a multigenerational planned gift in 2021 to the Virginia Western Community College Educational Foundation. Initial giving is valued at $1 million to support the Virginia Western Forward Permanent Endowment Fund: a vision of Dr. Charles W. Steger Jr., plus $250,000 for the Virginia Western Rapids Response Student Emergency Fund. Generational giving will culminate in a further multimillion-dollar gift to the Virginia Western Forward endowment fund.
This legacy giving is in addition to Hall's previous gifts of $1.1 million to establish and support Virginia Western's Hall Associates Career Center; $100,000 for the Edwin C. Hall Endowed Chair for Management: Entrepreneurship; and the establishment of the Glenna H. Hall Memorial Endowed Scholarship for Women in Business established by Edwin C. Hall. Mr. Hall serves as Chair of the Educational Foundation's Scholarship and Grants Committee and is a Board of Directors past-president.
"Ed's support of the College is nothing short of a partnership," said Virginia Western President Dr. Robert H. Sandel. "He has taken the time to get to know our students and their needs. He's now shared that commitment with his family, which will only magnify his overall impact to the College."
Among the numerous VIPs on-hand for the Richmond luncheon were Chancellor Glenn DuBois; State Senator Ghazala Hashmi: Anne Holton, former Virginia Secretary of Education and professor of Education Policy at George Mason University: and Dr. Stewart Roberson, past chair of the VFCCE. Dr. Bill Hazel Jr., former secretary of Health and Human Resources, was the event's keynote speaker.
Recipients of the 2022 Chancellor's Award for Leadership in Philanthropy:
BLUE RIDGE Lisa & Bill Moore
CENTRAL VIRGINIA Fred Armstrong
DABNEY S. LANCASTER Bank of Botetourt
DANVILLE City of Danville & Pittsylvania County
EASTERN SHORE David Landsberger
GERMANNA Jackie & Ted Hontz
J SARGEANT REYNOLDS The Lipman Foundation
JOHN TYLER Sandra "Sandy" & Edwin "Ed" Via
LORD FAIRFAX Claude Moore Charitable Foundation
MOUNTAIN EMPIRE The Rapha Foundation
NEW RIVER Mary Jean & John Brown
NORTHERN VIRGINIA Rosalie Lesser
PATRICK & HENRY Sovah Health-Martinsville
PAUL D CAMP Enviva Biomass
PIEDMONT Albemarle County Rotary Club Foundation
RAPPAHANNOCK                      Cammie & Stuart Flanagan

REYNOLDS                                  Patricia "Pat" Rooney
SOUTHSIDE VA SHINE (Solar Hands-On Instructional Network of Excellence)
SOUTHWEST VA Mary Sue Whitt & Sandy Whitt
THOMAS NELSON Sandra McKenzie
TIDEWATER                            Sentara Healthcare
VIRGINIA HIGHLANDS            Loyal Order of the Moose of Washington County
VIRGINIA WESTERN Edwin C. Hall
WYTHEVILLE Family of Matthew Todd Ridgaway
VFCCE Jane & Dan Dixon
About Virginia's Community Colleges: Since 1966, Virginia's Community Colleges have given everyone the opportunity to learn and develop the right skills so lives and communities are strengthened. By making higher education and workforce training available in every part of Virginia, we elevate all of Virginia. Together, Virginia's Community Colleges serve more than 252,000 students each year. For more information, please visit www.vccs.edu.
About the Virginia Foundation for Community College Education: Working hand in hand with Virginia's 23 community colleges, the Virginia Foundation for Community College Education seeks to guarantee financial assistance to all students who dream of attending college. The foundation is building an endowment that is already generating interest to provide full scholarships to selected community college students; helping more Virginia foster youth pursue and complete higher education through the Great Expectations program; and leading a partnership to improve rural Virginia's education pipeline through the Rural Virginia Horseshoe Initiative. Learn how the Virginia Foundation for Community College is building the future of Virginia. Visit VFCCE.org.