Student clubs and campus departments are invited to create around the theme of "Opportunity"
The Student Activities office is collaborating with the Virginia Western Educational Foundation to offer an exciting contest and club fundraiser this spring. The Sidewalk Chalk Art Show will be held Monday, April 11, 2022, in the STEM Courtyard. (Rain date is Thursday, April 14.)
Student clubs and campus departments are invited to participate in this creative activity to connect students to the Educational Foundation's resources and support. The contest theme is "Opportunity," reflecting the Foundation's drive to support Virginia Western students with an increasing amount of scholarship awards every year. Applications for the fall scholarship cycle are due by May 1, 2022. Apply here.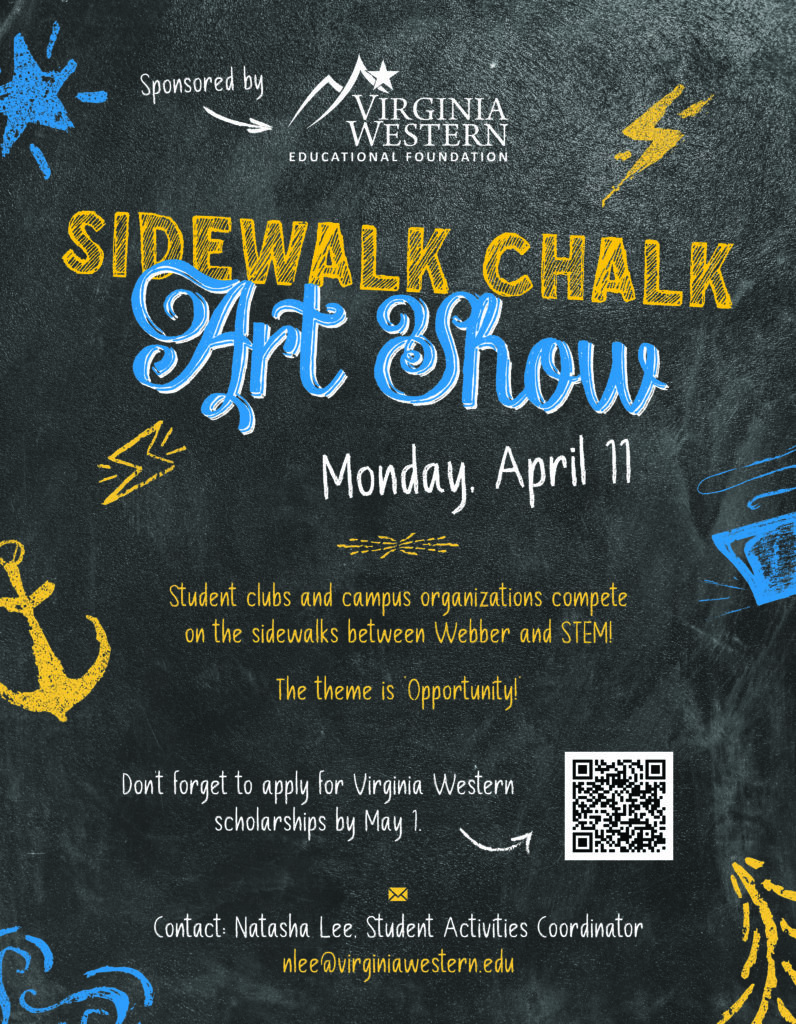 Contest details:   
Each group will have four squares of the STEM Courtyard sidewalk designated for the chalk artwork. The artwork should be completed in one day, although the planning for the design should be taking place in advance. We have approximately 20 sections available (four sidewalks squares each – 2×2 to form a big square). When creating your design, consider the following: What does your club represent? How can you use the design to showcase the activities of your club? How does your art connect to the theme "Opportunity?" We can't wait to see your creativity! Need help getting started? Just Google "Chalk Art Show" and you will be inspired!
The chalk art will be completed on Monday, April 11, and will be judged at the end of the day. Pending weather and other natural conditions, the art will be available for viewing for the week. Your group can start at 9 a.m. and must be finished by 3 p.m. for judging.
Club prizes:
Artists from the Roanoke area will be serving as judges, with a special prize from Dr. Robert H. Sandel, College President.
$150 – "President's Pick"; $125 – first place; $100 – second place; $75 – third place. (Art will be judged on the criteria of creativity, interactivity, use of color, incorporation of theme, connection to club purpose). Winning funds will be deposited into the Virginia Western club account. All clubs participating will receive $50 for their club account from the Student Activities Office.
Department prizes:
We invite campus departments to join in the fun! Campus departments will be judged separately from student clubs. The first-place department will receive a complimentary breakfast from the Educational Foundation in Fall 2022.
Other details:
Squares will be preassigned. Clubs will receive chalk and will have access to 3M painter's tape. Groups may not use any other materials than those provided that will be fixed to the sidewalks (requirement by College to protect the VWCC property). For your planning purposes, the chalk being provided is located here https://shop.crayola.com/toys-and-activities/sidewalk-chalk-24-count-5120240007.html and the painter's tape (shared among groups) is located here: https://www.lowes.com/pd/Scotch-2060-1-41-Wx-60-L/1002095830. For clarification, groups can use stencils, string, or other items to create their design — just nothing that actually sticks to the sidewalk other than the chalk and provided tape. A few extra boxes of chalk will be available as a backup.
How to participate:
An advisor, club officer or department liaison should email Natasha Lee, Student Activities Coordinator, by Monday, April 4, at nlee@virginiawestern.edu. Please make sure your entire club is on board before confirming. Participating groups will receive a followup email with additional instructions.
We can't wait to see your designs on the Courtyard!