(To be published in the Winter 2021 edition of IMPACT! magazine, a publication of the Virginia Western Community College Educational Foundation.)
A lifelong learner, Allan Sklar, M.D., is an area nephrologist who has spent the past 15 years practicing in Roanoke, Martinsville, Blacksburg and the New River Valley. Two years ago, as he approached retirement, Dr. Sklar sought to satisfy a lifelong desire to study modern physics with an ultimate goal to study the philosophy of physics. Initially, he thought that he would have to move to a university town to achieve this goal. He met with the head of the physics department at Virginia Tech, who recommended that he begin his studies at Virginia Western Community College, a stone's throw from his home in Roanoke. A physics professor, Dr. Yangsoo Kim, who formerly taught at Virginia Tech, was now at the College. Dr. Sklar ultimately took not only Dr. Kim's courses on university physics at the college but, over a two-year period, five advanced math courses that are required to comprehend the language of physics. His experience as a student at Virginia Western inspired him to establish the Virginia Western Student Tutoring Fund.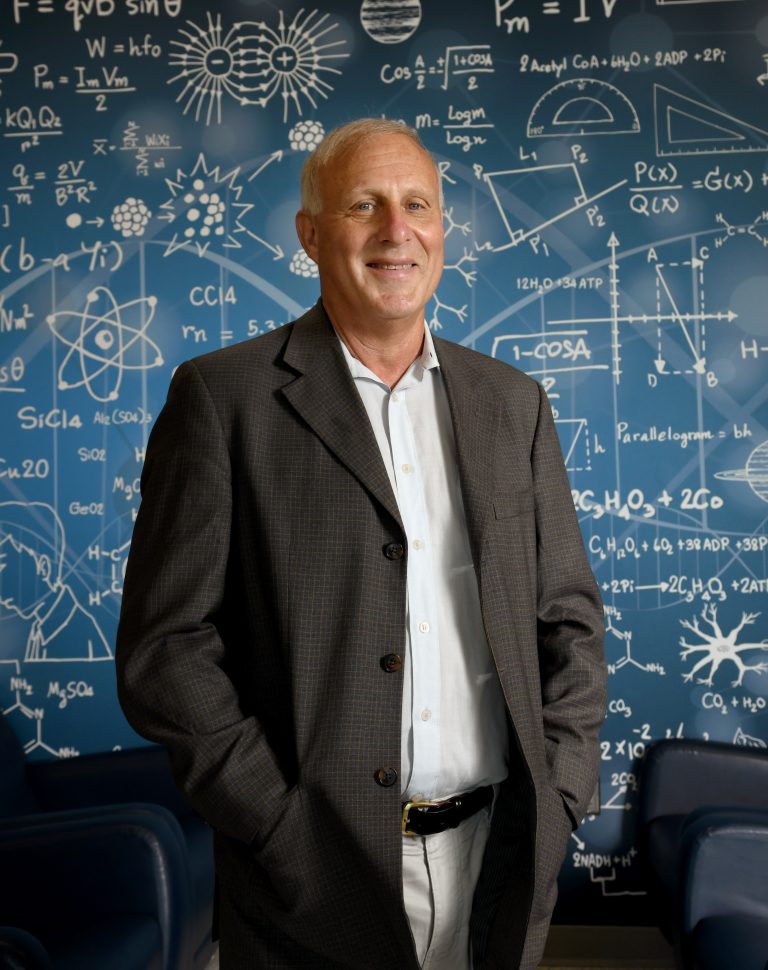 Q: What are your impressions of the academic environment at Virginia Western?
Early on, I had concerns that I might encounter a lot of sophomoric behavior at the College but, instead, discovered a healthy, mature and mutually-respectful environment. My experience at Virginia Western has given me confidence that we are raising a generation of young people that will be capable of leading us to a better future.
I was impressed with the work ethic and ability of many students whom I encountered in class and at the Tutoring or STEM Center. There is a contingent of students who are military veterans, and they lend an added dimension of discipline and goal orientation to the academic experience. I found myself among a very intelligent and committed group of students in their freshman and sophomore years, several of whom moved on with an associate degree to university programs. I was glad to see that Virginia Western's motto — "We'll take you there" — is actually true.
I was also very impressed with the caliber of and commitment to teaching by the faculty members. In addition to holding regular office hours, these instructors devote time to the STEM Tutoring Center on a daily basis to provide students with more in-depth explanations of homework problems in a more casual setting. In general, the faculty make themselves more available to students than do many of their counterparts, often involved in research activities, on the larger university campuses.
Q: You spent a good deal of time at the STEM Tutoring Center. Why?
The Center is a perfect place to study with other students and receive extra support and attention. While the bulk of tutoring falls on the shoulders of senior students who have been selected to help others, there are often more experienced tutors available as well.
For example, there is a senior perennial tutor, Robin Johnson, who has a phenomenal level of math and science knowledge as well as excellent teaching skills and has been of tremendous help to the students who flock around her. Again, what makes the Center truly special is faculty involvement.
Q: In addition to the STEM Tutoring Center, how did you find the facility overall?
The STEM building is brand new, with state-of-the-art classrooms and laboratories, equipped with modern instruments including a phase contrast fluorescence microscope, a multiphoton confocal microscope, a scanning electron microscope, spectrometers, 3-D printers and a collaborative robot. The classrooms, labs and equipment are not at all usual for a community college, perhaps not even for many four-year universities. It needs to be promoted!
Q: What was your experience like as a nontraditional student?
Well, on a personal note, despite my "senior status" I felt embraced by the faculty and students alike. My presence at the STEM Tutoring Center opened up another door for me. The supervisor at that time, Patti Tyree, introduced me to a new tutor, a PhD physics graduate who had just arrived from Oxford University in England. I am now receiving private lessons in modern physics from him. We have reviewed electricity, magnetism and special relativity in depth, and are now digging into quantum mechanics. These disciplines heavily depend on understanding of integral and multivariable calculus taught to me by Ms. Ruth Sherman and linear algebra and differential equations that I learned from Mr. Joshua Shelor. So the College definitely has "taken me there."
Q: Can you share your thoughts on philanthropy in general and on your choice of Virginia Western as a focus for your philanthropy?
Philanthropy has to fill the void that persists in social, artistic, educational and other human endeavors for which funding from state and religious institutions may be inadequate. There's certainly a gap in funding and support for various nonprofits. The arts, education, social needs, medical research – that's where philanthropy comes in.
Why Virginia Western as a target for my financial support? I believe that it derives from a feeling of indebtedness and gratitude to the institution. I think of it not so much as "giving" as "giving back."
Q: What drove you to support the Virginia Western Student Tutoring Fund?
Again, I found myself among a very intelligent and committed group of students at Virginia Western, often working one or two jobs to support themselves through college. One of my math teachers informed me about the fact that many of these students struggle financially, even suffering with food insecurity, and could use some support. These students are going to be important members of our society and leaders in their fields of endeavor. I wanted to support that next generation of excellence, as well as help those in critical or emergency need as a result of the pandemic.
Q. What advice would you give a student sitting in front of you, trying to frame their own future?
The first step is to identify a field that not only appears to offer a stable future career opportunity but also one for which you have a real passion in which you can sustain interest. Pursuing a professional career involves a great deal of tenacity and hard work. There's no way to cut corners or take shortcuts if you want to succeed. I would recommend taking a look at your community college to initiate the journey along that long road to professional satisfaction. In our region, Virginia Western Community College is truly a jewel with much to offer.