When spring classes at Virginia Western Community College were abruptly moved online last spring, many students found themselves unequipped to continue learning. Many didn't have personal computers or internet service, and they didn't have the finances to pay for these new necessities.
That was the case for William Hobbs, who was enrolled in computer and business classes last semester on his path toward an Integrated Environmental Studies degree. His Chromebook didn't meet the requirements for his classes, and having lost his job due to the pandemic, he was unable to afford a new computer.
Money from the Virginia Western Rapids Response Fund allowed Hobbs to get a Windows-based laptop and prevented him from falling behind with his course load. He is on track to finish his associate degree this spring and plans to continue at University of Virginia or Virginia Tech next fall.
"I desperately needed a new computer so I could continue working on school," said Hobbs. "I would not have been able to complete my coursework if it wasn't for the financial help that the emergency funds program provided me. I'm very grateful for the opportunity and help I received, and I would highly recommend it to my peers if they are in financial need."
Established by the Virginia Western Educational Foundation in 2005, the relief fund was set up to provide financial support (up to $500 per year) to students for unexpected emergency needs such as medical issues, car repairs or technology issues. The influx in applications this spring and fall affirms the increased hardship students are facing because of the pandemic. Nearly $4,000 has been awarded this year so far, nearly three times the amount as last year.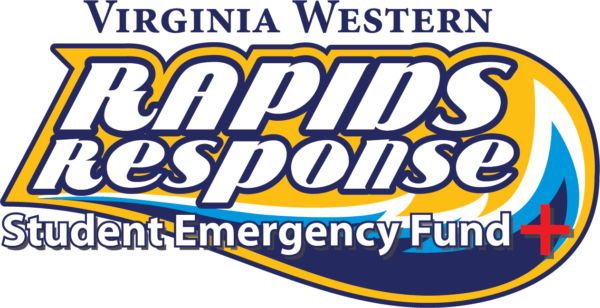 "We don't want students to have to choose between pursuing their academic goals and basic needs," said Amanda Mansfield, Philanthropy Director for the Education Foundation. "Now, more than ever, our students need our support to navigate their academic and personal lives so sustaining this fund is even more critical."
Click to donate to the Virginia Western Rapids Response Student Emergency Fund