Professionally, Rachelle Koudelik-Jones has always been a numbers person. As a mathematics professor, she showed her students how the study of calculus and statistics create exponential opportunities in their lives and careers. As the Dean of Institutional Effectiveness (IE), she has been counted upon to lead Virginia Western Community College's re-accreditation and strategic planning efforts, all while figuring out new ways to recruit and retain scores of students. She has always been willing to take on additional duties while accepting a fraction of the credit.
Math has always added up for Rachelle. To those who work with her, though, it is difficult to sum up just how much she means to them and to the college.
"Rachelle is one of those special people who can work with every segment of the college. The faculty and staff believe in her and when she says something, they know it has been well thought out and researched," says Dr. Robert H. Sandel, President of Virginia Western. "We all care so much for her and her health struggles impact all of us. We want her to get better and back to work when she is ready. We need her more than ever."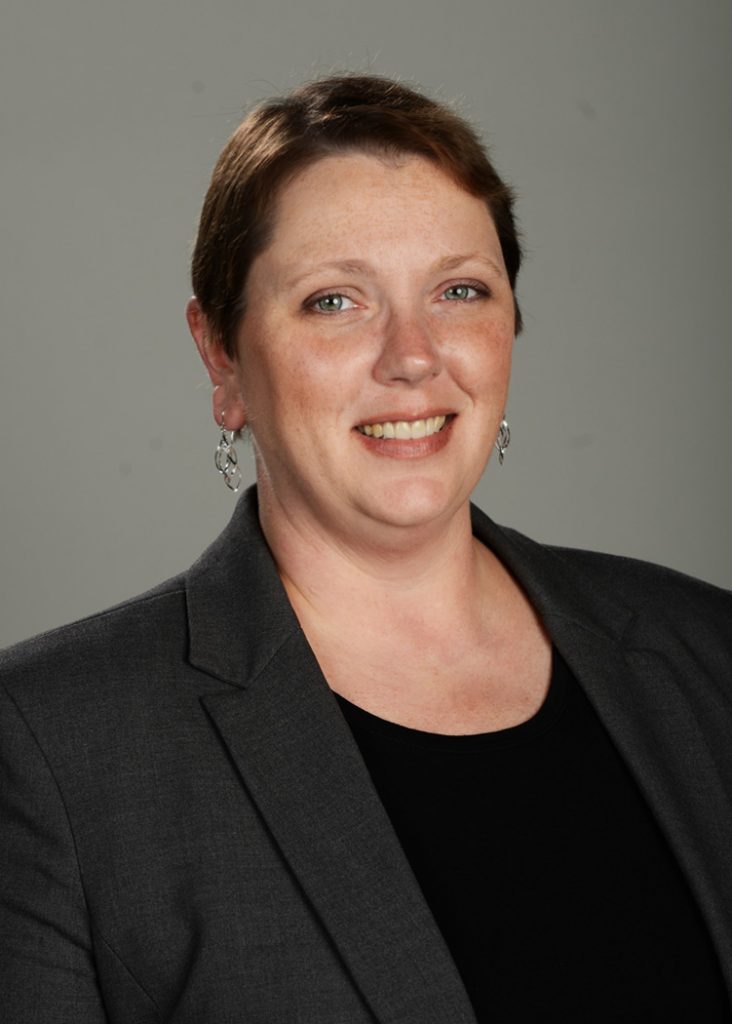 While excelling at a wide range of work responsibilities and raising her daughter, Maddy, Rachelle has also been battling cancer for several years. Amidst it all, she received the J. Andrew Archer Administrative/Professional Leadership Excellence Award in 2018 and her perseverance has inspired her colleagues.
"As Rachelle bravely faces her battle with cancer; it is a parallel to how she faces obstacles at the college and that is with a smile and 'have you thought about this?' She doggedly fights and questions doctors to ensure she is receiving the best treatment for herself and she always fights to ensure that the college is doing the best for students. She presents questions to make us better," says Lori Baker, Dean of Student Affairs. "Rachelle is also the organizer for gatherings. Before COVID-19, she was the one to gather a group of people to share a drink and some food. She recognizes the importance of community and that a strong community makes for a strong organization. Academic and Student Affairs is a tight-knit group because of Rachelle. She nurtures the relationships better than anyone does. This relationship is important to the overall health of the college. I cannot wait until Rachelle can once again organize some gatherings!"
Rachelle began her career at Virginia Western in 2003 as an adjunct lecturer in math and became an assistant professor the next year. In 2008, she became associate professor and took on the role of acting coordinator of IE. In 2011, after previously advancing to become Coordinator of IE, she became dean.
"Rachelle is a colleague and friend who masterfully guides Virginia Western through the maze of strategic planning, accreditation, and shared governance with a keen understanding of policy and an intuitive finger on the pulse of the college culture. In one word, she is amazing," says Dr. Elizabeth Wilmer, Vice President of Academic and Student Affairs. "She builds complex spreadsheets to manage large amounts of data while at the same time finding that right way to translate the data so that people understand it. She finds that beautiful balance in the dance between math and humanity."
When first establishing the IE Office at Virginia Western, Rachelle and former colleague Anne Kornegay needed to develop a budget and they were assigned a code that ended in 666. They found that highly appropriate for the sometimes-devilish work of rounding up data for the re-accreditation process with the Southern Association of Colleges and Schools Commission on Colleges (SACSCOC).
"Rachelle has provided vision and direction as Dean of IE, and has applied her amazing work ethic every day to ensure that the college she loves provides demonstrable evidence of excellence and commitment to student learning and outcomes," Anne says. "Rachelle never gives up – she finds solutions; she never complains — she keeps going; and she gives her best to her work. She is the epitome of professional. It was my great privilege to work with her in her many roles as a mathematics faculty member, math program head and in the IE Office."
Carol Rowlett, the college's Coordinator of Research and Assessment, has had a similar experience in the IE Office under Rachelle's leadership.
"Rachelle and I clicked from the moment we met. It's not overstating the case at all to say that I came to Virginia Western because of Rachelle," she says. "In my early days here, she was the best boss I ever had for sharing credit – sometimes even giving me credit for things I hadn't worked on!"
"Rachelle, Sarah Chitwood and I worked as a team in putting together the SACSCOC decennial reporting in 2012-14: coming in early, leaving late, and working weekends and holidays. Rachelle's bigger-than-life personality, driving enthusiasm, ability to push through obstacles, and sheer joy in life made all the difference. She made what should have been miserable drudgery into the most rewarding professional experience of my life."
Sarah says she too has been inspired professionally, but even more so, personally as she has witnessed Rachelle's tenacity and love for life.
"Superhero. I don't think there is a better way to describe Rachelle. She has a super-human ability to stand in front of fear, fight the most ferocious battles, and protect all that is good and right in this world," she says. "Keep an eye out when she goes racing by. She's the one with the Houston Texans fighting bull on her cape! How could it be anything else when it represents a fighting spirit, courage, pride, strength, tenacity, and vigor."
In addition to her role in the IE Office, Rachelle has been a key member of the President's Executive Team and has guided the college's governance structure as well as College Council meetings for years. Other leaders have come to depend upon her insights and support. Marilyn Herbert-Ashton, who is also part of the Exec Team as Vice President of Institutional Advancement, describes Rachelle as "a true SACSOC champion, and math wizard."
"Rachelle's leadership provides an open and transparent environment for sharing data and trends. She is a terrific listener and brings valuable data driven insight to each discussion. Her extensive knowledge of SACSCOC and the college's governance structure has guided our strategic path forward," says Lisa Ridpath, Vice President of Financial and Administrative Services. "Rachelle always looks for ways to enhance and improve the services and experiences of our campus community. Her hard work and dedication is so evident in all that she does. She is a tremendous colleague and friend. … And she knows the best restaurants in Dallas!"
That knowledge of the Lone Star State has come in handy during SACSCOC conferences there. A native Texan, Rachelle earned her Bachelor and Master of Science in mathematics from Sam Houston State University before making her way to Virginia. She also earned a Master of Science degree in statistics from Virginia Tech.
A pair of Rachelle's close colleagues have gone on to work at Virginia Tech and while they may love their maroon and orange, they clearly miss the camaraderie they had at Virginia Western with her.
"One of the absolute highlights of working at Virginia Western was working with Rachelle. She is one of the smartest, friendliest, and most loyal people you will ever meet. Her work ethic is second to none," says Chad Sartini. "Rachelle is selfless and always focuses on the best interests of Virginia Western and its students. More than anything else, Rachelle is a wonderful person and a great mom. I am honored and blessed that Rachelle is a dear friend."
"Rachelle is honest but thoughtful in how she relays that honesty. She doesn't speak the truth to confront but rather to improve. Her bar is high and she is always willing to extend help, but expects everyone to do their best and work just as hard as she does. Rachelle is so very smart but she never made me feel inferior for not being her equivalent – she always made me feel like a part of the team on equal footing," says Tara Nepper. "I love Rachelle's sly smile and desire to laugh whenever possible. It was so fun working with Rachelle because she always looked for ways to find joy and laughter."
Although she is well known on campus for her ability to decipher data that informs the direction of Virginia Western, Rachelle is much more than a numbers person. Her dedication, sincerity and friendship are part of what makes the college more like a family.
"She is such a great friend. There are people in this world who give and people who take. Rachelle is a giver, that is for sure," says Amy Anguiano, Dean of the School of Liberal Arts and Social Studies. "She gives her all to her friends, her family and to Virginia Western. I learn something new from her every day."
"Rachelle is a bright star of the college. She is wickedly smart and has always had the college's interest at heart. During my time in the dean's position, she has helped me countless times. She is an incredible resource (her mind is like an encyclopedia) and a great sounding board," says Yvonne Campbell, Dean of the School of Business, Technology and Trades. "She is one of a kind with the ability to garner relationships and respect across the college and most importantly – bring about change that positively impacts the college and our students. VWCC is her family …"
Additional Quotes:
"Statistician. Math Professor. Administrator. Dean. Colleague. Friend. Mom. Most people would feel blessed to hold just one of these titles, but Rachelle not only holds them all, but excels at each. Rachelle truly loves Virginia Western, and she knows it to its core. Her level of institutional knowledge is beyond compare, and she uses that knowledge every day to make Virginia Western better and to create opportunities for its students and staff. She does this with a sense of humor, a smile and a matter of fact attitude that motivates others to the same standard of excellence that she holds for herself. She is in the office well before the start of most people's days, she takes her meals during meetings as to not miss work time, and on most evenings, she can be found on the front row of a dance or band performance of her precious daughter Maddy. Her commitment to all that is meaningful to her is heroic."
-Amy White, Dean of the School of Science, Technology, Engineering and Mathematics
"Rachelle, in her ongoing health battle, has shown me the true definitions of strength, determination, courage and LOVE. Her struggles have been real and would have sent the non-Rachelle person to the 'house', but she continues push forward with responsibilities at work, and maintaining the crazy rigor of being Mom to a very busy and beautiful teenager. Every day I am in complete awe of and humbled by Rachelle. She is the truest of true heroes in my world and I am honored to call her my friend!"
-Amy Balzer, Assistant to the President
"Rachelle has so often been the behind the scenes support for so much innovation here at Virginia Western. During a planning meeting a few years ago, we were considering a new software package that could provide high-level data analytics to allow us to target student success interventions more effectively. It was sophisticated and expensive. Following an explanation about some of its capabilities, someone at the table said, 'Hey, we have a Rachelle for that!' After the laughter died away, this became a running gag. Whenever we face a particularly complex or daunting challenge, inevitably someone will pipe up and say, 'We have a Rachelle for that!' Like any good app, we have come to count on Rachelle to help us get the complex hard work done and done right."
-Chris Porter, Dean of Learning Resources and Online Learning
"Rachelle has deep connections with faculty, staff and administrators across campus and the innate ability to bring people together. It says so much that she has connected with so many. She is always looking for ways she can move Virginia Western forward as a whole. It has been remarkable to see how much she has dedicated herself to supporting the college in the face of what some would see as insurmountable obstacles. She is the ultimate fighter and we are fortunate to have someone like her in our corner!"
-Josh Meyer, Director of Marketing and Strategic Communications